Report from North America
Ipe sawnwood imports jump
US sawn hardwood imports declined by 5% in September
from the previous month to 63,908 cu.m. The decrease
was mainly in tropical imports, which fell 19% to 19,223
cu.m. following record import levels in August.

Imports of temperate species grew 2% in September.

Imports of almost all tropical species declined, with the
exception of ipe (3,398 cu.m.), meranti (876 cu.m.) and
teak (228 cu.m.). Ipe imports were higher in September
than any other time since August 2012.
Keruing sawnwood imports fell 50% from August to 1,278
cu.m., but year-to-date imports remain almost one third
higher than in September 2014.

Only balsa, cedro and virola showed lower year-to-date
imports in September compared to last year.

Imports from Brazil declined month-over-month despite
higher ipe shipments. Imports of virola, jatoba and other
species from Brazil decreased.

Imports from most other countries also declined in
September with the exception of Ghana. Imports from
Cameroon decreased by one third to 2,070 cu.m.
Malaysian shipments to the US fell 39% to 1,760 cu.m.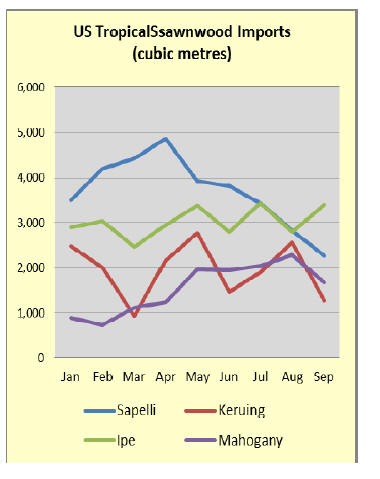 Canadian tropical sawnwood imports flat
The value of Canadian imports of tropical sawnwood was
nearly unchanged in September from the previous month
at US$1.65 million. Year-to-date imports were one third
lower than in September 2014.

Imports of sapelli were up 8% in September
(US$337,080). Imports of virola, imbuia and balsa
(combined), and mahogany decreased by 37% and 73%,
respectively.

Cameroon was Canada¡¯s largest supplier of tropical
sawnwood in September at US$488,149 due to high
demand for sapelli.

Imports from Brazil were worth US$334,994, up from
August, but significantly lower than at the same time last
year.

Mild weather good for US construction sector
The US economy suffered when winters were unusually
cold in 2013/14 and again last winter. GDP growth was
only 0.6% in the first quarter of 2015 partially because of
severe winter weather.
In 2014 the economy even contracted in the first quarter
and supply chains were disrupted due to heavy snowfall.
This mild winter weather may boost 2016 GDP growth by
as much 0.5 percent, according to the International
Monetary Fund. A strong El Nino weather phenomenon
would extend the construction season and boost consumer
spending.

US firm buys Brazil¡¯s Companhia Madeireira
Advantage Trim & Lumber, a hardwood decking, flooring
and sawnwood dealer based in Buffalo, New York, has
completed the purchase of Brazilian Companhia
Madeireira, according to the Woodworking Network.

The Brazilian company is FSC-certified and one of the
largest sawn hardwood manufacturing plants in Northern
Brazil. It produces flooring, decking, deck tiles and
cabinet grade sawnwood.

Easier compliance with the Lacey Act was a major reason
for the purchase, according to a statement by Advantage
Trim & Lumber. Advantage will have direct control of the
supply chain to ensure the legitimacy of wood permits.
Better control of quality and pricing is also expected from
owning and upgrading the production facility in Brazil.

Advantage has several other production sites in the US and
sells hardwood products online in North America and
internationally.

Merger to create largest US private land owner and
forest products company
Weyerhaeuser will purchase Plum Creek Timber
according to a 8 November announcement. Both
companies manufacture wood products and are the two
largest timberland owners in the US.

Weyerhaeuser manufactures a variety of wood building
products while Plum Creek has wood product mills in the
US Northwest. Both operate as real estate investment
trusts.

The new company will keep the Weyerhaeuser name. It
will be worth $23 billion and manage around 53,000
square kilometres of timberland primarily in the US. It
will the largest forest products and land company in the
US.

The deal is expected to attract larger investor interested in
timberland. It would also create annual cost synergies
worth US$100 million and better ability to take advantage
of the US housing market recovery, according to a
statement by Weyerhaeuser.

US mill owner pleads guilty to violating Lacey Act
A mill owner in Washington State has pleaded guilty to
violating the Lacey Act. The mill purchased maple cut
illegally on national forest land. The mill owner admitted
he suspected that the wood had been illegally cut. He faces
up to five years in prison, a US$250,000 fine and at least
US$159,000 in restitution when sentenced in February
2016.

Three men have also been charged of illegally cutting
down the trees. Those who purchased products milled
from the illegal logs have not been prosecuted.