Japan Wood Products Prices
Dollar Exchange Rates of 10th November 2015
Japan Yen 122.86
Reports From Japan
Lower petrol prices and employment prospects lift
consumer confidence
Japan's Consumer confidence index rose in October
largely reflecting lower petrol prices and the employment
environment. Cabinet Office data shows the overall index
almost 1 point up from the previous month. This comes as
a welcome improvement after the decline in September.

The overall index is made up of four components of
consumer attitudes. Their view of income growth
prospects rose as did their attitude towards purchases of
durable goods. The Cabinet Office indices for October
were as follows



Overall livelihood: 39.6 (up 0.8 from September)


Income growth: 40.0 (up 0.6 from September)


Employment:45.9 (up 1.0 from September)


Willingness to buy durable goods:40.3 (up 1.2
from September)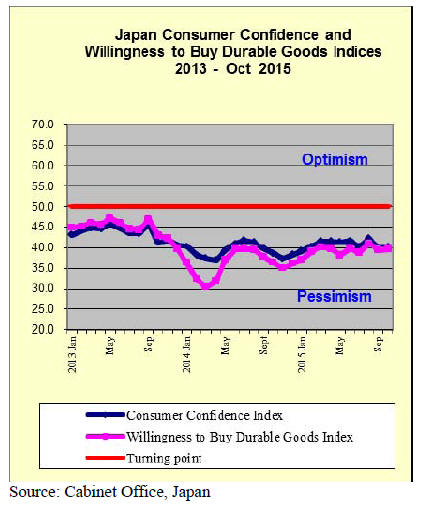 Inflation target pushed forward
In an effort to explain why the 2% inflation target has been
pushed to the end of the next fiscal year the Bank of Japan
(BoJ) has cited falling oil prices but now cites falling
housing rent and public service fees.
Bank analysts point out that unchanged rents and power,
water rates and public transport charges are tending to
undermine what they say are positive trends to higher
inflation. This scenario is explained in the BoJ semiannual
outlook report.
http://www.boj.or.jp/en/mopo/outline/qqe.htm/

The BoJ is facing mounting pressure to act as many
analysts feel the modest wages increases that have been
recorded are not enough to boost household spending
which is central to beating deflation.

September machinery orders beat expectations
The value of orders for new and replacement machinery
by private and public sector enterprises is a closely
watched indicator of manufacturing and market sentiment.
Because of the weak August numbers analysts did not
expect much cheer from the September figures but were
surprised.

The latest Cabinet Office data shows that in September the
value of orders for machinery received by major
manufacturers in Japan increased by 9.5% from August.
However, despite the positive news the July-September
orders fell 4% compared with the previous quarter.

In the October-December period total machinery orders
are forecast to rise modestly but private sector orders
could be maintained at around 3% says the Cabinet Office
report.

For more see:
http://www.esri.cao.go.jp/en/stat/juchu/1509juchu-e.html

Economists would like to see a more positive trend in
machinery orders as it is this that ultimately signals that
jobs are being created and economic growth is anticipated
by manufacturers. The forecast for weakening orders in
the third quarter of this fiscal year signals tough times
ahead for the BoJ and government.

Widening gap in regional land prices
Construction work for the 2020 Tokyo Olympics is
already having an impact on land prices in Tokyo and on
the availability and hence wages for construction workers.
As order books of construction companies fill new
customers are being asked to pay higher rates or are being
told start dates will be delayed.

The Land Ministry in Japan has shown that construction
prices topped yen 220,000 per square meter in April, a
price not seen since the bubble days.

Despite the rise in land prices in the urban areas nationwide
the average price of commercial land fell up to April
marking the eighth consecutive year-on-year fall. Prices
for residential land also declined, the 24th annual
decrease.

Analysts point to the widening gap between prices in the
main regional cities where prices are rising and prices in
those areas not getting a boost for government spending.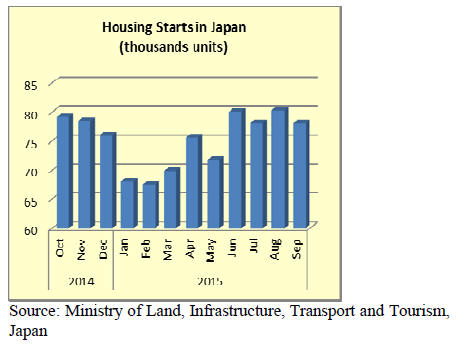 Yen slips as likelihood of US rate hike rise
Another round of quantitative easing by the Bank of Japan
(BoJ) had been anticipated but did not materialise. Had the
BoJ moved with more cash into the economy the yen
would have weakened to give a further boost to exports
which has been lackluster since the Chinese economy
slowed.

It was only the better than forecast jobs data for the US
that recently moved the yen lower. The improvement in
employment in the US is thought to have given the Federal
Reserve the confidence to come with an interest rate rise
before year end.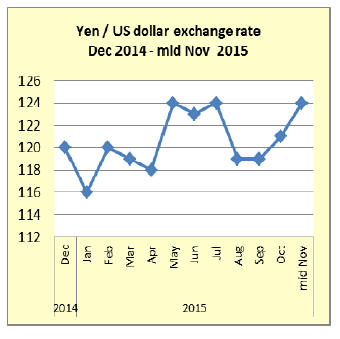 Import round up

Doors
Year on year September 2015 door imports rose by around
10% and compared to August, September imports were up
just over 5.5%. Japan's September door imports
wereamongst the highest for the year however average
monthly imports in the first three quarters of 2015 were
down 9.5% compared to the average monthly imports in
2014.

The top suppliers remain China and the Philippines
followed by Indonesia.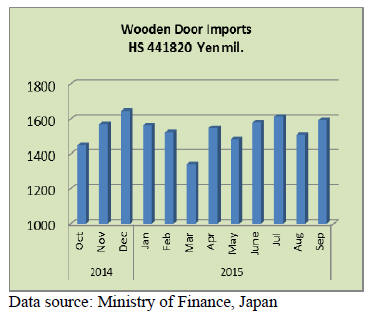 Windows
In the first three quarters of 2015 the average monthly
imports of wooden windows was down 23% compared to
the same period in 2014. However, September imports
were up 5.7% year on year and compared to a month
earlier September imports rose 3%.

China continues as the number one supplier followed by
the Philippines and the US. The top three supplires
accounted for over 80% of all wooden window imports in
September.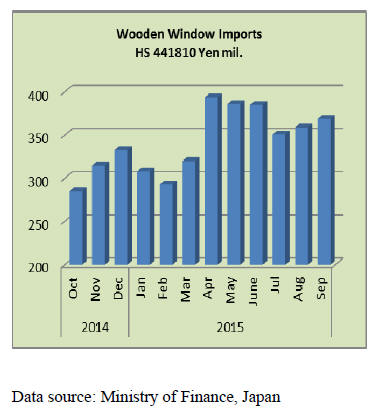 Assembled flooring
Year on year Japan's imports of assembled flooring fell a
massive 56% and compared to levels in August this year
September imports were down 6.6%.

When comparing average monthly imports in 2014 with
the same period in 2015 the 23% decline gives an
indication of the weakness in the Japanese housing market.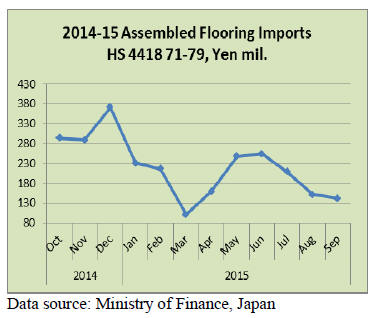 Plywood
Suppliers in three countries, China, Malaysia and
Indonesia account for almost all Japan's plywood imports.
Plywood imports have steadily fallen since the beginning
of 2015 but September marked a turning point as import
volumes from Malaysia and Indonesia jumped. However,
overall imports of plywood remain very subdued.

Year on year September imports were down 11% but the
fall was not evenly spread across the three main suppliers.
Year on year imports from China crashed 45% while
imports from Malaysia dropped almost 20% and imports
from Indonesia fell 13.5%.

Average monthly plywood imports in the first three
quarters of 2015 were down 42% on the avaerage for the
same period in 2014.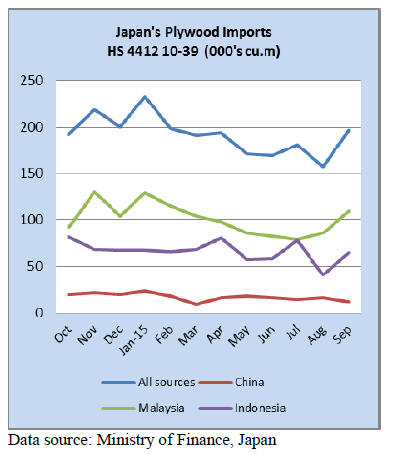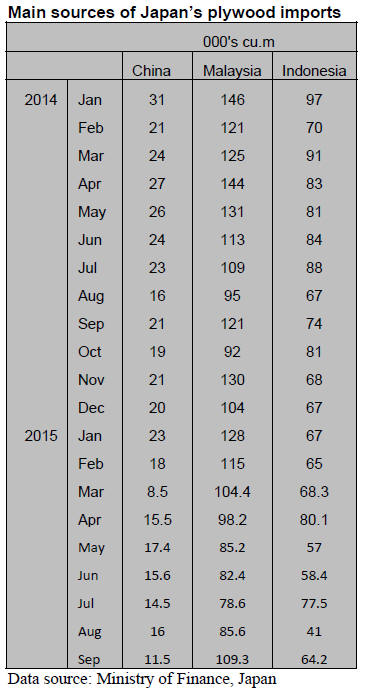 Trade news from the Japan Lumber Reports (JLR)
For the JLR report please see:
http://www.nmokuzai.
com/modules/general/index.php?id=7

Change underway in Japan's plywood industry
In last one year supply structure of plywood has drastically
changed and seems that transition is taken place in the
market. Rapid appreciation of yen since August 2014
pushed cost of imported plywood up and difficulty passing
hither cost on to the sales prices accelerate use of lower
cost domestic soft wood plywood.

Domestic plywood manufacture have been developing
non-structural plywood as future housing start are likely to
decline and production and shipment of such product have
been increasing.

In particular, softwood floorbase are expected to expand
and shipment of concrete forming panel for coating is
steadily increasing.
There is no statistic for softwood non-structural plywood
so exact figure are not certain but according to the statistic
the Ministry of Agriculture, Forestry and Fishery monthly
average production of concrete forming plywood for the
first 8 months of this year is about 4,500 cu.m., 57.2%
more than the same period of the last year. Monthly
production of softwood concrete forming panel for coating
in 2015 is estimated about 4,000cu.m.

Monthly production of floorbase is estimated about
6000cu.m. but it appears to be about 10000 cu.m. by all
the plywood manufacturers as the Japan Forest Product
Journal made survey through major plywood manufactures
and volume was over 8000cu.m. by responders.

In short, domestic plywood is replacing imported hard
wood plywood on both floor base and concrete forming.

Plywood
Market of imported plywood is weak. There were some
low price spot offers in late September for book closing
purposes by the importers so market prices dropped by one
notch. The movement dwindle in September and October.

Despite record low level of import market does not react at
all. Then the arrivals increased. Malaysia supply in
September was 112,000cu.m. the highest since last
February after monthly arrivals had continues with 80,000
cu.m. level for four straight month from May through
August.