2. GHANA
Air dry sawnwood tops exports
The Timber Industry Development Division (TIDD) of the
Ghana Forestry Commission has released its August 2015
timber export report.

The report shows that Ghana earned Euro120.93 million
from the export of 237,004 cubic metres of wood products
during the period January to August this year.

This represents an increase of around 43% in volume and
a 13% increase in value compared to the same period in
2014.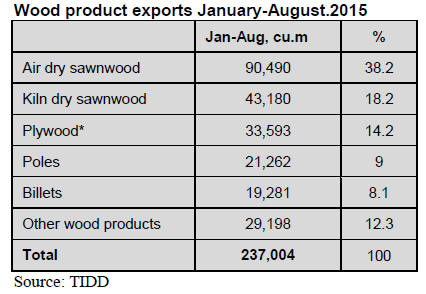 The top species exported during the period reported were;
teak, wawa, ceiba, gmelima and papao/apa. The leading
companies amongst the total 103 exporters were Logs and
Lumber Ltd, Samartex Timber and Plywood Company
Ltd, John Bitar and Company Ltd, Regent Industries
Ghana Ltd and Ayum Forest Products Ltd.

Ghana*s major export markets in the year to August
included India, China, Germany, Nigeria and Burkina
Faso. Wood product exports to regional African markets
were valued at Euro18.49 million and included air and
kiln-dried sawnwood, sliced and rotary veneers and
plywood with over 70% of plywood going to Nigeria.

Weaker demand in Nigerian construction and housing
markets
The construction industry represents one of Nigeria*s main
economic growth drivers and much of Ghana*s timber
exports to Nigeria are destined for the construction and
housing sectors.

However, growth in these sectors is slowing. Falling crude
oil prices and the impact of this on the economy is
resulting in lower capital expenditure. This, in addition to
persistent power supply constraints, is adding pressure to
the construction industry and is affecting imports of wood
products.

Nigeria*s wood product imports dropped sharply from
N4.4 billion in the first quarter 2015 to N3 billion in the
second, the lowest level of wood product imports since the
first quarter of 2013. This decline reflects weak domestic
demand but factors such as a devalued local currency and
tight foreign exchange liquidity have also had an impact.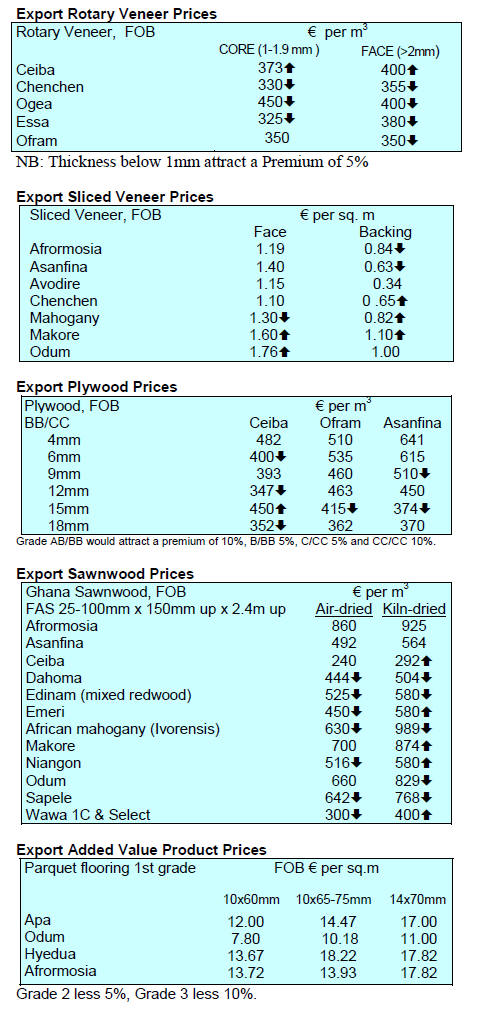 3. MALAYSIA
Industry sees competitive advantage in TPP
Details of the TPP agreement have just been released in all
the signatory countries and analysts are having their first
looks at the official documents.

The impact on the timber sector in Malaysia can now be
assessed. Initial reaction from manufacturers is that
Malaysian exporters may have an advantage over
Indonesia, Thailand and Philippines who are not part of
the TPPA.
On the other hand, Vietnam is is a participant in the TPP
and a major competitor of Malaysian furniture exporters.
This trade deal should be advantageous for companies
shipping to other TPP countries as tariffs will be
eliminated over time and other trade barriers should be
dismantled.

Malaysia*s export performance
Malaysia*s Statistics Department has said September
exports rose 8.8% to RM70.2 billion (approx. US$ 16.1
billion) from RM64.5bil a year ago, supported by
continued demand in China and the European Union. For
September a trade surplus of RM9.7 bil. was recorded.
The main export products were electronic goods, wood
products and natural rubber.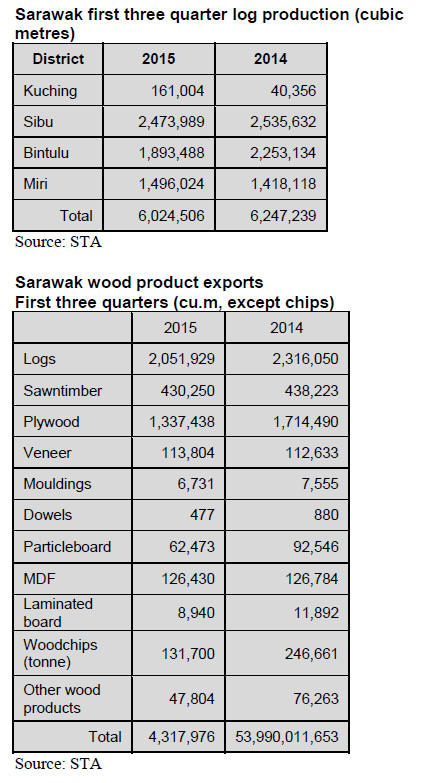 Port Klang upgrading
Malaysia has developed a Shipping Master Plan which
includes port refurbishment to address efficiency,
pollution control and protection of the surrounding
environment. A priority is addressing improving the
transport infrastructure serving Port Klang.

Expansion of conservation area in Sarawak
It has been revealed that the Malaysia/Indonesia transboundary
conservation area (Lanjak Entimau/Betung
Kerihun) will be expanded and new Totally Protected
Areas (TPA) will be established within the area called the
Heart of Borneo in Sarawak which extends to almost 20
million ha.

The Sarawak State Chief Minister commented that the
Heart of Borneo project will be integrated into State policy
in support of sustainable forest management and
conservation of nature. Concession holders operating in
the Heart of Boneo are have been advised to secure forest
management certification by 2017.

Plywood export prices
Plywood traders in Sarawak reported export prices:
Floor base FB (11.5mm) US$ 570/cu.m FOB
Concrete formboard panels CP (3* x 6*)
US$ 520/cu.m FOB
Coated formboard panels UCP (3* x 6*) US$ 600/cu.m
FOB
Standard panels
S Korea (9mm and up) US$ 400 每 410/cu.m FOB
Taiwan (9mm and up) US$ 410/cu.m FOB
Hong Kong US$ 420 FOB/cu.m
4. INDONESIA
Third quarter growth set to hold at 4.7%
The latest forecasts from the World Bank indicates that
economic growth in Indonesian during the third quarter
was just below target at 4.7% and is likely to remain at this
level for the final quarter of the year.

External factors such as falling commodity prices and
weakening global trade are having a major impact on
growth prospects.

For 2016, the World Bank expects growth to rise to just
over 5% provided factors such as an interest rate hike in
the US, further weakness in the Chinese economy
economic slowdown and the falling rupiah/dollar
exchange rate do not have any greater impact than is being
felt at present.

SVLK saga continues
The Indonesian Ministry of Trade has reiterated that the
SVLK is a heavy burden for small and medium sized
companies and continues to seek an agreement for easing
the regulations on a range of products.

The Ministry argues that even if companies are not SVLK
certified they must still ensure and be ready to offer proof
of the legal source of their raw materials. However,
Arlinda, a trade specialist in the Ministry of Trade said her
Ministry totally supports the SVLK but suggests means
must be found to assist the SMEs.
President - No more projects on peatland
Indonesian President, Joko Widodo, has instructed the
Minister of Environment and Forestry to stop issuing
licenses for agricultural use of peatland. The Minister is
also charged with undertaking a review licenses on
peatland as part of the government*s efforts to address the
issue of peatland fires.
It has been reported that the President wants to put a stop
to the conversion of forests and peatland to agricultural or
tree crops.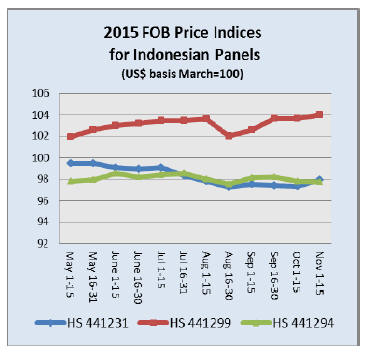 5. MYANMAR
Business look forward to a new era in Myanmar
National elections were held in Myanmar on 8 November
and timber trade news paled as the nation focused on
election campaigning. The National League for
Democracy (NLD) is set to form a new government and
the private sector is optimistic that a positive new chapter
will begin for businesses in the country.

Foreign investment inflows continue
The domestic newspaper, Daily Eleven, quoting the
Ministry of Commerce, reported that inflows of foreign
investment amounted to US$3.2 billion in the first six
months of this fiscal year (i.e. up to September).
Investments were directed towards the energy (gas and oil)
sectors, manufacturing, mining, transport, and
communications, hotel and tourism, real estate, livestock
fisheries and agriculture, services and construction.

EU每Myanmar trade expands
The Ministry of Commerce has reported that in the first
six months of the 2015-16 fiscal year trade between
Myanmar and the EU was worth around US$328 million.

Myanmar*s imports in the same period totaled US$185
million while exports to the EU were US$143 million. Dr
Maung Aung, Adviser to the Ministry of Commerce in a
statement said ※Myanmar now has a lot of trade
opportunities but even though nine countries have given us
permission, such as Russia, Turkey, Norway and
Australia, we have not yet the capacity to properly supply
the demands of those markets.§

A trader commented that Myanmar has a long way to go to
match international production standards.

Special Open Tender
The following timber was sold by Myanma Timber
Enterprise (MTE) by special open tender on 26 October
2015. Log volumes are expressed in hoppus tons (H.tons)
and volumes for &conversions* and sawn teak (including
hewn timber) are shown in cubic tons (C.tons).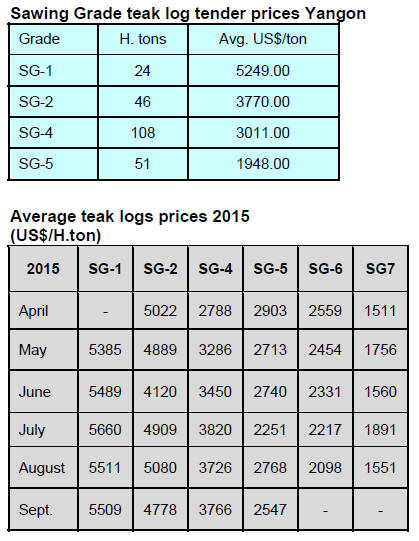 6. INDIA
RBI identifies challenges to growth
Shri S. S. Mundra, Deputy Governor, Reserve Bank of
India (RBI), recently addressed the challenges to growth in
the country and the text has been provided in a press
release.
See:
https://www.rbi.org.in/Scripts/BS_SpeechesView.aspx?Id=975

The key challenges were identified as


lack of investment in infrastructure- both physical
and financial


high level of Financial Exclusion


skill gap, which has implications for
employability


decline in gross capital formation and a
dwindling domestic savings rate

The Government and the RBI have been taking steps to
address these issues bearing in mind there needs to be a
balance struck between promoting investment in &capital
intensive* or &labour intensive* companies in the
manufacturing and service sectors.

This, says Mundra, is necessary because of the sheer size
of the educated workforce in the country for which jobs
must be provided.

Currently, the contribution of the service sector to growth
has grown to around 57 % of GDP. The growth in output
in the services sector can largely be attributed to rapid
development of skill intensive services such as
information technologies. However, questions have been
raised about the quality and sustainability of this servicesector
growth but the thrust of the government on &digital
India* and skill development will support continued
expansion in this area.

Mundra continues ※A crucial piece of the growth
continuum would emerge from continued migration of
people to urban areas. This would fuel demand for
housing, transportation, electricity, education, healthcare
facilities, etc.

Governments/ Municipal bodies would also need to invest
in creation of roads, sewage systems, water supply
facilities, etc. While focus on impending urbanization is
critical, the rural economy should continue to remain an
area of focus as more than 60% people would continue to
live in rural areas.§

&Housing for all* project gets boost from Canada
Indian officials have reported that the Canada Pension
Plan Investment Board (CPPIB) fund has established an
office in Mumbai and is planning to invest in the housing
sector in the country. In a press release CPPIB says they
are considering an initial investment of US$ 2 billion.

Continuing, a spokesperson for CPPIB said the Plan
already has significant investments in the country
involving infrastructure, real estate and financial services
and that the new office in Mumbai will allow CPPIB to
build important partnerships and access investment
opportunities that may not otherwise have been available.

See: http://www.cppib.com/en/public-media/newsreleases/
2015/cppib-india-office.html

Auction of domestic teak and hardwoods
The second round of auctions for the current season has
been concluded at Forest Depart Depots in Surat and
Vyara. Around 12,000 cubic metres of good quality
domestically grown teak and some non-teak hardwoods
was on offer.

Despite prices for imported plantation teak easing auction
prices were firm. Locally grown teak is always preferred
by millers as the quality is higher, the sap is smaller, the
form is good and the girths are larger all of which
contribute to better recover rates in the mill.

Average prices recorded at the most recent auction were as
follows: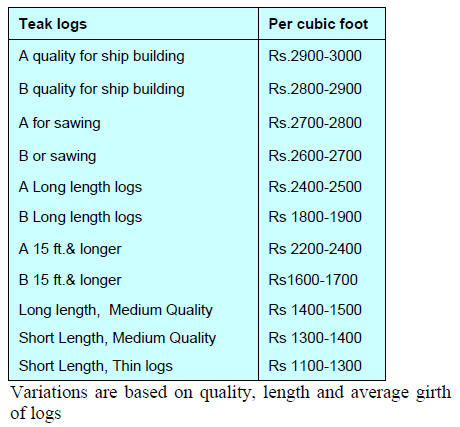 Good quality non-teak hardwood logs, 3 to 4 meters long
having girths 91cms and up of haldu (Adina cordifolia),
Laurel (Terminalia tomentosa), kalam (Mitragyna
parviflora) and Pterocarpus marsupium fetched higher
prices than in the previous auction in the range of Rs.800-
900. Prices for medium quality logs were in the range of
Rs.300-400 per c.ft.

The next round of auctions will be held in the North and
South Dangs Divisions and the indications are that a large
volume of logs will be available.

Prices for imported plantation teak, C&F Indian ports
Prices are unchanged from the end of September.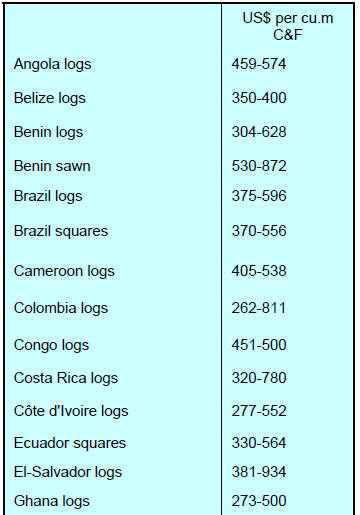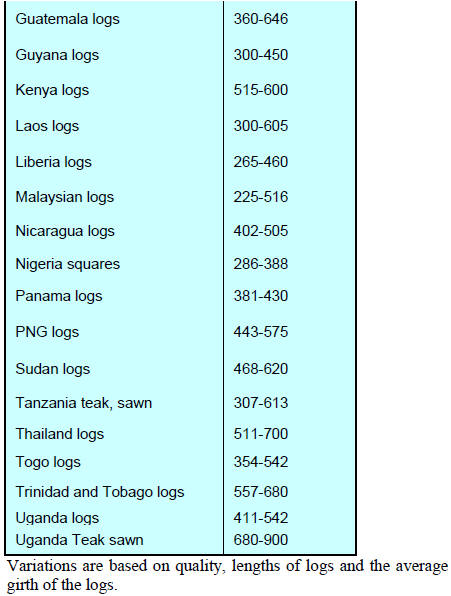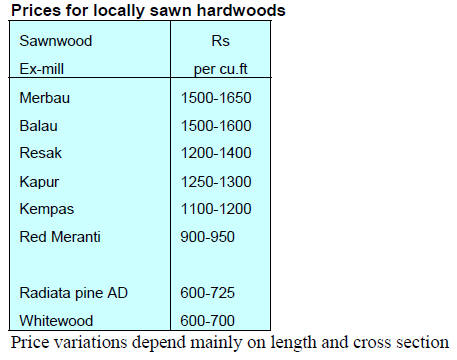 Myanmar teak logs sawn in India
Despite the decline in stocks purchased before the log
export ban there has been no change in price levels for
domestically milled Myanmar teak.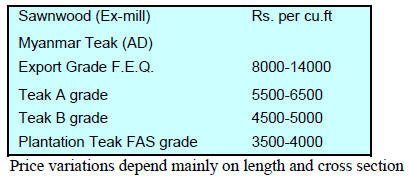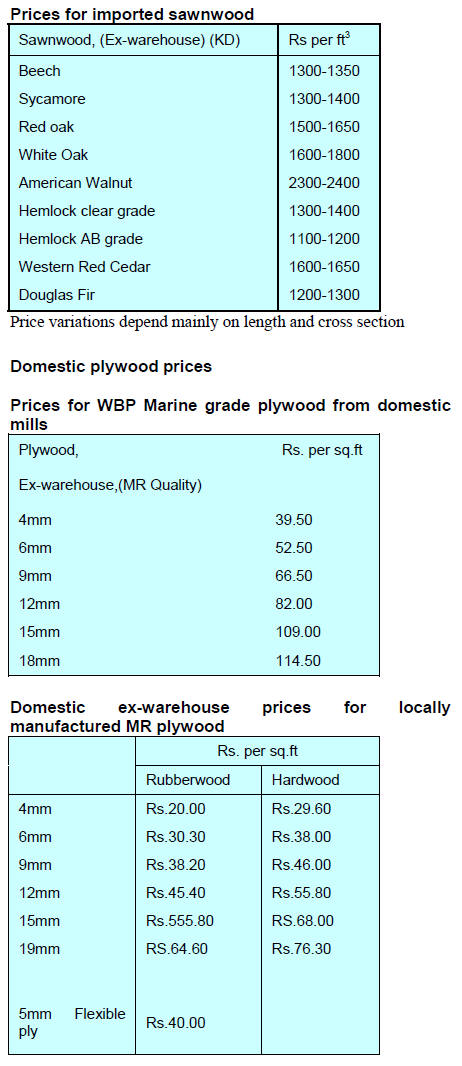 Expanding middle class driving up furniture imports
The Indian furniture market is estimated to be worth
around US$18 billion annually and of this wooden
furniture accounts for about 30% and imports of wooden
furniture comprise a large proportion of this.

India is a significant importer of furniture and in 2014 had
an approximated 16% share of the global furniture market
with imports coming primarily from the EU (Italy,
Germany and Spain), China, South Korea, Malaysia,
Indonesia, Philippines and Japan.
Furniture imports in India have been growing over 50%
annually since 2009, the main driver being increasing
investment in housing and commercial properties. Higher
incomes and an expanding middle class residing in urban
areas has also resulted in demand for imported furniture.
7. BRAZIL
Brazilian competitiveness in the world trade
The Brazilian Association of Mechanically-Processed
Timber Industry (ABIMCI) recently reported on its
participation in the first Foreign Trade Forum 每 Southern
Region For Export, held in Florianopolis, Santa Catarina
State.

The objective of the Forum was to discuss issues related to
the international trade from Southern Region producers,
the impact of the current state of the global economy and
Brazil*s exchange rate policy. Leaders from the
production sector, exporters, logistics companies,
representatives of ports and other transport sectors
attended the Forum.

Participants from the production sector suggested
structural changes and policies were needed to achieve a
positive trade balance. They assessed the global market
situation and Brazil*s position in trade agreements and
innovation as drivers of a competitive national forest
industry.

Another topic discussed was "Opportunities and Barriers
for Exports", which listed the main obstacles and
potentials for improvement of Brazil's performance as a
world player.

Timber exports Improve, but production costs rise
Brazilian exports of processed wood products continue to
grow as manufacturers actively seek new markets as
domestic demand is poor. The export drive has been
helped by the appreciation of the US dollar.

Between January and September, exports increased 22%
compared to the same period in 2014. This was the largest
increase recorded since 2008, according to ABIMCI.

See: For more see: http://www.abimci.com.br/abimciparticipa-
do-forum-sul-for-export/

The new emphasis on exports can be gauged by the
proportion of total production that is exported. In the
plywood industry, for example, about 55% of processed
wood was exported in the first half of 2014. In the same
period in 2015, processed wood exports were around 60%
of total production.

For sawnwood the estimated increase was from 12% to
15%. Up to September this year sawnwood exports have
increased by over 30% year on year.

Despite the positive performance in international trade
profitability in the sector remains flat. The sharp rise in
production costs as energy prices rise, wages are driven up
and interest rates continue to climb is having a negative
impact on profits.

ABRAF and ABIMCI partnership
ABIMCI and Brazilian Association of Formaldehyde and
Derivatives Producers (ABRAF) have established a
partnership to exchange information on developing joint
action for the sector's growth.

The objective is for companies in the chemical sector
represented by ABRAF to become part of the Committee
called ※Smart Home§, composed of various entities
representing the civil construction and timber sectors as
well as the Federation of Industries of Paran芍 State (FIEP)
which has been working to develop a wood frame
construction system in Brazil.

This partnership is considered an important step forward
in the search for joint solutions and to tackle the
profitability crisis in the timber sector.

The major hurdle holding back growth in wood product
manufacturing is the low level wood consumption in the
domestic market, especially for products such as plywood
for civil construction.

To address this problem ABIMCI is promoting the
National Program for Wood Quality (PNQM) and Sectoral
Quality Program of Wooden Door for Buildings (PSQPME)
which define the technical requirements for
products used in civil construction.

Research on forest regeneration and silviculture in
Brazil
The value of wood and non-wood products harvested in
both natural and plantation forests in the country
amounted to R$ 20.8 billion in 2014 according to research
published by the Brazilian Institute of Geography and
Statistics (IBGE).

In addition, economic activity as a result of forest
harvesting was estimated to be worth around R$ 16
billion. Of this harvesting of timber and non-timber
products from only Brazil*s natural forests alone generated
a value of R$ 4.6 billion.

IBGE´s research titled &Production, Extraction and
Silviculture* indicates that the value of timber production
from forest plantations reached R$ 15.9 billion and timber
from natural forests reached R$ 3.2 billion. According to
IBGE, of the total 146.5 million cubic meters of
roundwood extracted in 2014, 91% originated from
planted forests.



8. PERU
Forestry sector growth to generate thousands of jobs
The development of the forest sector in Peru could create
one million direct and indirect jobs according to the head
of the Ministry of Production (Produce), Piero Ghezzi.

He said that in Peru there are about two million hectares of
land suitable for plantation forestry and this offers a great
potential. This was made known when Ghezzi participated
in an international forum "Investment Promotion in
Commercial Forest Plantations in Peru".

The potential of the plantation industry is attracting a lot
of interest from investors and could become one of the
new engines of growth for Peru.

Enforcing illegal logging laws
Legislative Decree No. 1220, which authorises action
against illegal logging, reflects the determination of the
Government of Peru to combat and eradicate illegal
harvesting and protect the forest resources.

The call for tough enforcement was made by Cesar
Paredes Fourment, the High Commissioner on Combating
illegal logging within the Council of Ministers (PCM). He
reiterated that the Decree states that the Special Prosecutor
for Environmental Matters (FEMA) is the entity
responsible for interdicting illegal logging.

The High Commissioner further confirmed that under the
Forestry and Wildlife Law (Law No. 29763) the authority
responsible for combating illegal logging has been
transferred from regional governors to the forestry
authority.

Advancing cooperation in forestry between Peru and
Colombia
During the Presidential Meeting between Peru and
Colombia in Medellin cooperation between the two on
forestry was highlighted.

In the First Bi-national meeting the Agency for
Supervision of Forest Resources and Wildlife (OSINFOR)
signed an agreement with the Ministry of Environment,
Housing and Territorial Development (MADS) in
Colombia to establish a Plan of Action set to contribute to
sustainable forest management and legal timber trade.

In this regard, the Presidential Declaration after the
Medellin meeting has, in paragraph 9, highlights on
adoption of a Plan of Action 2015-2016 for the sustainable
use of forest resources and wildlife.

The annexes to the declaration set new commitments for
concrete actions to continue joint work in coordination
between the Peruvian and Colombian forestry sector.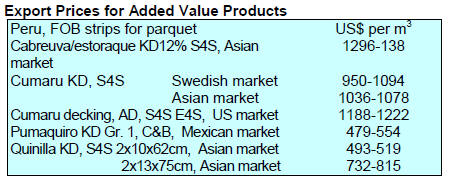 ﹛