2. GHANA
Ambitious strategy for 500,000 ha of plantations
Ghana plans to create about 500,000 hectares of new forest plantations by 2040. Under a new multi-sectoral approach the ¡®Ghana Forest Plantation Strategy¡¯, plans are set out for government and private sector reforestation of degraded forests with commercial plantations of exotic and indigenous tree species.

This was made known at a Consultative Workshop on the draft Ghana Forest Plantation Strategy (GFPS), for 2015 - 2040. The strategy targets the maintenance and rehabilitation of existing forest plantations as well as enrichment planting of under-stocked forest reserves with high value indigenous timber species.

The draft GFPS also identifies challenges faced in past efforts on plantations and outlines the strategic direction, actions and resources to overcome such challenges in order to create productive and sustainable forest plantations.

In his overview of the strategy, Hugh Brown, Director of Operations (Plantations) of the Forest Division, said the strategy set targets on how resources should be mobilised building capacity and expanding the human resource base.

The strategy will provide the opportunity for the building of a strong research base to ensure that the country develops fast growing tree species that could be used for the development of forest plantations.

In a nationwide project under the National Forest Plantation Development Programme 2002 ¨C 2012 the Forestry Commission championed forest plantations to slow the rate of deforestation but progress was poor due to an absence of a national strategy addressing funding, logistics, monitoring and sustainability.

Despite growing contributions to GDP from other sectors of the economy in 2014 the forest sector remains the fourth highest contributor.

Report calls for system to assess cost of environment degradation
A report from the National Development Planning Commission says Ghana lost 2.51 million hectares or 33.7% of its forest cover between 1990 and 2010. According to the report, Ghana now has a total forest area of 9.2 million hectares comprising 1.8 million hectares of closed forest and 7.4 million hectares of open forest.

The report identified some specific challenges to addressing deforestation and degradation it also makes recommendations which included the passage of resource regulations 2012-2014, (part of efforts to enable implementation of Legality Assurance System) and building capacity for monitoring and assessment of environment degradation costs.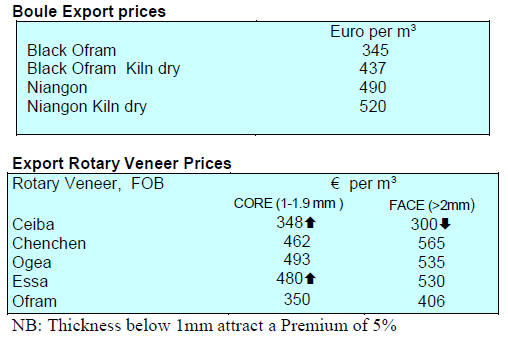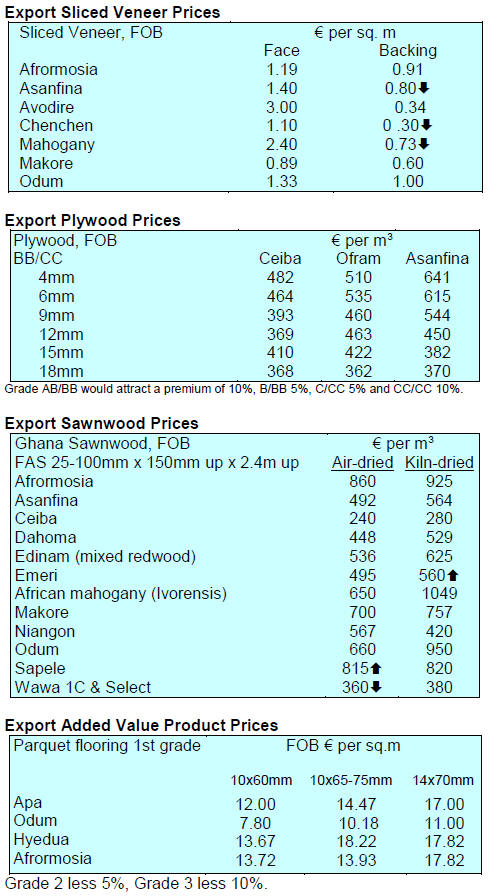 3. MALAYSIA
Optimistic budget despite global concerns
Details of the National Budget, the first under the 11th Malaysia Plan, were recently made available. This reflects the government¡¯s aim to transform the nation into ¡®a high-income advanced economy¡¯.

Local analysts say that, despite the slowing global economy, readjustments in China and the decline in commodity prices the Malaysian economy is performing reasonably well as over the past decade the economic foundation has been diversified.

Highlights from the budget include projections of GDP growth of between 4% to 5.0 % for 2016, a steady fall in the fiscal deficit, modest growth in government revenue collection and higher tax revenues generated from the new Goods and Services Tax.

Calls for review of domestic shipping policy
Currently, ships registered outside of Malaysia are not permitted to transport goods between Malaysian ports and the Federation of Sabah Manufacturers say this results in unnecessarily high cost of goods in Sabah.

Restriction on coastal shipping is a contentious issue between Malaysian States especially for Sabah as freight costs for the more than 2,000 km between; for example, Port Klang and ports in Sabah are high.

There have been claims that the current domestic shipping policy adds as much as 30% to the cost of goods arriving in Sabah from Peninsula Malaysia and businesses in Sabah are calling for a review of the domestic shipping policy.

For more see:
http://www.sapp.org.my/economy/110113_fmt_cabotage_policy.asp

Sabah export performance update
In the first eight months of this year wood product exports from Sabah fell around 9.5% from the same period in 2014. Plywood remains the main wood product exported but between January and August this year plywood exports fell slightly (-3.5%) year on year.

In the first eight months of this year it was only mouldings for which an increase in export volumes was recorded.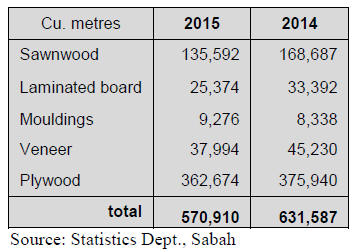 Sarawak concession holders commit to certification
Sarawak¡¯s Second Minister of Resource Planning and Environment, Awang Tengah Ali Hasan, was quoted in the domestic press as saying illegal logging must be eradicated or it would have an adverse impact on the environment, tarnish the image of Sarawak and cause great loss in royalty collection to the state.

Awang Tengah went on to say the government had identified 25 concessionaires operating in some 1.6 million ha. had begun arrangements to secure certification by 2020. The State government plans to ensure that all major concession holders move quickly to obtain certification.

The State authorities have also taken action to monitor logs supplies to mills throughout the State to ensure that only legally obtained raw materials are being used. As of August this year over 30 mills allegedly depending mostly on illegally sourced logs have been closed until their sourcing of logs is assessed legal.
4. INDONESIA
About-turn on easing SVLK requirements
The Ministry of Trade is set to reverse the planned easing of SVLK certification requirements for producers of finished products. The about-turn comes after the ministry received feedback from the European Union, the Environment and Forestry Minister and various NGOs.

At the beginning of this month the Ministry said that small and medium enterprises should be allowed to export their timber products without meeting the criteria of the domestic legality verification system (SVLK) as compliance was technically difficult and costly.

According to an official of the ministry, the SVLK was among the 32 regulations rules that were assessed as part of its deregulation exercise.

However, this issue does not seem to have been resolved as there is one article in the Ministry of Trade regulation No. 89 / M-DAG / PER / 10/2015 on Exports of forestry products it is mentioned that export products that fall into group B comprising 15 tariff lines do not need to have a V-Legal certificate but the raw material used in manufacture must originate from a legal source.

Furniture SMEs continue to complain on legality certification
Hundreds of small furniture producers in Jepara Regency, Central Java, are complaining about the complicated process and high cost of obtaining a legality verification certificate (SLVK), which they say can cost as much as Rp 50 million (US$3,710).

An owner of an export-oriented company in Jepara said that the government offer of support on group certification in order to reduce costs is very welcome but that implementation of this scheme is too slow.

The Jakarta Post writes ¡°Alimin Arhab, another furniture exporter, shared similar thoughts, saying that furniture producers were required to submit numerous documents to obtain SLVK certification, such as a tax payer number (NPWP), business permit, domicile permit, environmental impact analysis, work safety permit, wood industrial product registered exporter license (ETPIK) and rattan product registered exporter license (ETR) and the Customs registration number (NIK).¡± This process, Arhab said, could take as long as10 months.

See: http://m.thejakartapost.com/news/2015/10/19/small-furniture-producers-grumble-certification.html

Industry asks for SVLK certification to be subsidised
In related news, the Furniture and Handicraft Industry Association of Indonesia (ASMINDO) has requested the government prepare a budget to support furniture SMEs meet the cost of obtaining SVLK certification. ASMINDO supports the government efforts on SVLK certification but a sister group, the Association of Indonesian Furniture and Handicraft (AMKRI) is fighting against the SVLK being applied to SMEs.
The chairman of AMKRI, Rudi Halim, has said implementation of the SVLK will mean that the target US$5 billion export of furniture and handicrafts over the next five years will be missed.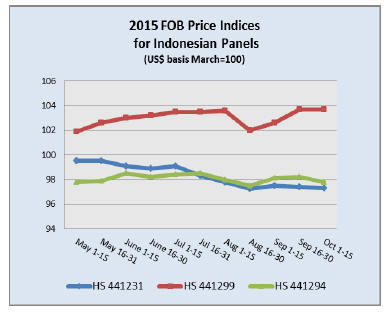 ¡¡
5. MYANMAR
Kyat exchange rate continues to tumble
The Myanmar Central Bank has moved to limit hotels, restaurants and traders from charging in US dollars as part of its efforts to halt the slide in the dollar/kyat exchange rate.

Throughout the year there has been a progressive ¡®dollarisation¡¯ of trade in Myanmar which has pushed up demand for US dollars which in turn has driven down the value of the Kyat against the dollar.

Since January this year the Kyat has fallen by around 20% against the dollar and the impact of this on the cost of manufacturing for those companies having to use imported raw materials in production has been severe.

Open season for smugglers
The domestic media (Daily Eleven of 20 October) carried news on preparations being made in the Shan and Kachin States by villagers to recover and smuggle logs abandoned during recent fighting.

November is said to be the open season for smuggling and the large quantity of logs left lying in the forest along the Shweli River is the target for smugglers. The press reports say most villages in the region have logging trucks.

Analysts say that timber smuggling may resume when China¡¯s ban on the import of logs from Myanmar ends 31 December because it is impossible to control the entire border.

The analysts goes on to say ¡°Unless the two governments can thrash out misunderstandings concerning the recognition of Myanmar¡¯s log export ban and stop felling and smuggling of timber from the forests in northern Myanmar .

October tender sales
The Myanma Timber Enterprise held its latest special open tender(SOT) on 23 October. The hardwood logs tendered were mainly 2014-15 production and therefore considered relatively fresh. Because of this prices secured were good.

However Kanyin logs from Myeik (Taninthayi Division) in the south-eastern part of the country attracted lower prices than those from the north, (mainly Sagaing area). This difference is a reflection of quality, demand, and logistics say local analysts. Also, prices for tamalan and padauk hewn timber were sharply down as millers say it is difficult to recover production costs as demand in the main market, China, is slow.

Log volumes are expressed in hoppus tons (H.tons) and volumes for ¡®conversions¡¯ and sawn teak (including hewn timber) are shown in cubic tons (C.tons).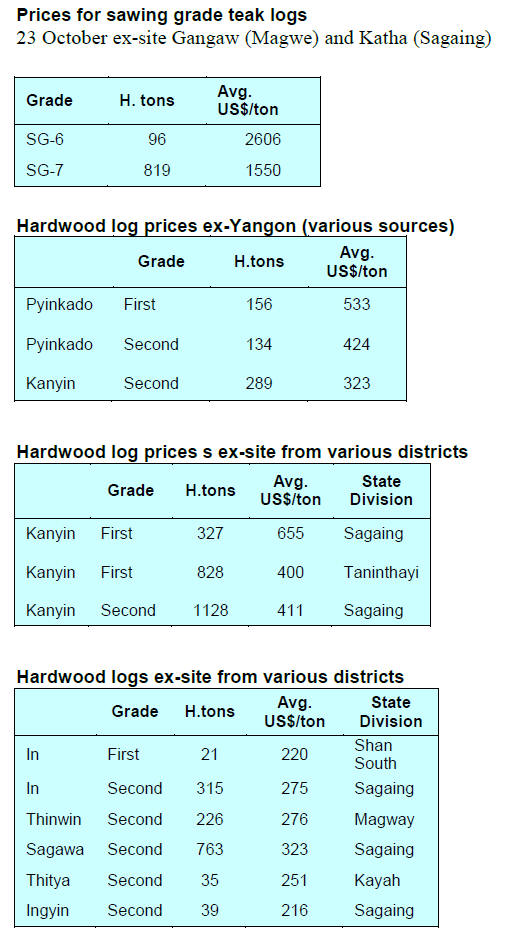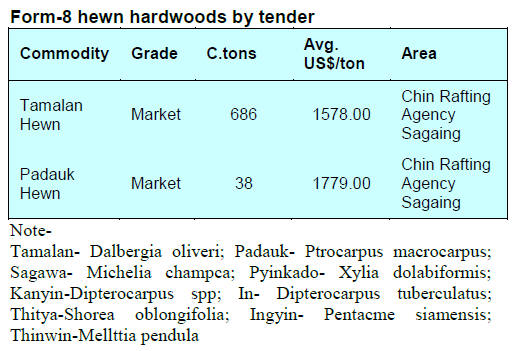 ¡¡
6. INDIA
Inflation rate trends down
The Office of the Economic Adviser (OEA) to the Indian government provides trends in the Wholesale Price Index (WPI).

The official Wholesale Price Index for All Commodities (Base: 2004-05 = 100) for September declined by 0.1 points to 176.6 from 176.7 in August. The year on year annual rate of inflation, based on monthly WPI, stood at minus 4.54% (provisional) for September 2015 compared to minus 4.95% for August.

For more see: http://eaindustry.nic.in/cmonthly.pdf

Timber and plywood price indices climb
The OEA also reports Wholesale Price Indices for a variety of wood products. The Wholesale Price Indices for Wood products and Plywood are shown below.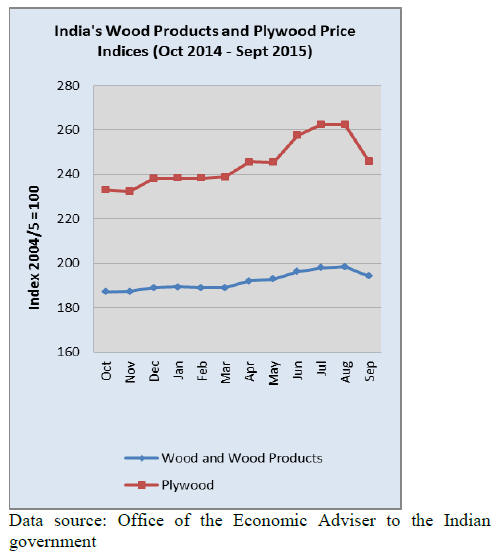 The September price indices for tow product groups: wood and wood products and plywood fell. The index for plywood prices showed a steep decline of around 6%. Plywood manufacturers in India have been struggling to maintain sales as the housing market has not picked up despite the efforts of the government and central bank to stimulate new home purchases.

See http://eaindustry.nic.in/display_data.asp

Relaxation of home loan rules welcomed by industry
In a move welcomed by the timber industry, the Reserve Bank of India has granted permission for commercial banks to ease conditions on housing loans. Indian banks can now offer 90% loans to home buyers for properties that cost up to Rs 3.0 mill
ion. Until this change 90% home loans were only available on homes worth up to Rs. 2.0 mil.
The move by the Reserve Bank will support the government¡¯s plan on affordable housing for low income families and will boost the ¡°housing for all¡± policy.

Sandalwood auction nets Rs. 400 million
Fifty-two tonnes of sandalwood collected from the Kerala Forest Department¡¯s Marayoor sandalwood forest were sold for a record Rs 400 million at the recent Marayoor auction.

Marayoor sandalwood is considered premium timber and commands a high price. Prices at the latest auction were 20% higher than during the previous sale.

The felling of sandalwood trees is forbidden by law so only fallen trees or fallen branches can be sold. As the price of sandalwood in international markets climbs the risk of illegal felling increases such that the Forest Department now employs hundreds of observers and security staff to guard the forest. Voluntary forest protection groups with support from local communities play an important role in keeping the forest secure.

Sumitomo partners with local company for added value production
Sumitomo Forestry has purchased a 26% stake in Spacewood, a Nagpur-based furniture firm. The local media report that Sumitomo will invest in a new door manufacturing plan. A spokesperson for Spacewood said investments would also be made to modernise and expand existing factories.

Spacewood has two product lines - housing furniture and modular kitchen and will commission a further plant for building materials.

New round of auctions attracts more buyers than usual
New season auctions began at the forest depots of Surat and Vyara Divisions with some 5,000 cubic metres of good quality of teak and non-teak hardwoods being offered.

The slightly weaker rupee has pushed up cost of imported teak and other hardwood logs so participation in the current auctions was high.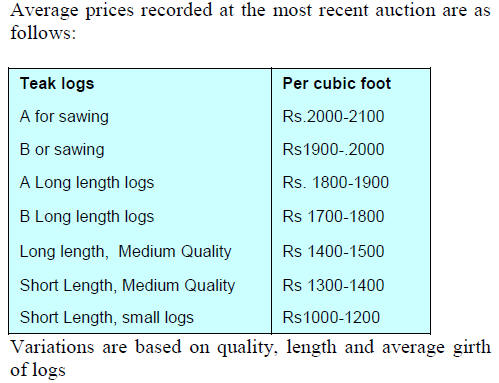 Good quality non-teak hardwood logs of long lengths having girths 91cms and up of haldu (Adina cordifolia), laurel (Terminalia tomentosa), kalam (Mitragyna parviflora) and Pterocarpus marsupium attracted higher than usual prices in the range of Rs. 600~800 per cubic foot. Medium quality logs went for between Rs.450 ~600 per cubic foot while lower quality logs were sold for between Rs.250 ~350 per cft.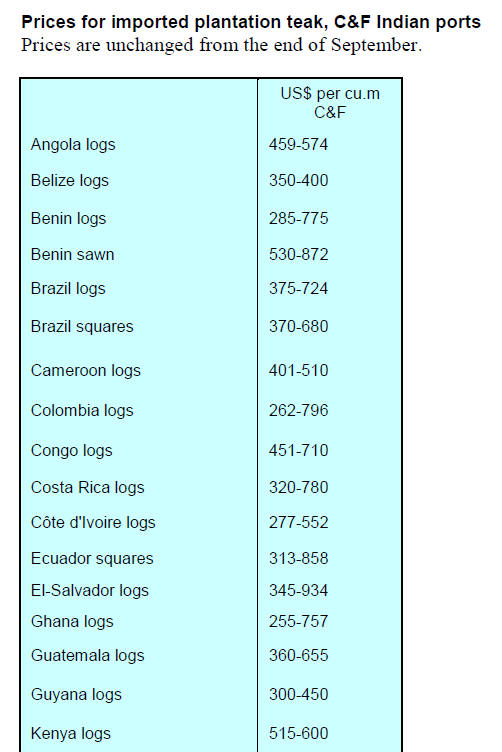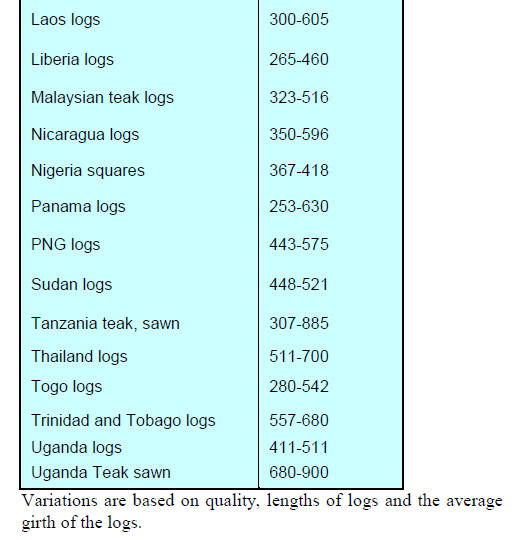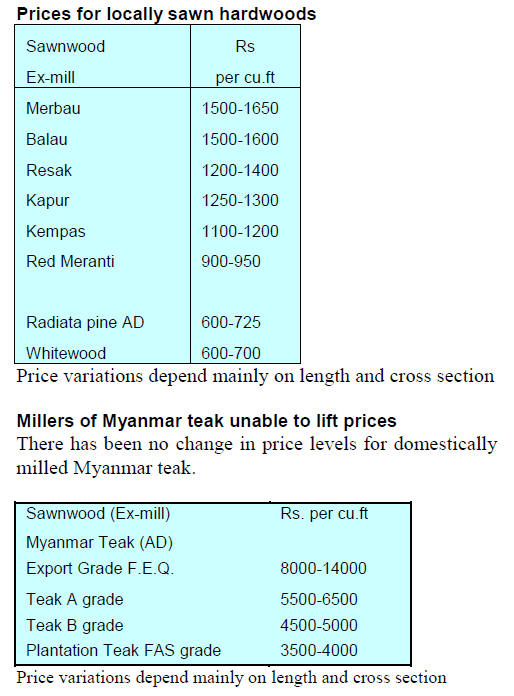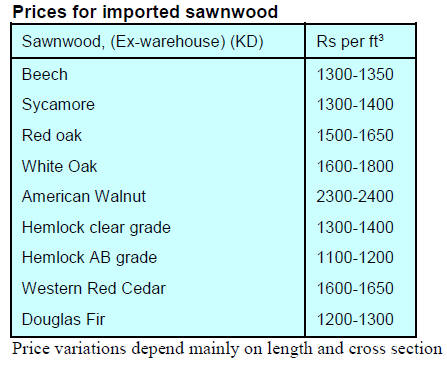 Plywood market update
Prices for veneers produced from domestic plantation timbers remain very competitive compared to imported material.

The success of veneers from domestic log stocks has reduced the dependence on imported face veneers from China as well as imports of core veneers from Vietnam. This development is a welcome relief to plywood manufacturers which had seen veneer prices climb since the log export ban in Myanmar. Manufacturers now have a means to keep manufacturing costs under control in a weak market.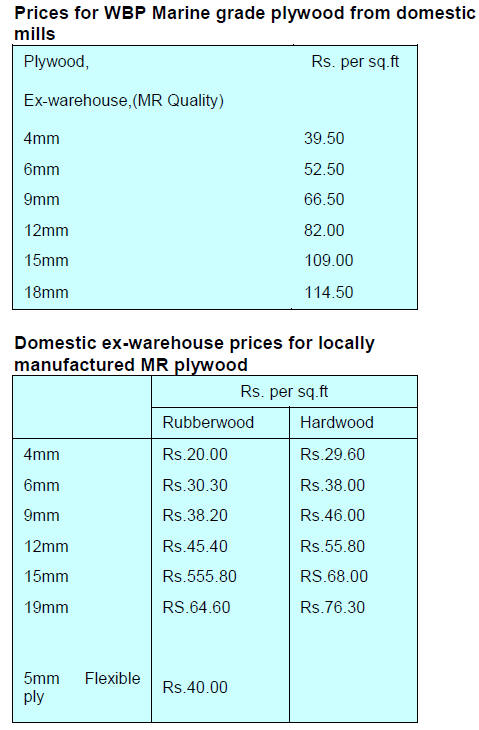 7. BRAZIL
Real exchange rate down over 60% in 12 months
The National Consumer Price Index (IPCA) ended September up 0.54%, 0.32 percentage points above the level in August The cumulative rate in the year (January-September) was 7.64% well above the 4.61% reported for the same period in 2014 and the highest since the record 8.05 in 2003.

The real/dollar exchange rate in September 2015 was 3.91/US$, a depreciation of 67% year on year. Towards the end of October the real appreciated slightly as some major economic indicators came in more positive than expected.

At its October meeting the Monetary Policy Committee of the Central Bank of Brazil decided to keep interest rates at 14.25% per annum. Interest rates in Brazil are amongst the highest in major economies and the Central Bank¡¯s decision to hold rates is seen as an effort to stabilise the economy. Any further rate increase would risk driving Brazil¡¯s economy deeper into recession.

Brazil needs to increase domestic wood use says ABIMCI
Per capita consumption of wood products in Brazil is low so companies have come together to discuss harmonising technical standards, product standardisation and process certification.

The Brazilian Association of Mechanically Processed Timber Industry (ABIMCI) has for many years been promoting Brazil¡¯s National Program for Wood Quality (PNQM) which addresses product certification and control of production processes as a means to increase domestic consumption of wood products. ABIMCI asserts that the market is already signaling that marketing certified products can be an excellent business strategy.

In its current campaign ABIMCI is promoting the plywood and veneer industries, sawnwood, doors. The domestic door market has responded well to certification process through the ABIMCI Sectoral Program of Wood Quality for Buildings (PSQ-PME).

September exports disappoint
September¡¯s exports of wood products (except pulp and paper) fell 12% in value compared to September 2014, from US$238.8 million to US$ 210.0 million.

The value of pine sawnwood exports dropped around 1% between September 2014 (US$ 21.9 million) and September 2015 (US$ 21.7 million) but in terms of volume there was an increase (93,200 cu.m to 97,900 cu.m).

The decline in tropical sawnwood exports was much more severe (-23%) from 30,100 cu.m in September 2014 to 23,200 cu.m in September this year. In terms of value, exports fell over 30% from US$16.5 million to US$11.4 million over the same period.
In line with the negative trend, the value of September pine plywood exports fell 4.0% but in terms of volume the reverse was as exports increased over 22%, from 102,100 cu.m to 125,300 cu.m, in the twelve months to September 2015.

In sharp contrast, tropical plywood export values and volumes increased (4,300 cu.m in September 2014 to 8,300 cu.m in September 2015 and US$2.7 million US$3.9 million) in the same period.

There was disappointing news with wooden furniture exports the value of which dropped from US$45.9 million in September 2014 to US$ 35.2 million in September this year.

Increase in plantation products
According to the Brazilian Tree Industry Association Ind¨²stria Brasileira de Árvores (IBÁ), the volume of solid plantation wood products exported in the first eight months of 2015 amounted to 389,000 cu.m, a 37% increase over the same period last year.

Pulp exports grew to 7.5 million tons, an 8.6% increase over the same period in 2014 and paper exports reached 1.3 million tons from January to August 2015, a 6.1% increase year on year 2014.

Total export earnings from exports of wood products, pulp and paper in the period January-August 2015 amounted to US$5 billion, a 2.3% increase compared to the same period in 2014.

Pulp production reached 11.3 million tons in the 8 months to August 2015, a 5.1% increase year on year. On the other hand the volume of paper production remained unchanged at 6.9 million tons.

Domestic sales of woodbased panels totaled 4.4 million cu.m in the first eight months, 6.1% lower compared to the same period last year. First eight months¡¯ domestic sales of paper totaled 3.6 million tons, 3.6% down year on year.

Investment opportunities in Paraguay for Brazil¡¯s furniture companies
Brazilian furniture companies are seeing investment opportunities in Paraguay as the country is offering incentives to foreign investors.

The other advantages offered by Paraguay are its young trainable workforce, good infrastructure and low electricity power costs, said to be one third of the cost in Brazil.

Paraguay has signaled it wants to strengthen partnerships with Brazilian furniture industry. The Federation of Industries of Paran¨¢ (FIEP) recently hosted a visit by the Paraguayan Minister of Industry and Commerce who outlined business opportunities in his country to entrepreneurs in Paran¨¢ state.



8. PERU
Agrobanco launches loan scheme for plantations and agroforestry
Peru¡¯s Agricultural Bank, Agrobanco, has launched a new credit scheme in support of investments in forest plantations and agroforestry. The new scheme complements the loans the bank offers to the forestry sector.

The forest credit funds being offered are for plantations of teak, eucalyptus and white bolaina, which have a potential in the local and international markets and are of commercial interest to private companies and native communities.

Agrobanco has indicated it is considering expanding financing for non-wood plantations such as bamboo and shiringa both of which are in demand and are suitable for agroforestry projects by rural communities in mountainous areas of the country. The Bank¡¯s initial loan portfolio for forest plantations projects is US$16 million.

The Governor of Pucallpa, in welcoming the announcement by Agrobanco, said that with this arrangement the native communities, the forestry sector and the regional economy will benefit from investment in plantations as jobs will be created.

Exhibition for the Wood and Furniture in Arequipa
In order to promote technological development and present the widest range of products and services for the sector, the regional government and the private sector have joined forces to present the MADEXPO, a fair for equipment and service suppliers to the furniture and panel industries.

MADEXPO will be held in the southern city of Arequipa from 11 to 14 November. This will be the second exhibition in southern Peru aimed at SMEs and large companies in the wood product manufacturing sector.

Peru and Colombia share experiences on forestry
In mid-October the Agency for Supervision of Forest Resources and Wildlife (OSINFOR) participated in the Binational Peru/Colombia workshop on forestry in the Colombian city of Leticia on the Peru/Colombia border.

The aim of the workshop was to share experiences in community forest management as well as discuss facilitating greater cross border trade in forest products. The workshop was supported by OSINFOR and was seen as a valuable contribution to sustainable and legal exploitation of forest and wildlife resources in both countries.

The workshop was also attended by representatives of Peru¡¯s Regional Program Management of Forest Resources and Wildlife (PRMRFFS) and the Program for Conservation, Management and Sustainable Use of Biological Diversity (PROCREL) of the Regional Government of Loreto.

In addition the Special Project for Integral Development of the Putumayo (PEDICP) and the Common Good Institute (IBC) attended along with the National Forest and Wildlife Service (SERFOR) and the Native Community of Brillo Nuevo Boras.

Colombia was represented by officials of the Ministry of Environment, Housing and Territorial Development (MADS) in addition to the regional environmental authority, Corporation for the Sustainable Development of Southern Amazonia (CORPOAMAZONIA), Andina and the Foundation Natura, the Regional Forestry Board of Amazonas, SINCHI Institute and invited forestry companies.