Report from North America
Industry welcomes Trans-Pacific Partnership
agreement
After years of negotiation a comprehensive trade
agreement was reached in October among 12 Pacific
region countries, including the US and Canada. The forest
industry welcomed the deal.

This trade agreement is expected to improve access for
North American producers to growing markets in the
Asia-Pacific. Canada"s forest industry in particular
depends on exports, but US producers also hope to
diversify markets and expand exports.

Significant tariffs on forest products still exist in several
Pacific markets. In Japan, duties are up to 10% on wood
and other forest products. Vietnam applies tariffs of up to
31%, Malaysia up to 40%, Australia and New Zealand of
up to 5% and Brunei up to 20%.

Plywood imports from Indonesia up
Plywood and wooden door imports declined in July from
the previous month while imports of other wood products
and furniture increased.

US imports of hardwood plywood were down 17% in July
compared to the previous month. A total of 317,408 cu.m.
was imported with just under half coming from China
(149,326 cu.m.). Imports from China fell 35% from June,
but year-to-July imports were 13% higher than at the same
period in 2014.

Plywood imports from Indonesia increased for a second
month in a row to 89,395 cu.m. in July. Year-to-date
imports from Indonesia were 9% higher than in July 2014.
Plywood shipments from Ecuador to the US grew in July
but year-to-July imports remain far lower than in 2014.
Imports from Malaysia, Russia and Canada declined in
July.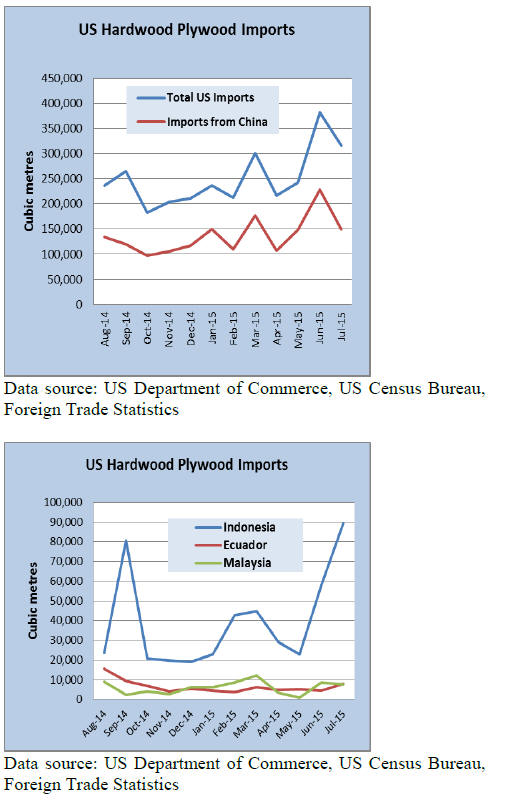 China expands hardwood moulding import share
Hardwood moulding imports recovered in July, but they
remained below 2014 levels. July imports were worth
US$18.1 million, up 12% from the previous month.

The largest increase was in imports from China (US$6.7
million). Year-to-July imports from China were up 2%
compared to July 2014. Hardwood moulding imports from
Brazil increased by 8% in July to US$4.2 million. Year-to-
July imports from all major suppliers, except China, are
lower than in July last year.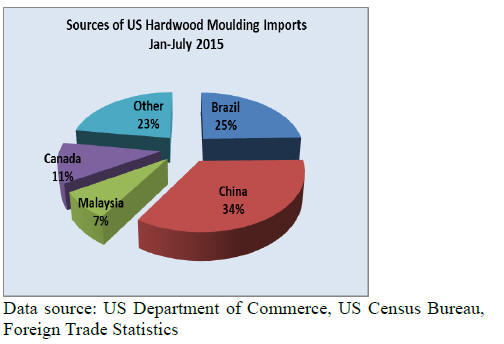 Indonesia and Malaysia largest suppliers of hardwood
flooring
Hardwood flooring imports increased significantly in July.
July imports were worth US$5.0 million, a year-to-July
increase of 29%.

The greatest monthly gain was in imports from China
(US$761,565). Indonesia and Malaysia remain the largest
suppliers at over US$1 million worth of shipments each.
Year-to-July imports from Indonesia and Malaysia
increased 74% and 48%, respectively, compared to the
same time last year.

Imports of assembled flooring panels increased 5% monthon-
month in July to US$12.5 million. Imports from China
grew 10% to US$5.0 million, but year-to-July imports
were unchanged from 2014. Canada, Indonesia and Brazil
expanded their share in US imports from last year.
Steady growth in wooden furniture imports from
Vietnam, India
Wooden furniture imports increased again in July. Total
imports were worth US$1.44 billion, up 1% from June.
Year-to-July imports were 11% higher than in July 2014.

The growth in imports was in wooden seats (not
upholstered), kitchen furniture and other wooden furniture.
Imports of upholstered wooden seating declined in July.
Bedroom furniture imports were steady.

Furniture imports from China were steady from the
previous month at US$685.6 million. Imports from
Vietnam grew 4% to US$259.0 million in July. Indonesian
shipments were also up at US$52.9 million.
Furniture imports from Canada and Mexico increased
earlier this year but in July imports from both countries
declined.

India is becoming an increasingly important furniture
supplier to the US. Imports from India were worth
US$19.2 million in July.

Vietnam and Malaysia saw the strongest growth in yearto-
July shipments to the US compared to July 2014. In the
first 7 months Vietnam"s share in US wooden furniture
imports grew from 16% in 2014 to 18% in 2015.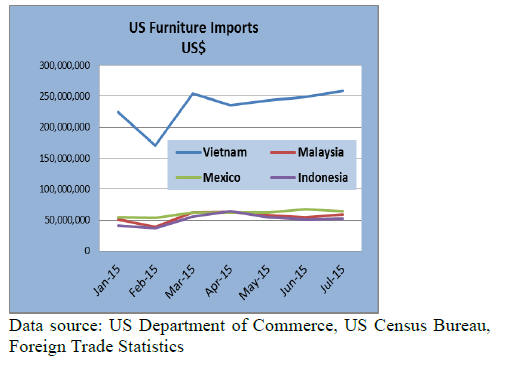 Housing market recovery continues despite lower
consumer confidence
US consumer sentiment declined again in August. While
the US economy was regarded as overall robust,
Americans worried about a weakened Chinese and global
economy. Lower commodity prices were also viewed as a
negative economic indicator. Consumers believed that
these global trends can influence the US job market and
financial markets.

Builder confidence in the market for newly built, singlefamily
homes rose by one point in August according to the
National Association of Home Builders. The recovery in
the housing market continues, despite lower consumer
confidence.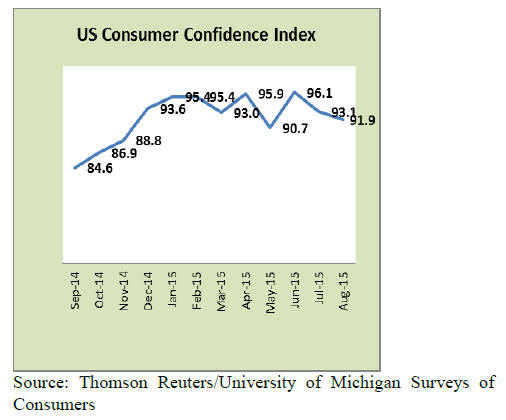 Single-family starts up 10% in July
Housing starts declined 4% in July from the previous
month according to US Census Bureau data. However, the
decline was in the more volatile multi-family market.
Single-family home construction increased 10% in July.
The seasonally adjusted annual rate of residential
construction was 1,161,000 in July.

Combined single- and multifamily starts grew 20% in the
Midwest and 8% in the South. Housing starts decreased in
the Northeast and West. After several months of gains, the
number of building permits fell 16% in July. Much of the
decline was in multi-family permits.

Higher home sales across the country
Sales of existing homes increased by 2% from June to July
according to the National Association of Realtors. Sales in
July were at the highest pace since 2007. All major regions
experienced sales gains in June.

Lower unemployment and the prospect of higher mortgage
rates in the future supported the increase in home sales.
The share of first-time buyers fell, however, because of
rising home prices.

Consumer and business confidence down in Canada
Canadian housing starts decreased by 4% in July at a
seasonally adjusted annual rate. Single-family starts were
stable from the previous month, while multi-family
construction decreased. Inventory of unsold multi-family
units declined from June, but it is 10% higher compared to
the level one year ago.

Canada"s central bank kept its key interest rate unchanged.
Earlier this year it reduced the rate twice when Canada"s
economy contracted.

A low Canadian dollar and stronger demand from the US
market is helping the economy. In August the Canadian
dollar fell to its lowest since 2004.
A survey of Canadian corporate executives showed that
they are more negative about the economic outlook than
any time since the recession seven years ago. More than
half think the economy will decline in 2016. Consumer
confidence also declined in September.

Federal Reserve leaves key interest rates unchanged
The US Federal Reserve left interest rates near zero,
despite earlier expectations of an interest rate rise in
September.

However, Federal Reserve chair Janet Yellen expects
interest rates to gradually rise starting before the end of
2015. Weakness in the global economy are not significant
enough to change the central bank"s plan to raise interest
rates.

GDP growth was an estimated 3.7% in the second quarter
of 2015, according to the Department of Commerce"s
second estimate. GDP growth was revised up from the
previously estimated 2.3%.
Higher personal consumption, government spending
residential and non-residential construction contributed to
the GDP growth.

Manufacturing output expanded in August, according to
the Institute for Supply Management. Furniture
manufacturing companies reported continued production
growth. In the wood products sector output was unchanged
from July.

Demand for countertops to rise 4.1% per year
A recently released market study by Freedonia forecasts
demand for countertops in the US to grow 4.1% per year
through to 2019. Demand is expected to reach US$29
billion in 2019, or 74 million square metres.

The largest source of demand will be new home
construction, followed by renovation and repairs of
existing homes. The trend to larger kitchens and
bathrooms with more countertop surface will support
demand growth.
80% of the demand growth will come from the residential
market. The remaining 20% will mainly be in kitchens and
bathrooms of offices, commercial and institutional
buildings.

The ongoing recovery in non-residential construction will
therefore boost demand for countertops through 2019.

Laminate countertops with wood composite cores have the
largest market share. However, their market share fell
from 55% in 2004 to 48% in 2014. The trend is likely to
continue, but laminates will remain the most popular
countertop material over the next five years.

The fastest growing materials in countertop will be nonwood:
natural and engineered stone, polymers and niche
materials (including solid wood).
The Freedonia study ¡°Countertops¡± (Industry Study 3301)
was published in August 2015.
British Columbia invests in promotion of wood use
The government of British Columbia, Canada, is investing
US$2.2 million in its Wood First programme. The
programme promotes the domestic use of wood from
British Columbia as well as exports.

The funding goes towards research, product development,
marketing and skills training. Industry associations,
universities and research institutes will receive the funding
to carry out the programme. The forest industry will
contribute additional funds.
Disclaimer: Though efforts have been made to ensure
prices are accurate, these are published as a guide only. ITTO
does not take responsibility for the accuracy of this
information.
The views and opinions expressed herein are those of the
correspondents and do not necessarily reflect those of ITTO.