US Dollar Exchange Rates of 10th October 2015
China Yuan 6.3428
Report from China
Continued contraction in manufacturing output
China"s National Bureau of Statistics has released details
of the September manufacturing purchasing managers
index (PMI). The overall index stood at 49.8, a slight
increase month on month but well down from a year ago.

The September PMI for large-sized enterprises was 51.1,
up 1.2 points month-on-month and managed to rise above
the negative threshold. However, the PMI for medium and
small size companies remained in negative territory where
it ha been since the beginning of the year.
For details see:
http://www.stats.gov.cn/english/PressRelease/201510/t201
51008_1253050.html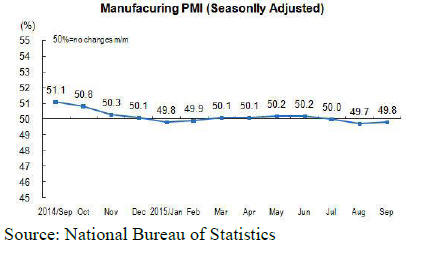 New national quarantine treatment zone for imported
timber
Recently, Caofeidian Port in Hebei province began
operations of its new quarantine and sanitary treatment
zone for imported timber. This becomes the fourth
national and the first Northern China treatment zone for
imported timber.

Caofeidian Port is built on reclaimed land in Bohai Bay
located in the city of Tangshan, Hebei Province.

The treatment zone covers an area of more than 23
hectares, contains the first national sealed fumigation
building and a fibre recycling unit.

The sanitary treatment zone is also equipped with
automatic fumigation treatment control and detection
equipment capable of handling 3 million cubic metres of
timber annually. It is forecast that Caofeidian Port will
become one of the largest international wood products
trading centres in the Asia Pacific region.
For more port details see:
http://www.marinetraffic.com/ais/details/ports/3421/China
_port:CAOFEIDIAN
Fibreboard capacity to rise to 55 million cubic metres
27 fiberboard plants were built in China in 2014 adding
around 4.4 million cubic metres of new annual capacity.
At the end of 2014 China had 768 fibreboard plants with
an annual capacity of 51.8 million cubic metres.

However, around 200 plants have been closed eliminating
some 7million cubic metres of production capacity. On the
other hand, new MDF plants continue to be built and it is
forecast that by the end of this year production capacity
will rise to 55 million cubice metres.

¡®Long March to Quality¡¯ a product quality campaign
China is a major wood products manufacturer and
exporter. It has been reported that in 2014 there were more
than 50,000 wood product manufacturing and trading
enterprises in China employing around 10 million workers
and generating an output of RMB1 trillion.

The consumption of timber by these enterprises exceeds
520 million cubic metres and the value of exports reached
US$75.9 billion in 2014. However, the sector suffers from
a poor image due to quality scandals.

To address this problem a new campaign the "Long March
to Quality" aims to help enterprises improve the quality of
their wood products and protect the rights of consumers.

At the launch of the campaign a press conference heard
that an investigation will be conducted to assess the status
of wood-based panel and flooring enterprise to identify
leading enterprises and reputable brands as well as
exposing disreputable enterprises.

In advance of the campaign an investigation will be
undertaken by an expert group including the media which
will make unannounced visits to enterprises and wholesale
markets for wood-based panels and flooring.

The survey report will be presented at the Second World
Wood-Based Panel Congress. At the same time the survey
report will be submitted to General Administration of
Quality Supervision, Inspection and Quarantine, the State
Administration of industry and commerce, China
Consumer Association and other relevant parties.

Eucalyptus veneer production
The production of eucalyptus veneer in China takes place
in Guangxi (31%), Guangdong (21%), Fujian (14%),
Yunnan (12%), Hainan (9%) with 13% being produced in
other areas.

The main producers are Guangxi Nanning City Zousifang
Wood Ltd, Co., Guangxi Changjiang Wood Ltd, Co.,
Guangxi Linfeng Plywood Mill under the China Forestry
Group, Guangdong Lianjiang City Zhenyuan Wood Ltd,
Co., Hainan Fulaisi Forestry Company.

The annual output of eucalyptus veneer by these
companies amounts to about 1.2 million cubic metres with
exports going to 50 international markets.

Exported veneer has an average water content of 15% and
the veneer is shipped in a range of thickness from 1.7-
2.8mm. The most common specifications are: length
1270mm, width 840mm, thickness 1.7mm.

New complex for consumer sales of imported home
furnishings
China"s first mall dedicated to imported building materials
and home furnishing, the CIMEN & BOSION
International Free Trade Plaza, will open in the Fujian
Xiamen Free Trade Zone. The mall will offer a very wide
range of international home interior products.

It is expected that the 76,000 sq.m shopping complex will
be completed by 2016 at a cost of RMB110 million. Many
international brand home furnishing suppliers have
signalled an interest in renting space in the complex.

This investment is a major undertaking for the Fujian free
trade zone which expects consumers to benefit from the
reduced cost of imported items.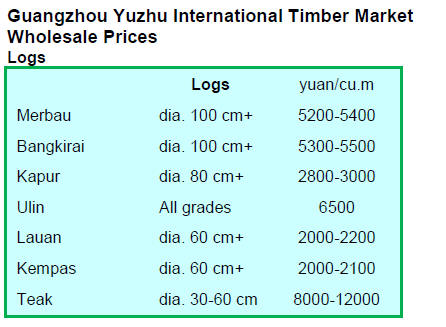 ¡¡