1. CENTRAL/ WEST AFRICA
Buyers for China remain on the side-lines
West African producers report that buyers for the Chinese
market are still on the side-lines so mills are scaling back
log harvesting as well as mill production in an attempt to
maintain prices at current levels.
There are some reports of buyers seeking sawn okoume
but the prices being offered are much lower than previous
contracts. Some mills are accepting the reduced offer
prices but only for small volumes.

Stock levels in Middle East falling
Construction and building activity remains buoyant in
most of the main Middle East markets which is sustaining
demand from builders in the region. Importers in the
Middle East rely on an extensive and efficient regional
distribution network to supply customers and reports
suggest the flow of wood products is good such that stocks
are being absorbed.

As stock levels in the Middle East fall producers in West
and Central Africa anticipate a rise in orders despite the
continuing cautious attitude of buyers given the recent
supply of low cost meranti.

EU markets underpinning price stability
Producers report that demand in European markets is firm
and prices are stable and that this is assisting them in
maintaining price levels in other markets.

Demand for okoume logs and sawnwood for the Chinese
market is slow and prices have not recovered. FOB prices
for okan and sapele are also under pressure as demand
slows but for most of the other timbers prices are stable.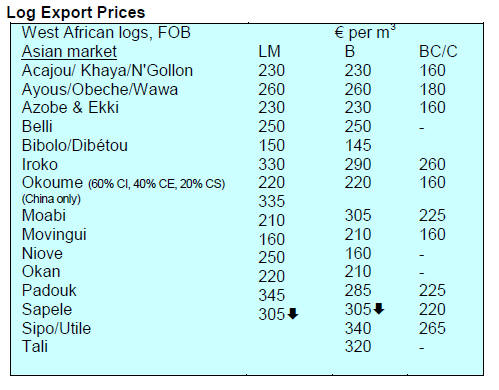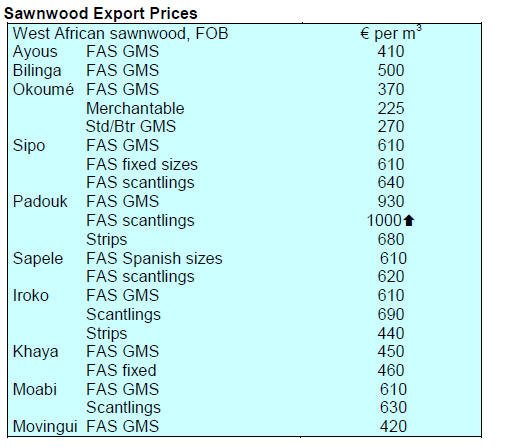 ¡¡
2. GHANA
Forestry Commission embarks on plantation plan
The Forest Services Division of the Forestry Commission
(FC) has embarked on yet another massive reforestation
programme.

To be known as "Push to Promote Reforestation", the FC is
offering financial support and other incentives to spur
private initiatives in plantation development specifically
targeting farmers and private investors

Those opting into the scheme would receive financial
assistance and other material rewards. The amount of cash
offered would depend on area to be planted and
beneficiaries will receive payments biannually as long as
the plantations are tended.

Mr. Ebenezer Agyakwa, Customer Relation Officer of the
Forest Services Division said the Division is working with
the EU on this programme within the "Carbon Credit"
initiative.
¡¡
Inflow of foreign currency not all good news says AGI
Over the past two weeks the cedi has appreciated against
the US dollar by around 1%, being driven up by prospects
of US$1.8 billion loan set to be released by the Cocoa
Syndicate. The upward trend in the value of the cedi was
also spurred by the successfully completion of the fourth
Eurobond issue.

While the strengthening of the cedi has been touted as
good news for local manufacturing companies the
Association of Ghana Industries (AGI) along with other
business players, have raised concerns over the continued
increase in the value of loans being taken on by the
government.

The AGI says government borrowing is not a long term
solution to the country"s financial ills and that creating a
favourable business environment, cutting waste and
scrutinising government expenditure would be better ways
for the government to boost growth.

However, the Ministry of Finance is optimistic the
increase government reserves will stabilise the cedi
exchange rate and will lead to economic expansion.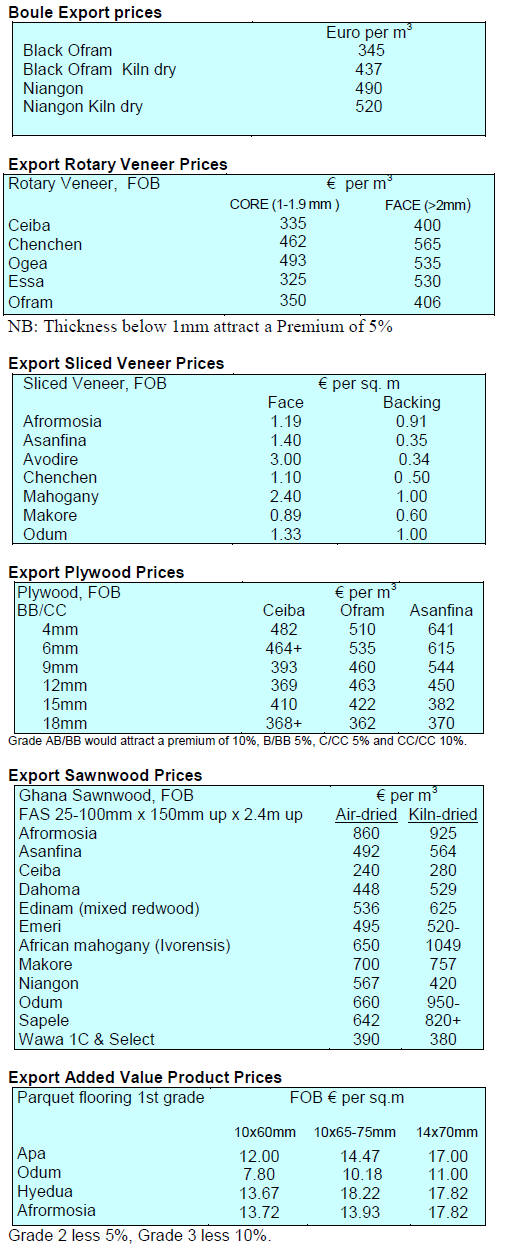 3. MALAYSIA
Malaysian manufacturing boost from TPP
Malaysia along with another 11 Asia Pacific countries:
Australia, Brunei Darussalam, Chile, Japan, Peru,
Singapore, the United States, Vietnam, Mexico, Canada
and New Zealand has agreed the Trans-Pacific Partnership
Agreement (TTP).

Malaysia secured some concessions during the
negotiations due to uniqueness of its economy especially
in relation to the governments affirmative action
programme.

Supporters of the TTP say conditions will be such that
Malaysia"s economy will grow faster as the manufacturing
sector will secure advantages in TPP member country
markets and there could be growth in foreign investment.
As a result of the agreement the ringgit secured its biggest
single-day improvement against the US$ rising almost 4%.
Critics of the TPP object to the advantages given to state
owned companies under the agreement and also claim
some personal rights will be infringed under the
agreement. Analysts have suggested that it could take
years for all TPP member countries to ratify the
agreement.

Harwood Timber to physically inspect Sarawak log
shipments
Harwood Timber, a state government owned company,
signed a memorandum of understanding with the Sarawak
Forestry Corporation (SFC) on a forest plantation and
forest landscape restoration project involving indigenous
tree species.

This agreement between the two entities also provides the
framework for Harwood Timber and SFC to promote the
greening process for degraded landscapes across the state.
In 1994, Harwood Timber was appointed by the state
government as the sole agency under the Forests
Ordinance to administer and monitor the movement of
logs in Sarawak.

Under an amended Forest Ordinance 2015 Harwood
Timber was re-appointment and charged with physically
inspecting log shipments and verifying the legality of the
timber along the supply chain in Sarawak. Harwood will
continue to issue clearance certificates for logs destined
for domestic processing or export.

Harwood Timber"s new role is expected to strengthen the
reputation of the Sarawak timber industry.
Sarawak produced 5,232,621 cu.m of logs from January to
August this year compared to 5,449,911 cu.m in the same
period last year.
4. INDONESIA
Indonesian importers face due diligence
Indonesia"s Ministry of Environment and Forestry has
issued a regulation "Management P.7/PHPL-SET/2015" on
procedures to be followed by Indonesian wood product
importers.

Indonesian importers of wood products are required to
exercise due diligence under the conditions of the VPA
with the EU to ensure the legality and traceability of wood
products coming into the country.

Importers are expected to know where to find the relevant
information and are expected to update themselves on the
requirements set out in the regulation. All information will
be made available on Inatrade, the website operated by the
Ministry of Trade.
¡¡
No log exports
The Trade Ministry is currently revising a number of
import and export regulations but has indicated the ban on
the export of logs will remain in place. Nurlaila Nur
Muhammad, the Ministry of Trade Director of Agriculture
and Forestry Exports said while the export of pulp will be
allowed there will be no change in the log export ban.

SVLK requirements to be relaxed
The government has agreed to relax regulations on legality
verification for some specific wood products in order to
ease the burden of legality certification on manufacturers.

Nurlaila Nur Muhammad from the Ministry of Trade said
timber associations had welcomed the decision to simplify
procedures for the export of ironwood and revoke
requirements for timber legality verification system
(SVLK) certification on 15 added value wood products
including furniture.
The planned relaxation of the SVLK requirement has
raised concerns in the EU and representatives of the Multistakeholder
Forestry Program (MFP). The MFP is asking
for clarification on the matter. The Environment and
Forestry Ministry objected to the planned revision as it
risks undermining efforts to stamp out the trade in illegally
sourced timber.
Raising the quality of exports
The EU has initiated a programme to raise the quality of
Indonesian exports. Speaking recently the EU Ambassador
to Indonesia, Vincent Guerend, said ¡°the EU hopes that
through its Trade Support Programme the quality of
Indonesian goods will be raised and that this will lead to
increased exports to the EU.

The EU/Indonesia Trade Support Programme in its second
stage will focus on five sectors that find exporting to the
EU difficult: agri-foods, fisheries, electronics, wooden
furniture and natural cosmetics.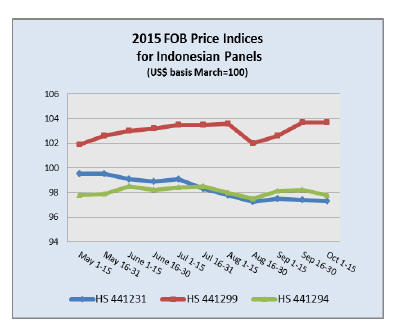 5. MYANMAR
Action plan for VPA
A domestic newspaper, Daily Eleven reported on 1
October that Dr.Sein Win of the Myanmar Forest Products
Merchants Federation (MFPMF) announced that
arrangements are underway to negotiate a FLEGT-VPA
with the EU.

Win stressed that a successful negotiation will involve
considerable effort on the part of government agencies and
the private sector. Government agencies must ensure
sound forest management and enforcement of Myanmar"s
forest laws and supervise production and trading. The
private sector must maintain transparency in its dealings
and abide by national laws.

A memorandum of understanding, including an action
plan for implementation of the VPA, has been signed
between the MFPMF and Global Timber. See:
http://email.23ccc.com/t/ViewEmailArchive/y/A00EA3BCD086
CA61/C67FD2F38AC4859C/

Forecasts decline in growth
A recent World Bank report forecasts that Myanmar"s
GDP for the 2015-16 fiscal year is likely to be below
target due in part to recent flooding and a slowdown in
investment.

According to the ¡°East Asia and Pacific Economic
Update¡± from the Bank, Myanmar"s economy grew at
8.5% in the 2014-15 fiscal year but is forecast to be only
6.5% in the next fiscal year¡±.

Myanmar among least competitive economies
According to the latest rankings of the World Economic
Forum (WEF), Myanmar remains among the 10 least
competitive countries in which to do business,.

The Annual Global Competitiveness Index for 2015-16
published by the WEF ranked Myanmar amongst the most
challenging in which to do business.

The WEF report stressed that Myanmar needs to address
technological readiness, financial market development and
business sophistication. It was also noted that labour
market efficiency needs to be improved.

A press release from WEF in relation to Asian economies
says ¡°Among emerging and developing Asian economies,
the competitiveness trends are mostly positive, despite the
many challenges and profound intra-regional disparities.

While China and most of the South-East Asian countries
perform well, several South Asian countries and Mongolia
(104th) continue to lag behind.

The five largest members of the Association of Southeast
Asian Nations (ASEAN) all rank in the top half of the
overall GCI rankings ¨C Malaysia (18th, up two), Thailand
(32nd, down one), Indonesia (37th, down three), the
Philippines (47th, up five) and Vietnam (56th, up 12) .

For more see: http://reports.weforum.org/global-competitivenessreport-
2015-2016/economies/#economy=MMR

September market prices
The following timber was sold by Myanma Timber
Enterprise by tender on 28 September 2015. Log volumes
are expressed in hoppus tons (H.tons).

Prices secured for Sawing Grade teak logs.
Open Tender Yangon Depots 28 Sept. 2015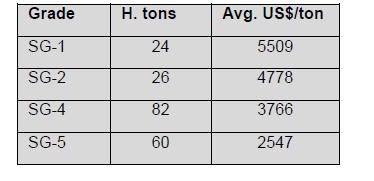 6. INDIA
Policy changes could stimulate private sector
development of affordable housing
The Confederation of Real Estate Developers"
Associations of India (CREDAI) has released a new report
"Housing for all: Reforms can make it happen sooner".
This identifies the policy changes that, if adopted, would
lead to greater involvement of the private sector in
building affordable housing.

The opening statement in the report says ¡°In India housing
and indeed all affordable housing has been the exclusive
preserve of public sector entities such as Housing Boards
or Development Authorities.

Private sector real estate developers have been historically
precluded from affordable housing both structurally and at
the level of policy.

One major trend that can be witnessed at least since the
global liquidity crisis of 2008 - 2009 in India is that
private sector developers are willing to assume risks and
put their entrepreneurial talent at stake on the affordable
housing segment.¡±
For more see: http://www.credai.org/sites/default/files/Credai-
Housing-for-all.pdf
Punjab has surplus of logs
In order to boost private farm forests the Central
Empowered Committee (CEC) has decided to issue
licenses to over 5,600 previously unregistered wood-based
industries in the state of Punjab. These industries include
5,290 sawmills, 139 veneer mills, 203 plywood factories
and 19 other units.

The reason behind this decision is that Punjab has a
surplus of wood raw material as 3.2 million cubic metres
of logs are available annually while the annual
consumption of mills in the State is only 2.8 million cubic
metres.

As many as 360 wood processing plants in Punjab that
were established after 30 October 2002 were forced to
close after the Supreme Court of India decreed that no
state or Union Territory could permit any unlicensed wood
processing industry to operate without prior permission
from the Central Empowered Committee.

According to Mr.Tikshan Sood, Punjab Minister for Forest
and Wildlife Preservation, the surplus 400,000 cubic
metres of wood is sufficient to supply a large number of
small mills and this would lead to the creation of many
direct and indirect jobs in the State.

The State government is also studying the possibilities of
setting up plywood factories at the behest of the Punjab
Forest Corporation.

If the State proceeds with the plan to allow more wood
processing plants this will motivate more farmers to plant
trees, especially fast growing poplar and eucalyptus.

In related news, the Government of Haryana State has also
been approached by owners of mills that were forced to
close on the orders of Supreme Court of India.

The farmers in the State have joined this appeal as
registering all mills will increase demand for timber and
will encourage more planting which will raise rural
incomes.
Wide range of prices for peeler logs ¨C poplar replaces
gurjan
At present prices for peeler logs vary widely across India.
In Bengal Bihar and Jharkhand peeler log prices are high
as most mills use semul (Bombax spp.), kadamba
(Anthocephalus kadamba), siris (Albizzia spp) and other
expensive timbers.

On the other hand, in Southern India most peeler logs are
plantation grown rubberwood which is very competitively
priced giving mills using such raw materials a competitive
advantage.

The relative newcomer to the plywood industry is poplar
and this is now a favorite because of its low price. The use
of poplar for face veneers for plywood has helped replace
imported Myanmar gurjan.

Expansion of fibreboard capacity
With pre-laminated particleboard and MDF becoming
increasingly profitable new capacity is being added.
Reports suggest that in 2014 capacity in the wood based
panel sector expanded at around 700 cubic metre per day.

India has extensive sugar plantations and generates a huge
quantity of bagasse suitable for the panel industry. Three
new panel mills have been commissioned this year and
one more is soon to begin production in in Chennai.

Wood Plastic Combination boards are also becoming
popular as they are considered strong, waterproof and easy
to work and finish. Such products, which are new to the
Indian market, make use of a wide variety of wood and
agri-residues which help reduce dependence on imports.
Prices for imported plantation teak, C&F Indian ports
Prices are unchanged from the end of September
Prices for imported plantation teak, C&F Indian ports
Prices are unchanged from the end of September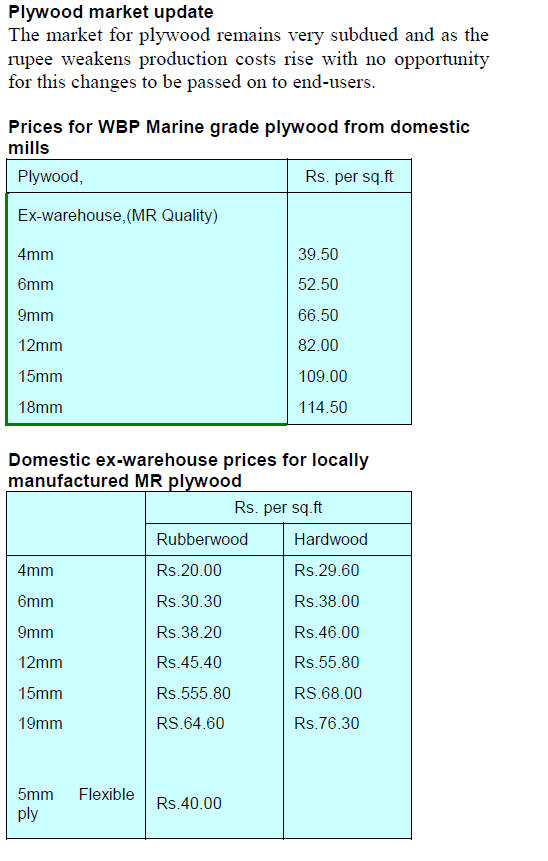 7. BRAZIL
Exports the alternative to falling domestic sales
The current economic conditions in Brazil are not
conducive to domestic sales and this is affecting decisions
in the private forestry and wood processing sectors.

According to the Brazilian Association of Mechanically-
Processed Timber Industry (ABIMCI), because of
strengthening demand in the US, coupled with the
appreciation of the US currency, Brazilian wood product
manufacturers are focusing on exports but this comes with
a sting-in-the-tail in the form of lower dollar prices.

In addition to the lower dollar prices, the appreciation of
US dollar has impacted production costs since many of the
inputs such as power and fuel costs have risen.

The current sense of economic uncertainty in Brazil has
also resulted in it becoming more difficult for companies
to access credit and when credit is available interest rates
are very high, raising the risks to the commercial viability
of wood product manufacturers.

Agreement on sustainable forest management in the
Mamirau¨¢ Reserve
A forest management agreement has been agreed between
the Sawmillers Association and Furniture Manufacturers
in Uarini municipality and the Community Association
Santa Luzia do Horizonte in the Mamirau¨¢ Sustainable
Development Reserve in the state of Amazonas.

The goal is to ensure sustainable forest management and
trade in legal timber between the two parties and secure
sustainable and legal supplies of some 168,000 cubic
metres of logs.

This agreement represents a new phase in forest
management in the Mamirau¨¢ Reserve and is being
promoted as a promising arrangement between loggers and
the community. This initiative will open the way for good
forest management that is transparent and carefully
monitored.

Santa Catarina furniture industry increases exports
The firming US dollar is helping furniture industry in
Santa Catarina State to increase exports.

In the first eight months of 2014 they exported furniture
worth R$46 million but by August this year exports had
already reached R$54 million. For manufacturers in São
Bento do Sul municipality 50% of exports go to the US
with another 40% destined for Europe.

The furniture manufacturers in Santa Catarina work
mainly with solid wood and have focused on efficiency
and productivity gains to compete in international markets.
The result of this has been positive but the price declines
in dollar terms are of considerable concern.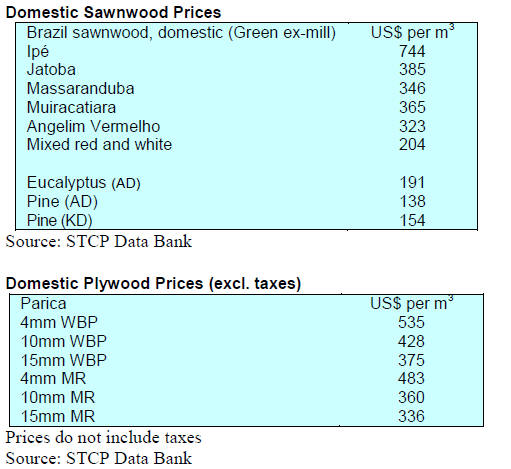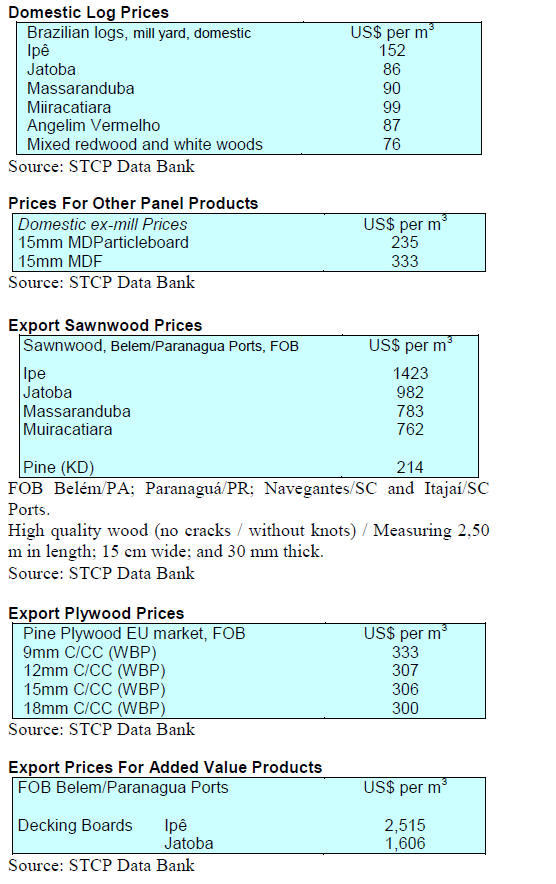 8. PERU
Forestry law given ¡®teeth¡¯ with new regulations
The Peruvian Government has enacted regulations that
will allow enforcement of the Forestry and Wildlife Law
No. 29763.

This new regulatory framework strengthens the
institutional framework of the forestry sector through the
National System of Forestry and Wildlife (SINAFOR),
whose governing body is SERFOR which part of
MINAGRI. SERFOR will coordinate, cooperate and
collaborate with other institutions involved in
management.

Four regulations were approved, the Forest Management
Regulations; Regulation for the Management of Wildlife;
Regulation for Forest and Wildlife Management in native
communities and the Regulations for the Management of
forest plantations and agroforestry systems.
Workshops begin to promote forest plantations
Representatives of rural communities, businesses, regional
and local authorities, students and private owners
interested in adding value to their land participated in the
first "Workshop for socialisation and dissemination of the
National Program for Promotion of Forest Plantations"
hosted by National Forest and Wildlife Service.

Forestry sector exports to grow to US$300 million
The recently enacted regulations for the Forestry and
Wildlife Law will stimulate growth in the forestry sector
and could result in exports of forest products worth
US$300 million by 2017. In addition expansion of the
sector will lead to the creation of thousands of jobs
according to the Minister of Agriculture and Irrigation,
Juan Manuel Benites.

He noted that it took four years of negotiations with
stakeholders to conclude the new law which for the first
time recognizes the important role of communities in
forest management.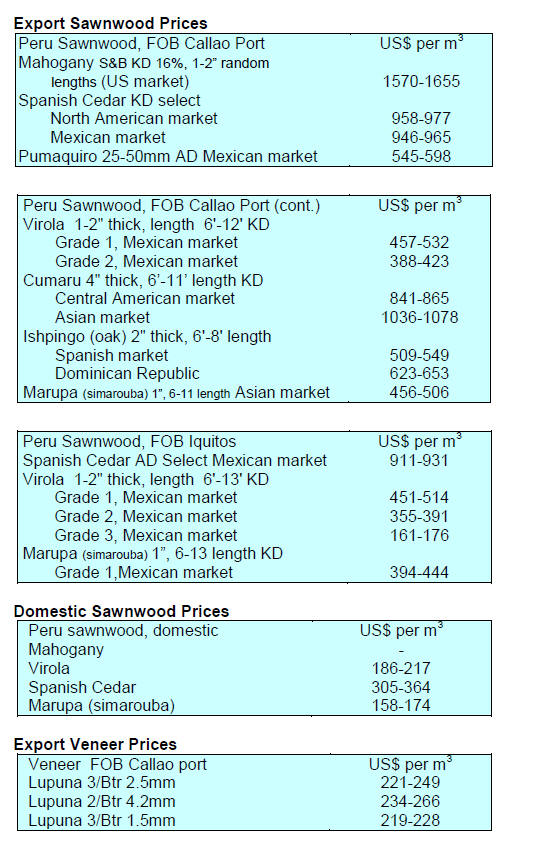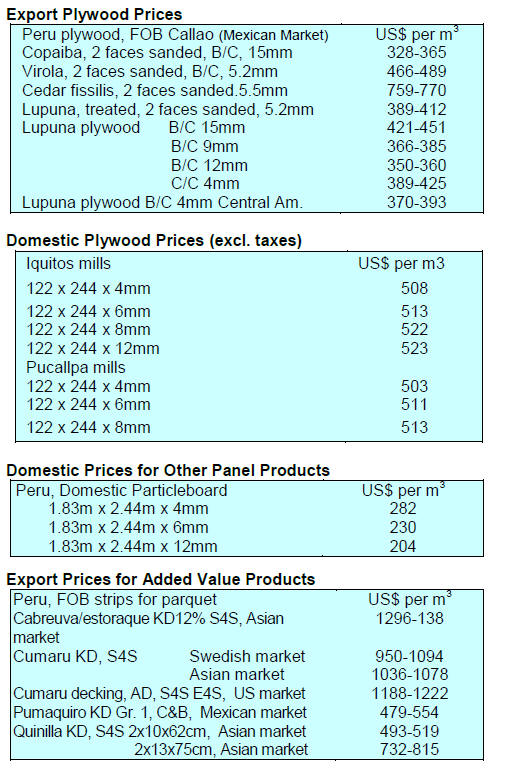 9. GUYANA
Advice on added value production
In an effort to improve on the quality of furniture and
other value added timber products in Guyana the Forest
Products Development and Marketing Council arranged
for a Canadian expert from the Canadian Executive
Service Organization to meet with industry and offer
practical advice.

Prior to the plant clinics a seminar was held for
representatives of government Agencies and other
stakeholders at which the emphasis was on best practices
in furniture manufacturing including tool maintenance,
wood drying and preservation, tool sharpening and factory
layout.

The seminar was followed by a number of plant visits
where the expert identified with plant operators areas that
could be improved. Practical demonstrations were given
on a number of key techniques and procedures involved in
furniture manufacturing.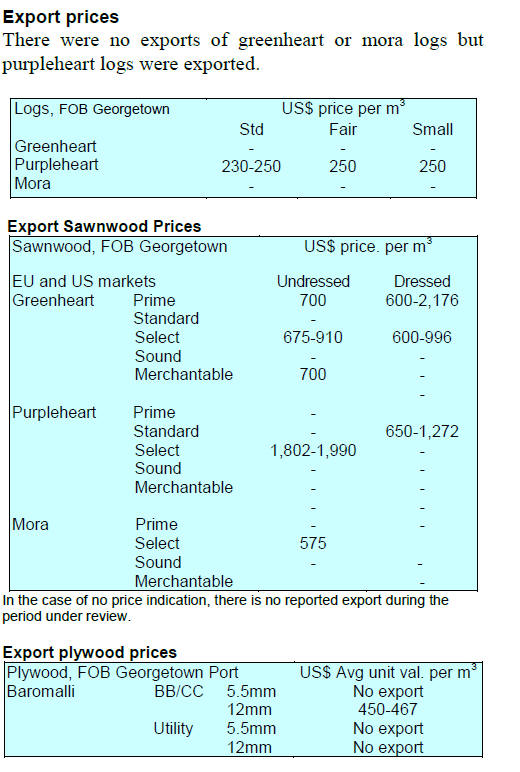 ¡¡
¡¡