Report from North America
US market continues to expand
The positive development in wood product imports
continued in June. Only hardwood mouldings and
hardwood flooring imports were lower than in the
previous month and compared to 2014. Indonesia
increased hardwood plywood shipments to the US in June.

US imports of hardwood plywood continued to grow in
June reaching 383,018 cu.m. Imports were up 58% from
May and year-to-June imports were 3% higher than in
June 2014. Hardwood plywood imports from China were
228,299 cu.m. in June, up 19% year-to-June from the same
time last year.

The largest month-on-month growth was in plywood
imports from Indonesia, which grew by 155% to 58,073
cu.m. However, year-to-June imports from Indonesia were
still lower than at the same time last year.

Decline in hardwood moulding imports
Hardwood moulding imports remain in negative territory
compared to last year. June imports were worth US$16.1
million, down 4% from the previous month.
China remains the largest supplier of hardwood mouldings
at US$5.0 million in shipments in June. Year-to-June
imports from China were up 2% compared to 2014.

All other major suppliers lost market share. Year-to-June
imports from Brazil and Malaysia were down 8% from
June 2014, while imports from Canada fell by 25%
compared to last year.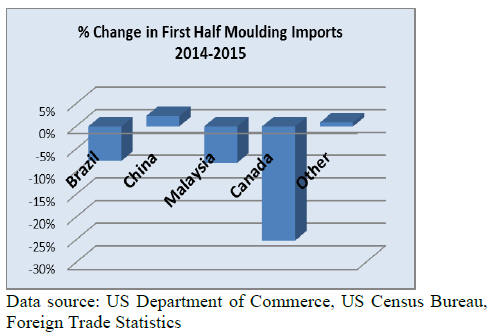 Significant increase in flooring imports from Malaysia
and Indonesia
Hardwood flooring imports declined from a peak in May
to US$3.2 million in June. However, year-to-June imports
were still much higher (+24%) than in June 2014. Monthon-
month imports from all major suppliers fell in June.

Indonesian shipments were worth US$884,131, while
imports from Malaysia were US$648,435, down from over
US$1 million for both in May. Imports from China fell by
more than half to just US$328,774.

Imports of assembled flooring panels increased 21%
month-on-month in June and 12% year-to-June compared
to the same time last year. Imports from China were
US$4.5 million in June, up 26% from May.

Imports from Canada were unchanged. Indonesian
shipments almost doubled from May to US$791,977 in
June.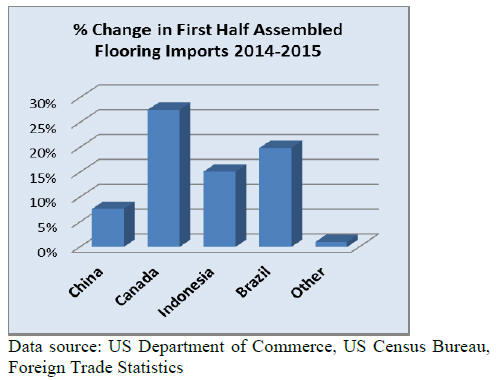 Wooden furniture imports rise
Wooden furniture imports continued to increase in June.
US imports were worth US$1.43 billion, up 3% from May.
Year-to-June imports were 11% higher than in 2014.

The strongest growth was in wooden office furniture
imports, which grew 9% from the previous month.
Kitchen furniture imports increased 5% in June, while
imports of wooden seats declined slightly. As was the case
in May, all major suppliers increased furniture shipment to
the US market with the exception of Indonesia and
Malaysia.

Wooden furniture imports from China grew 2% in June.
Year-to-date imports were up 9% from June 2014,
compared to a 20% increase in furniture imports from
Vietnam. US furniture imports from Canada rose 16%
from the previous month, helped by the weaker Canadian
dollar. Among smaller suppliers, India and Brazil saw
significant gains in June.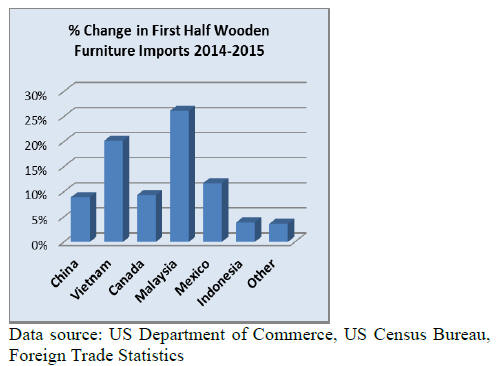 Consumer confidence down but builders optimistic
about housing market
US consumer sentiment declined in July but, overall,
consumers remain optimistic about the economy. The
University of Michigan's index of consumer sentiment
decreased to 93.1 in July from 96.1 in the previous month.
One year ago the index was at just 81.8.

Despite the lower consumer index, Americans feel
positive about the job market and wages. The negative
economic news from China may have contributed to lower
consumer confidence.

Builder confidence in the market for newly built, singlefamily
homes in June reached its highest level since 2005.
The National Association of Home Builders expects a
continued recovery of the housing market in the second
half of 2015 but the shortage of labour and building plots
remain a challenge for many home builders.

Multi-family housing starts up
Housing starts increased 10% in June from the previous
month, according to US Census Bureau data. The
seasonally adjusted annual rate of residential construction
was 1,174,000 in June. This is 27% above the June 2014
rate.

The growth was in multi-family construction, while
single-family starts declined slightly from May. The share
of single-family homes in new construction fell to a new
record low of 58%.

The number of building permits increased by 7% in June
to 1,343,000.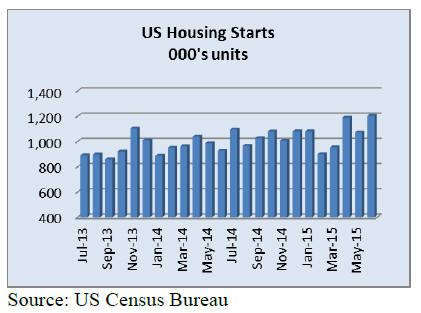 Home sales and prices at record high
Existing-home sales increased in June to their highest pace
in over eight years, according to the National Association
of Realtors. All major regions experienced sales gains in
June. At the same time home prices reached a record high.
Limited supply of both existing homes and new homes on
the market is pushing up home prices.

Stronger US demand for Canadian wood products
Canadian housing starts increased slightly in June at a
seasonally adjusted annual rate. Both multi-family and
single-family construction grew. The Canadian Housing
and Mortgage Corporation expects multi-family
construction to decline in the near future because many
completed units remain unsold.

Lower oil prices continue to have a negative effect on
Canada¡®s economy, although they are partly offset by the
strengthening US economy. Canadian exporters of nonenergy
products such as the wood products industry
benefit from growing US demand.

US trade deficit up due to higher imports
Manufacturing output continues to expand according to
the Institute for Supply Management. Furniture
manufacturing companies reported production growth,
while output declined in the wood products sector.

GDP growth was an estimated 2.3% in the second quarter
of 2015, according to the Department of Commerce¡®s first
estimate. First quarter economic growth was revised up to
0.6%. Higher consumer personal spending and residential
construction contributed to the greater GDP growth in the
second quarter.

The US trade deficit increased to US$43.8 billion in June,
up from US$40.9 billion in May. Compared to the same
time last year, the trade deficit grew 0.6%. The larger
deficit was mainly due to increased imports of goods.
Growth in furniture orders and shipments
Orders for new furniture increased by 5% in May from the
previous month according to the Smith Leonhard industry
survey of residential furniture manufacturers and
distributors.

Year-to-may orders were 5% higher than in May 2014.
More than half of respondents (55%) reported increased
orders for the year to date, down from 68% in April.
Furniture shipments were up 7% year-to-date from May
2014. 71% percent of companies reported higher
shipments in May.

Inventory levels at distributors and manufacturers were
unchanged in May from a month earlier but were higher
than in May 2014. Overall, inventory levels were normal
for business conditions.

Retail sales at furniture stores in the US declined 5% in
June from the previous month, according to US Census
Bureau estimates. Despite the drop sales were 9% higher
than in June 2014.

Furniture imports from China more competitive
The decline in US consumer confidence affects furniture
demand, but on the positive side unemployment remains
low and wages are growing. The strong growth in home
sales and new construction is excellent news for furniture
manufacturers and retailers.

China¡®s currency devaluation is expected to make
furniture exports from China more competitive compared
to US imports from Vietnam, Malaysia and Indonesia. At
the very least a weaker yuan will offset the rise in labour
cost in China. US companies that buy furniture parts from
China for assembly in the US should also benefit from a
weaker yuan.

The longer-term impact of a weaker yuan on furniture
supply chains may be even more important than short-term
price effects, according to the trade journal Furniture
Today. Manufacturers in China will be less likely now to
close plants and relocate to Vietnam or to other countries.

Exports of high-end furniture from the US to China have
experienced strong growth in recent years, and the
stronger dollar will force US companies to price their
products more competitively. China¡®s imports of US-made
furniture increased by 59% between 2013 to 2014 to
US$109.4 million.