Report from North America
Imports of all major wood products improve
The growth in home construction and sales is improving
demand for wood building materials and furniture, both
imported and manufactured or assembled in the US.
Hardwood plywood and hardwood mouldings were the
only product categories with lower year-to-date imports
compared to the January to May period in 2014.

But, lower hardwood plywood imports from Indonesia
and Malaysia
US imports of hardwood plywood grew 12% month-onmonth
in May to 242,177 cu.m. However year-to-date
imports were 5% lower than in May 2014.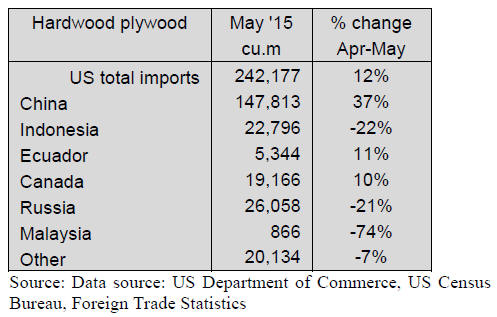 Hardwood plywood imports from China recovered from
the low April import volumes. May imports from China
were 147,813 cu.m., up 15% compared to may 2014.

China"s share of US total hardwood plywood imports
increased from 50% in April to 61% in May.
The largest decline was in imports from Indonesia and
Malaysia. Indonesian May plywood shipment to the US
fell 22% from April to 22,796 cu.m.

Year-to-date imports from Indonesia were one third lower
than in the January to May period. May imports from
Malaysia were just 866 cu.m. with year-to-date imports
16% lower than up to May 2014. Year-to-date hardwood
plywood imports from Russia and Canada were slightly up
in May.
Hardwood moulding imports from China surge
US hardwood moulding imports were worth US$16.7
million, up 26% in May from the previous month.
However, compared to 2014, year-to-date hardwood
moulding imports are still down by 5%.

The month-on-month growth in imports of mouldings was
primarily from Brazil (US$4.8 million) and China (US$5.3
million). Year-to-date imports from China were up 7% in
May, while imports from Brazil (-7%) and Malaysia (-1%)
declined.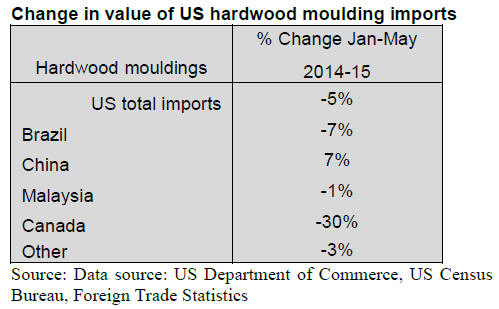 Increase in flooring imports from Malaysia and
Indonesia
US hardwood flooring imports grew by 51% in May from
the previous month, while growth in assembled flooring
panels was more moderate at 2%.

Hardwood flooring imports from Malaysia, Indonesia and
China increased significantly compared to last year, while
imports from most other countries, except Canada,
declined.

Imports from Malaysia and Indonesia were worth US$1.4
million and US$1.3 million respectively in May. Year-todate
imports from those two countries increased by over
50% year on year.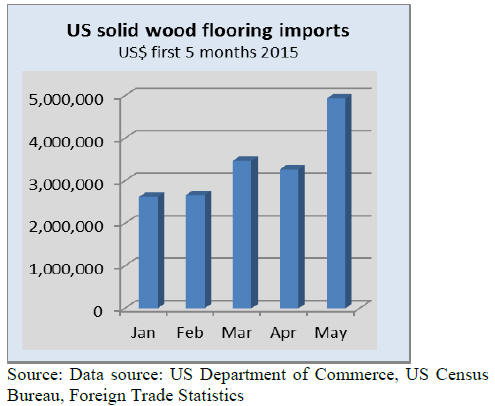 The growth in assembled flooring panel imports mainly
benefited Canada this year, although imports from China
and Indonesia were also up. Imports from China were
US$3.6 million in May, compared to US$3.4 million from
Canada. China remains the leading source of flooring
panels.

Wooden furniture imports highest since US recession
Wooden furniture imports recovered from the brief decline
in April. At US$1.38 billion, May imports were the
highest since the US financial crisis. Year-to-date imports
were 11% higher than the January to May period in 2014.

All major suppliers increased furniture shipments to the
US in May, with the exception of Indonesia and Malaysia.
Wooden furniture imports from China increased 32%
month-on-month and China"s share in total imports
increased to 48% in May.

Furniture imports from Vietnam grew less than China"s
from the previous month, but at +17%, Vietnam has the
highest growth rate in year-to-date shipments to the US.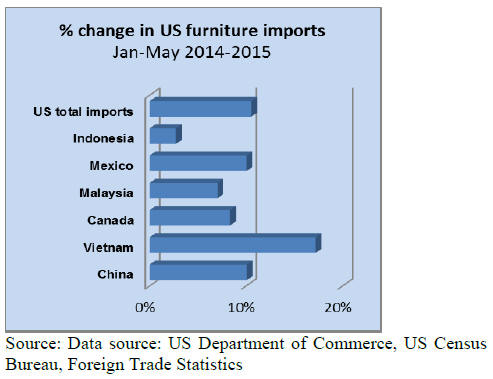 Retail sales at furniture stores in the US increased 12% in
May from the previous month according to US Census
Bureau estimates. Furniture sales were low this spring, but
May sales indicate a recovery and higher consumer
confidence in the economy. May 2015 furniture sales were
5% higher than in May 2014.

Consumer and builder confidence consolidated
US consumer confidence increased significantly in June,
according to both the University of Michigan"s consumer
confidence index and the Conference Board consumer
index.

The University of Michigan index increased to a fivemonth
high. Consumers were mostly positive about the job
market. Many plan larger purchases this year ahead of
expected higher interest rates.

Builder confidence in the market for new single-family
homes reached the highest level in June since 2005,
according to the National Association of Home
Builders/Wells Fargo Housing Market Index.
Home sales and home prices are rising and builders were
most positive about market conditions in the South and
West.

Home construction down, sales and prices up
Housing starts declined by 11% in May from the revised
April estimate. The seasonally adjusted annual rate of
residential construction was 1,036,000 in May but this is
still 5% above the May 2014 rate.

Both single-family and multi-family housing starts fell in
May but the decline was stronger in multi-family
construction.

However, sales of existing homes show a more positive
development in the housing market. May sales of existing
homes were at their highest in almost six years according
to the National Association of Realtors.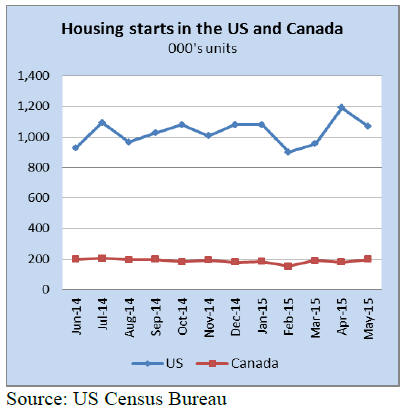 Window market to grow 6.2% in 2015
The residential window market will grow 6.2% in 2015
and 3.9% in 2016, according to a recent Window and
Entry Door Industry Market Study. In 2014 market growth
in windows was even higher at 12.7% due to the recovery
in new home construction.

Vinyl windows accounted for more than two thirds of the
residential market (67.6%) in 2014. Wood-clad windows
were in second place at 20.5%. The market share of solid
wood frame windows was small at just 1.3%. Aluminium
windows accounted for 5.2% and composite materials
3.6% of the residential window demand in 2014.

The study was published by the Window and Door
Manufacturers Association and is available for purchase
through the association"s online shop: https://wdma.siteym.
com/store/ListProducts.aspx?catid=265369&ftr=

US homeownership at record low ¨C a trend that could
impact demand for wood products
US homeownership is at its lowest rates since 1967. In the
second quarter of 2015 the share of Americans owning
their homes was 63.4% according to the US Census
Bureau. The homeownership rate declined 0.4 percentage
points from the previous quarter.

In general a high homeownership rate is regarded as a
positive sign for the US economy. The current decline in
homeownership may be related to low income growth
which is not keeping up with the increase in home prices.

The financial crisis led to many foreclosures and some
homeowners are still losing their homes. The number of
foreclosures has declined but they still accounted for 10%
of all existing home sales in May according to the
National Association of Realtors. On the other hand, the
number of households renting has increased.

The number of homeowners declined by 400,000 in the
second quarter, compared to 2 million more renters. While
this is a good sign for the rental market, it also indicates
that young people may have difficulties affording a
mortgage and buying a home.

The changes in homeownership are likely too small at this
time to affect wood product demand. If a higher share of
Americans continues to rent, demand for wood building
materials and wood for interior finish, such wood flooring
and wood kitchen cabinets, will likely decrease.

Single-family homes and owner-occupied homes use more
wood products than rental multi-family buildings where
price and maintenance are often the most important factors
in material choice. However, population growth will boost
overall demand and should buffer wood product
manufacturers from any changes resulting from the growth
in rental housing.