2. GHANA
Manufacturers express concern on economy
According to the second quarterly report from the
Association of Ghana Industries (AGI), industry members
have expressed concern on what they described as the
"worsening economic situation in the country".

In a statement the AGI said businesses in the country are
straining under the exchange rate volatility, the increased
taxes and the unrelenting power crisis all of which is
undermining business planning and consequently causing
losses.
The AGI members comprise small, medium and large
scale manufacturing and service industries and they are
urging the government to reduce government expenditure
and excessive borrowing in order to restore macroeconomic
stability.

In another development, the AGI has lauded the National
Development Planning Commission (NDPC) for its
initiative on a 40-year development plan but insists that
the plan should focus on developing an industrial-based
economy.

The development plan, which is still in the consultation
process, has sought comments from various stakeholders
such as political parties, professional bodies, civil
societies, social organisations and religious groups.
According to the chair of the Commission, the long-term
plan falls in line with public outcry for single development
framework that will guide successive governments.

Funding power generation
Funding from the World Bank has been secured for the
country"s power generation. This follows the approval of a
record US$700 million in guarantees for Ghana"s Sankofa
Gas Project - a project that will help address the country"s
serious energy shortages by developing new sources of
clean and affordable natural gas for domestic power
generation.

PPI rises sharply
Ghana's annual Producer Price Inflation (PPI) rose sharply
to just over 23% in June from a revised figure of 18.8%
the previous month. According to the Statistical Office the
rise was caused by currency depreciation, higher cement
prices, and changes in the extractive and manufacturing
sectors.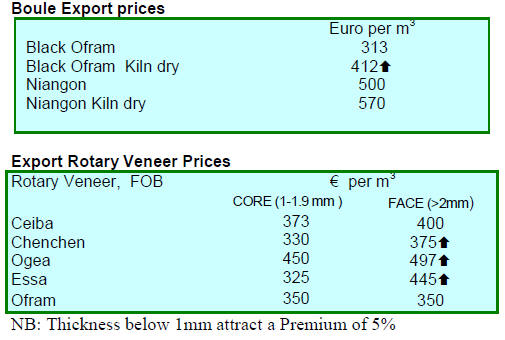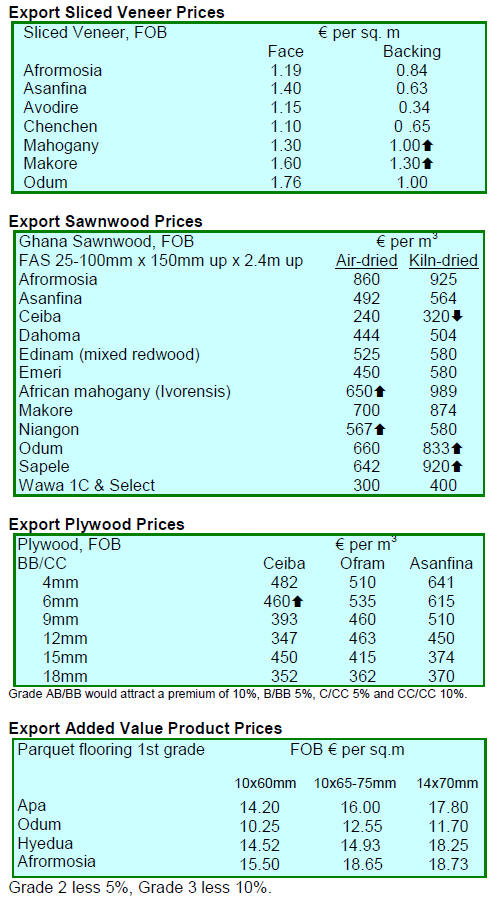 3. MALAYSIA
Weak ringgit pushing up production costs
The issue currently dominating business community
debate is the weakening ringgit/US dollar exchange rate.
The ringgit fell to 3.928 on 11 August, the weakest since
September 1998 during the Asian currency crisis when the
government pegged the currency to the US dollar.

From the beginning of this year the exchange rate was
stable but slowing demand, mainly in China, and domestic
issues served to undermine the domestic currency.

The Malaysian Central Bank (Bank Negara Malaysia) has
been forcefully supporting the ringgit but at a huge cost to
foreign exchange reserves which recent fell below US$
100 billion. This in itself undermined confidence and
exacerbated the situation.

During the early part of August, following the release of
data showing exports declined for the fifth consecutive
month, China began a round of devaluations of the yuan.
This impacted the ringgit/dollar exchange rate which
tipped to 3.9605 at one point mid-month. The ringgit is
Asia"s worst performing currency over the past 12 months.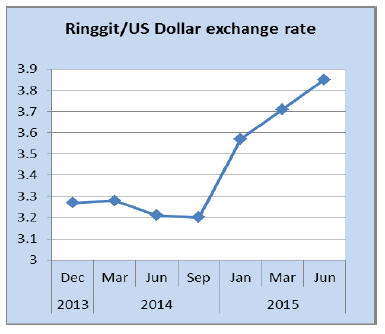 The Chairman of the Sarawak Timber Association, Wong
Kie Yik, pointed out that while sales priced in dollars
resulted in higher ringgit earnings the increased cost of
raw material inputs is eating up the currency gains.

Sarawak Furniture Industry Association president, Lai
Kim Min, said manufacturers are disadvantaged by the
weakening ringgit. In addition Malaysian consumers are
finding that prices for imported goods from China and
Vietnam are rising.

Active promotion of high value goods key to increased
export earnings
The Director-General of the Malaysian Timber Industry
Board (MTIB), Dr Jalaluddin Harun, is forecasting wood
product exports of RM22 billion this year.

In a press release he said from January to May export
revenue from wood products increased 0.6% year on year
to RM8 billion. Third quarter exports traditionally rise
such that the target RM20-22 billion is attainable provided
promotion of high value added products is maintained and
Malaysia aggressively participates in international
exhibitions. In 2014 the top five export destinations Japan,
the US, EU, India and Australia.

¡®Go ahead, make my day¡¯ armed foresters set to patrol
in Sabah
The Sabah Forestry Department has set up an armed team
and a tracker dog unit in an effort to enforce the State's
forestry laws and regulations.

Forestry Director, Sam Mannan, told the press that 40
armed personnel supported by the canine unit will be
deployed and will not tolerate illegal activities. Initially
the canine unit would focus on tracking gaharu
(sandalwood) smugglers in forest reserves.

Sarawak company commissions new plywood mill in
Australia
Ta Ann has recently commission a plywood mill in North
West Tasmania after several delays. The investment began
at the time of the previous Australian government which
provided a large proportion of the capital required.

The mill will create some 120 jobs when at full production
producing panels for the Australian market. The company
hopes to capture 15 per cent of the Australian market for
plywood.

For more see:
http://www.fridayoffcuts.com/index.cfm?id=638#1
4. INDONESIA
Reviving the Economic Partnership Agreement with
EU
Minister of Trade, Rachmat Gobel, said that the
Indonesian government plans to open negotiations with the
EU on resumption of the Comprehensive Economic
Partnership Agreement (CEPA) with the aim of improving
market access for Indonesian products into the EU.

This was discussed when the British Prime Minister
visited Indonesia. Trade between Indonesia and the UK in
2014 amounted to US$2.5 billion with Indonesia"s exports
valued at US$1.6 billion and imports valued at US$894
million.

Investment funds for SMEs
Since 2007 the Ministry of Environment and Forestry has
had a revolving fund of IDR2.1 trillion to finance
community forest sector developments by furniture SMEs
and community forest groups. Unfortunately the funds
have not been accessed by local entrepreneurs.

Recently, community forestry entrepreneurs and SMEs
were invited to the forestry ministry for a Business
Investment Forum attended by representatives from the
Bank of Central Java and Bank of East Java.

During the Forum the reasons for the slow uptake of loans
was discussed along with issues related to implementation
of Indonesia"s domestic timber legality verification
system.

Gearing up to tackle forest fires
Hot dry weather is affecting Indonesia and authorities are
concerned about the high fire risk brought on by the El
Nino phenomenon.

Indonesia suffered serious forest fires because of the 1997-
98 El Nino when fire destroyed millions of hectares of
forests and plantations valued at almost US$2.5 billion.

Impact of yuan devaluation
The surprise devaluation of the yuan on 11 August drove
Indonesian stocks lower on concern that China"s imports
will slow which would weaken Indonesia"s exports to
China, Indonesia"s largest trading partner. Indonesia"s
exports to China already fell a quarter in the first half of
2015.

On the possible impact on exchange rates, Bank of
Indonesia Deputy Governor, Mirza Adityaswara, reassured
markets that the yuan devaluation is unlikely to impact the
rupiah which is already at very competitive levels.
The International Monetary Fund welcomed China"s move
to devalue the yuan and said it doesn"t directly impact
China"s aim to win reserve currency status for the yuan.
5. MYANMAR
August market prices
The following timber was sold by the Myanma Timber
Enterprise (MTE) by tender on 24 and 27 July 2015. Log
volumes are expressed in hoppus tons (H.tons) and
volumes for "conversions" and sawn teak (including hewn
timber) are shown in cubic tons (C.tons).

Teak conversions (scantlings), Yangon MTE Sawmills
MTE sold 352 cubic tons of various sizes of teak
conversions produced from its own sawmills and 110 tons
Second Quality (grade) timber. Average prices were as
follows:

Long Lengths (6ft.& up avg. 8ft)
Second Quality US$1638

Short lengths (3ft. to 5.5ft.)
Second Quality - US$1554

Ultra shorts- (1ft. to 2.5 ft.)
Second Quality - US$1404

A total of 242 tons of Third Quality timber of various
lengths was sold at an average of US$564 per cubic ton.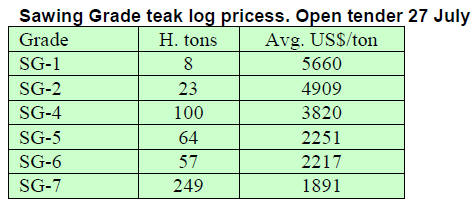 Export earnings FY 2015-16.
Export earnings for the first four months of FY 2015-16
were reported to be US$3,455 million.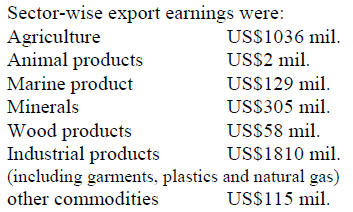 Monsoon floods
Floods in the last week of July affected 12 out of 14 states
and divisions in Myanmar with the Chin and Rakhine
states as well as the Sagaing and Magway divisions being
declared disaster areas.

According to Ministry of Social Welfare between 16 July
and 8 August 223,700 families were affected.
These floods are the worst in decades. Kachin, Sagaing,
Magway, Rakhine suffered the heaviest flooding.

Flooding has affected transportation of wood products.
Logs and other wood products are commonly transported
by barges but swollen rivers have brought shipments to a
halt.
6. INDIA
Real estate companies under pressure from unsold
units ¨C prices set to fall
Because of rapid urbanisation and increasing income
levels the Indian housing market is witnessing
considerable change.

RNCOS, a business consulting service firm, has released a
new report, ¡°Indian Housing Sector Outlook 2020¡±. The
report highlights the strong growth in the Indian housing
sector over the past few years driven by rising purchasing
power, continuously rising population, increasing
investments in socio-economic infrastructures,
urbanisation and migration of people from rural areas.

The press release says the report provides an overview of
the Indian housing market and provides a information on
opportunities in the different industry supply materials to
the sector. Forecast for housing market potential and
demand have been provided till 2020. For more see:
http://www.rncos.com/index.htm

In recent months Indian real estate developers have had a
difficult time in disposing of the stock of housing. While it
is difficult to get details on housing sales and indication of
the problem of poor sales can be gauged from reports by
the Reserve Bank of India (RBI). The Bank has recently
released details on lending by commercial banks to the
real estate sector.

The RBI notes that lending commercial banks to the estate
sector in March was down 0.7%. While this may not seem
a significant drop when viewed against overall lending the
reality becomes apparent.

Over a period of one year lending to housing developers
was around 1% below the rate of overall lending as
developers are holding back on new project developments
in the face of high levels of unsold units and this is
affecting sales of wood products in the country.

The pressure is now on developers holding high levels of
unsold units which should be good news for home buyers
as the indications are that house prices will have to come
down before further developments are started.

Slight weakening of consumer sentiment
India"s Consumer Confidence Survey provides an
assessment of the perceptions of respondents on general
economic conditions and their financial situation currently
and looking ahead 12 months.

The survey determines if respondents consider their
financial situation likely to improve, be unchanged or
worsen. Respondents in Bengaluru, Chennai, Hyderabad,
Kolkata, Mumbai and New Delhi are surveyed.

The information collected is analysed in two parts- current
situation as compared with a year ago and the expectations
for a year ahead. The latest survey was conducted during
the second to third week of June 2015 and secured
responses from 5,400 people.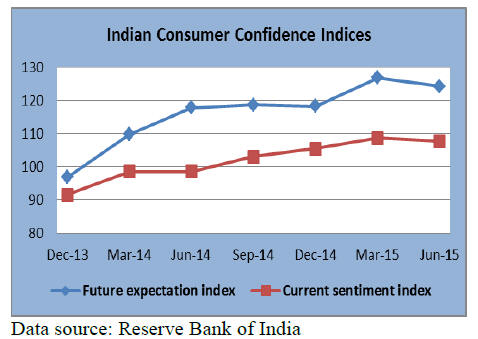 Findings from the latest survey show:


Consumer perception on the general economic
conditions for the current period and the year
ahead continues to be positive.



Both the Current Situation Index (CSI) and
Future Expectations Index (FEI), which had
steadily risen since September 201,3 remained
positive but there was moderation in sentiment on
all the indicators except perceptions on spending.

GST to level playing field and benefit Indian plywood
end-users
India is set to bring into law the Goods and Service Tax
(GST) Bill officially titled The Constitution (One Hundred
and Twenty-Second Amendment) Bill, 2014. This would
bring in a unified Central and State wide Value added Tax
as of April 2016. The GST will replace all indirect taxes
levied on goods and services by the Indian Central and
State governments.

The new tax regime will benefit the corporate sector
through reducing the tax burden on companies and
through reducing production costs. From a consumer view
point GST will herald a reduction in the tax burden on
goods which is currently around 25%-30%. Introduction
of the GST will improve competiveness at home and in
international markets.

Major plywood manufacturers are looking forward to the
introduction of the unified tax structure particularly as it
will level the playing field for them and plywood makers
in the so-called "unorganised sector" as the price
advantage enjoyed by "unorganised" manufacturers would
narrow. Existing corporate manufacturers pay 16% excise
duty and 4% sales tax on their products.

The Indian Plywood Industries Research and Training
Institute has said introduction of the GST will make
trading conditions tougher for the "unorganised" plywood
makers which generally produce low quality plywood and
undercut plywood from major producers.

It is estimated that "unorganised" plywood producers have
a 60-65% share of the domestic market for plywood.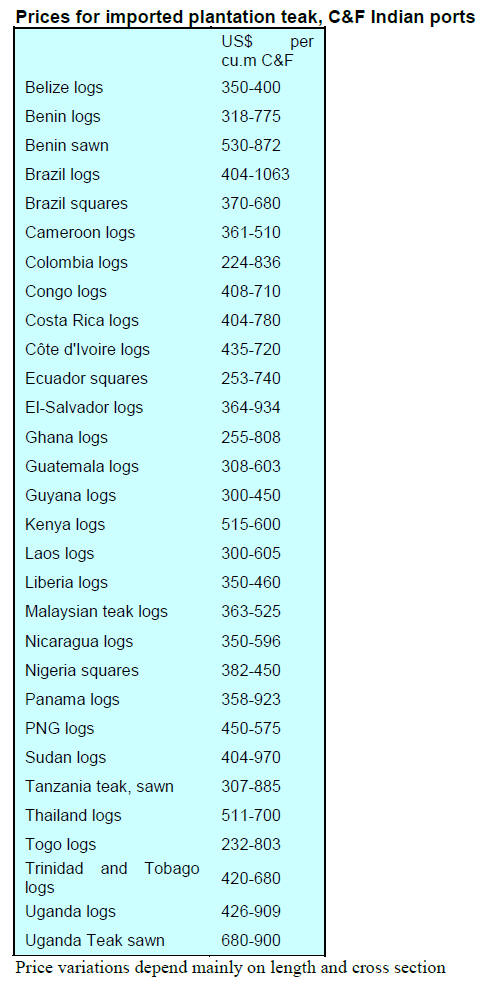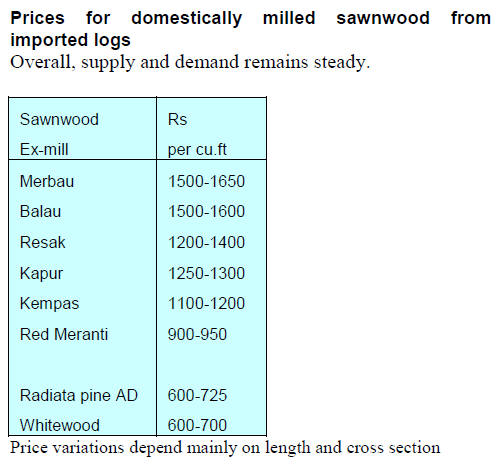 Current prices for Myanmar teak sawn in Indian mills
Durable tropical timbers from West Africa and Malaysia
are slowly replacing imported natural forest teak because
of its high price.

Even in traditional markets such as Middle Eastern
countries iroko is finding favour in place of teak because
of its quality and competitive price.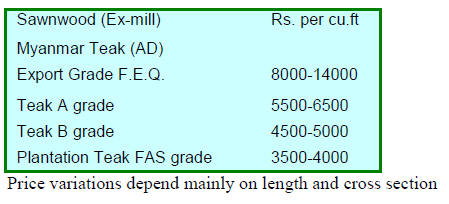 Imported sawnwood
Prices for imported sawnwood (KD 12%) shown below
are per cu.ft ex-warehouse.
No significant price movements have been reported.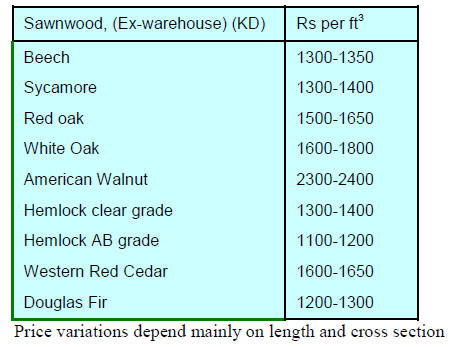 Plywood prices
In the housing sector the problem of weak demand
persists. It has been reported that as many as 700,000
apartments are lying unsold in eight major cities in the
country. Compared to sales in the first half of last year
sales as of June 2015 were down 19% and there has been a
40% decline in the launching of new housing projects.

The weak housing market is affecting plywood sales but
because of their lower overhead costs small mills in the
so-called "unorganised" sector can offer high discounts to
maintain sales.

With the monsoon season continuing to cheer farmers with
a promise of good harvests demand in the building and
construction sector may pick up at the end of the rain
season.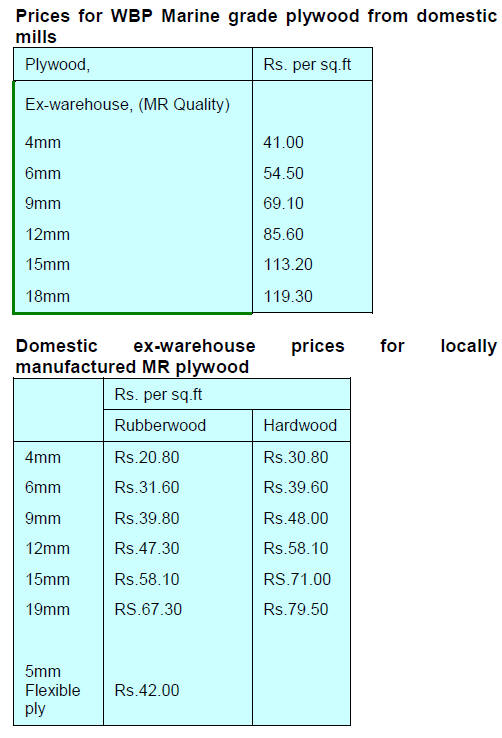 ¡¡
7. BRAZIL
Forest products exports improve in the first half 2015
In the first six months of 2015, revenue from exports of
pulp, woodbased panels and paper totalled US$3.6 billion,
about the same level as in the first half of 2014. The
January to June trade balance for the sector stood at
US$2.9 billion, a 6% increase compared to the same
period in 2014.

The volume of pulp exports in the first half of 2015
totalled 5.5 million tons, a 7% rise year on year.
Woodbased panel export volumes in the first six months of
this year totalled 289,000 cubic metres a 48% rise over the
same period in 2014.

Paper exports reached 987,000 tons between January and
June 2015, an almost 4% growth year on year.

Bahia forestry sector to create additional 45,000 jobs
by 2018
According to Forest Plantation Producers Association of
Bahia (ABAF) the state should achieve a 15% increase in
the number of jobs in the forestry sector by 2018 as the
plantation area increases.

Bahia is ranked fifth amongst the timber producing states
in Brazil as it accounts for around 10% of the total planted
area in the country.

Plantation growth rates in Bahia are good due to
favourable soil and climatic conditions especially in the
northeast. Output per hectare is said to be as high as 45
cubic metres while the national average is 33cubic metres.

95 forest-based companies operate in the State and provide
300,000 direct and indirect jobs and the forestry sector
contributes over 5% to State GDP.

Imaflora reviews new certification indicators
The Forest Stewardship Council is said to be reviewing its
international generic indicators in Brazil, the review will
result in changes in the Standards for Forest Management
in the Brazilian Amazon (natural forests and forest
plantations).

The standards will reportedly provide indicators for local
communities and small farmers as standards for small and
low intensity managed forests will be separated from the
new standard.

Professionals in the areas of natural forests and forest
plantations certification at the Institute for Agricultural
and Forest Management and Certification (IMAFLORA)
are debating appropriate indicators regarding small
producers and communities to ensure the new standards
reflect reality on the ground in Brazil. Public hearings on
the draft proposals are planned for late 2015 and early
2016.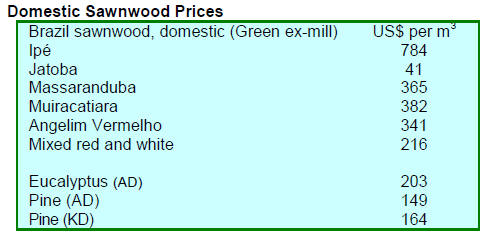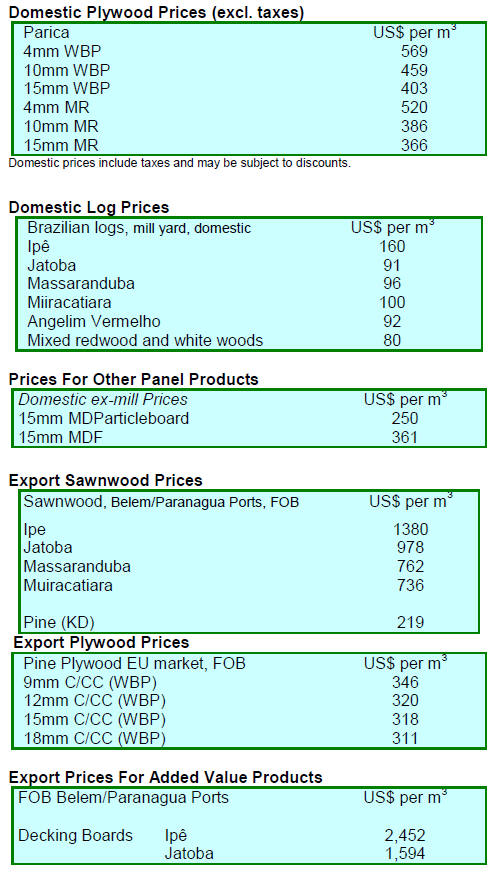 8. PERU
Award for innovative prevention of deforestation
Peru's embassy in London was the venue for the
"Environmental Finance Award - 2015".

The award was given to the authorities in Peru who, in
cooperation with the Fund of the Americas (FONDAM)
and the Association for Research and Integral
Development (AIDER),were recognised for efforts in the
Tambopata National Reserve and the Bahuaja Sonene
National Park in Madre de Dios.

The award recognises the innovative approach to the
conservation of landscapes in areas of greatest biodiversity
and the design of a sustainable financial model attracting
public and private funding for the development of
conservation programmes that combine conservation and
economic and social development.
Furniture Fair MADEXPO
The MADEXPO furniture and wood products fair will be
held 11 to 14 November. The fair aims to promote
technological developments in the timber sector and
present a wide range of products and services available for
the sector.

Tropical Forest, the event organisers, say MADEXPO is a
perfect opportunity for entrepreneurs in southern Peru to
interact and observer the latest technologies.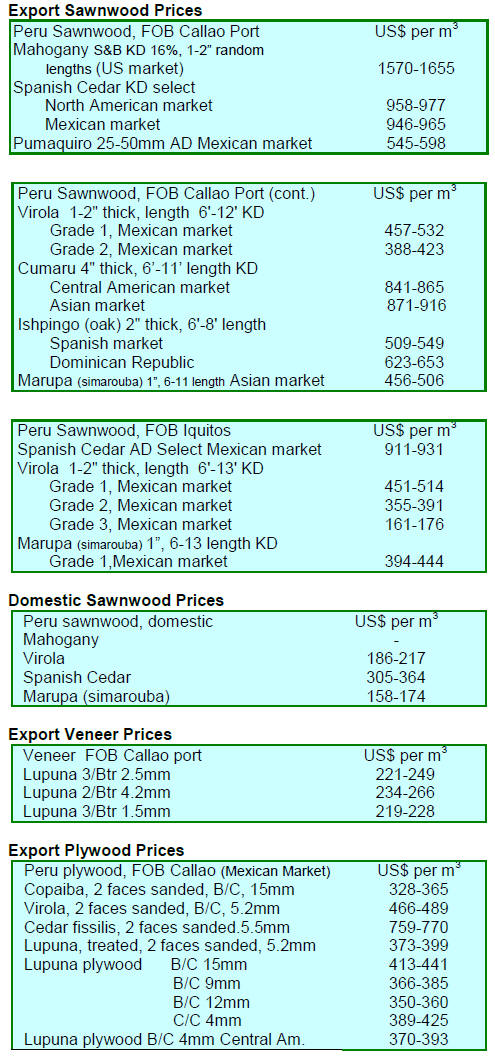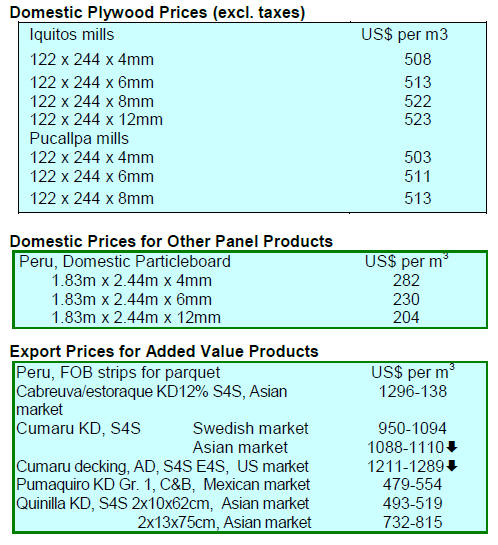 9. GUYANA
Caribbean and Latin America market in first half 2015
Economies of Caribbean countries and some Latin
American countries continue to strengthen and this is
driving demand for a significant part of Guyana"s exports.
In the first half 2015 earnings from the export of wood
products to Caribbean and Latin America markets totalled
US$5.14 million.

First half year 2014earnings in the same markets
amounted to US$ 5.72 million. Despite the over 10%
decline in first half 2015 earnings these markets remain
firm and stable.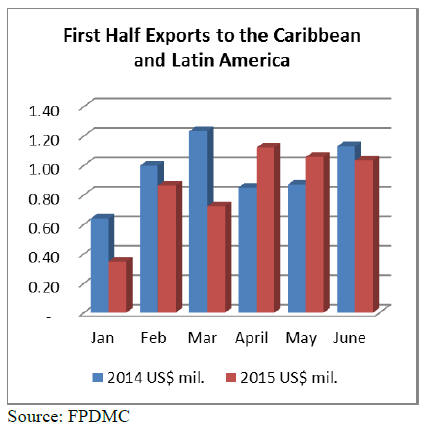 Both the Caribbean and Latin American markets account
for the major portion of Guyana"s exports of added value
products such as doors, indoor and outdoor furniture, craft
items, spindles, mouldings, prefabricated building
components, window frames and wooden utensils as well
as non-timber forest products.

The Forest Products Development and Marketing Council
(FPDMC) is taking initiatives to promote the manufacture
of value added forest products for both domestic and
international markets utilising both commercial and lesser
used timbers.

Logging companies told to comply with concession
agreement
The international and domestic media in Guyana has
reported that China Forest Industry and Vaitarna Holdings
of India could have their concession agreements nullified
if they fail to establish wood processing plants as required
under their concession contracts with the government.

Minister of Governance, Raphael Trotman, has said that
following discussions with the two companies each had
agreed to address this issue and establish milling capacity.
Both companies have large forest concessions and both
have benefitted from the tax concessions and other
incentives on the understanding the companies will to
install processing capacity.

Export prices
There were exports of greenheart and purpleheart logs but
not mora logs in the period reviewed.