Report from North America
US interest rate hike possible in September
GDP growth in the first quarter of 2015 was revised down
to -0.7%, according to the second estimate by the US
Department of Commerce. Higher imports and lower
private investment were the main reasons for a contraction
in the economy.

Unemployment was 5.5% in May. The unemployment rate
has changed little since February.

The Federal Reserve announced in June that interest target
rates will likely increase, possibly by an average of one
percentage point per year over the next three years. The
interest rate has remained unchanged for now. Most
analysts expect the first rate hike for September.

The manufacturing industries noted growing demand and
better flow of imported goods through the West Coast
ports, according to the Institute for Supply Management.
Furniture manufacturing and the wood product industries
reported production growth in May.

Consumer and builder confidence down in May
Consumer confidence in the US economy fell in May to a
six-month low. The University of Michigan¡®s consumer
confidence index declined from 95.9 in April to 90.7 in
May.

Weak economic growth in the first quarter and few
changes in the unemployment rate affect consumers¡®
outlook. Growth in wages has been low, while the price of
gasoline is rising again.

Builder confidence in the market for new single-family
homes decreased in May, according to the National
Association of Home Builders/Wells Fargo Housing
Market Index.

Builder confidence reflects lower consumer confidence in
the economy and the slow recovery in the housing market.
Builders were most positive about market conditions in the
South and Northeast.

Home construction up expect in US South
Housing starts were low in the two months up to March
but they finally gained in April. Starts were 1.135 million
at a seasonally adjusted annual rate, a 20% increase from
March. Single-family housing starts grew 17%, while
multi-family construction increased by 27%.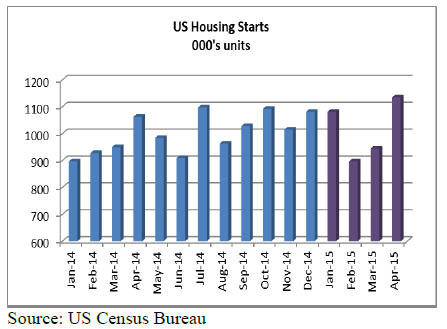 Home construction increased in all regions of the country
except the South. The value of building permits issued
increased by 10% in April to US$1.143 million. Much of
the growth was in permits for multi-family construction.

Homes sales (as opposed to Starts) on the other hand
slowed in April, according to data collected by the
National Association of Realtors. The association believes
sales declined because of low supply on homes on the
market relative to demand, which has increased prices.

Mixed signals in non-residential construction
Growth in non-residential construction appears to
accelerate. Investment in non-residential construction
increased by 3% in April (a seasonally adjusted annual
rate). The US Census Bureau also revised up the March
investment in private construction.

All categories of non-residential construction grew in
April, except health care facilities. Despite the positive
data, the American Institute of Architects reported a
downturn in business conditions for firms in the
commercial and industrial market. The institutional
construction sector was more positive.

Growth in home remodeling to slow in 2015
Homeowner spending on home remodeling grew 5% in
the third quarter of 2014, according to estimates by the
Joint Center for Housing Studies of Harvard University.
For 2015, the center predicts growth in the remodeling
market, but at a lower rate than in 2014.

After a strong start in 2015, growth in remodeling
spending is projected to decline to less than 3% in the
second half of the year. Growth rates are based on a fourquarter
moving rate of change which removes seasonality
effects.

The recent slowdown in home sales has a negative effect
on home renovation, repair and other remodeling
activities.
Homes sales is the largest driver of remodeling as new
home owners tend to purchase new flooring, kitchen
cabinets or build home extensions.

The expected rise in interest rates will likely encourage
home owners to invest in their homes sooner rather than
later.

Wood products requiring declaration under Lacey Act
The following additional wood products will require
declarations for US import starting August 6, 2015 (by HS
code).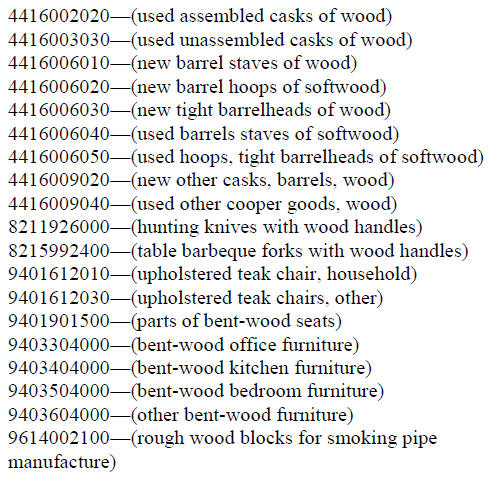 The list of all wood products that require declarations is
available at
http://www.aphis.usda.gov/plant_health/lacey_act/downlo
ads/ImplementationSchedule.pdf

Lacey Act amendment bill in Senate
An amendment of the Lacey Act would change penalties
from criminal to civil and reduce the maximum fine. Most
significantly, it would also remove all references to
¨Dforeign law¡¬ within the Lacey Act. The change would
make it easier for companies to comply with the
legislation. If they do not comply the consequences would
be less severe.

The proposed amendment will need to be approved by the
US Congress. A previous attempt at similar Lacey Act
change failed in 2012 the Lacey Act failed.

Import round-up
Imports of several wood product types declined in April,
despite better supply chain flow through West Coast port.
However, compared to the same time last year US imports
are up except for hardwood mouldings. Demand is likely
to recover before the summer as house construction and
home sales grow.
Lower hardwood plywood imports
US imports of hardwood plywood decreased 28% monthover-
month to 216,763 cu.m. in April. Year-to-date
imports were 2% higher than in April 2014.

China¡®s share in imports declined to 50% in April because
of a drop in Chinese shipments to107,532 cu.m. Year-todate
imports (January to April) were 20% higher than in
2014 when the US anti-dumping duties had already been
lifted.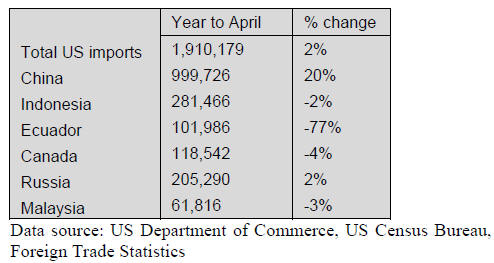 Hardwood plywood imports from Russia grew in April to
32,868 cu.m., up 28% from the previous month. All other
major suppliers to the US market shipped less year-to-date
than in April 2014. The largest drop in shipments was
from Ecuador.

Decline in hardwood moulding imports
April hardwood moulding imports fell 17% to US$13.3
million. Year-to-date hardwood moulding imports were
lower than in April 2014.

Despite the overall decline, imports of hardwood
mouldings from China have grown this year. April imports
from China were worth US$3.8 million, compared to
US$3.0 million from Brazil.

First four month hardwood moulding imports from
Malaysia were also up. 2015 imports were 7% higher than
in April last year but compared to March there was a sharp
drop.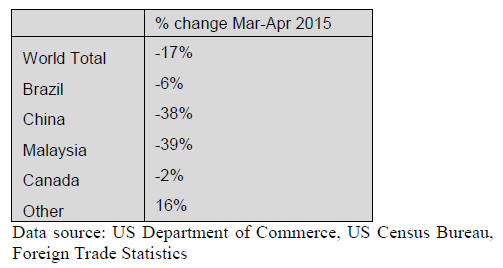 Indonesian flooring shipments up in April
Wood flooring imports decreased in April, but remains
higher year-to-date than in April 2014.

April hardwood flooring imports declined by 6% from the
previous month to US$3.3 million. Imports from Indonesia
grew 80% month-over-month to US$995,495, making
Indonesia the largest supplier in April.

Both Indonesia and Malaysia had higher shipments yearto-
date compared to last year.

China¡®s hardwood flooring shipments were down in April
and growth in imports year-to-date was low compared to
Malaysia, Indonesia and Canada.

Imports of assembled flooring panels fell 23% in April to
US$9.7 million. Year-to-date imports were up 23% over
April 2014. Imports from all major supplier countries
declined in April.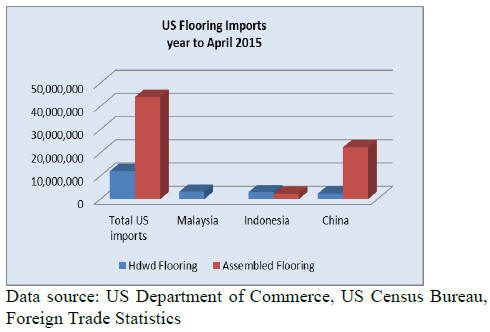 Vietnam, Indonesia, Malaysia and Mexico grow
furniture import share
Wooden furniture imports were worth US$1.21 billion in
April, down 13% from March. Year-to-date imports were
10% higher than in April 2014.

The largest month-over-month decline was in imports
from China. Furniture imports from China were worth
US$505.8 million in April, down 23% from March.
However, year-to-date imports were 11% higher than in
April last year. China¡®s import share remains unchanged
from 2014 at over 46%.

Vietnam¡®s furniture import share increased by one
percentage point from March to 19% in April. Imports
from Vietnam were worth US$235.1 million in April.

Wooden furniture imports from Indonesia and Malaysia
increased in April to US$65 million and US$63 million,
respectively. Mexican shipments declined in April, but
year-to-date furniture imports from Mexico were 12%
higher than in 2014.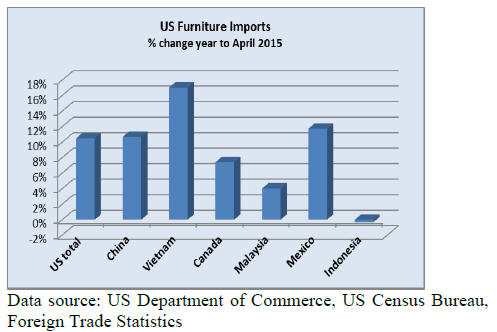 Decline in furniture retail sales
Retail sales at furniture stores in the US fell an estimated
7% from March to April, according to US Census Bureau
data. Furniture sales remain higher (+5%) than at the same
time last year. The decline in April sales of furniture and
overall in retail reflects lower consumer confidence in the
economy.