US Dollar Exchange Rates of 24th July 2015
China Yuan 6.2085
Report from China
Retail sales recovering
While there is no doubt that growth in the Chinese
economy has slowed, recent data from the National
Bureau of Statistics (NBS) shows that retail sales of
consumer goods continue to recover.

June retail sales of consumer goods grew by 10.6% yearon-
year. From January to June this year total retail sales
expanded by just over 10% compared to the same period
in 2014.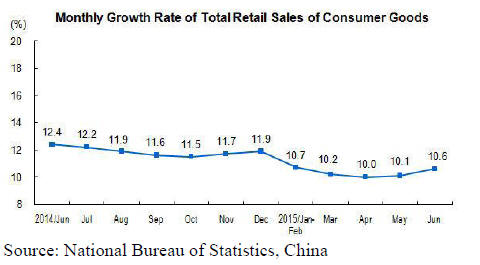 Year on year sales of furniture were up 16% in June and
sales of building and decoration materials grew over 17%.

The NBS data shows that online sales continue to expand
and that more and more physical goods as opposed to
services are purchased online.

In 2014 Chinese consumers bought more online than US
consumers and for 2015, given the almost 40% rise in
online sales in the first half of the year, it is likely that
China¡®s online business could double.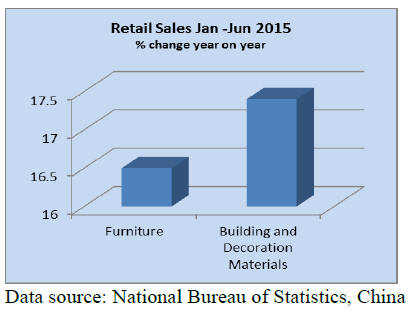 Home sale price trends
June 2015 prices for newly built homes have been reported
by China¡®s National Bureau of Statistics.

Compared to a month earlier June selling prices assessed
in 70 medium and large-sized cities declined in 34 cities,
increased in 27 and remained unchanged in 9 cities.
However, compared with June 2014 prices were down in
68 of the 70 cities surveyed.

Two measures of the Chinese economy are closely
watched, the stock market and the housing sector. China's
economic growth is linked to the housing market in a
number of ways: the direct link through construction and
the indirect link through purchases of goods and services
by new home owners.

Export tax rebate increased
It has been reported that China has increased the export
tax rebate on products manufactured from agricultural and
forestry residues, defective and small diameter logs,
fuelwood residues and straw.

The new rebate regulations came into effect on 1 July
2015 and raise the tax rebate to 70% for fiberboard,
particleboard, blockboard and certain carbon products
made from the specified list of raw materials most of
which are residues.

Guangzhou Port adds new trade routes to its portfolio
According to the Guangzhou Port Group 8 new foreign
trade routes have been added to the areas serviced by the
port. The Guangzhou provincial government has an action
plan aimed at building Guangzhou as a major international
shipping centre by 2017 when 20 additional routes will be
added.

Observers forecast that the wood products trade will
benefit from the expansion of routes serviced by
Guangzhou Ports.

Dayaowan Port, Dalian to use new fumigation
treatment technology
Methylbromide fumigation technology has been used at
China¡®s ports for many years but this is about to change at
Dayaowan Port.

A joint research and development project by Dalian Port
Group, Tsinghua University and China¡®s Quality
Supervision, Inspection and Quarantine office will test
microwave dielectric heating treatment technology. Trials
will be conducted on imported logs in containers.

The research team claims the microwave dielectric
technology is clean, environmentally friendly, safe and
easy to operate.

Closures of many "redwood" enterprises in Beijing
According to a representative from one of main ‗redwood¡®
markets in Beijing some 12 stores selling ‗redwood¡®
products have closed and only 2 remained open as of the
end of July.

It has been reported that demand for ‗redwood¡® products
has cooled considerably and sales by the well-known,
large redwood enterprises are slow and well down from a
few years ago. The smaller manufacturers of ‗redwood¡®
have been particularly affected by the market downturn.

While there is some demand for high-end ‗redwood¡®
furniture analysts estimate that 50% of the furniture sold
today is of wood-based panels and that these products
dominate the market.

The future for ‗redwood¡® furniture makers in Beijing does
not look bright and analysts expect further closures as
demand wanes.

Wood product exports through Suifenhe port at a
record high
According to the statistics from Heilongjiang Entry-Exit
Inspection and Quarantine Bureau, in the first half of 2015
the value of wood products exports through Suifenhe port
rose 24% to RMB200 million, a record high.

The exported wood products included more than 30 types
of wood products such as a variety of panels and flooring
which were shipped to more than 50 countries.

The main reason for the increase is the innovative
management at the port. In order to promote an increase
wood product exports the Suifenhe Entry-Exit Inspection
and Quarantine Bureau has strengthened and reformed its
management of export procedures at port and implemented
paperless customs clearance and inspection. This, say
observers, has greatly enhanced efficiency reducing the
burden on exporters.

In its latest move Suifenhe Entry-Exit Inspection and
Quarantine Bureau is to broaden its risk classification
management involving determining wood product risk
levels and classification of enterprises for various export
categories. Through this additional saving of time and
expense will be achieved.