Japan Wood Products Prices
Dollar Exchange Rates of 24th July 2015
Japan Yen 123.81
Reports From Japan
Marked improvement in business sentiment among
large companies
The latest Bank of Japan (BoJ) survey of business
sentiment (June Tankan survey) has shown that for the
first time in three months sentiment amongst Japan's large
manufacturers improved.

The Tankan survey seeks opinions on investment plans
and business conditions from around 10,000 large
medium and small companies and generates an index
useful in gauging the likely direction of production and
exports in the short-term.

The latest quarterly Tankan for the second quarter shows
that the index for large manufacturers rose to 15 from 12
in March, well above expectations. However the index for
small companies remained firmly negative.

In terms of trends, analysts remind that investment plans
tend to expand in the second quarter as companies always
appear more optimistic after the traditional slow start to
the year.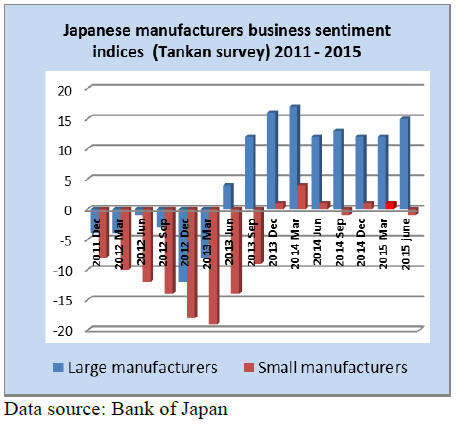 For details see: http://www.statsearch.
boj.or.jp/index_en.html#

For large companies the yen exchange rate will be
watched very carefully. A yen dollar exchange rate over
115 is seen as good news for exporters. A weak yen boosts
overseas earnings and lifts profits when foreign currency
earnings are repatriated to Japan. The downside is that a
weak yen increases the cost of imports and it is this that
impacts small companies the most.

BoJ Governor says no more monetary easing
Bank of Japan (BoJ) Governor, Haruhiko Kuroda, has said
the Bank still expects to meet its inflation target by the
first half of 2016 but many economists consider this too
optimistic given falling commodity prices, a weakening of
import growth in China and worries over growth prospects
in Europe.
At a news conference the BoJ chief confirmed his view
that he did not see any need to expand the scope of
quantitative easing but was ready to do so if required.

Kuroda's comments and data showing demand for labour
is currently the strongest for more than 20 years gave a
boost to the yen but this was not sustained and the dollar
yen exchange rate settled back to 124 in July.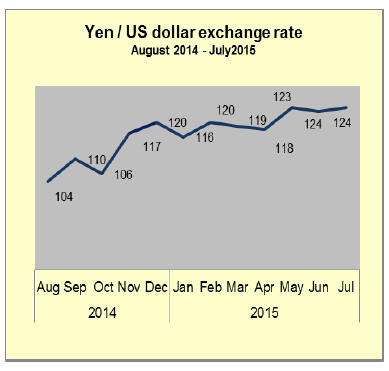 Double digit growth in June housing starts
The 12% month on month and 6% year on year rise in
June housing starts were much higher than forecast and
according to data from the Ministry of Land,
Infrastructure, Transport and Tourism, orders placed with
large construction companies grew by over 15% in June.

However, first half 2015 starts, at 434,000 units, are well
below the 508,000 units reported in the first half of last
year.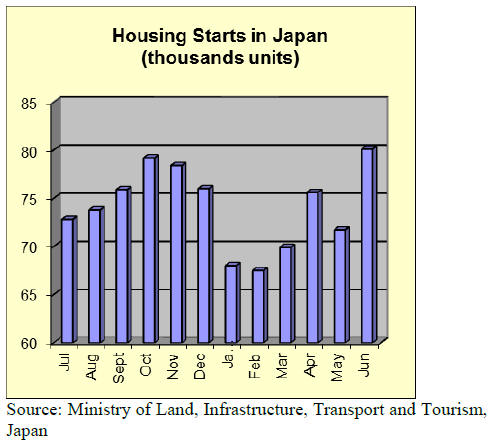 Japan"s furniture imports
Japan's imports of kitchen and bedroom furniture are
showing signs of recovering but imports of office furniture
continue to slide. Compared to levels in May, Japan's
imports of kitchen and bedroom furniture rose in June but
imports of office furniture fell.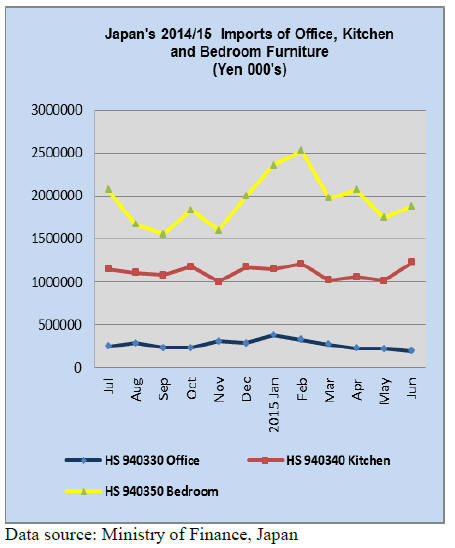 Office furniture imports (HS 940330)
June imports of office furniture were down 13% on May
figures with suppliers in China, Portugal and Poland, the
top three suppliers, registering declines (-8%, -18% and -
26% respectively).

The top three supply countries account for 74% of Japan's
total office furniture imports. Suppliers in Asia; Malaysia,
Vietnam, Indonesia, South Korea and Taiwan P.o.C
accounted for just 9% on June office furniture imports by
Japan. Imports of office furniture in the first six months of
2015 were down 9% on the same period in 2014.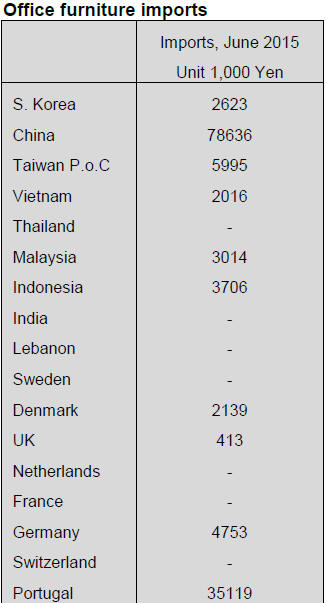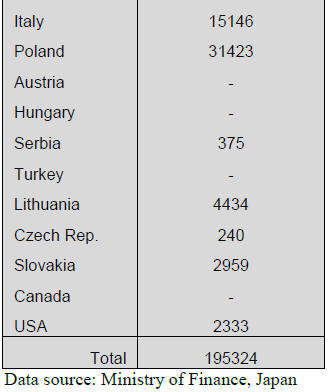 Kitchen furniture imports (HS 940340)
June imports of kitchen furniture were 21% higher than in
May but year-on-year first half imports fell marginally (-
1.5%).

Three suppliers dominate Japan's imports of kitchen
furniture; Vietnam is the number one supplier followed by
Philippines and China. Shipments from Indonesia in May
were almost equal to those from China.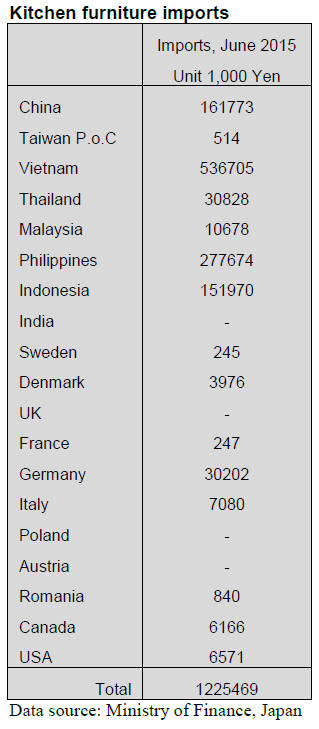 The top three suppliers accounted for 78% of total June
imports of kitchen furniture and, if shipments from
Indonesia are included then the total comes close to 90%.
The only significant non-Asian supplier in June was
Germany which captured 2.5% of the June import.

Bedroom furniture imports (HS 940350)
Japan's bedroom furniture imports are more than the
combined total of office and kitchen furniture imports.

The 8% rise in June imports of bedroom furniture reversed
the sharp decline seen in May but first half 2015 imports
are running at around the same level as recorded in the
first half of 2014.

In the second half of 2014 bedroom furniture imports
skyrocketed and it will be interesting to see if this pattern
is repeated this year.

Two countries dominate Japan's imports of bedroom
furniture, China (58%) and Vietnam (27%). The third and
fourth ranked suppliers, Thailand and Poland, could only
muster another 7-8% of total imports. In June both
Thailand and Poland saw their share of imports more than
double as did suppliers in the US.

Trade news from the Japan Lumber Reports (JLR)
For the JLR report please see:
http://www.nmokuzai.
com/modules/general/index.php?id=7

Shift to softwood plywood for floor base
It is now apparent that log supply shortage in Malaysia is
chronic and supply of hardwood plywood for floor base
continues tight and the prices keep climbing. Japanese
buyers are placing more orders of floor base plywood to
Indonesian suppliers and increasing orders results in
higher export prices.

Therefore, it is urgent issue for the Japanese flooring
manufacturers to replace tropical hardwood plywood to
domestic softwood plywood to solve supply instability and
spiraling high prices of imported plywood now.

Indonesian floor base prices were about $700 per cbm
C&F on meranti overlay better up until October 2014 then
sudden depreciation of the yen by about 15% pushed
arrived yen cost higher for floor manufacturers. At the
same time, new housing starts slowed down so floor
manufacturers reduced orders to Indonesia so the
Indonesian export prices kept dropping.

Prices of floor base produced in Sarawak, Malaysia were
much lower than Indonesian floor base so the Japanese
buyers had been buying Malaysian products first.

Quality of Indonesian floor base is higher than Malaysian
products. Actually utility better A grade of Indonesian
product is the same as Sarawak products or better but the
prices are high. Meantime, Japanese floor manufacturers
need low cost product.

Cost of Indonesian floor base is about 1,700-1,800 yen per
sheet delivered with exchange rate of 120-125 yen while
domestic softwood floor base is way lower in prices so the
floor manufacturers hurriedly test and inspect quality of
domestic softwood plywood to see if replacement is
possible.

However, there is uneasiness of quality of softwood
plywood in terms of workability and aging quality
deterioration over 10 years.

In particular, problem may arise when it is used for floor
heating. It is hard to guarantee the same quality as
hardwood plywood so at some point, users need to realize
difference before softwood plywood is widely accepted
and used.

Japan"s log exports increase
Total volume of log export during January and May this
year reached to 259,515 cbms, 47.5% more than the same
period of last year. If this pace continues, total export for
the year would be about 700-800 M cbms. However, log
export for April and May from Kyushu, which took 80%
share last year, slowed down.

There are active inquiries from China with price advantage
by weak yen but ships' space is short so that logs are piled
up at loading ports. Shipments for Korea has been slowing
down by economic slump in Korea and there is surplus of
supply as log length for Korea is 2.4 meters, which is not
common length in Japan.

According to Kagoshima customs house, which covers
shipping ports like Shibushi and Sendai in Kagoshima,
log export in last January doubled, 34.2% more in
February, 71.9% more in March, 36.2% down in April and
14% more in May.

Total value of log export in the first five months were
1,068. 56 million yen (estimated volume of about 90,000
cbms), 23.7% more than the same period of last year but it
slowed down in April and May. Another port of
Yatsushiro, Kumamoto prefecture in Kyushu doubled the
volume for the first five months of this year.

In Kyushu, domestic log demand for lumber and plywood
since start of the year has been sluggish and cedar logs
with sweep are rushed for export and the prices are soft
but with steady inquiries from overseas buyers, cedar log
prices for export maintain 8,000 yen per cbm delivered
port yard.

Plywood
Tide of domestic softwood plywood market changed after
the manufacturers announced 20-30% production
curtailment in middle of June. At the same time, they
refused to accept low bid from the buyers.

There was downward pressure to 650 yen per sheet
delivered in the market, which is loss prices for the
manufacturers. Since July the prices the manufacturers
propose are 700 yen per sheet and they have ample orders
with this price and next target is 50 yen by late July. By
production cutback, deliveries are uncertain in July.

In Western Japan, commodity item of 12 mm 3x6 panel
supply is tight since the manufacturers have many special
items orders by direct deliveries to precutting plants and
house builders.

Imported South Sea hardwood plywood market continues
firm because of limited supply with high export prices
although the demand in Japan lacks strength. Malaysian
plywood suppliers continue being bullish because log
supply is limited.
High export prices and weaker yen make arrived yen cost
higher so the cost of the importers continues climbing and
they have to insist on higher prices so the market prices
have been inching up. Distributors are aware that they
would lose money if they accept higher importers' offers
so they manage to buy low priced offers the importers
releasing at the end of the month for inventory adjustment.

Distributors sales prices have been gradually edging up
but purchase prices are also go up so that there is no profit.
May arrivals were extremely low at 216,300 cbms and low
level arrivals are expected to continue.

Noda started shipping its own softwood plywood
Noda Corporation (Tokyo) started manufacturing
softwood plywood with local species like cedar and
cypress at newly built plywood plant in Fuji, Shizuoka
prefecture. In May it started running and recent
production reached 40% of capacity of 6,000 cbms.
Structural panels to be shipped will be 12,24,28 mm thick
3x6 with cedar and cypress veneer and for 12 mm panel,
all cedar is made. In June, for the customer, which
requests certificate of origin of local logs, thick panels of
24 and 28 mm were shipped.

Originally, the products are intended to be consumed inhouse
assembling so Noda is careful in marketing
structural panels. It appeals end users of cypress panel as
high value of unique cypress nature. Noda uses cypress
panel for its own housing and it offers roof, sheathing and
floor panel with stable prices and some users request
cypress panel only. Shipment of unique product of
composite floor base will start in late this month.

Presently, cypress logs are sent to its subsidiary company
of Ishinomaki Plywood in Miyagi prefecture to make
plywood then Fuji plant does secondary processing. The
product of combination of plywood and MDF with
popular decorative veneer of natural wood on surface has
been sold steadily since imported hardwood floor base is
tight in supply and high cost with weak yen.

Shipment of concrete forming panel is scheduled to start
after September. In late May, paint coating line at Fuji
plant is renovated so that it is ready to make coated
concrete forming panel.

Daiken to build door plant in Indonesia
Daiken Corporation (Osaka) announced that it would build
a new plant to manufacturer door in suburb of Jakarta,
Indonesia. Total investment will be about one billion yen.
It will finalize the plan of production and marketing as
soon as Indonesian Investment Agency approves the plan.
Daiken hopes to start up building within this year.

Daiken has made up long term business plan named
‗GP26' to give vision of corporation after ten years and
target of sales in 2026 would be 250 billion yen. This
intends to become international corporation from domestic
corporation and this is one of this growth plans.

Daiken opened up Jakarta office in October of 2012 to
conduct market research of fast growing Indonesian
building materials market. In January 2014, it established
a company‗Pt. Suseta Daiken Indonesia' to conduct
interior furnishing works and marketing of the materials
jointly with local company, Pt. Sumber Setia Abadi, which
has been importing and marketing building materials in
Indonesia.

In the past, Daiken has been marketing imported materials
but now with its own manufacturing plant in Indonesia, it
will market locally produced materials.

Wooden model house in Dalien, China
The Japan Wood Products Export Promotion Council
announced to build a post and beam wooden model house
in Dalien, China, which will start up in late July. The
council has been campaigning Japanese wooden house in
China, which builds more than ten million units of house
annually.

It tries to give correct understanding of Japanese wooden
materials, housing equipment and techniques in China. It
decided to put up a model unit as a subsidiary business of
the Ministry of Agriculture, Fisheries and Forestry after
Japanese species of cedar, cypress and larch are approved
in the Chinese standard of wooden structure design.

The house will be used and managed as a permanent
exhibit by voluntary companies, which have been
developing business in China. Design and construction
works of the unit have been discussed by experts and
experienced people by both China and Japan.