2. GHANA
Appeal for elimination of duties on imported
sawnwood
The Domestic Lumber Trade Association of Ghana
(DOLTA), has appealed to government to waive the
import and other taxes on sawnwood.

The CEO of DOLTA, Mr. Kofi Afreh Boakye, said an
Association review showed that the zero tax on imported
logs was insufficient to make milling imported logs
profitable.

DOLTA is appealing to the government to remove the
20% import duty and 17.5% VAT and NHIL (National
Health Insurance Levy) on imported sawnwood.

According to DOLTA, providing a profitable means to
secure legal timber would benefit the country and help the
government eliminate illegal timber from the market
place.
Cedi rebounds but impact yet to be felt in real
economy
Ghana¡¯s currency has appreciated strongly against most
major currencies in response to confirmation by the IMF
that Ghana is on the right track to stabilise the economy.
On 1 July the World Bank approved an additional US$150
million in budget support for Ghana.

Since January this year the cedi has fallen by around 18%
against the US dollar. Around two weeks ago the cedi was
trading at GHc4.20 to the dollar but now the exchange rate
stands at GHc3.40.

Despite this good news consumers are yet to see any
benefit but analysts say it is possible that a review of fuel
prices by the National Petroleum Authority could bring a
reduction prices of petroleum products.

300Megawatts power shortfall
The ongoing electricity ¡®load-shedding¡¯ that is seriously
affecting manufacturers and domestic households has been
made worse by a further shortfall of 300 megawatts due to
an interruption of gas supplies from the Atuabo Processing
Plant to the Volta River Authority power plant.

It has been reported that the problem stems from a fault on
the gas floating storage and off-loading vessel. As a stopgap
measure the government will purchase oil and natural
gas as it has been estimated repairs will take two weeks.

Planting trees to protect the environment
The Ministry of Environment, Science, Technology and
Innovation (MESTI) in consultation with the Forestry
Commission, government departments and other
stakeholders will begin a programme aimed at planting 30
million seedlings annually. This will be undertaken as part
of the ¡®Green Ghana Programme¡¯.

In a related development, the Western Regional Minister,
Mr. Evans Paul Aidoo, has urged Chiefs in the region to
play an active role in protecting the natural environment.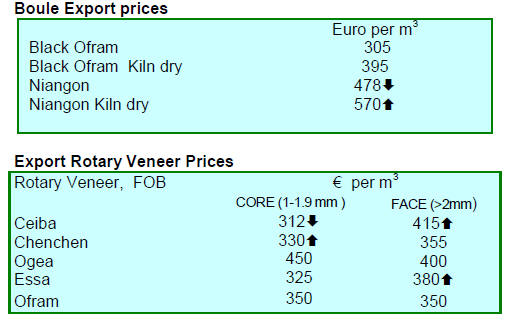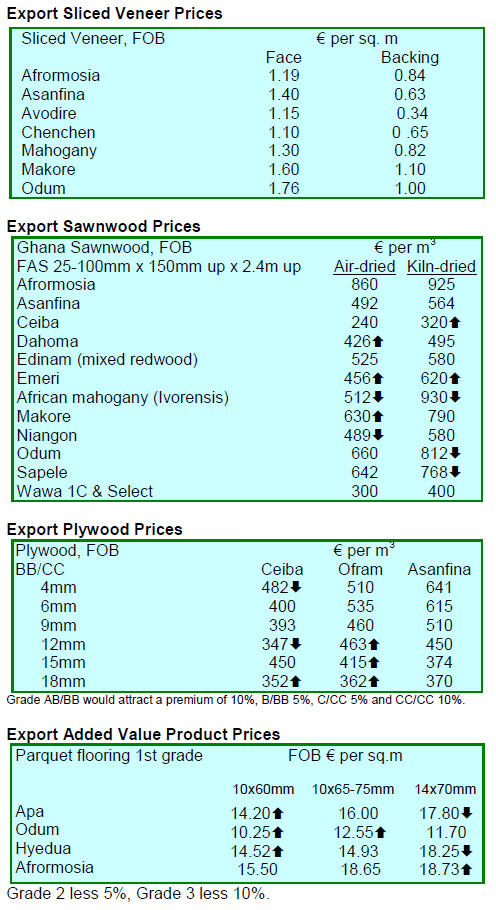 3. MALAYSIA
Furniture exports set to rise through change in
strategy
Annual furniture exports are set to rise to RM16 bil. by
2020 from the current RM8 bil. as a result of the
Malaysian Timber Industry Board's (MTIB) Professional
Designers Programme (PDP).

The PDP is a joint initiative of the Malaysian Furniture
Promotion Council (MFPC) and MTIB aimed at
expanding design capacity in the country.

MFPC Chief Executive Officer, Sarimah Mohamad
Sabudin, was reported by The Star newspaper as saying
the PDP would enhance product value in the country as
well as contribute towards original furniture designs.

Despite falling commodity prices, MFPC said that the
wood-based industry will remain strong and will continue
to contribute to the country¡¯s export earnings.
Malaysia exported wood products valued at RM20.5
billion (approx. US$ 5.4 bil.) in 2014 compared to
RM19.5 bil. in 2013.

MTIB Director General, Dr Jalaluddin Harun, has said the
country needs to strengthen its supply chain, increase
production of market oriented value added products and
diversify into new markets.

Call for Sabah to ban log exports
The Sabah Timber Industries Association (STIA) has
urged the Sabah State Government to consider a total ban
on the export of logs from natural forests to ensure all
timber resources are fully-utilised by the local industry.

STIA President, James Hwong, was reported by the local
newspaper,r Daily Express, as having said there was
enough local processing capacity to fully utilise the export
grade logs and the industry was able to pay the
international market price for such logs.

However, Sabah Forestry Director, Sam Mannan, has said
a total log export ban was unnecessary citing statistics that
show between 2010 and 2014 from 86% to 91% of Sabah's
natural forest log production was consumed by domestic
mills.

The Daily Express quoted Mannan as saying "log sales to
domestic mills are highly subsidised in the form of
preferential royalty rates". For example, he said, royalty on
red seraya (Class C) for export is RM160 per cubic metre
whereas if the log is milled locally the royalty is just
RM90 per cubic metre.

For more see:
http://www.dailyexpress.com.my/print.cfm?NewsID=1011
24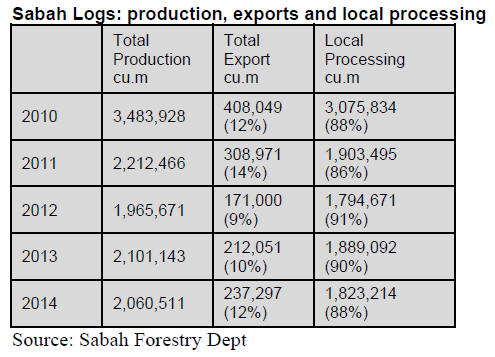 Slight decline in Sarawak log production
The Sarawak Timber Association (STA) has released log
production statistics for the first five months of the year.

Total log production fell around 8% in the first five
months of 2015 from the same period a year earlier.
Production of Hill Species dropped 7% while production
of Swamp Species fell a massive 39% in the same period.
Hill Species accounted for 98% of production in the first
five months of 2015 almost unchanged from the same
period in 2014.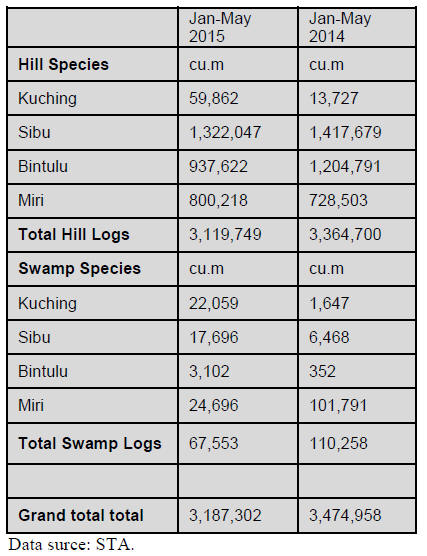 Plywood traders in Sarawak reported the following FOB
export prices:
FB (11.5mm) US$ 605 FOB
South Korea (8.5 ¨C 17.5 mm) US$ 460 FOB
Taiwan (8.5 ¨C 17.5 mm) US$ 460 FOB
Hong Kong US$ 465 FOB.
4. INDONESIA
Dependence on commodity exports cannot continue
The World Bank has lowered its GDP growth forecast for
Indonesia to 4.7% this year, the lowest forecast since
2009.

The Bank said private consumption, which accounts for
more than half of Indonesia's GDP, is expected to continue
to weaken.

The government of Indonesia aims to effect a
transformation of the economy from one dependent on
consumption to one focused on production and
investment. The President has said the dependence on
commodity exports cannot continue and that the country
must move to industrialisation. This will be achieved by
increased government spending on infrastructure and
through measures aimed at attracting higher levels of
foreign investment.

An increase in export values since TLAS introduction
The Director General of Sustainable Forest Product
Management, Ministry of Environment and Forestry, Ida
Bagus Putra Parthama, has said that since the introduction
of the Timber Legality Assurance System (TLAS), the
ministry recorded an increase in the value of wood product
exports. He also noted that Indonesia¡¯s TLAS is an
evolving system and is constantly being improved.

Before TLAS was mandatory the value of exports in 2012
was US$5.17 billion but after implementation the value of
exports continued to rise such that by 2014 they had risen
to around US$6 billion. It is difficult to judge just how
much of the increase in export earnings is due to TLAS or
improved demand in the EU.

According to the Director of Processing and Marketing of
Forest Products in the ministry, Agus Jerry Justianto,
negotiations with the EU have entered the final phase and
by 1 January 2016 Indonesia will be trading TLAS
certified wood products to all 28 EU member states.

Negotiations with EU hit a snag
Negotiations between Indonesia and the EU to exempt
Indonesia¡¯s wood products from the due diligence
requirement of the EUTR has suffered a setback as the
Environment and Forestry Ministry is now involved in a
legal dispute.

The ministry¡¯s Director General of Sustainable Forest
Products Management, Ida Bagus Putera Parthama, said
the ministry was being sued by Forest Watch Indonesia
(FWI) a domestic NGO for refusing to release what the
ministry deems to be confidential documents and this is
unsettling EU negotiators.

For more on FWI see:
http://translate.google.co.jp/translate?hl=en&sl=id&u=http
://fwi.or.id/&prev=search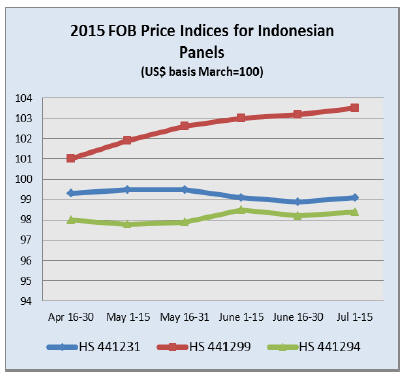 5. MYANMAR
IMF warns on growth private-sector loans
Officials from the International Monetary Fund (IMF)
have warned that rapid growth in bank lending may pose a
risk to the Myanmar economy. A team from the IMF
visited Myanmar in late June and has just released its
report.

The IMF team agreed with the government¡¯s GDP
forecasts but cautioned on the continual rise in inflation
which, along with the steady increase in the cost of
imports as the kyat slides against major currencies, is now
affecting ordinary people in Myanmar.

The IMF also warned on the steep rise in loans being taken
up by the private sector pointing out that credit was up
36% year-on-year.

See:
http://www.imf.org/external/np/sec/pr/2015/pr15308.htm
and www.irrawaddy.org/business

Interim minimum wage proposal
The government of Myanmar has announced an interim
minimum wage proposal of 3600 kyats (approx. US$3.25)
per eight-hour day, a compromise figure after labour
representatives demanded 4000 kyats (US$3.60) and
representatives of manufacturers refused a rate above 2500
kyats (US$2.25).

The Irrawaddy newspaper (1 July) reported comments
made by Myat Thin Aung, President of the Hlaing Tharyar
Industrial Zone Management Committee and a Yoma
Bank board member. He is reported to have said the 3,600
kyats proposal is likely to have a significant impact on
manufacturers.

Those involved in the wage negotiations have two weeks
to lodge objections to the interim proposal before it is
introduced.

The Eleven Media Group has reported that the Chinese
Investment Association, representing garment
manufacturers in Myanmar has threatened that members
may pull out of the country if the new minimum is
implemented and the chairperson of the Korean Garment
Manufacturers Association made the same threat.

June average auction prices
The following timber was sold by Myanma Timber
Enterprise by tender on 26th and 29th June 2015.

Average log prices are expressed in hoppus tons (H.tons)
and the prices for ¡®conversions¡¯ and sawn teak (including
hewn timbers) are shown in cubic tons (C.tons).
Sawing Grade teak logs Open Tender Yangon Depots,
26 Jun 2015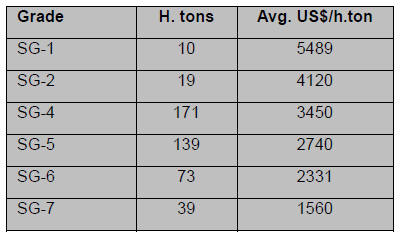 Open Tender for teak conversions from Yangon Sawmills.
26 June 2015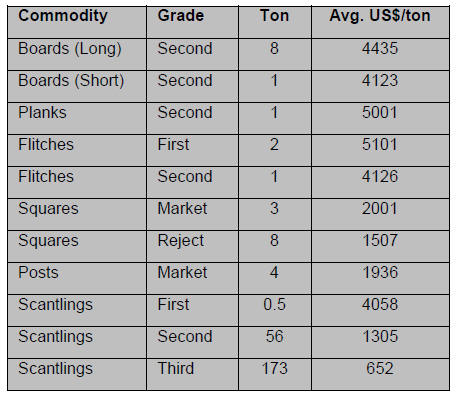 Specifications
Flitches-Thickness 4¡± & up x Width 6¡¯ & up x Length 6¡¯ & up
Planks- Thickness Average 2.5¡± & up 3.5¡± x Width 6¡¯ & up x
Length 6¡¯ & up
Boards- Thickness 0.5¡± to 2¡± x Width 6¡¯ & up x Length 6¡¯ & up
Squares- 10¡± & up x 10¡¯ & up x 10¡¯ & up (6¡¯/9.5¡¯; 3¡¯-5.5¡¯)
Posts-6¡±/9¡± x 6¡±/9¡± x 10¡¯ & up (6¡¯/9.5¡¯; 3¡¯/5.5¡¯)
Longs- 6¡¯ & up; Shorts-3¡¯ to 5.5¡¯ avg. 4¡¯; Ultra shorts 1.5¡¯/2.5¡¯

The prices for squares and posts are average prices for 6¡¯
& up and 10¡¯ & up. Average price for scantlings are for all
lengths long, short and ultra-shorts.
6. INDIA
Devolution of authority to spur ¡®Smart Cities¡¯ and
¡®Housing for All¡¯ plans
Indian Prime Minister, Shri Narendra Modi, has indicated
that urban leadership would be given much greater powers
over housing to ensure the government¡¯s plans for the
housing sector can be implemented smoothly.

This initiative was revealed at the launch of three urban
development initiatives: AMRUT (Atal Mission for
Rejuvenation and Urban Transformation); Smart Cities
Mission and Housing for All.
The Prime Minister said local administrations and
residents would be able to contribute to formulation of
development plans for their cities.

For details see: http://www.credai.org/pms-remarkslaunch-
amrut-smart-cities-mission-and-housing-all-urbanpmo

In related news a delegation from CREDAI recently met
with Shri Venkaiah Naidu, Union Urban Development
Minister and recommended the elimination or reduction of
the Service Tax on housing so that low and middle income
families could aspire to home ownership.

The Minister assured the delegation that he intends to
discuss this with the Union Finance Minister and would
continue to focus on the housing sector in support of the
central government policy initiatives.

Economy showing signs of recovery
The Reserve Bank of India (RBI) governor has added his
voice to those who have said the economy is recovering
and that private sector capital investment was picking up.

Last month Finance Minister, Arun Jaitly, was convinced
that the economy had turned the corner on the basis of a
rise in tax and import duty revenues which reflect growth
in manufacturing and imports. At the time analysts put the
statement from the finance minister down to wishful
thinking but with the RBI adding its voice confidence is
improving.

Coniferous log imports through Kandla Port
In fiscal 2014/15 a total of 3,951,096 cu.m of timber was
imported through Kandla Port. Of this 1,763.289 was
softwoods and the balance 2,187,807 was hardwoods.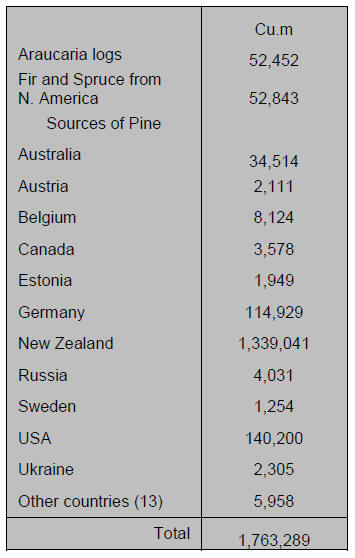 Prices for imported plantation teak, C&F Indian ports
The flow of imports and demand is balanced. Prices for
imported plantation teak from suppliers able to deliver
larger diameter logs are rising whereas suppliers
delivering small diameter logs (poles) have seen prices
easing in recent weeks.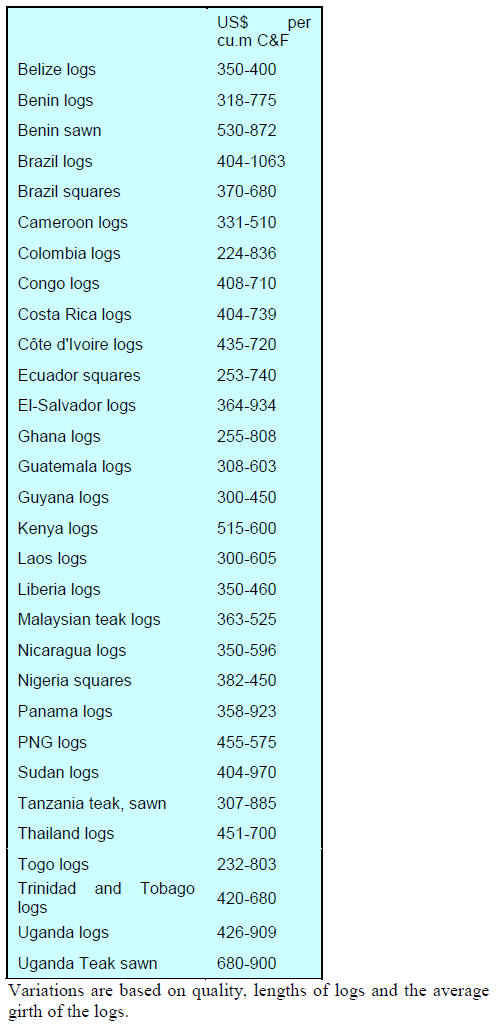 A question of girth
The girth of teak logs has a major impact on prices paid by
Indian importers.

The following example illustrates the range of prices paid
for various girth categories for logs from one exporter.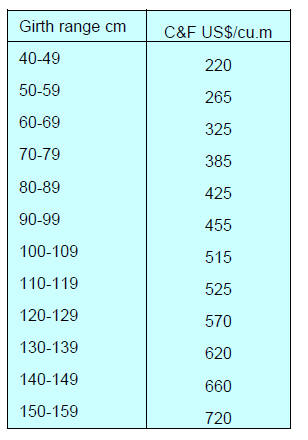 Prices for domestically milled sawnwood from
imported logs
Overall, supply and demand continues in balance and no
price changes have been observed.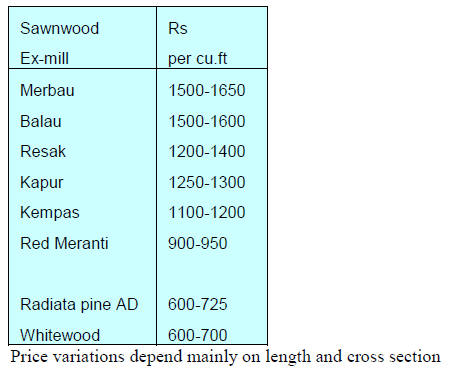 Current prices for Myanmar teak sawn in Indian mills
Endusers continue to resist any moves by importers to
raise prices preferring instead to choose plantation teak
from Sudan, Tanzania and Uganda saying the appearance
of the teak from these sources compares well with natural
forest teak from Myanmar.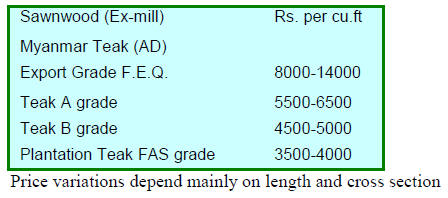 Imported sawnwood
Prices for imported sawnwood (KD 12%) shown below
are per cu.ft ex-warehouse. No significant price
movements have been reported. AHEC continues to
actively promote sales.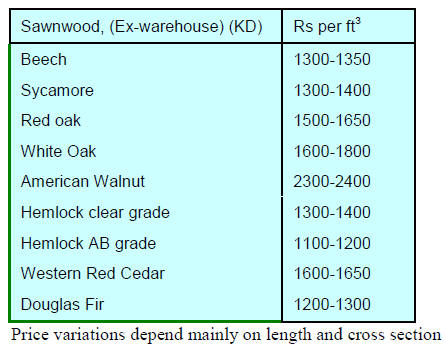 Plywood prices
Locally produced MDF as well as imported MDF is
slowly replacing plywood for furniture, internal
partitioning and other enduses where strength is of
secondary importance. This development is affecting sales
of locally manufactured plywood and is undermining the
profitability of domestic manufacturers who are facing
rising costs for face veneers.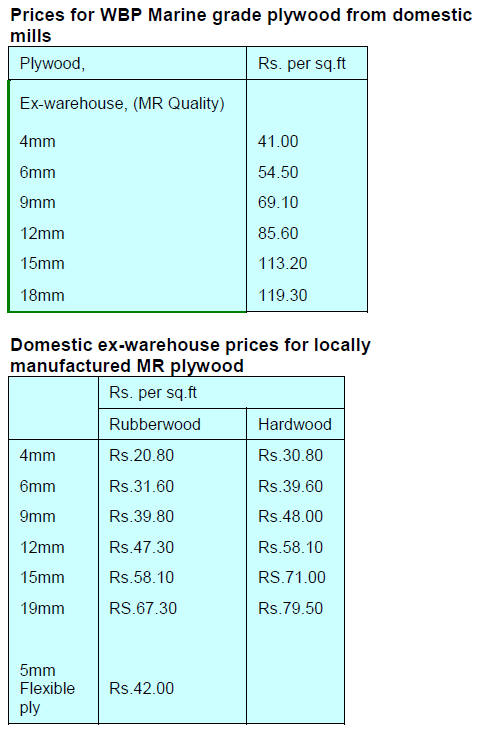 ¡¡
7. BRAZIL
Export market diversification plan
The Ministry of Development, Industry and Foreign Trade
(MDIC) has published a National Plan for Exports aimed
at diversifying markets and has details of how financing
promotion and providing guarantees for exporters as well
as modifying taxation will provide a solid foundation for
export growth.

MDIC is aware that international trade generates many
direct and indirect benefits such as maintenance and
expansion of job opportunities, improved skills,
innovation, productivity growth and improved
competitiveness.

MDIC will launch an International Trade Portal that aims
to minimise paperwork and speed administrative
procedures and customs controls. The aim is to have the
new system recognised as an Authorised Economic
Operator (AEO) with other countries.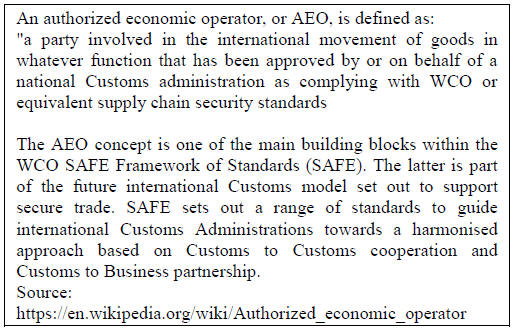 The Brazilian Association of Mechanically-Processed
Timber Industry (ABIMCI) will cooperate to ensure that
the plan is implemented efficiently especially in respect of
tax adjustments and financing of promotion.

Plywood market diversification
According to ABIMCI, there is a need to seek new
markets for Brazilian plywood. The volume of pine
plywood exported to the US market has been declining,
falling from 21,289 cu.m in March to 16,376 cu.m in April
this year.

Countries such as Germany, the United Kingdom,
Belgium and Italy are also importing less Brazilian wood
products. On the other hand demand was firmer in
Mexico, Puerto Rico, Trinidad and Tobago, Denmark and
Argentina but the combined increase in demand from
these countries was insufficient to off-set the decline in
sales to the US.

Sawnwood markets are more buoyant and millers were
able to maintain export levels in the first half of the year
but anticipate a softening of demand in the second half.
Demand in some individual markets, such as Sweden,
grew in the first half but the United States still represents
the main market for Brazilian sawnwood.
New law to streamline management plan approval
process
A revised Law in the state of Mato Grosso (No. 567), will
result in faster field inspection processes required prior to
the approval of forest management plans.

This measure is a response to a request made by the timber
sector to the state governor to speed up forest management
plan approvals.

According to the Center for Timber Producers and
Exporters of the State of Mato Grosso (CIPEM), the State
Secretariat of the Environment (SEMA) has so far only
approved 43 of the 586 forest management plans
submitted this year.

Aa an interim measure SEMA decided to examine the
possibility of approving, prior to inspection, the start of
harvesting in 30% of the areas within each plan. The
revised law requires that after an initial preliminary
analysis is carried out the forest area should be released
for management activity even prior to the final analysis of
approval process.

Mato Grosso wood products exports rise
Timber exports from mills in Mato Grosso increased 22%
between January and May 2015 compared to the same
period of 2014 according to the Ministry of Development,
Industry and Foreign Trade (MDIC).

The value of exports increased slightly (almost 4%) to
US$38.4 million this year compared to the same period in
2014).

Exports of tropical sawnwood increased 15% from US$4.8
million in 2014 to US$5.5 million this year. Exports of
tropical timber ¡®in the rough¡¯ increased a massive 614% in
2015 over the first five months of 2014.

Plywood exports increased 53% in terms of value from
US$89,360 in the first five months of 2014 to US$136,849
this year.

CIPEM is hoping the domestic market conditions improve
quickly as exporters suffer from exchange rate fluctuations
when trading in international markets.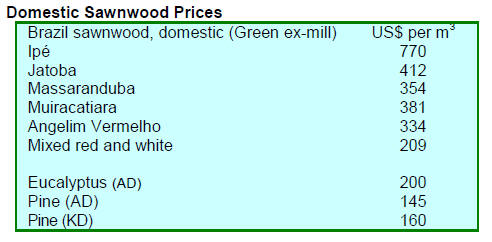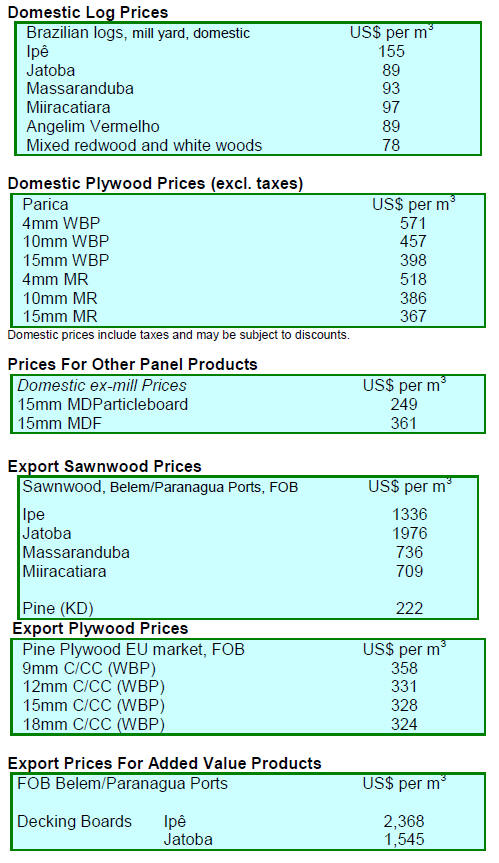 ¡¡
8. PERU
Participation in Dubai Wood Fair
A large delegation of Peruvian entrepreneurs participated
in the Dubai Wood Show 2015.

Paricipants from Peru said this fair is important for the
timber companies trading with Middle East cointries.
Executives from Peru joined business meetings, factory
visits and briefings on the market in the Middle East
which today is considered one of the most vibrant for
tropical wood products.

This was the first time a delegation from Peru traveled to
Dubai where they could interact with business groups not
only the Middle East but also from USA, Europe and Asia.

Executives representing exporters and traders of
sawnwood, hardwood floors and furniture benefitted from
observing technological developments on show.
The visit to Dubai was organised by the Peruvian private
sector, the Commission for the Promotion of Peru¡¯s
Exports and Tourism and the Exporters Association of
Peru. Assistance was also provided by the Consulate of
Peru in Dubai.

Four companies dominate particleboard imports
Between January-May this year the Martin Group of Peru
doubled its share of imports of particleboard and
accounted for around 18% of total particleboard imports
into Peru despite an overall fall in particleboard imports.
From January to May Peru¡¯s imports of particleboard fell
around 9% compared to the same period in 2014.

Despite the strong performance of the Martin Group,
Novopan Peru maintained its leading position regarding
particleboard imports accounting for almost 40% total
imports, followed by Arauco Peru with about 23%, Martin
Group with 18% and Masisa Peru a 14% share.

Laminate flooring promotion in Chile, Peru and
Ecuador
During June this year the German manufacturer of
laminate flooring, Egger, under took sales promotion
missions with distributors in Chile, Peru and Ecuador.
Eggers new collection of laminate s was presented to
architects, designers, specialists in floor covering and
construction companies.

See:
http://www.egger.com/EX_en/news/?N=21&Ntk=general
Search&Ntpc=1&Ntpr=1&Ntt=peru&Ntx=mode+matchall
partial&Nty=1&R=news-20504-ex-en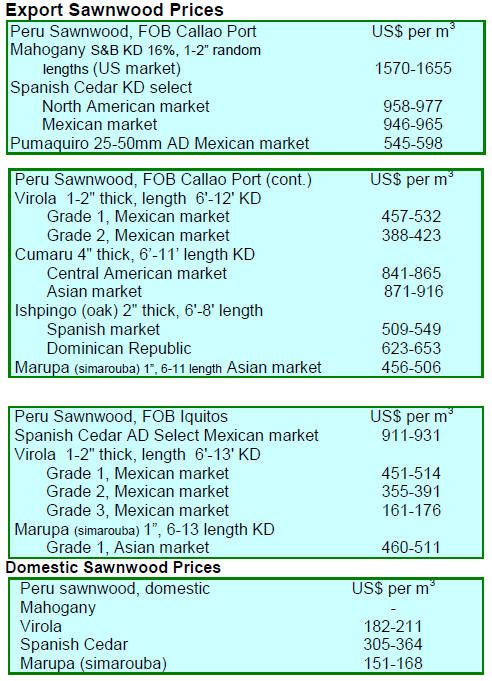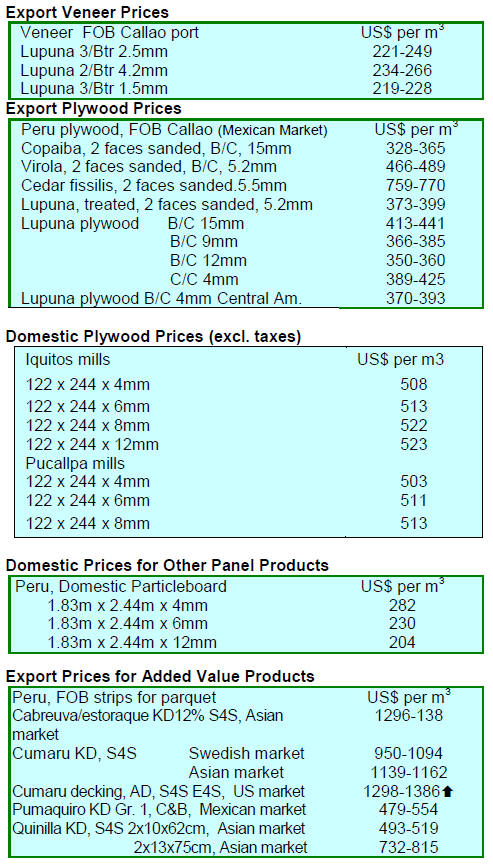 9. GUYANA
VPA negotiation update
Guyana has just concluded its 3rd Negotiation session on
the VPA. Two key outputs from this latest engagement
were the revised Joint Roadmap document as well as the
Aide Memoire of the main agreements reached.

These documents can be viewed on the GFC¡¯s website at
www.forestry.gov.gy

The new roadmap, though ambitious, was thought to be
achievable by both parties over the coming months and the
team in Guyana is committed to making the VPA a reality
without compromising the involvement of stakeholders.

The development of key Annexes to the VPA has
continued with inputs from stakeholders such as civil
society groups, government and non-government
organisations. A further round of national consultations on
the VPA process will continue over the next two months
and will focus on advancing many of the Annexes which
were drafted based on stakeholder inputs.
All annexes of the VPA remain in draft form and will be
open for comments and inputs until the signing of the
VPA.

Care needed when comparing log prices
The ITTO has noted that prices reported in Volume 19,
Number 11 of its market report for the period June 1-15,
2015 have been referenced incorrectly in a recent analysis
by the media in Guyana.

ITTO wishes to emphasise that in its report log prices for
China are not CIF as has been represented by the media in
Guyana. The ITTO report clearly indicates that prices
reported for the Guangzhou Yuzhu International Timber
Market are wholesale prices. These wholesale prices
include the cost of domestic transport and mark-ups along
the supply chain to the wholesale market.

ITTO has noted that there has been an attempt at
comparing the Guyana FOB price for logs exported to
China directly with the wholesale prices reported in the
ITTO report and advises that such a comparison will lead
to an incorrect interpretation of price structures for logs
exported to China from Guyana.

Export prices
There were exports of greenheart, purpleheart or mora logs
in the period reviewed.