Report from North America
US March imports of processed wood products increased
significantly from a month earlier. The growth in imports
signals that the decline in February was mostly related to
the severe winter weather in parts of the country.

China leads hardwood plywood shipments to US
US imports of hardwood plywood grew by over 40% from
February to March. Total imports were 300,705 cu.m. in
March with over half coming from China.

At 177,074 cu.m. hardwood plywood imports from China
were higher than any time in 2014 . Year-to-date imports
(January to March) were 28% higher than in 2014.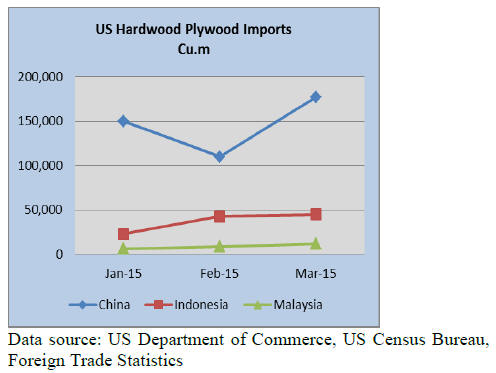 Imports from other hardwood plywood suppliers also grew
in March, but at a slower pace than imports from China.
Indonesian shipments to the US increased 5% month-onmonth
to 44,701 cu.m.

Hardwood plywood imports from Malaysia were 12,114
cu.m. in March and year-to-date imports were unchanged
from the same time last year. Year-to-date imports from
Russia, Canada and Ecuador were lower than in March
2014.

China secures major share of market for imported
mouldings
Imports of hardwood mouldings grew 15% to US$16.0
million. China increased its share of total US imports of
hardwood mouldings to 37% based on the value of imports
year-to-date 2015. Moulding imports from China were
worth US$6.1 million in March.

Hardwood moulding imports from Brazil declined from
February to US$3.2 million, but year-to-date imports are
still higher than at the same time last year. Moulding
imports from Malaysia were also higher (+19%) compared
to 2014, while imports from Canada declined.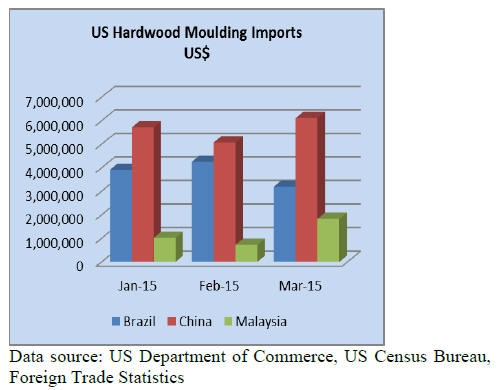 Vietnam becoming major flooring supplier to US
US hardwood flooring imports increased by 30% in March
from February to US$3.5 million, while imports of
assembled flooring panels increased 20% to US$12.6
million. Imports from all major suppliers increased
compared to last year.

China surpassed Malaysia and Indonesia in March at just
under US$1million in hardwood flooring shipments.
Imports from Malaysia were worth US$895,686 in March.
The largest month-on-month growth was in flooring
panels from Vietnam.

Historically Vietnam exported little flooring to the US
market, but shipments of engineered flooring and similar
assembled panel flooring surpassed the US$1 million mark
in March this year.

Almost half of all assembled flooring panels came from
China in March (US$6.2 million), a year-to-date increase
of 44%. Indonesia shipped almost 800,000 worth of
flooring panels and increased its share in total imports
compared to the same time last year.

China and Vietnam regain furniture market share
US wooden furniture imports recovered from the decline
recorded in February. March wooden furniture imports
were worth US$1.40 billion, up 37% from February. Yearto-
date imports were 13% higher than in March 2014.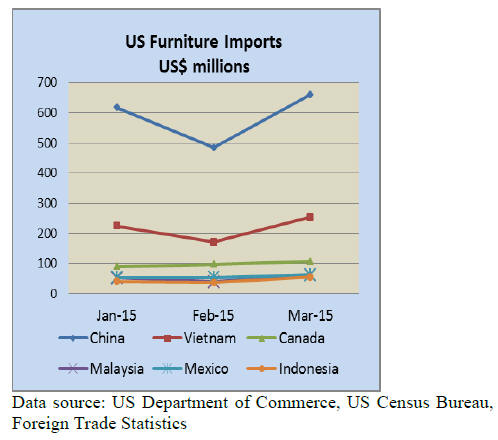 Both China and Vietnam regained the market share they
had lost in recent months. Furniture imports from China
were worth US$660.3 million in March. Year-to-date
imports were 16% higher than in March 2014. China"s
share in total US furniture imports to date in 2015 was
48%, up one percentage point from 2014.

Vietnam"s furniture import share was 18%, up from 17%
in March 2014. Imports from Vietnam were US$254.0
million in March.

Wooden furniture imports from most other countries grew
as well from the previous month, including imports from
Europe. However, year-to-date imports from Malaysia and
Indonesia were slightly lower than at the same time last
year.

Spring increase in furniture retail sales
Retail sales at furniture stores in the US increased
significantly from February to March (+11%), according
to US Census Bureau data. Furniture sales were 3% higher
than in March 2014.

Unemployment unchanged, GDP growth down
In April, both the unemployment rate (5.4%) and the
number of unemployed persons (8.5 million) were
essentially unchanged from the previous month. However,
the number of jobs in construction increased.

In the first quarter of 2015 US GDP increased at an annual
rate of 0.2%, according to the preliminary estimate from
the US Department of Commerce. Economic growth
slowed from 2.2% in the fourth quarter of 2014.

Imports increased in the first quarter, which contributed to
the lower GDP growth. Similar to last year, severe winter
weather has had a negative effect on the economy in the
first quarter of the year.

Higher output in wood products and furniture
manufacturing industries
Economic activity in the manufacturing sector expanded in
April, according to the Institute for Supply Management.
Both production and new orders increased from March.
Lower energy prices in April supported growth in
manufacturing.

The wood products and furniture manufacturing industries
reported production growth. In the furniture industry,
finding qualified employees remains difficult for some
companies.

Interest hike likely to affect wood product demand
Consumer confidence in the US rebounded in April
following the decline in March. Despite low economic
growth in the first quarter, consumers expect higher
personal incomes in 2015. Lower gas prices also supported
consumer confidence.

A growing majority of economists expects that US interest
rates will start to increase in September. The Wall Street
Journal surveys economists every month, and in May 73%
of the economists expected a rate increase in September.

Higher rates will have a negative effect on construction
and therefore wood product demand. It is difficult to
predict how significant the effect will be for the housing
market and non-residential construction.

Housing starts up in March
The gradual recovery in the housing market continued in
March. Housing starts rose by 5% to a seasonally adjusted
annual rate of 944 million units in March, according to
data from the Commerce Department. Single-family starts
grew 6% to 628 million homes.

Home construction increased in the Northeast and
Midwest, but declined in the South and West.

Builders" confidence in the market for newly built singlefamily
homes improved in April, according to the National
Association of Home Builders. Home sales are expected to
increase in spring, supported by low interest rates and
growth in jobs. Builders are confident the market will
continue to improve throughout 2015.

Tight credit conditions hinder home sales
While home construction grew, sales of new homes
declined despite low mortgage rates and a stronger
economy. Sales of newly built, single-family homes fell
15% in March (seasonally adjusted annual rate), according
to data by the US Department of Housing and Urban
Development and the US Census Bureau.

Tight credit conditions prevent many first-time buyers and
young people from buying homes, according to the
National Association of Home Builders.
Resilient Canadian construction sector despite
shrinking economy
Canada"s economy shrank 0.6% in the first quarter of
2015, the first decline in GDP in four years. Mining, oil
and gas extraction fell 30% in the first quarter because of
low oil prices. Business investment also declined.
Manufacturing and exports decreased despite a weaker
Canadian dollar.

The forestry sector was among the few industries that
expanded in the first quarter.

Canadian housing starts increased 25% in March to
190,000 at a seasonally adjusted annual rate. However, the
overall trend in home construction has moved lower since
last year.

The March increase was entirely in multi-family
construction, while single-family home starts declined.
Multi-family starts are expected to grow even more this
spring, based on the number of building permits issued.

Growing flooring market share forecast for domestic
producers
US demand for hard surface flooring is forecast to grow
over 6% per year to 2019. A new market research report
by Freedonia (Hard Surface Flooring, Study # 3284)
forecasts higher demand due to new construction,
renovation and repair of buildings.

A second demand driver is replacement of carpeting for
better durability, appearance and lower maintenance.

Freedonia estimates total hard surface flooring demand in
2019 at US$16.7 billion or US$1 billion sq.m. However,
the largest growth will not be in wood flooring, but in
vinyl flooring. Luxury vinyl tiles are very popular in
residential and non-residential buildings for their ability to
copy the appearance of hardwood flooring and tile.

Demand for hardwood flooring will also grow, but at a
lesser rate than vinyl. Laminate flooring is expected to
lose market share to vinyl wood imitation flooring.

New residential construction and renovation will account
for the largest share of total wood flooring demand. The
continuing recovery in the housing market will fuel
demand for all types of hard surface flooring, including
wood.

Non-residential construction, such as offices and
commercial buildings, will also increase. Wood flooring
demand for non-residential applications will grow in the
next five years, but at a lesser rate and from a smaller
volume than residential flooring.

Wood flooring imports have recovered since the US
economic recession. The import value of hardwood
flooring and assembled wood flooring panels was
US$168.8 million in 2014, an increase by one third from
2010.

However, the market share of domestically produced hard
surface flooring is expected to increase, according to the
Freedonia report. Favourable costs of production in the
US, including low energy cost, will encourage companies
to expand existing plants or open new plants in the US.

US retailer Lumber Liquidators suspends sales of
laminate flooring from China
Lumber Liquidators is conducting a review of their
purchasing programme for laminate flooring from China.
This includes the formaldehyde emission certification and
labelling process by their suppliers in China.

The review is not yet complete, but in early May Lumber
Liquidators decided to suspend sales of all laminate
flooring made in China.

The decision was made because of growing industry and
consumer concerns. The company is purchasing laminate
flooring from other suppliers until the review is complete.
From March Lumber Liquidators has provided indoor air
testing kits to customers who bought laminate flooring
made in China.

This was in response to a media report earlier this year that
found elevated levels of formaldehyde in laminate flooring
sold by Lumber Liquidators. About 11,000 households
used the free test kits.

The majority of households had formaldehyde emissions
that were within the guidelines set by the World Health
Organization. However, around 2% of tested households
exceeded the safe formaldehyde level.

* The market information above has been generously provided
by the Chinese Forest Products Index Mechanism (FPI)