US Dollar Exchange Rates of 10th June 2015
China Yuan 6.2086
Report from China
Exports via the Eurasian Land Bridge
According to the latest news from Heilongjiang Entry-exit
Inspection and Quarantine Bureau, a small shipment of
wooden furniture from a local manufacturer will be
exported overland to Germany.

The shipment will departure Zhengzhou to arrive in
Hamburg within 15 days. This marks the first shipment
from Heilongjiang province via the "Eurasian Land
Bridge".

Heilongjiang Entry-exit Inspection and Quarantine Bureau
has been actively promoting the national strategy for a
¡°One Belt, One Road¡± which was conceived to support
export-oriented enterprises by reducing logistics costs.

It is expected that more exports will be made overland as
considerable cost savings can be achieved.

Heilongjiang Province is located in the centre of Northeast
Asia and is an important hub for the first Eurasian Land
Bridge and Air Corridor and is also an important provinces
for China's trade with Russia.

Heilongjiang Province is also promoting the Longjiang
land and Sea Silk Road Economic Belt in the eastern part
of China. The ¡°One Belt, One Road¡± strategy direction is
primarily east to west.

There are two starting points:


Dalian port to Harbin and to Manchuria port and
Tongjiang port for other parts of China and
overseas.for other countries.


Vladivostok, Russia as a starting point, to
Suifenhe, to Manchuria, Tongjiang or Mohe ports
and overseas.

After departing China goods travel via Siberia, the Baikal-
Amur Mainline and on to the Baltic Sea coast and
Hamburg and Rotterdam.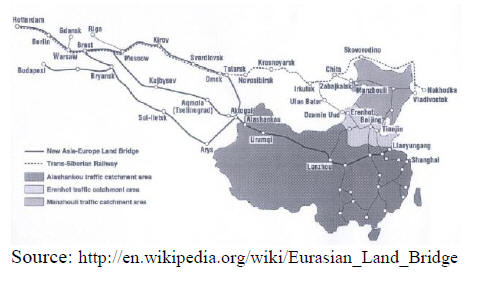 Support for overseas investment in processing by
domestic enterprises
The State Forest Administration has estimated that China
can provide around 50% of its timber requirements from
domestic sources. The SFA says, provided the volume of
imported timber is no more than 60% of national needs,
then timber security can be guaranteed.

Recognising that many countries have mature forest
resources the SFA is supporting Chinese companies invest
in processing capacity overseas.

Fire ants found at Fujian port
Recently fire ants were found in Pau rosa logs from
Guyana for the first time by the Fujian Entry-exit
Inspection and Quarantine Bureau. The batch of Pau rosa
logs was sealed after fumigation treatment to prevent ant
infestation.

The fire ants are found in tropical and subtropical areas of
South America. They can be a serious problem for
livestock. It has also been found that fire ants can damage
power supply systems by biting cables.

High value sandalwood imported through Xiamen port
Recently 80 cubic metres of lobular red sandalwood
valued at US$3,160,000 were imported through Xiamen
port for the first time. At US$39,500 per cubic metre, the
average unit price for imported Lobular red sandalwood is
highest for any imported timber species through Xiamen
port.

This batch of precious wood is listed in CITES but was
imported from India where the government conducted a
public auction of sandalwood confiscated over the years.
This ale was sanctioned by CITES and the Indian
Government.

Shanghai Imported Wood Exhibition 2015
The 4th Imported Wood (Shanghai) Exhibition 2015 along
with the Imported Wood Supply and Marketing Forum
will be held at Shanghai New International Expo Center
from 30 June to 2 July. The exhibition will run concurrent
with the 25th ES BUILD Green Architecture and
Construction Materials.

The theme of the main exhibition is "strengthening
international exchanges and promoting timber trade" and
opportunities for business dialogue will be provided.

The area of exhibition is over 120,000 square metres and
the the number of visitors is expected to exceed 80,000.
Participants from around 20 countries such as the USA,
Russia, Europe and SE Asian countries will attend. The
details see http://en.hw.shjzexpo.com.cn/