Report from North America
N. American markets head in different directions
The trend in tropical sawnwood imports into the US and
Canada during the first quarter of 2015 are a reflection of
the direction of the economies in each country. US
imports of sawn tropical hardwoods increase by around
25% in the first quarter while Canadian imports of the
same product fell by the same amount.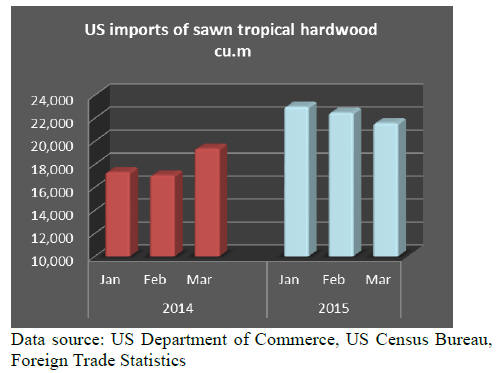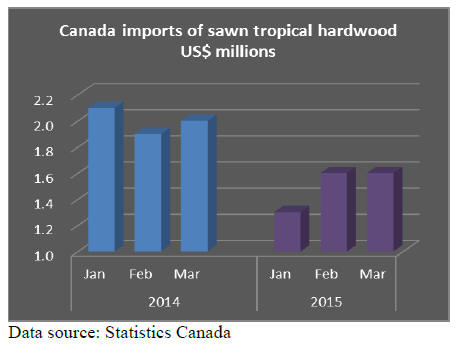 US imports jump reflecting west coast port agreement
US March imports of tropical sawnwood fell by 4%
month-on-month but this downturn was not confined to
tropical timber as temperate sawn hardwood imports fell
even more sharply. Just over 21,000 cu.m. of tropical
sawnwood were imported in March, accounting for 31%
of total sawn hardwood imports Processed wood product
imports on the other hand increased significantly in
March.

The rise in March imports of furniture, flooring, plywood
and other added value products was, say analysts, most
likely linked to the resolution of the West Coast port
stoppages.

Despite the overall lower imports in March, almost all
major suppliers have shipped significantly more this year
than in 2014. The largest increase compared to the same
time last year was in imports from Cameroon (+108%) and
Peru (+78%).

Sapelli imports from Cameroon declined to 2,160 cu.m. in
March while imports of the same species from Congo
Brazzaville doubled to 2,059 cu.m. Imports of acajou
d"Afrique (2,730 cu.m.) had the highest month-on-month
increase followed by mahogany (1,119 cu.m.) and cedro
(1,167 cu.m.).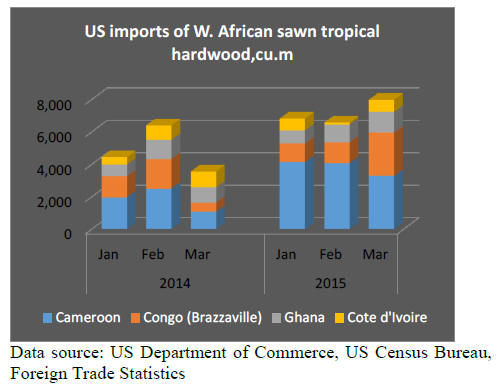 Brazil"s shipments of sawnwood to the US grew 20%
month-on-month in March. While ipe sawnwood imports
from Brazil were almost unchanged from at the previous
month (2,307 cu.m.), imports of virola and other species
increased.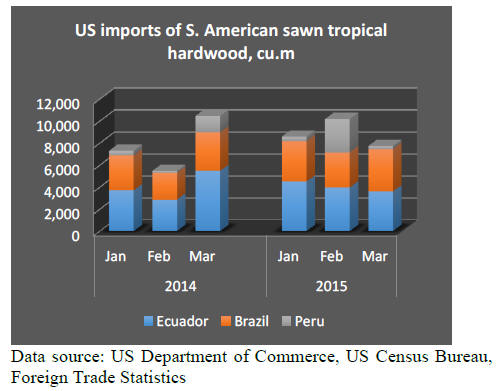 US imports of Malaysia"s keruing sawnwood in March fell
to just 808 cu.m. and it was this which contributed to the
over 40% drop in US imports from Malaysia from the
previous month. However, March sawnwood imports from
Indonesia and Ghana increased month-on-month, which in
the case of Ghana was largely due to higher acajou
d"Afrique imports (871 cu.m.).

Canadian imports of sapelli and balsa grow despite
overall decline
Canadian imports of tropical sawn hardwood declined
from the previous month to US$1.59 million in March and
first quarter imports are down 24%. However, Canadian
Sapelli imports have held up well despite the dip in march.
First quarter imports of sapelli were significantly higher
than in March 2014 (+46%).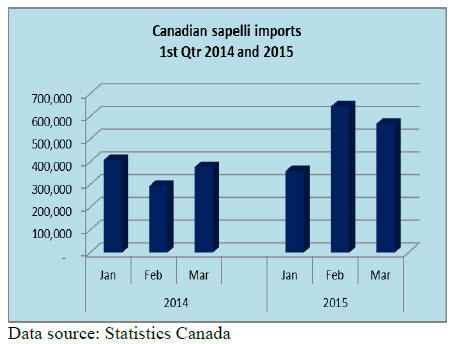 Canadian the combined imports of virola, imbuia and
balsa almost doubled from the previous month to
US$444,154 in March. The increase was mainly in balsa
imports from Ecuador but, first quarter imports from
Ecuador are down 11%.

The growth in Canadian tropical sawnwood imports in the
first quarter of this year has been from Congo Brazzaville
(especially sapelli), Malaysia and Indonesia.

The weaker tropical sawnwood imports reflect the slowing
of the Canada"s economy which shrank 0.6% in the first
quarter of 2015, the first decline in GDP in four years.
Income from mining, oil and gas extraction fell 30% in the
first quarter and this has had a marked impact on
businesses.

The problem of weaker earnings from the oil sector spilled
over to other parts of the economy, including construction.
At the same time manufacturing output and exports have
fallen despite a weaker Canadian dollar. But the forestry
sector was among the few domestic industries that
expanded in the first quarter.

Lacey Act enforcement threatens Lumber Liquidators
The US Department of Justice is seeking criminal charges
again retailer Lumber Liquidators saying Lumber
Liquidators" imported flooring, which the Justice
Department alleges contains illegally sourced wood.

Unlike previous high-profile Lacey Act investigations that
focused on tropical and usually threatened wood species,
this case is about common temperate hardwood species
from Russia.

Lumber Liquidators is already the target of many classaction
lawsuits over elevated formaldehyde emissions
from laminate flooring sourced from China. The company
recently announced that it suspended the sourcing of
laminate flooring from China and sells European and
North American products instead. Lumber Liquidators
estimates the loss from the Justice Department"s action at
about US$10 million according to a company"s release.

For some time the Environmental Investigation
Agency(EIA) has accused Lumber Liquidators of
importing flooring made from illegally sourced birch and
oak from Siberia used by a Chinese flooring manufacturer,
a supplier to Lumber Liquidators.

AHEC promoting thermally modified hardwoods in
Middle East
At the recent Dubai WoodShow the American Hardwood
Export Council (AHEC) promoted temperate hardwoods
that were thermally modified saying this treatment offers
better dimensional stability and decay resistance.

AHEC is targeting competition from tropical hardwoods
and has raised questions on the sustainability of the
sources for some tropical species and pushing the
sustainability and legality of American hardwoods.

The United Arab Emirates is the US" largest hardwood
export market in the Middle East. The Gulf state imported
US$13 million worth of sawn hardwood from the US in
2014, up from US$10 million in 2010. Other major
markets are Saudi Arabia and Jordan.