Japan Wood Products Prices
Dollar Exchange Rates of 25th May 2015
Japan Yen 122.7
Reports From Japan
Exports the foundation of GDP growth in first quarter
International demand for Japan"s exports held up well in
the first quarter of 2015 despite a weakening of demand in
China and a less than robust demand growth in the US.
The positive export performance resulted in a first quarter
growth at an annualised 2.4%, better than the 1.5% that
had been forecast.

However, it is difficult to separate the effects of a big
increase in manufacturing inventories in the first quarter
and the impact of the sharp fall in oil prices.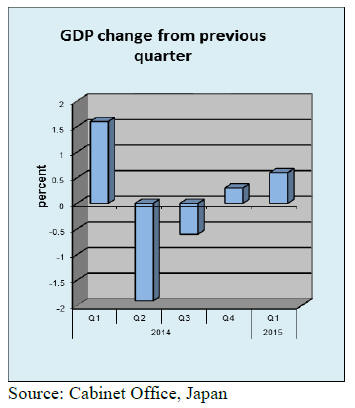 The Cabinet Office report on GDP confirmed that
consumer spending was picking up as was business
investment. The most encouraging news was that private
consumption seems to be increasing but in the short term it
is likely that exports will continue to underpin growth.
Sustainable Green Ecosystem Council seeks PEFC
mutual recognition
A press release from PEFC announced that the Japanese
forest certification scheme is open for public consultation.

See: http://www.pefc.org/news-a-media/general-sfmnews/
1848-japanese-forest-certification-scheme-open-forpublic-
consultation.

The PEFC press release says "Japan"s Sustainable Green
Ecosystem Council (SGEC) has applied for the
endorsement and mutual recognition of the Japanese
Forest Certification System by PEFC.

SGEC, which joined PEFC only in November 2014 is the
largest forest certification system in Japan. Established in
2003, SGEC focusses on promoting sustainable forest
management and forest certification especially among the
2.5 million small- and family owners who own at least 0.1
hectares of forests.

While the average forest holding is 2.7 hectares, some 1.5
million forest owners own less than 1 hectare of – often
fragmented – forests."

Global stakeholder consultation is an important part of the
PEFC assessment as it enables interested parties to provide
insights and information on the system"s compliance with
PEFC requirements. Stakeholders are encouraged to
submit comments on the SGEC Certification Scheme
using PEFC's Online Consultation Tool by 13 July 2015.

US dollar buys 124 yen
The US dollar strengthened towards month end largely on
account of US data on durable goods orders matching
forecasts which, in turn resulted in the firming of opinion
that US interest rates will soon be raised.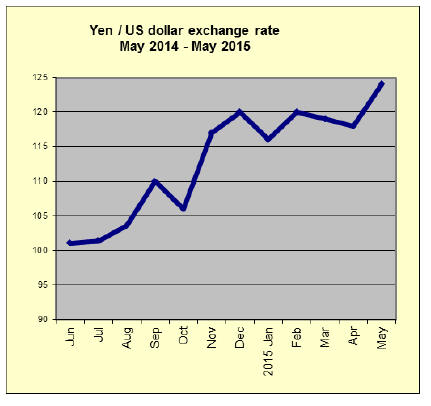 The US Commerce Department released a report showing
that durable goods orders dipped by 0.5% in April but
when orders for transportation items are eliminated there
was a 0.5% rise in April compared to a revised 0.6%
increase in March.
The US Federal Reserve will meet 16-17 June and analysts
expect an interest rate rise to be announced.

The impact of the stronger dollar was immediately
apparent on the yen/dollar exchange rate when, on 28
May, the dollar bought 124 yen.

Second consecutive rise in housing starts
A welcome rise in April housing starts has been reported
by Japan"s Ministry of Land, Infrastructure, Transport and
Tourism. This was the second consecutive monthly rise in
housing starts but because the April growth was slightly
below that of seen in March, forecasts for the year as a
whole fell to a seasonally adjusted 913,000 from 920,000
in March.

Despite the good news building firms reported a 12% drop
in orders in April compared to the same time a year
earlier.

Problem of abandoned homes to be tackled
The latest data indicates that one in seven of homes across
Japan are vacant, a doubling of levels in 25 years. A new
law providing for action where abandoned homes pose a
risk has come into effect.

Now, local authority personnel can enter and survey such
homes and request the owners renovate or remove the
building. If an owner refuses to comply the authorities can
demolish the building.

In most countries houses retain or even increase in value
over time and used homes account for 60 to 90 percent of
the housing market in such countries but in Japan secondhand
homes have little value and account for only 10
percent of the housing market.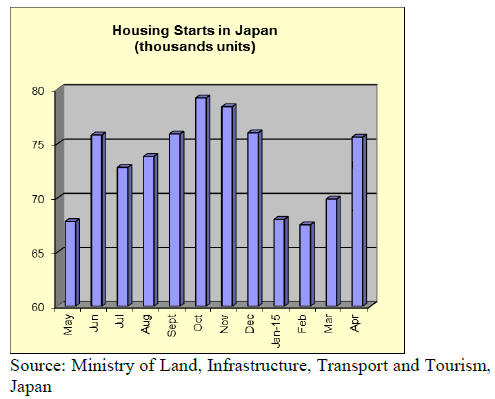 Japan's furniture imports
After the positive start to the new year Japan"s imports of
office, kitchen and bedroom furniture are struggling to
recover. The value of imports of all three categories of
furniture in April 2015 was around 11% below that in
April 2014 despite the burst in bedroom furniure imports
in February this year.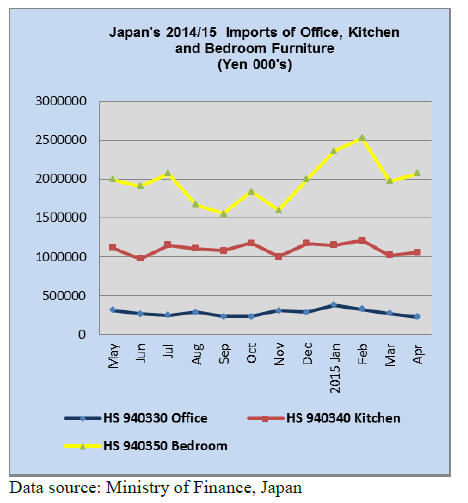 Office furniture imports (HS 940330)
The top four suppliers of office furniture; China, Portugal,
Poland and Italy maintained their dominance of the market
in Japan accounting for over 75% of all office furniture
imports in April, up 5% from March.

Office furniture imports continued to fall in April (down
almost 17% from March) marking the fourth straight
monthly decline. The big losers in April were South
Korea, Taiwan P.o.C, France and Germany. Of note was
the significant value of April office furniture supplied by
manufacturers in Switzerland.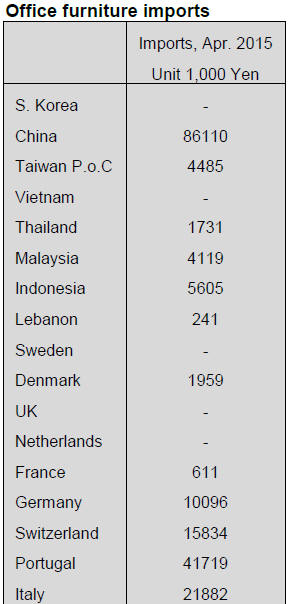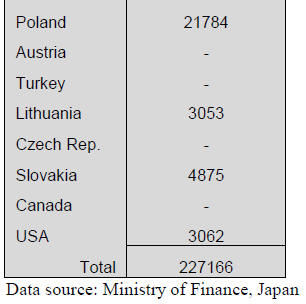 Kitchen furniture imports (HS 940340)
April Kitchen furniture imports were slightly higher
(3.5%) in April partially making up for the 16% decline
recorded in March.

The top four suppliers, accounting for 93% of total kitchen
furniture imports, were Vietnam (up 30% compared to
March), Philippines, China (-30%) and Indonesia (23%).

With Vietnam alone accounting for around 44% of Japan"s
kitchen furniture imports it will come as no surprise that
when imports from Thailand, Malaysia Philippines and
Indonesia are included, SE Asian suppliers are capturing
the lion"s share of the market for imported Kitchen
furniture.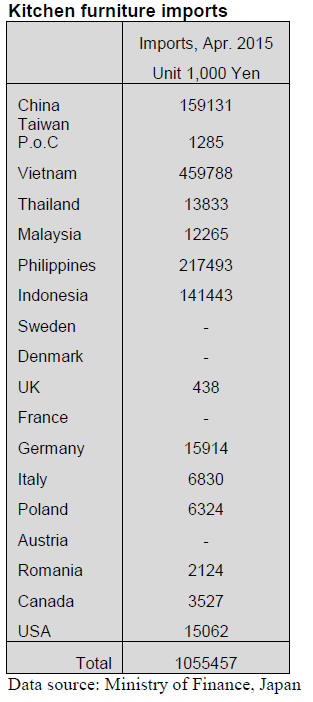 Bedroom furniture imports (HS 940350)
Imports of bedroom furniture remain dominated by two
suppliers; China and Vietnam which together accounted
for 86% of April imports by Japan. The latest data from
the Ministry of Finance in Japan shows that bedroom
furniture imports from China surged almost 45% in April
2015 but were still below levels recorded in April 2014.

The number three and number four suppliers of bedroom
furniture in April 2015 were Thailand and Indonesia,
together adding a further 6% of overall imports.

Of non-Asian suppliers Poland, Slovakia, Romania and the
US emerged as serious suppliers in April with all three
achieving better sales to Japan compared to those in March
this year.

Trade news from the Japan Lumber Reports (JLR)
For the JLR report please see:
http://www.nmokuzai.
com/modules/general/index.php?id=7

Log supply and demand in 2014
The Ministry of Agriculture, Forestry and Fisheries
disclosed wood statistic in 2014. Log supply in 2014
decreased by 1.7% because of drop of housing starts to
25,582,000 cbms. This is the first decline in five years.

Logs for plywood were 4,405,000 cbms, 5.4% up but logs
for lumber dropped by 3.5% and for wood chip dropped
by 1.3%. By source, imported logs were 5,669,000 cbms,
11.2% down while domestic logs were 19,913,000 cbms,
1.4% up so the share of domestic logs in total log supply
increased to 77.8% from 75.5% in 2013.

Decrease of total log supply was the first in five years but
domestic log supply has been increasing for last five years.
It increased by 19.8% compared to last bottom in 2009.

On logs for lumber, domestic logs increased by 1.3%,
stimulated by active investment for sawmills while
imported logs declined by 14.6% because of weakened
yen.

On logs for plywood, domestic logs increased by 5.8% and
imported logs also increased by 4.2%. The demand was
active for general construction and more production of
thick panels contributed for more log consumption.

Revised Building Standards Act
Revised Building Standards Act will come in force on
June 1. Now wooden three stories school building can be
built by quasi-fire resistive structure and restriction on
floor space of over 3,000 square meters of wooden
building is no longer applied if fire wall is provided.

The main revision is fire resistance of wooden building
based on data collected from actual full scale fire
experiments done in during 2011 and 2013. To build three
stories wooden school building by quasi-fire resistance
structure, full scale fire experiment was done three times
to collect data.

Active investment by plywood mills
Capital investment by plywood mills this year is getting
busy. Supply of structural panel of domestic softwood
seems to be excessive but many plywood mills try to
develop new products like concrete forming panel and
floor base panel by building new mills.

Seihoku group (Tokyo), the largest plywood
manufacturing group in Japan, is determined to develop
demand of non-structural panels with concerted effort.
In particular, each manufacturer of the group will tackle to
manufacture and market softwood coated concrete
forming panel with all-out effort.

In May, Kitakami Plywood, one of the group companies,
starts commercial production. The plant was built in 2014
and all the machineries are installed and JAS certificate is
acquired. It will consume about 100,000 cbms of local
Iwate prefecture logs to produce 55,000 cbms of plywood.
At first, it starts with structural panel production then
eventually it will produce non-structural panels like floor
base.

Development of softwood concrete forming for coating
demand is pressing issue with declining housing starts in
future and plan to increase use of domestic logs. Then
production of "Chisan Coat" concrete forming panel,
manufactured by Shinyei Plywood, one of Seihoku group
mill, is about 60-70,000 sheets a month, 50% more than
last fall.

The company renovated dryers capacity so that the
production increased by 30%, which enables to
manufacture more softwood concrete forming panels.

Hokuyo Plywood, another group company has started
manufacturing and marketing of new product "New Ace"
gradually.

Nisshin group (Tottori prefecture) is having more orders
of concrete forming panel for coating after imported South
Sea hardwood concrete forming panel prices soar by weak
yen.

Shimane Plywood, one of the group mill completed having
manufacturing line of coated concrete forming panel at the
end of March with supply capacity of 2,000 cbms a month.

Nisshin has veneer plant, which supplies veneer to group
plywood mills whenever hot press has spare time to
improve production efficiency. It prepares to develop floor
base sales more since demand of structural panel is
expected to decline.

Noda Corporation (Tokyo) newly built plywood mill at
Fuji city of Shizuoka prefecture. This plant uses locally
produced logs and cypress will be more than half so it will
produces cypress floor base. The products are used for inhouse
consumption to make building materials. It will try
to develop new market with unique products. It has
already developed composite floor with cypress plywood
base.

Plywood
Demand stagnation continues and market of both domestic
and imported plywood remains sluggish. Market of
domestic plywood is weakly holding with depressed
precutting plants" operations.

Sliding market prices finally bottomed in late March after
major plywood manufacturers announced price increase
but the demand structure has not changed and the
movement in April continues dwindling.

With improving housing starts, precutting plants get a bit
active so there is hope for recovery. The prices once
started moving up again fell to the March level.

March production was more than the shipment so the
inventory increased to 246,400 cbms. Imported plywood
market is firm despite weak movement even after new
fiscal year started in April.

The shipment from warehouses in Tokyo ports remained
in slow pace. It got active some in late April before the
Golden Holidays in early May but the prices remain
unchanged.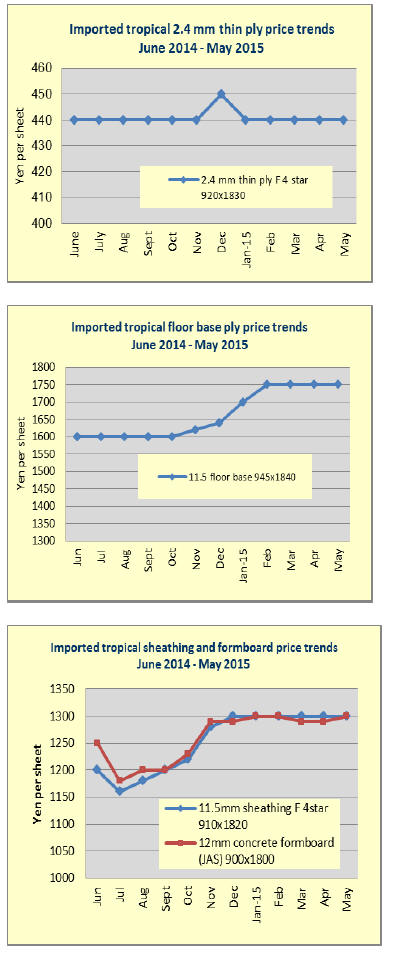 Plywood suppliers in Malaysia stay bullish by chronic log
shortage and there is difference of more than 100 yen per
sheet between imported cost and the market prices in
Japan.
The importers and wholesalers managed to tide over by
shopping low cost materials in the market. By slow
demand for last several months, the on-hand inventory is
much heavier than normal for some importers.

The arrivals in March plunged to 234,200 cbms and future
arrivals will be low but because of depressed shipment,
inventories in Tokyo harbor seems excessive. Arrived cost
has steadily been climbing despite slow demand.