2. GHANA
Fuel prices continue to rise
Prices of petroleum products in Ghana have been
increased 9% by the National Petroleum Authority (NPA)
which justifies the rise on the basis of the higher costs of
electricity.

In a statement following the announcement of the increase
a spokesperson from the Association of Ghana Industries
(AGI) said this is an additional burden on industry which
is already facing problems due to the tough economic
conditions in the country.

The fuel price rise comes at a time when interest rates on
loans are in the region of 30% and the cedi has depreciated
over 18% against the US dollar since January which is
putting businesses under serious pressure. The AGI has
called on government to quickly step in to protect local
industries from collapse.

Because of the erratic power supply wood processing mills
are having to utilise diesel powered generators so the fuel
price rise will result in a sharp rise in production costs.

In a related development, the Monetary Policy Committee
(MPC) of the Bank of Ghana increased the interest policy
rate to 22 percent in an effort to curb inflation which stood
at almost 17% in April.

Forestry week celebrated
The Ghana Forestry Commission (FC) celebrated Forestry
Week and Greening Ghana Day from 23-29 May under the
banner of "Healthy Forests Mitigate Climate Change".

The celebrations were aimed at commemorating the
International Day of Forests which falls on 21 March
every year but Ghana celebrates the day in May to take
advantage of favourable weather conditions in May for
tree planting.

The focus of the celebrations was on education and
awareness raising programmes in various institutions to
strengthen sustainable forest and wildlife management.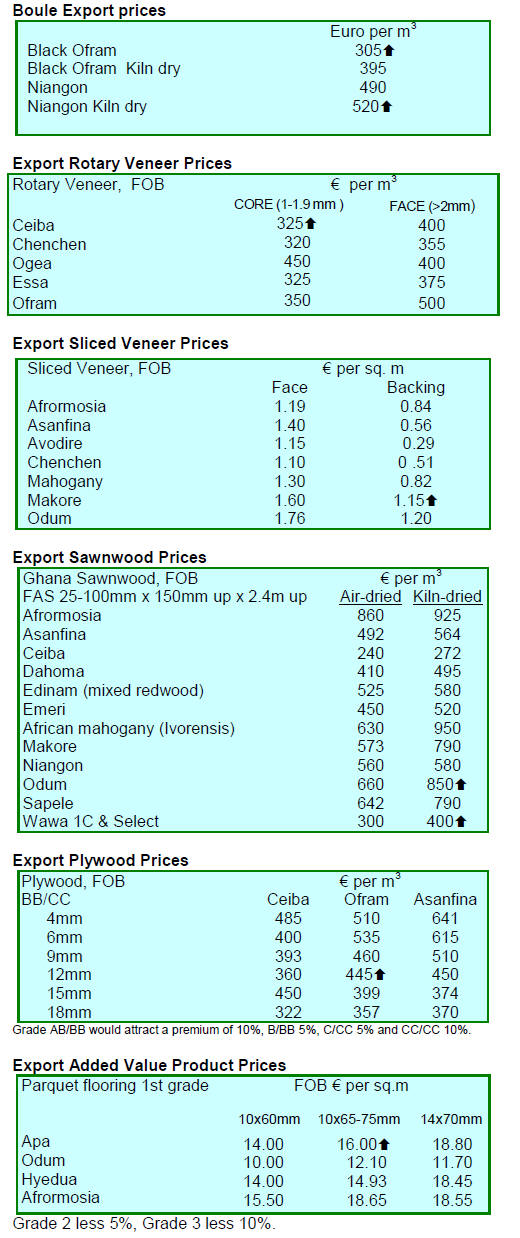 3. MALAYSIA
Export led growth in 2015
Malaysia"s economy expanded by 5.6% year on year in
the first quarter of 2015 on the back of strong private
consumption (+9%) and private investment (+12%).
However, GDP growth in the first quarter this year fell
below the 6.3% growth recorded in the first quarter of
2014.

Output from the manufacturing sector in the first quarter
rose to 5.6% from 5.4% in the previous quarter driven
mainly by the electronics sector which has benefitted from
firm domestic demand.

Analysts are optimistic that Malaysia can continue its
export led growth this year and exports could get a boost if
Malaysia and the EU revive stalled discussions on a free
trade agreement.

Malaysian exports to the EU
(000"s cu.m, *except flooring 000"s sq.m)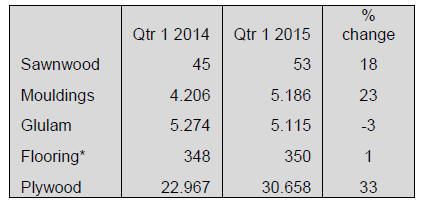 Hundreds of timber company bank accounts frozen
The fight against illegal logging continues with the
Malaysian Anti-Corruption Commission (MACC) freezing
375 company bank accounts in its latest strike against
Sarawak timber companies suspected of illegal operations.

In a coordinated operation some 400 personnel from
MACC, police, state Forestry Department and the Inland
Revenue Board raided 48 log ponds, sawmills and
business premises across the state.

Sarawak Chief Minister, Adenan Satem, has cautioned the
public not to presume those whose accounts are frozen by
MACC are guilty of corruption and illegal logging.
However, Adenan added that the MACC means business
and intends to stamp out illegal logging in the state.

Wong Kie Yik, chairman of the Sarawak Timber
Association (STA), has voiced concern that the MACC
action was too harsh as it has disrupted company
operations and put the international competiveness of
these enterprises at risk.

Area of FSC certified forests expands
The Sabah Forestry Department received four Forest
Stewardship Council (FSC) certificates covering 155,440
hectares of managed forests in the Northern Gunung Rara
Forest Reserve (61,330 hectares), Timimbang-Botitian
Forest Reserves (13,610 hectares), Nuluhon Trusmadi and
Sg. Kiluyu Forest Reserves (75,804 hectares).

Also included was the Pin-Supu Forest Reserve (4,696
hectares). All forest reserves have been certified by FSC
for five years. The Sabah Forestry Department now has
around 504,000 hectares of FSC certified forests under its
management.
4. INDONESIA
Moratorium extended
In a press release from the Ministry of Environment and
Forestry it has been confirmed that Presidential Decree
No.6, 2013, the legal basis for the implementation of the
moratorium the clearing of primary forests and peat land,
has been extended. Further, the proposals for reinforcing
the Decree submitted by the NGOs WALHI, Partnership,
Sawit Watch, WRI, and others will be considered and
amendments to the Decree may be made.

See: http://www.dephut.go.id/index.php/news/details/9789

IKEA to secure more furniture in Indonesia
IKEA, the international furniture retailer, has indicated it
will be securing more furniture in Indonesia to help it
achieve its sales target.

In particular, IKEA plans to procure more flat-pack
wooden furniture in Indonesia next year.

According to a spokesperson from IKEA currently it has
11 suppliers in Indonesia, mainly in Java, but will soon be
extending its supply base with the assistance of the
Association of Indonesian Craft Development.

In related news, the Indonesian President has expressed
disappointment that Indonesia"s furniture exports are only
around a third of that exported by Vietnam and has set
exporters a US$5 billion export target to be achieved by
2019.

Azerbaijan seeks more trade with Indonesia
Azerbaijan says it is keen to boost trade with Indonesia as
well as seeking fresh investment in order to strengthen
economic.

The Azerbaijan Ambassador to Indonesia, Tamerlan
Karayev, has praised the quality and competitive prices of
Indonesian furniture and suggested there is a real
opportunity for Indonesia to expand trade with his country.

Challenges faced by rattan product manufacturers
Indonesia produces a wide range of rattan products and
exports worldwide but the domestic industry is still
heavily dependent on imported accessories such as
handles, hinges, drawer rails and other components as
there is limited domestic production of these essential
items.

In an interview with the media, Andrian Wonoto of Jaya
Rattan, said ¡°while 90% of the rattan used in
manufacturing was obtained in the country the reliance on
imported components needs to be addressed.
In addition, Wonoto pointed out that the requirements of
the country"s legality verification scheme (SVLK) are a
major financial burden for SMEs in the sector.

Indonesia ¡®Barecore¡¯ Association formed
Indonesia exports a large volume of laminated panels
locally termed "barecore" and on 5 May manufacturers
established the Indonesian Barecore Association (IBcA).

Plantation Albazia falcata is the primary raw material used
and the main markets for Indonesian barecore are China
and Taiwan P.o.C. Indonesian exports of barecore to these
two markets are substantial amounting to between 4-5000
containers per month.

For more see:
http://finance.detik.com/read/2015/05/21/095225/2920692
/1036/2/kuasai-90-pasar-bare-core-dunia-ri-bisa-stabilkanharga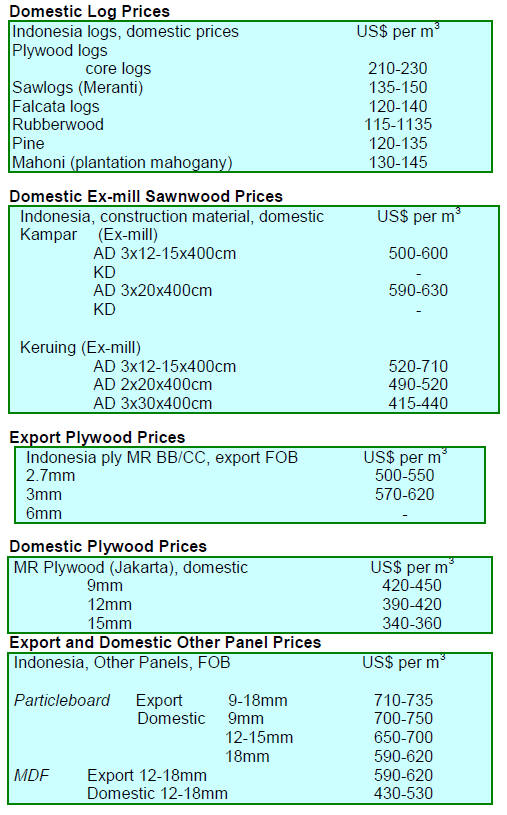 5. MYANMAR
Stamping out corruption in forestry
The domestic media has reported statements by Zaw Win,
Deputy Director General of the Forestry Department (FD)
to the effect that government action has been taken against
700 Forestry Department employees who are suspected of
corruption. This comes after almost 2000 employees were
dismissed having been found complicit in timber
smuggling.

According to a press release from the FD, search and seize
operations were conducted in early May in Indaw, Ban
Mauk, Pin Le Bu, Wuntho and Kawlin areas resulting in
the capture of 15 smugglers and seizure of logging
equipment along with teak, kanyin, tamalan and thitya
timber.

Local analysts say that the Myanmar public is expressing
concern about the loss of large stretches of forest and
denuded mountains and hills in the Kachin State, Northern
Shan State and now in Sagaing Division. This matter is
one of the most serious issues the government is trying to
solve.

As much of the smuggled timber is destined for China the
government of Myanmar is working closely with
authorities in China to bring the smuggling to an end.

The problem for the Myanmar FD is that the areas on the
border subject to illegal operations and smuggling are
conflict zones and it is impossible for FD to operate
without military support.

The volume of timber seized from smugglers has
increased each year since the new administration came to
power. For more see:elevenmedia.com

May tender sale results
The following timber was sold by Myanma Timber
Enterprise by tender on 22 May 2015. The quantity of logs
is expressed in hoppus tons (H.tons) and "conversions" and
sawnwood (including hewn timber) are shown in cubic
tons (C.tons).

These teak logs were sold on ex-site in Upper Myanmar
(Sagaing Division) and Central Myanmar (Magway
Division). There were no teak logs sold in Yangon on 22
May.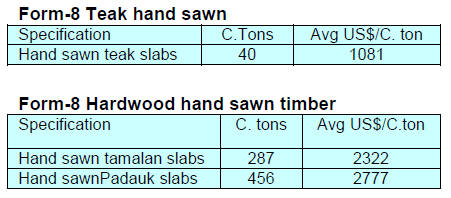 Form-8 timbers are those that have been seized. Generally
they are either hewn or hand sawn and are of huge
dimension with thicknesses and widths of 4 inches to 20
inches.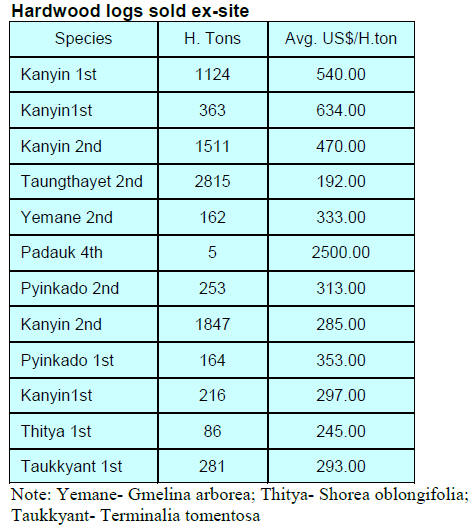 ¡¡
6. INDIA
Inflation rate trends down
The Office of the Economic Adviser (OEA) to the Indian
government provides trends in the Wholesale Price Index
(WPI).

The official Wholesale Price Index for All Commodities
(Base: 2004-05 = 100) for April declined by 0.01% to
176.01 from 176.0 in March. The year on year annual rate
of inflation, based on monthly WPI, stood at -2.65%
(provisional) for April 2015 compared to -2.33 for March.

For more see: http://eaindustry.nic.in/cmonthly.pdf

Timber and plywood price indices climb
The OEA also reports Wholesale Price Indices for a
variety of wood products. The Wholesale Price Indices for
wood products and plywood are shown below.

The April price index for wood and wood products rose 3
points while the April price index for plywood rose almost
7 points marking the sharpest rise since December last
year.

See http://eaindustry.nic.in/display_data.asp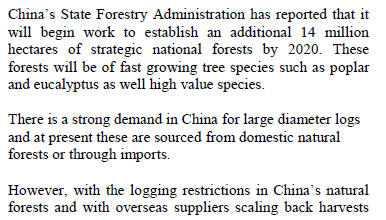 Net increase in forest cover reported
The Minister of Environment, Forests and Climate
Change, Prakash Javadekar, has reported on the ministry"s
web-based portal launched in July last year for online
submission and monitoring of proposals for forest clearing
for development projects.

Between 2004 and 2013 around 343,000 hectares of forest
land across the country was diverted for development
projects and up to May this year the ministry received
2,724 proposals for conversion.

Quoting the Indian State of Forest Report-2013 the
Minister said there was an overall net increase of 5,871
square kilometers of forest cover of the country compared
to the area quoted in the 2011 State of Forest Report.

Auction of sandalwood from Kerala
Some 59,000 kg of Marayoor sandalwood went under the
hammer at an e-auction held 20-21May at the governmentowned
Marayoor Sandal Reserve Forest office in Kerala"s
Idukki district. The half-yearly auction is being conducted
by the public-sector Metals and Scraps Trading
Corporation.

The Marayoor sandalwood plantation, owned by the
Department of Forests, currently has around 60,000
sandalwood trees. It is the largest natural sandalwood
forest of the species Santalum album in the world.

While the results of the latest auction have not been
released last year high quality Class 5 sandalwood was
sold at Rs10,500 per kg. Analysts expect prices be even
higher in the recent auction.

Soap makers, religious organisations and perfume
manufacturers are the main customers for the top-quality
Marayoor sandalwood.
Auction of domestic forest teak
Arrangements for e-auctions have been finalised to the
satisfaction of both sellers and buyers and after many
delays sales have ben conducted in the Dangs Division of
Gujarat.

Observers report bidding was brisk and sales were good
mainly because mills had run down stocks. Some 22,000
cubic metres were sold and only around 8% of the logs on
offer remained unsold due to poor quality and age.

Average prices recorded at the most recent auction are as
follows: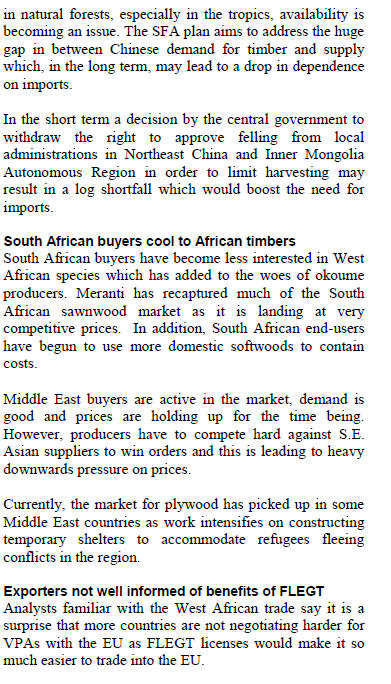 Good quality non-teak hardwood logs, 3 to 4 mtrs long
having girths 91cms & up of haldu (Adina cordifolia),
laurel (Terminalia tomentosa), kalam (Mitragyna
parviflora) and Pterocarpus marsupium, fetched prices in
the range of Rs.800-1000 per c.ft.

Medium quality logs were sold at between Rs600-700 per
cubic foot while lower quality logs were sold for between
Rs.350-450 per c.ft.

Another round of auctions is expected before the end of
June as freshly felled logs are already arriving at the
Dang"s as well Surat division"s depots.

Indian mills welcome arrival of mature and large girth
plantation teak logs
The flow of plantation teak imports is balanced with
demand. Shipments of larger girth more mature logs are
being shipped and this is lifting prices.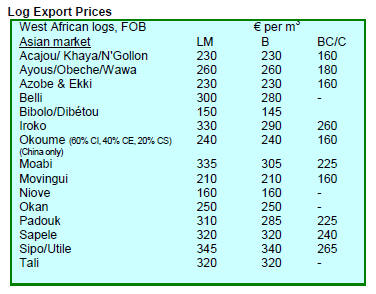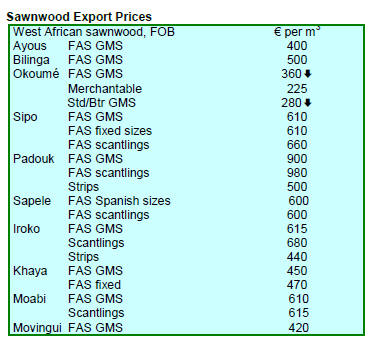 Imported sawnwood
The prices for imported sawnwood KD 12% below are per
cu.ft ex-warehouse.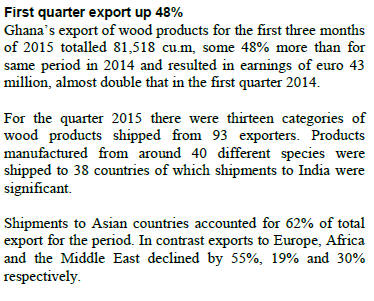 Plywood prices
Manufacturers in the Haryana Plywood Manufacturers
Association in Himachal Pradesh have increased plywood
prices by 5% but nationally prices have not changed due to
slow demand in the construction and housing sectors.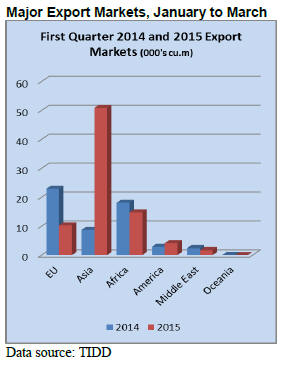 Smart cities in India ¨C a report from CREDAI
The Confederation of Real Estate Developers"
Associations of India (CREDAI), with over 9000
Members in 23 State Chapters and 152 City Chapters,
represents private real estate developers in India.
A recent CREDAI report "Smart Cities" sets out a vision
for urbanisation in India.

CREDAI offers a perspective on how smart cities will
transform the Indian real estate sector pointing out that the
rate of urbanising is unprecedented with 30 village
dwellers moving every minute from villages such that the
numbers of urban dwellers will more than double by 2030.

See:
http://www.credai.org/sites/default/files/Conclave-2014-Reportsmart-
cities.pdf
7. BRAZIL
Tropical wood product exports improve
April exports of wood-based products (except pulp and
paper) increased 12.4% in value compared to April 2014,
from US$220.0 million to US$247.3 million.

Pine sawnwood exports grew almost 15% in value in April
2015 compared to April 2014, from US$18.9 million to
US$21.7 million. In terms of volume the increase was just
over 14% from 82,300 cu.m to 94,200 cu.m over the same
period.

Tropical sawnwood exports surged around 23% in
volume, from 28,000 cu.m in April 2014 to 34,400 cu.m in
April 2015 which, in terms of value, was from US$14.5
million to US$17.9 million.
¡¡

Pine plywood exports continued the upward trend and in
April increased 25% year on year from US$38.0 million to
US$47.4 million (102,200 cu.m to 133,100 cu.m, during
the same period).

Tropical plywood exports, although now very small, more
than tripled in April from 3,400 cu.m in April 2014 to
9,400 cu.m in April this year. In value terms the rise was
from US$2.1 million in April 2014 to US$4.6 million in
April this year.

Because of a weakening in regional and international
demand for Brazil"s wooden furniture exports fell from
US$38.2 million in April 2014 to US$37.1 million in April
2015, a 3% drop.

According to data compiled jointly by the Foreign Trade
Secretariat (SECEX) in partnership with the Furniture
Industry Association of Rio Grande do Sul (MOVERGS)
and the Innovation Manager Centre (CGI) Brazilian
furniture exports have been declining since the beginning
of the year.

From January to April the value of Brazil"s furniture
exports totaled US$196.6 million, a 6.6% decline over the
same period of 2014. In Rio Grande do Sul, the country's
second largest furniture exporting state, furniture exports
fell 5.6% to US$59.5 million compared to US$63 million
recorded in 2014.
Brazilian furniture exports fell to Angola (-76%),
Argentina (-27%), France (-23%), Germany (-21%) and
the Netherlands (-17%). However, some countries
increased imports from Brazil, including Mexico (+ 97%),
Cuba (+ 60%) and the United States (+ 25%).

Brazilian furniture makers discuss automation
Demand levels for Brazilian wooden furniture are
changing, domestic demand has slowed and in
international markets there is intense competition.

When this is set against a perceived lack of government
support for the sector, the high tax rates and rising
production costs it comes as no surprise that new
production models involving higher levels of automation
are being discussed.

The up-coming 6th Furniture Congress hosted by the
Federation of Industries of Paran¨¢ State (FIEP) in
September 2015 will, according to the organisers promote
reflection on the changes in the furniture sector and
rethink the products and processes most likely to deliver a
greater international market share.

Mission to Ligna and Construmat
A group of timber companies from Mato Grosso State
joined a mission to Germany (to visit Ligna) and to Spain
(for Construmat) in order to assess the competition, assess
markets opportunities and see what new products are
being made available.

This visit was organised by the Federation of Industries of
Mato Grosso (FIEMT) in partnership with the Brazilian
Support Service to Micro and Small Businesses
(SEBRAE).

The Ligna fair in Germany brings together representative
companies from the entire production chain and around
1,500 exhibitors from 48 countries participated. The
Construmat fair in Spain involves promotion of products
for civil construction and provides an opportunity for
entrepreneurs to observe products offered by companies
from the countries participating in the fair.

According to FIEMT, the participation in such fairs
provides insights on innovations in wood product and
utilisation for civil construction. The EU construction
industry is a potential target market for exports of
Brazilian wood products.

Par¨¢ plans extensive rail link
Par¨¢, one of the main timber producer states in Brazil,
plans to create a rail link between the southern and
southeastern to the northeastern regions of the state.

Despite having abundant natural resources such as one of
the largest mineral reserves in the world, large areas
suitable for agriculture, extensive forest resources along
with a favorable investment environment the state lacks
adequate infrastructure.

The rail project, called the Par¨¢ Industrial and Port
Logistics Complex (COLINPORT) will have 1,200 km of
railway administered by Para Railway (FEPASA) and a
port in Colares municipality (Northeast region of the
State).

This port will have capacity to receive large vessels and
has the advantage of being located in a region which is
close to Asian, European and North American markets.

The construction of COLINPORT is expected to start in
2018, with an investment of R$16 billion. The new
railroad could be connected to the North-South Railroad in
Brazil and could be used to transport minerals, grains and
timber making Par¨¢ one of the most competitive regions in
the world.

Inflation the highest in over a decade
Brazil"s Consumer Price Index (IPCA) was 0.71% in April
2015 ¨C the lowest the index has been in 2015. However,
the index remains the highest since 2011. The
accumulated IPCA topped 4.5% in the first four months of
2015, the highest since 2003 when it touched 6.15%.

The Monetary Policy Committee (COPOM) of the
Brazilian Central Bank (BCB) raised interest rates for the
fifth consecutive time by 0.5% to an annualized 13.25%.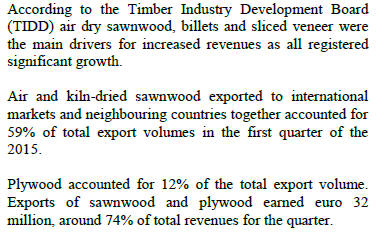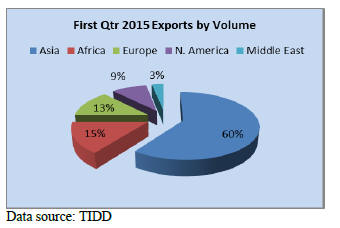 8. PERU
Applying technology to battle illegal felling
The Special Prosecutor for Environmental Matters
(FEMA) Public Ministry which is equipped with some
advanced technology will support the authorities in the
Ucayali region as they step up efforts to enforce forest
laws.

A senior prosecutor, Pablo S¨¢nchez Velarde, was recently
in Pucallpa to inaugurate a satellite monitoring system to
rapidly detect illegal logging so action can be taken on the
ground.

FEMA"s office in Ucayali will lead the way in the
prevention, control and punishment of environmental
crimes in the region.

MegaFlorestais 2015 yields multiple agreements
The Ministry of Agriculture and Irrigation (MINAGRI),
through the National Forest and Wildlife Service
(SERFOR) hosted the Annual Meeting MegaFlorestais
2015 which met for a week bringing together forest
agencies from the ten countries with largest forest cover.

SERFOR Executive Director, Fabiola Muñoz, as a result
of the meeting bilateral agreements were concluded with
Canada on the forest industry, with Mexico for forest
inventories and with Guatemala on support for small
farmers.

MegaFlorestais 2015 was held in Cusco and the theme was
"Combating deforestation and promoting the contribution
of forestry to the green economy".

Peru"s Deputy Minister of Agrarian Policy, Cesar
Sotomayor, along with senior officials from state forestry
agencies participated to exchange experiences and build
alliances and synergies to move forward on issues of
development, innovation, technology and development the
forest industry, among others.

The meeting provided an opportunity for MINAGRI to
underscore its commitment to promote the comprehensive
and sustainable management of natural forests and combat
deforestation in Peru.

New programme to promote productivity and exports
The Foreign Trade Society of Peru (COMEX) has reported
on the success of its "Sierra Exportadora" programme
conducted in 2014 and has proposed the creation of "Selva
Exportadora" to promote productivity and competitiveness
of the Peruvian products.

The trade group says that the Sierra Exportadora
programme assisted with the development of business
plans for over 300 enterprises which led to sales of about
US$190 million in 2014, which represented an increase of
78% over 2013.

COMEX focused on non-mineral exports and in 2014
shipments were up 4% due to the good performance of the
agricultural sector which exported 21% more than in 2013.

COMEX is encouraging the Council of Ministers (PCM),
the private sector and regional governments to emulate
Exportadora Selva.

More land to be made available for housing
Activity in one of the main drivers of the Peruvian
economy, the construction sector, slowed significantly
towards the end of last year but now the government has
proposed a range of support measures to stimulate growth.

Peru"s Minister of Housing, Construction and Sanitation,
Milton von Hesse, has indicated that because one of the
main hurdles to expansion of construction sector output
was the shortage of land for building the government will
auction around 5,000 hectares for housing construction.

For more see:
http://www.camaralima.org.pe/principal/categoria/boletinvirtual-
la-camara-al-dia/19/c-19

In related news, the current economic slowdown in Peru is
affecting the profitability of domestic enterprises with
business goals now becoming unattainable. A recent study
of business sentiment reported that over half the
companies surveyed said that business conditions were
either 'regular' or ' bad ' in the first months of the year.

Trans-Amazon railway
The east-west rail link across South America proposed by
by the Chinese government has moved a step forward as
the government in Peru agreed to contribute to a study of
the proposal.

China, Brazil and Peru plan to begin a feasibility study for
the 5,000 kilometre rail line which is expected to cost
around US$10 billion. Such a railway would greatly
reduce the cost of transporting goods destined for the
Chinese and other international markets.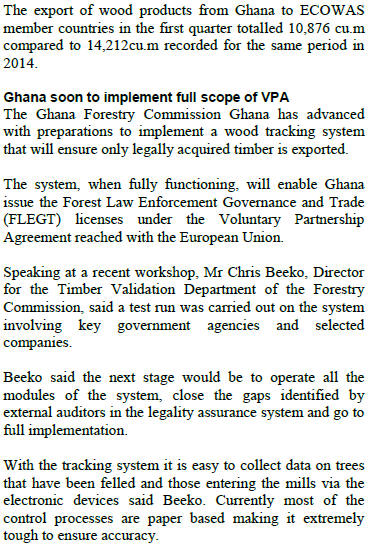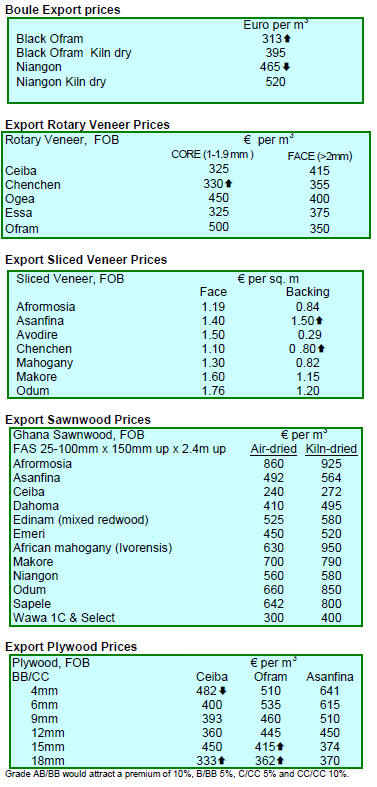 9. GUYANA
LUS marketing trials for domestic consumers
It is estimated that the forestry and wood processing
sectors contribute between US$40 million and US$60
million to export earnings annually representing between 3
and 4% of GDP.

Annual average timber and timber products production is
estimated at 420,000 cubic metres, with plywood and
furniture manufacturing being two key value added
products.

The forests of Guyana contain a rich variety of timber
species and government agencies have been promoting
several lesser used species (LUS) in the domestic and
international markets with some success.

Recently LUS marketing campaigns have targeted the
domestic market. One such campaign saw furniture made
from LUS and put on trial in cooperation with the National
Parks Commission.

This trial will put to test the durability and usefulness of
the LUS species being promoted to determine if they are
suited for furniture making.

The Guyana Forestry Commission is convinced that the
LUS are viable substitute for better-known species in
terms of performance and aesthetics. Additionally, many
LUS exhibit rich and exotic colours and textures providing
the opportunity for unique furniture and interior decoration
designs.

Export prices
There were no exports of greenheart, purpleheart or mora
logs in the period reviewed.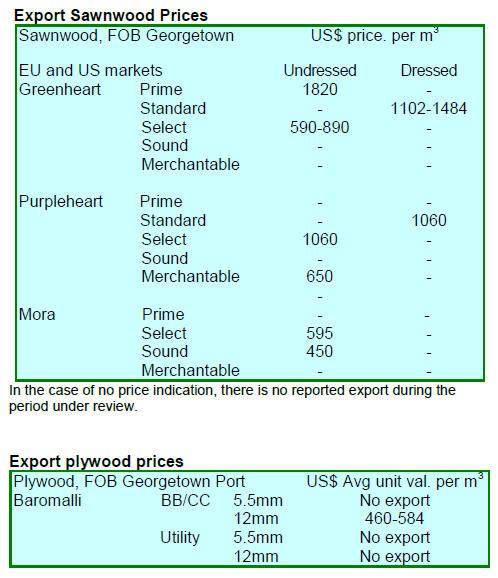 ¡¡