Report from North America
February residential construction down 15%
Housing starts fell by 17% to a seasonally adjusted annual
rate of 897 million units in February, according to data
from the Commerce Department. Single-family housing
starts decreased 15% from January, while multifamily
construction fell by 21%.

Home construction declined in all regions of the country.
Lower consumer confidence in the economy is affecting
new home construction, especially among lower and
middle income households.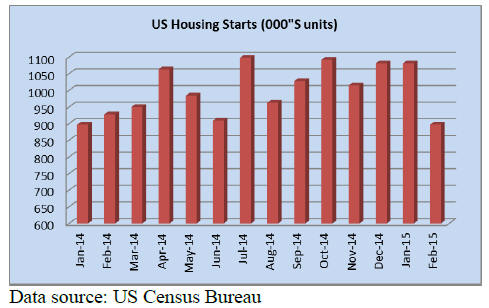 The number of building permits was up in February at
1.092 million units. Permits for single-family homes
declined, while multi-family permits increased by 18%.

Builders" confidence in the market for newly built singlefamily
homes fell again in March. According to the
National Association of Home Builders, the drop in
confidence is mainly related to shortages in building lots
and labour shortages. The highest decline was in the West.

Slight cooling in Canadian housing market
Canadian housing starts fell 19% in February to 151,000 at
a seasonally adjusted annual rate. The decline was mainly
in multi-family construction, while single-family home
starts decreased by just 5%. At 36% the share of single
family in total housing starts was higher than average in
recent years.

Construction intentions decreased 7.5% in January from
the previous month, based on the number of approved
building permits.

Growth in US non-residential construction
Investment in non-residential construction increased
slightly in February at a seasonally adjusted annual rate
according to US Census Bureau data. Private investment
in non-residential construction was revised up for
December and January.

The largest growth in February was in public commercial
construction, which grew by 12% from the previous
months.

The American Institute of Architects reported slow growth
for commercial and industrial construction. The market for
institutional buildings (education, health care) has grown
for nine months.

Temperate timber the only winner
With the exception of hardwood flooring and temperate
sawn hardwood, imports of other wood products declined
in February. Wooden furniture imports fell significantly
and were even slightly lower than at the same time in
2014.

The winter weather, a slow housing market and lower
consumer confidence contributed to the decline in imports.

February sawn hardwood imports more than doubled from
to 190,933 cu.m. However the growth was exclusively for
temperate species, tropical hardwood imports declined by
2% in the same period to 22,472 cu.m. But year-to-date
tropical imports were 32% higher than in February 2014.

Sapelli and virola sawnwood imports increased to 4,202
cu.m. and 2,868 cu.m., respectively. Imports of most other
tropical species were down in February from the previous
month.

Despite the overall decline in imports, shipments from
Peru, Ghana and Congo (Brazzaville) to the US increased
in February. Virola imports from Peru jumped to 2,731
cu.m. in February, according to US trade data.

Ipe sawnwood shipments from Brazil declined to 2,388
cu.m. in February. The volume of sawnwood from
Cameroon was nearly unchanged from January. Acajou
d"Afrique imports from Cameroon fell but sapelli
shipments increased.

February imports from Malaysia declined from the
previous month to 2,367 cu.m., but compared to 2014,
year-to-date Malaysian shipments are up one third.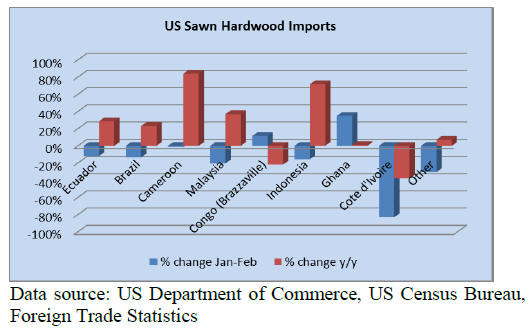 Canada¡¯s sapelli imports grow
Canadian imports of tropical sawn hardwood were valued
at US$1.25 million in January, up one third from
December. However, imports are only half of the import
values seen last summer. Africa remains the largest source
of imports for Canada, followed by South America
(mainly balsa) and then Asia.

Balsa imports from Ecuador were worth US$296,183 in
January. The second-largest source of imports was
Cameroon at US$208,387, although the value of imports
from Cameroon fell from December.

Imports from Indonesia declined slightly from December,
but at US$182,678 they were higher than in January 2014.

A drop in hardwood plywood imports from China
US imports of hardwood plywood at 212,044 cu.m. were
down 10% in February from the previous month.

The largest decline in hardwood plywood imports was
from China, following strong growth in January. February
imports from China fell 27% from the previous month to
109,937 cu.m. Year-to-date imports (January and
February) were unchanged from 2014.

On the other hand imports from Indonesia grew to 42,740
cu.m. in February, but year-to-date imports were lower
than at the same time in 2014.

Hardwood plywood imports from Canada and Malaysia
also increased in February, while Russian shipments
declined.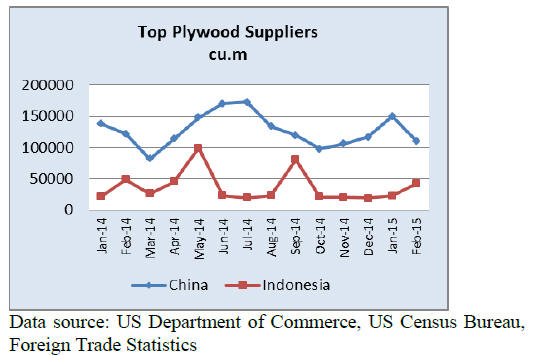 China remains largest hardwood mouldings supplier
While hardwood moulding imports from China declined in
February (US$5.1 million), year-to-date imports were 25%
higher than at the same time in 2014; but, imports from
Brazil increased by 9% from January to US$4.3 million.

Hardwood moulding imports from Malaysia fell by one
third to just over US$0.7 million in February and overall
shipments by Malaysia were also down compared to 2014.

Indonesia does well in assembled flooring market
Hardwood flooring imports increased slightly in February
to US$2.7 million. Import levels were almost unchanged
the same time last year. However, imports Malaysia grew
by 27% from January and year-to-date imports were 16%
higher than in February 2014.

Imports from Indonesia also increased from last year,
while shipments from China were down. China trails
Malaysia and Indonesia in hardwood flooring shipments to
the US to date in 2015.

Despite a slight decline in February, year-to-date imports
of assembled flooring panels increased by 22% from the
same time in 2014 and were worth US$10.5 million in
February, down 7% from the previous month. China
remained the main supplier at US$5.8 million, followed by
Indonesia (US$2.6 million).

Tropical suppliers see US furniture imports fall
US Wooden furniture imports declined in February
following a decrease in January. Total wooden furniture
imports were worth $1.02 billion, down 19% from
January. Year-to-date imports were 1% lower than in
February 2014.

Canada was the only major supplier that increased
furniture shipments to the US in February. The US
imported US$97.9 million of wooden furniture from
Canada, up 12% year-to-date from February 2014.
Canadian manufacturers benefit from a lower Canadian
dollar.

Furniture imports from China decreased by 22% from
January to US$484.1 million, the lowest since level of
imports since March 2014.

Imports from Vietnam, Malaysia and Indonesia also
declined in February. Year-to-date imports from Mexico
were up 10% compared to February 2014.

Almost all major supply countries saw a decline in
shipments to the US. Imports from China were worth
US$618 million, down 5% from December. Vietnam"s
shipments fell by 6% to US$224.9 million. Only imports
from Malaysia remained unchanged at US$51.7 million.

Wooden furniture imports from Europe declined in
February, but they remain higher than at the same time last
year.

Wooden bedroom furniture imports fell the most in
February, followed by upholstered wooden seating
furniture and kitchen cabinets. The smallest decline was in
wooden office furniture imports.

Furniture market outlook positive for 2015 and 2016
The latest available data on furniture orders and shipments
were positive, especially compared to the same time in
2014.

However, international trade data shows a month-overmonth
decline in US furniture imports. Housing starts
decreased at the start of 2015, which usually slows
demand for furniture.
US furniture consumption is forecast to grow by 3% in
2015 and 2016, according to CSIL, the Center for
Industrial Studies in Milan. Overall economic conditions
are positive, with lower unemployment and low interest
rates. As the weather improves in spring both the housing
market and furniture sales are expected to grow.

Another positive sign for furniture manufacturers is the
record number of buyers at this month"s High Point
Furniture show. Over 45,000 buyers from more than
14,000 companies registered for the largest furniture trade
fair in High Point, North Carolina.

Furniture orders, shipments and retail sales down
Both furniture orders and shipments were slightly down in
January from the previous month. However, new furniture
orders were 7% higher compared to January 2014,
according to the Smith Leonhard industry survey.

Furniture shipments declined from December. Compared
to January 2014, shipments were 10% higher this year.
Over 60% percent of companies reported higher shipments
in January.

Inventory levels at distributors and manufacturers were up
1% from September and 5% higher than in January 2014.

Retail sales at furniture stores in the US declined 4% from
January to February, according to US Census Bureau data.
The decline may be mainly seasonal, but sales are slightly
lower than expected for February. However, retail sales
were 4% higher than in February 2014.

Calls for finalisation of formaldehyde emission
standard
Following media reports about high formaldehyde
emissions in laminate wood flooring from China, industry
associations are asking that the draft national
formaldehyde emission standard be quickly finalised.

Because of the media reports, installers, residential and
commercial customers became concerned about
formaldehyde emissions from wood flooring. The new
standard when released would ensure consistent
formaldehyde emission standards for all wood products
sold in the US market.

The Environmental Protection Agency (EPA) has worked
on a national standard for composite wood products for
several years now. The standard is largely based on the
existing Californian standard.

However, a draft version of the standard was heavily
criticised by the industry. Unlike the Californian standard,
it would require furniture manufacturers who laminate inhouse
to test and re-certify panels purchased for
lamination.

The new emission rules will apply to hardwood plywood,
particleboard, MDF and finished products containing these
materials. Both imported and domestically produced
products must meet the standards.

Interest rate increase likely in second half of 2015
The US Federal Reserve board is split on whether to raise
interest rates in June or later as while employment has
improved, economic growth appears to slow. The first
increase in interest rates appears more likely in the second
half of 2015.

The US unemployment rate was unchanged at 5.5% in
March. The number of long-term unemployed (jobless for
27 weeks or more) accounted for almost one third of all
unemployed. Long-term unemployment change little from
February to March, but over the last year it declined
significantly.

Slower growth in US manufacturing
Economic activity in the manufacturing sector continued
to expand in March according to the Institute for Supply
Management. However, production was unchanged and
new orders slowed. Wood product manufacturers reported
growth in production while the furniture industry produced
less in March.

* The market information above has been generously provided
by the Chinese Forest Products Index Mechanism (FPI)