Japan Wood Products Prices
Dollar Exchange Rates of 10th May 2015
Japan Yen 119.87
Reports From Japan
Consumer confidence drops for first time in five
months
Japan"s consumer confidence index in April worsened for
the first time in five months. The results of the latest
survey from the Cabinet Office shows the overall index
falling to 41.5, down 0.2 points from the previous month.

In terms of the various elements making up the index the
livelihood index fell to 38.4 (down 0.4 from the previous
month), the income growth index fell to 39.3. However the
employment index improved but the willingness to buy
durable goods which is a measure of consumer interest in
purchases of furniture amongst other durable goods, fell.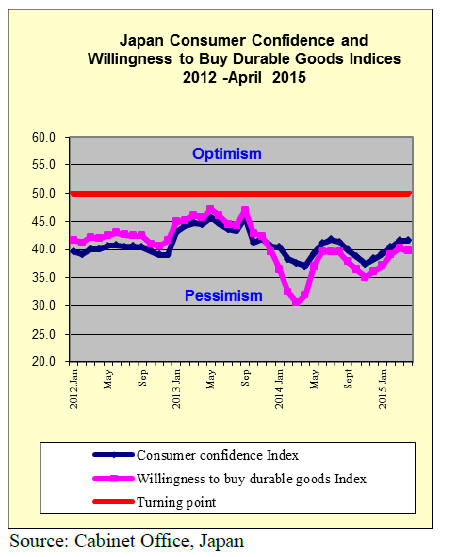 Adapting inflation target to economic realities
A spokesperson for the central government has said the
Bank of Japan (BoJ) should not expand its monetary
easing policy further even though the inflation target will
be missed.

The spokesperson noted that the delay in achieving the
inflation target has been undermined by the low price of
oil and the BoJ can respond appropriately to these
changing conditions. It was pointed out that, while a weak
yen benefits exporters it is hurting small firms which form
the backbone of regional economies.

For now the BoJ has revised the timeframe within which it
hopes to achieve its inflation target and is convinced that
rising wages and a stronger economy will spur inflation
next year.

2014 buying spree distorts retail sales trends
March retail sales in Japan fell almost 10% year on year
but the decline was generally anticipated as the March
2014 figure was exceptionally high because consumers
went on a buying spree in advance of the April 2014
consumption tax rise.

Not too much should be read into the year on year change
in retail sales, a better assessment of the situation will
emerge when April and May figure become available.
However, retail sales over the past six months have been
weak and this is in a country where private consumption
accounts for around 60% of the economy.

The sharp decline in energy and fuel costs should have
provided a stimulus for higher consumer spending but it
seems households have chosen to save rather than spend.

Japan to build industrial townships in India
Japan has identified more than 10 sites where it is feasible
to establish new industrial townships in India the aim of
which is to attract investment into the country.

Japan"s offer of assistance with construction of new
townships is a follow-up on the promises made during a
visit to Japan by India"s Prime Minister.

The sites for development are in Tumkur in Karnataka,
Ghilot in Rajasthan, Mandal in Gujarat and Supa in
Maharashtra. As part of the package of support the
Japanese government will offer training to Indian workers.

Weak US economic data lifts yen
Disappointing job creation in the US, along with a batch of
other weaker than expected indicators of the economy, has
halted the recent strengthening of the dollar.

In mid-May the yen:dollar exchange rate stood at 119
slightly weaker than the 118 level seen just before Japan"s
golden week holidays when three consecutive public
holidays encourage workers to take leave and travel to
their home towns.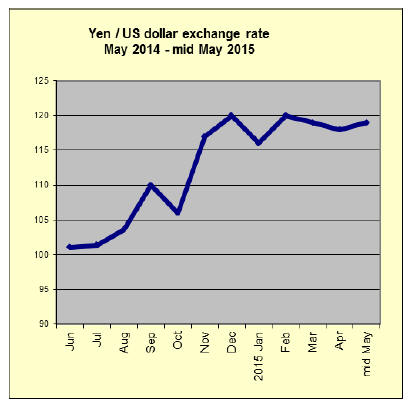 New eco-points housing programme
In 2009 and again in 2011 the Japanese government
implemented an "eco-point" scheme through which home
buyers and owners who build or renovate house to energysaving
standards would receive "eco-points" which could
be exchanged for coupons and other items.

A similar scheme is now being introduced to help boost
the housing sector and to create a pool of energy efficient
homes. This latest scheme makes it easier for home
owners to benefit when they renovate and incorporate
energy efficient technologies.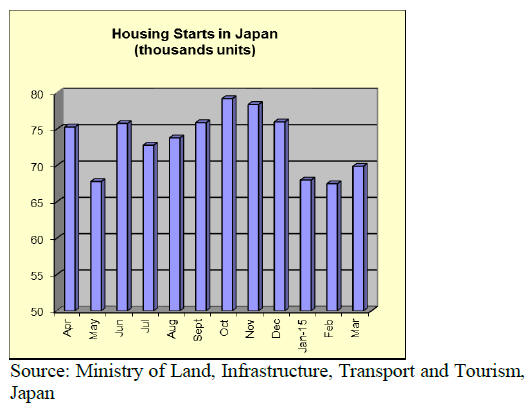 Import round up
The fall in March 2105 wooden door imports marks the
third straight month of declines. March imports were down
12% from February and year on year March 2015 wooden
door imports fell 23%.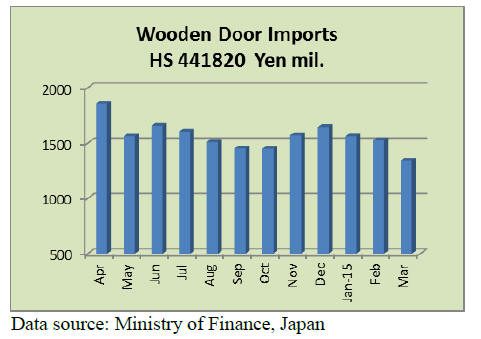 Wooden window imports in March 2015 picked up
slightly on levels seen in February but were a massive
32% down year on year.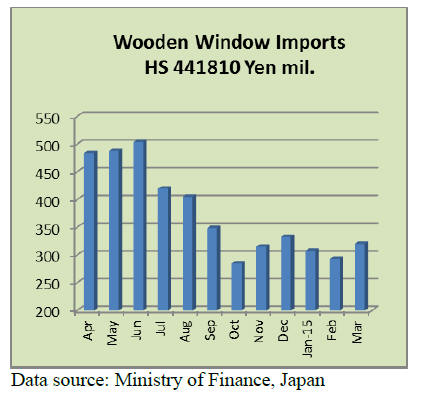 Japan"s imports of assembled wooden flooring continue to
slide with March imports coming in at only half the level a
month earlier. Year on year March 2015 imports of
assembled wooden flooring are almost 60% down.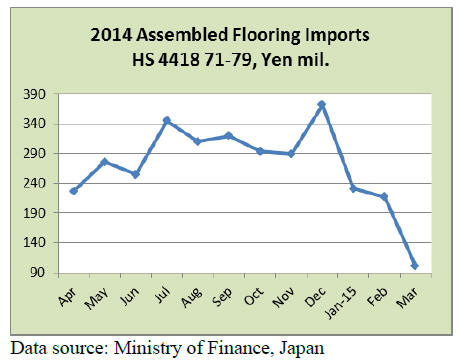 Malaysia continues to be the largest supplier of plywood
to Japan but March deliveries were down from a month
earlier (-9%) extending the downward trend which began
in Janauary.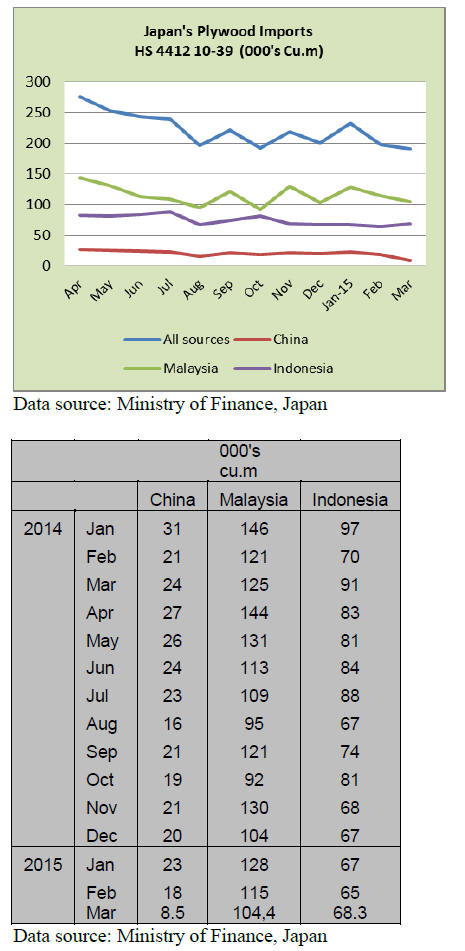 The volume of plywood imports from Indonesia move in a
narrow range such that since November last year imports
have been stuck at around 66,000 cubic metres per month.
March imports from Indonesia just bucked the trend
coming in at 68,000 cubic metres.

For the past 12 months supplies of plywood from China
into the Japanese market have stood at about half that from
Indonesia and a quarter of that from Malaysia. This
pattern was abruptly broken in March when Japan"s
plywood imports from China plummeted by around 50%.

Trade news from the Japan Lumber Reports (JLR)
For the JLR report please see:
http://www.nmokuzai.
com/modules/general/index.php?id=7

Shibushi the top log export port
According to the Nagasaki Customs House, port of
Shibushi, Kagoshima prefecture exported 179,706 cbms of
logs in 2014, 57.9% more than 2013 and the port is the top
log export port for five consecutive years.

By destination, 66.3% for China, 26.6% for Taiwan, 7.0%
for Korea and 0.1% for Thailand. Port of Shibushi has
international container terminal, which 50,000 ton class
ships can berth and this port is one of major cattle feed
importing ports.

The port is considering toincrease export of forest,
agricultural and marine products. It is considering to
expand port log yard.

Total log export of Japan in 2014 was more than 520,000
cubic meters, almost double of 2013. In this, port of
Shibushi took 34.7% share, followed by 10.1% of
Hosojima, Miyazaki prefecture, 9.5% of Yatsushiro,
Kumamoto prefecture, 6.8% of Saiki, Ohita prefecture
then 6.8% of Hakodate, Hokkaido. Except Hakodate, all
the ports are in Kyushu.

Unilin group's strategy
Unilin (Belgium), general building materials manufacturer
in Europe, plans to restructure marketing to Japan since it
considers Japan is one of the important markets of
flooring. It lines-up four different type items for Japan and
starts marketing actively.

Universal Flooring Japan office, which is Japan office of
Unilin, will develop the market in Japan. It will develop
agents in Japan, which make direct deal with Unilin.

Newly line-up items are Quick Step Laminate, Quick Step
Parquet, Quick step Lyvyn and Pergo Laminate. Quick
step Laminate is multi layered flooring with base material
of HDF.
It has four layers with surface protecting melamine resin
impregnated layer and curable resin layer, which is easy to
apply with strong abrasion and water resistant
performance.

Quick Step Parquet is three layered high grade flooring
with multi-fit specification, which is produced by
Universal Flooring in Malaysia. The surface material is
solid wood thick board.

Quick step Lyvyn is polyvinyl chloride tile flooring, which
has strong resistance to heat so that it can be used for floor
heating room with strong frictional performance.

South Sea (tropical) logs
Rain fall until late February in Sarawak, Malaysia was the
heaviest in last ten years then it stopped and dry weather
continues since March. Now water level of rivers get
down too low and some forest fires occur. Local weather
bureau forecasts that rain may come back in May again.

In dry weather, log production was expected to recover but
it remains low because of government campaign of
stopping illegal harvest. Surveillance continues from land,
air and rivers and some got arrested so log production does
not increase at all. During the first quarter, reduction of
log supply might drop by 20-30% but now it is 40-50%.

Meantime, India had stopped log purchase in February and
March because of excessive inventories in India but now it
started buying again in tight supply so it will push the log
prices up higher.

Plywood mills in Japan are cornered by high FOB prices
with weakening yen since last summer and there is no way
out as FOB prices have no chance to drop and the yen is
now stabilizing at about 120 yen.

Imported South Sea (tropical) plywood
Log supply situation in Sarawak, Malaysia is getting
critical. Despite continuation of fine weather, log supply
remains extremely tight because of severe control of
illegal harvest by the government.

Because of this log supply shortage, local plywood mills"
production has been dropping not because of insufficient
orders from Japan but log supply and large mills suffer
loss operation during February and April.

Furthermore, the provincial government decided to impose
harvest tax on virgin timber of 30 centimeter or under
from present 10 ringgit to 65 ringgit per ton. This is about
100 yen per sheet cost up on 12 mm 3x6 plywood.

Production of plywood mills, which rely on purchase logs,
has dropped by about half of normal operations. Large
mills, which consume large amount of logs, suffer
considerable drop of production, which push up fixed cost.
They have to continue asking higher plywood export
prices for the Japanese buyers to cover much higher cost.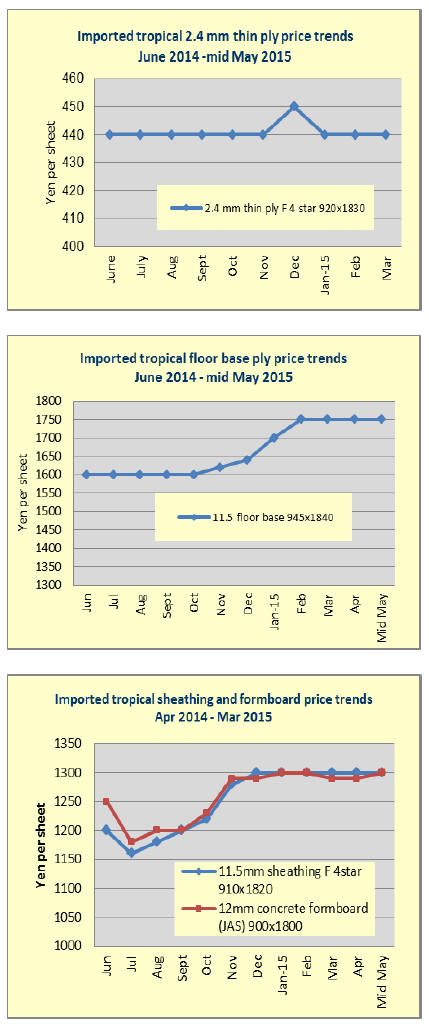 Laos delegation visited Japan
UNIDO (United Nations Industrial Development
Organization) invited wood manufacturing industry people
to Japan on April 10 and set up meeting with the Japanese
wood manufacturing group. Laos, which has very little
wooden housing, has been exporting logs, lumber and
furniture.

To obtain hard currency, Laos has been actively exporting
forest resources to neighboring countries like Thailand and
China together with expanding construction of hydroelectric
facilities, which accelerates timber harvest in the
developing areas

The Laos government is now concerned to rapid
exhaustion of forest resources of its own country so it
banned log export temporarily to promote switching using
plantation wood and encourage producing value added
wood products by improving wood processing technique.
Since Japan has highly sophisticated technique of wood
processing, Laos is very much interested in learning
lumber manufacturing technique and trend of recent
designing of wood products.

Laos has mainly hardwood species like teak. The
delegation of lumber manufacturers and furniture
manufacturers came from Southern province of
Savannakhet, which has about 40 wood processing
industries. This province is important place, where main
highway connecting Thailand and Vietnam runs.

Rubberwood parquet floor developed
Sanyu Yukakoji (Tokyo), wooden floor applicator for
condominium, school and commercial buildings, has
developed rubberwood flooring blocks jointly with a
flooring manufacturer in Thailand. It will start marketing
the product since this summer.

Main target is low grade flooring market for DIY stores.
Parquet flooring block is 12 mm rubber wood finger
jointed lumber plus 3 mm of polyethylene, making total of
15 mm thick.

Parquet flooring blocks are generally made out of oak,
beech and birch but cost of such hardwood species have
been soaring and they are hard to get so the market is
looking for less costly product.

Rubber wood is low cost material and the quality has been
tested by experimental works by Sanyu. Initial shipment is
20 feet container, which takes about 900 square meters.