US Dollar Exchange Rates of 25th April 2015
China Yuan 6.1935
Report from China
Wood products trade at all-time high
According to the latest statistics from the State Forestry
Administration, the value of China"s 2014 international
trade in wood products rose 8.4% to US$140 billion.
While this was a record high the rate of growth in trade
fell by around 1% compared to 2013.

Of the total, the value of imports rose 16% to US$67.8
billion and the value of exports also grew by 16% to
US$72.2.

Wood pulp, logs, sawnwood, waste paper, paper,
paperboard and paper products and wood chips imports
dominated the trade accounting for 95% of the value of
wooden product imports in 2014.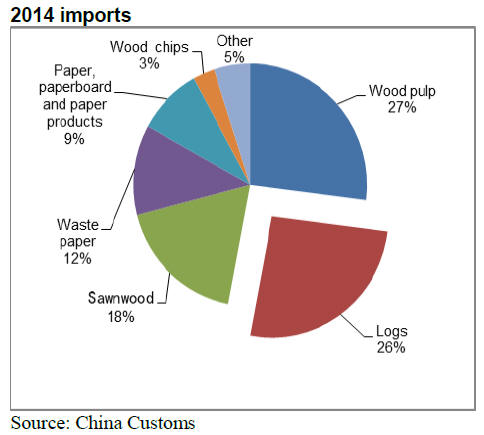 The value of wooden furniture, paper, paperboard and
paper products, plywood and other wood products exports
accounted for 89% of the value of all wood products
exports in 2014.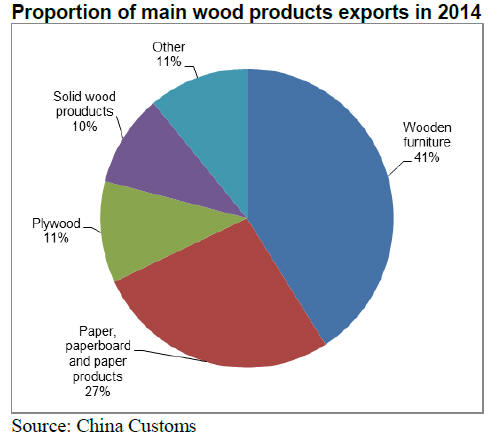 Wood pulp imports in 2014
Wood pulp remained the leading imported wood product
in 2014. Wood pulp imports were 17.96 million tonnes
valued at US$12.1 billion, up 6.6% in volume and 6.1% in
value from 2013.

China mainly imported wood pulp from the US (23%),
Canada (16%) and Brazil (12%). The top 10 suppliers are
shown below.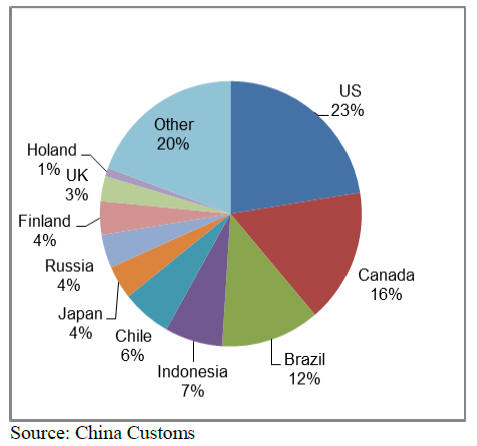 Wood chip imports in 2014
Wood chips imports in 2014 were 8.86 million tonnes
valued at US$1.54 billion, down 6% in tonnage and down
22% in value from 2013.

China imported wood chips mainly from Vietnam (45%),
Australia (24%), Indonesia (14%) and Thailand (12%).
95% of China"s wood chips imports were from these four
supply countries.

Wooden furniture exports in 2014
The value of wooden furniture exports in 2014 rose 14%
to US$22.1 billion, accounting for 41% of the national
total value of forest product exports and continued to be
the number one export wood product.

The main export markets were the USA (32%), Japan
(7%), UK (6%) and Germany (5%). The top 10 markets
for China"s wooden furniture exports are shown below.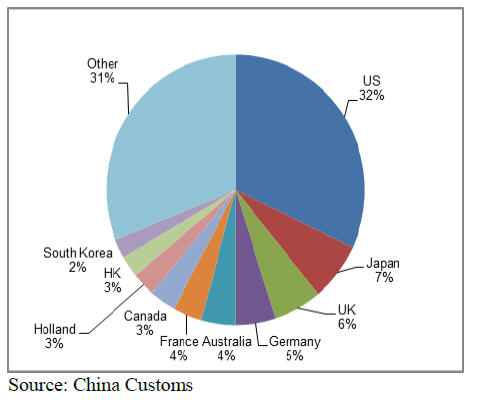 The main ports handling wooden furniture exports were
Shenzhen£¨ 29%£© ¡¢Shanghai£¨ 21%£© ¡¢Fuzhou£¨ 10%£© ¡¢
Ningbo£¨ 9%£© ¡¢Qingdao£¨ 8%£© and Xiamen£¨ 7%£© ¡£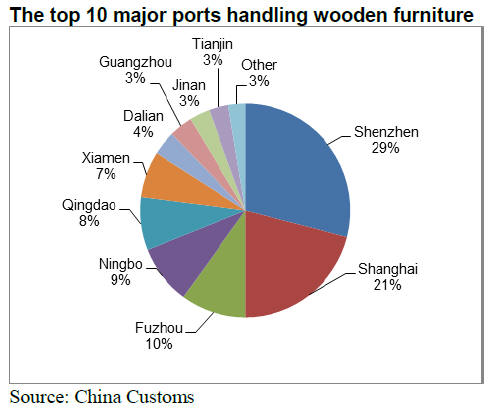 Plywood exports in 2014
Plywood exports continued to climb in 2014 and reached
13.22 million cu.m valued at US$5.8 billion, up 29% in
volume and 15% in value from 2013.

The main export markets were the USA (13%), Japan
(6%), the UK (6%), South Korea (5%), the United Arab
Emirates (5%), Philippines (5%) and Saudi Arabia (5%).

The average FOB unit price for China"s export plywood to
the US and Europe increased in 2014 as more decorative
plywood was shipped however, the average FOB unit
price for China"s plywood exported to Japan, UAE and
Saudi Arabia fell.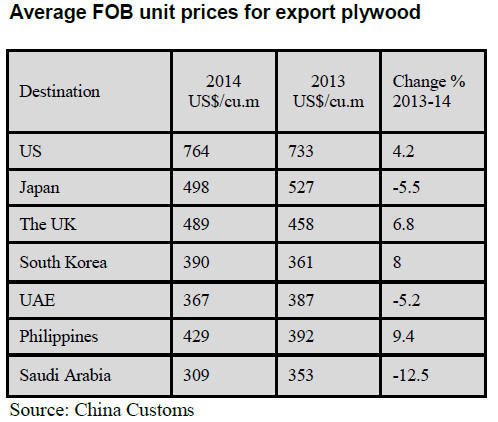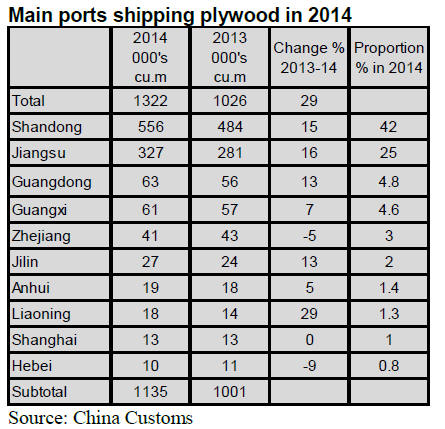 Real estate sales in the First quarter 2015
The National Bureau of Statistics has released its
assessment of the housing sector in the first quarter saying
total investment during the quarter increased by 9.5%
year-on-year despite the fall in the first two months of this
year. Investment in residential buildings was up by 5.9
percent year on year but this represented a slowing of the
pace of investment from the first quarter 2014.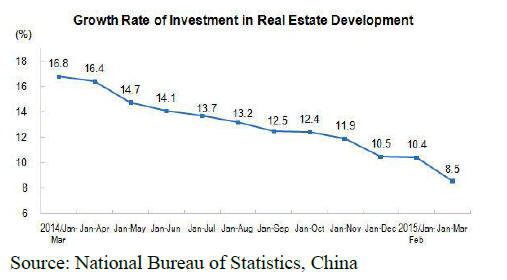 In the first three months land purchased for real estate
development continued to trend down, falling a massive
32% compared to the first quarter a year ago.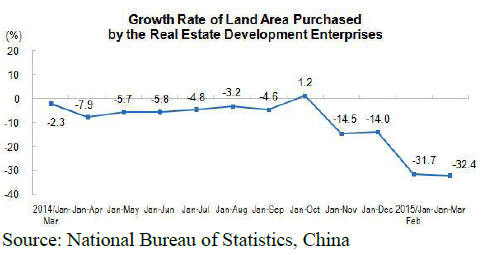 Homeowners to benefit from changes in down
payment requirements
In March the pace of decline in overall house prices as
reflected in the Housing Price index accelerated to -6.1
from the -5.7% in February.

Home prices in China have been falling for the past eight
months mainly due to an over-supply of units.
To stimulate demand the government set a lower limit on
minimum down payments for people wishing to buy a
second home reversing the policy introduced some years
ago to cool the demand for homes as an investment.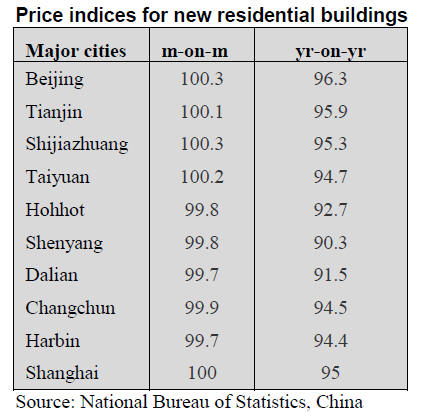 In a move seen as aimed at stimulating the housing market
the People's Bank of China has lower the reserve levels
that banks must hold which will make it cheaper and
possibly easier to obtain housing loans.

China"s economy is now the biggest in Asia having
overtaken Japan and the slowing of the Chinese economy
poses risks for its trading partners especially those in Asia
which have come to rely on trade with China to support
domestic growth.
¡¡