Japan Wood Products Prices
Dollar Exchange Rates of 25th April 2015
Japan Yen 118.98
Reports From Japan
Consumer Confidence beats expectations
Japan's consumer confidence index was higher in March
marking four consecutive improvements. The overall
index rose to 41.7 (highest since December 2013) from
40.9 in February slightly better than analysts had expected.

The livelihood index improved by 0.4 points to 38.8 and
the willingness to buy durable goods index was 40.6 in
March, up from 39.8 in February. There were similar
improvements in the employment and income growth
prospect indices.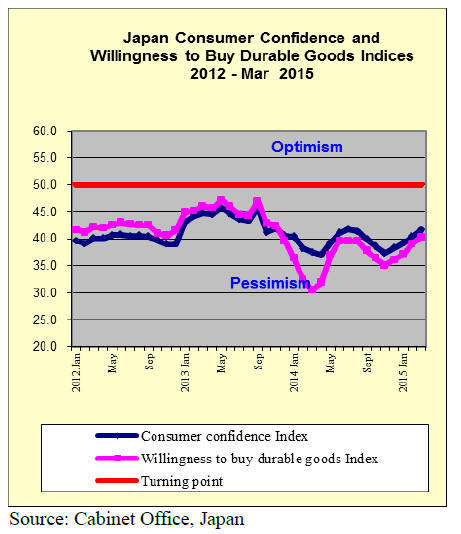 Residency no longer required for establishing
Japanese subsidiary
Japan"s Ministry of Justice has abolished the requirement
that at least one representative director must have
residency in Japan in order to register a Japanese
subsidiary of a foreign company.

This enables Japanese subsidiaries to be set up by
foreigners and therefore makes it easier for foreign
companies to start businesses in Japan.

See the JETRO website:
http://www.jetro.go.jp/en/invest/newsroom/announcement
s/2015/20150414163.html

Trade surplus
Japan posted its first trade surplus in nearly three years in
March as exports of cars and electronics rose sharply on
the back of the weak yen and the import bill fell as oil
prices hover at very low levels.

While the trade numbers are encouraging corporate
investments, manufacturing output and consumer
sentiment remain weak due to subdued domestic demand.

Adding to an already gloomy picture is the prospect of a
steady fall in consumption in China and the tepid recovery
of demand in the EU. But the trade surplus is expected to
grow while oil prices are low which is a boost for the
government as it struggles to drag the economy out of
deflation.

Investments in ASEAN countries rising fast
Japan External Trade Organization (JETRO), an
independent government agency, recently released its
Global Trade and Investment Report showing that Japan's
direct overseas investment grew by 10.4% to a record
US$135 billion in 2013, the most recent year for which
JETRO is able to report.
Japanese investment in China in 2013 fell 32% to US$9.1
billion while investment in ASEAN countries expanded
120% to US$23.6 billion.

Yen weakness a risk to Korean exports
Despite a slight strengthening of the yen during the second
half of April, yen weakness relative to the Korean won is
creating added pressure for the Bank of Korea to lower
interest rates even further to effect a weakening of the
won.

A recent S. Korea research report suggests the country"s
exports may slip as much as 9% year on year if the won
remains at current levels against the yen.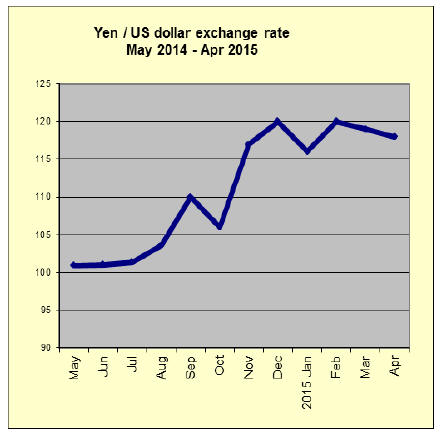 March housing starts much better than expected
The latest housing start tally from Japan"s Ministry of
Land, Infrastructure and Transport shows starts rising
unexpectedly in March. The consensus amongst analysts
prior to the release of the figures for March was that the
downward trend would continue. The reality is that
housing starts grew 0.7 percent year on year in March in
sharp contrast to the almost 2% decline that was forecast.

News from builders is equally as encouraging as they saw
orders increase at a faster pace (8%), better than the mere
1% rise reported in February.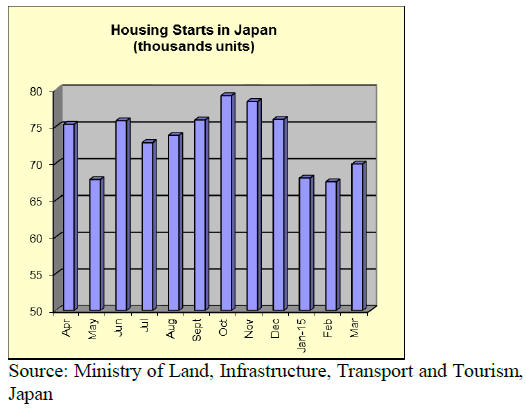 Japan's furniture imports
After the positive start to the new year, Japan"s imports of
office, kitchen and bedroom furniture underwent a
correction in March. Office furniture imports fell almost
17%, kitchen furniture imports in March were down 16%
and bedroom furniture imports fell 22%.

However, despite the weak March 2015 data, first quarter
imports of office and bedroom furniture were higher than
in the same period in 2014. In contrast Kitchen furniture
imports in the first quarter 2015 were below those in the
same period last year compared.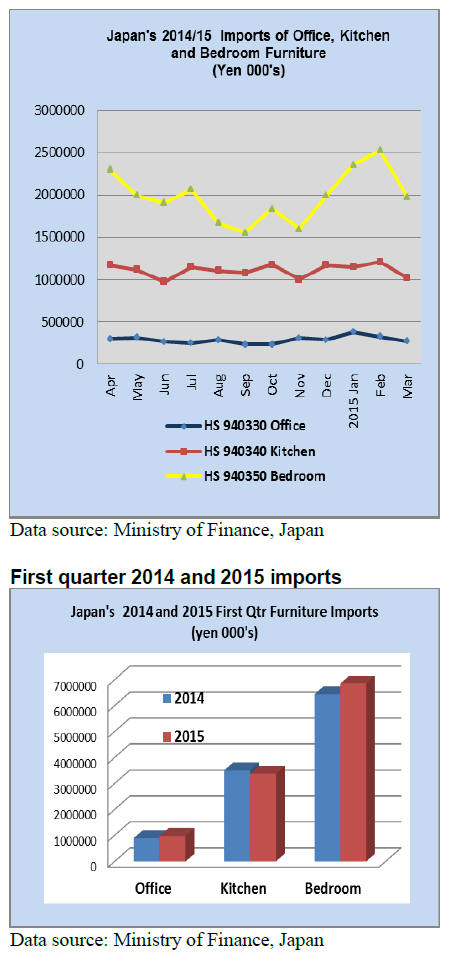 Office furniture imports (HS 940330)
The top four suppliers office furniture China, Portugal,
Poland and Italy maintained their dominance of the market
in Japan accounting for over 70% of all office furniture
imports.

The decline in March imports of office furniture hit
suppliers in China where a 47% fall in supply was
reported by the Ministry of Finance. On the other hand
imports from Portugal increased.
Poland, the third ranked supplier saw Japan"s imports fall
while imports from Italy were virtually unchanged from a
month earlier.

The only tropical countries supplying office furniture to
Japan in March were Malaysia and Indonesia which
together accounted for just over 5% of March 2015
imports by Japan.

Exporters of office furniture in the EU have a sizeable
slice of the Japanese market and in March accounted for
56% of all imports of this category of furniture.

Kitchen furniture imports (HS 940340)
March 2015 imports of kitchen furniture dipped 16% with
Vietnam and Indonesia seeing a reduced share of total
kitchen furniture imports. Remarkably, imports of kitchen
furniture from Philippines surged lifting the country to the
second ranked supplier from fourth position in February
this year.

The combined supply of kitchen furniture from tropical
countries accounted for around 75% of all imports of this
category of furniture but the top suppliers remain Vietnam,
Philppines and China.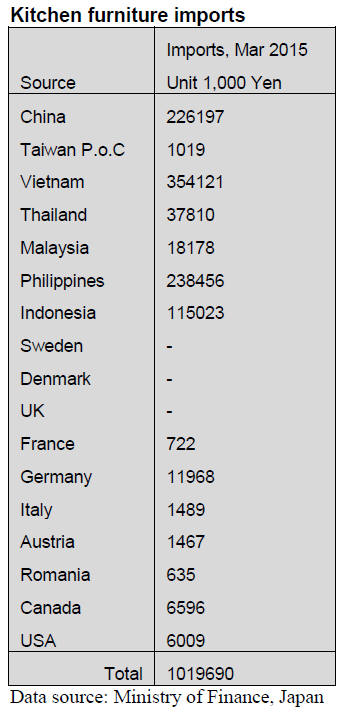 Bedroom furniture imports (HS 940350)
Exporters in tropical SE Asian countires (45%) and China
(43%) account for almost a bedroom furniture imports by
Japan. The overall 22% drop in bedroom furniture imports
in March was accounted for mainly by the 23% decline in
imports from China.

Vietnam, the number two supplier, managed to maintain
trade at February levels as did the number four supplier,
Poland. In contrast bedroom furniture exporters in
Thailand shipped 10% more than in February.

Bedroom furniture manufacturers in the EU sustained the
approximate 10% share of Japan"s imports of bedroom
furniture but in March US shippers almost tripled exports
to Japan.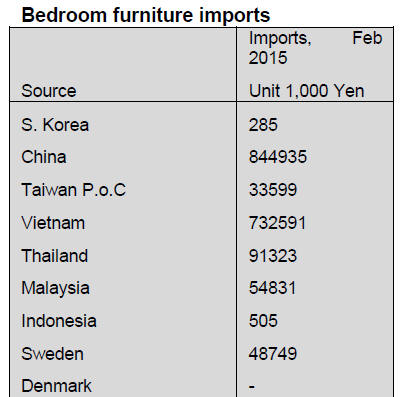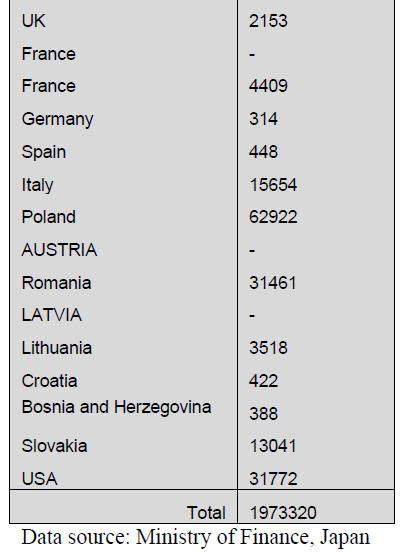 Trade news from the Japan Lumber Reports (JLR)
For the JLR report please see:
http://www.nmokuzai.
com/modules/general/index.php?id=7

Japan's SGEC seeks PEFC recognition
Sustainable Green Ecosystem Council (SGEC), which
runs Japanese original forest certificate system, applied the
request to have mutual approval system to international
forest approval system, PEFC.

At the request, SGEC revised terms of the management
and guideline to forest certificate and COC certificate to
make the new system. This will be applied since April 1,
2015 and examination for certificate will be based on this
new system since October 1, 2015.

In the new system, as material of risk evaluation (DDS),
legality certificate based on the guideline of the Forestry
Agency is newly instituted. If it is admitted that the risk is
minimal, logs produced from forest other than SGEC
certified forest can be handled same as logs from SEGC
managed forest.

Once the mutual approval is agreed, logs from examined
and approved forest are permitted to use both SGEC and
PEFC logo mark but SGEC logo mark cannot be used for
foreign products even if it is certified by PEFC. It will be
2016 at the earliest when mutual recognition is approved.

Wood use for public buildings increases
The Ministry of Agriculture, Forestry and Fisheries
disclosed result of wood use for public buildings in fiscal
2013 based on the Wood Use Promotion for Public
Building law.

According to the result, wooden buildings the government
put up were 24 units, 42.9% less than 2012 with total floor
space of 5,689 square meters, 26.5% less. Buildings,
which wood used for interior, were 161 units, 37.6% less.
Number of wooden buildings decreased but total wood use
increased to 6,695 cubic meters, 53.8% more.

The law to promote wood use for public buildings was
enacted in October 2010.This says low buildings the
government builds should be basically wooden building
and wood use is recommended for interior finishing for
non-wood buildings.

Radiata pine log and lumber import in 2014
Import of New Zealand radiate pine logs in 2014 was
528,600 cbms, 10.4% less than 2013.

Import of Chilean radiate pine lumber was 259,600 cbms,
16.5% more. The demand was active in the first half but
slowed down in the second half of the year.

In 2014, after Orvis, the largest radiate pine log
manufacturer, closed down its Himeji sawmill, orders
rushed to remaining sawmills so that log consumption by
radiate pine sawmills increased in the first half then fever
faded in the second half.

Demand on Chilean radiates pine lumber was steady
through the year but it slowed down toward December
then the cost was being pushed up by high C&F prices
with weakening yen and passing higher cost onto
consumers delayed.

China becomes the top buyer of radiate pine logs from
New Zealand but the steady growing import volume
finally peaked off and last year"s volume was 11,500,000
cbms. China takes about 70% share of New Zealand log
export.

Domestic softwood plywood market is weak
March is book closing month so that manufacturers,
wholesalers and trading firms tried to move their
inventories so that the price kept softening through a
month.

For example, market prices of 12 mm 3x6 panel was 800
yen in the middle of February then they have dropped
down to 760 yen per sheet delivered by middle of March
and the prices in the second half of March were weaker
yet, which are below breakeven prices for plywood
manufacturers so they decided not to accept any low offer
and set new prices since April to restore the market.

However, total inventories are on the rise with 239,600
cbms, 0.7% less than the same month a year ago and 1.2%
more than January, about 30,000 cbms more than end of
February. February production was 213,700 cbms with
shipment of 178,500 cbms, 19.2% and 17.4% down.
The market prices are 760 yen per sheet on 12 mm 3x6
panel, 40 yen down from February. Imported plywood
market is holding flat. The movement has been in slump
since last December then cost of arriving cargoes is above
the market prices so the importers are hard to sell, waiting
for the market prices moving up.

On supply side in Malaysia, the suppliers continue bullish
because of log shortage so the importers are unable to buy
futures. With slow movement, port inventories in Japan
are high with sporadic delay of unloading ships. February
arrivals were 263,000 cbms, 11.7% less than January and
10.4% less than February last year.

This is decrease of 35,000 cbms from January. Future
monthly arrivals are estimated about 260-280,000 cbms.
Post and beam construction seminar in Shanghai.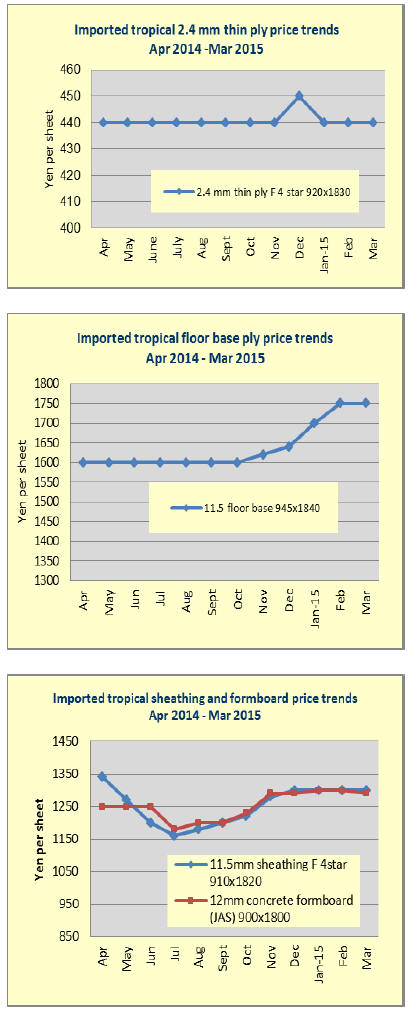 Seminar in Shanghai for Chinese builders
The Japan Wood Export Promotion Association held
seminar titled "Technical seminar for Japanese wood use"
on March 17 at Wood Structure Research Center of
Shanghai Construction Institute. About 80 Chinese
engineers, designers and persons concerned attended the
seminar with actual construction lesson.

At the assembly lesson, experienced persons from Ehime
prefecture explained outline of post and beam construction
then showed how to construct.

At the seminar, middle- rise large wooden buildings in the
world and Japan and strength of Japanese wooden
buildings with earthquake resistance performance are
explained.

Also quake resistant design, calculation of allowable
stress, history of quake proof design and Japanese Housing
Performance Indication Standards are explained. For
quake strength, it is explained with numerical expression
that wooden unit and reinforced concrete unit have
different, peculiar vibration.

Outline of post and beam construction and difference of
load stress on 2x4 construction and prefabricated unit,
flow from design to actual construction and advantage and
disadvantage of post and beam construction are explained.

For export of post and beam unit, preassembled unit is
shipped by container to China so that it is unnecessary to
have experienced carpenters in China but it is necessary
technical guidance and Chinese norm and standards need
to be changed.

Actual assembly lesson took about one hour by using the
model exhibited in Shanghai in last August. There were
many questions as to structure of joining and type of wood
used, which showed high interest to wooden buildings.