2. GHANA
Air dry sawnwood dominates January exports
The Timber Industry Development Division (TIDD) of the
Ghana Forestry Commission has just released the January
export data which reported wood product exports for the
month amounted to 25,720 cubic metres valued at Euro
12.61 million.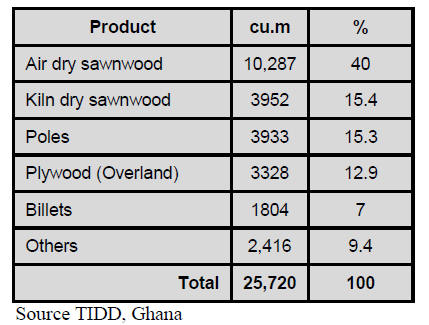 Some 14 products were prossed processed from 34
different species and were shipped by 99 exporters to 33
different countries.

Air and kiln dried sawnwood, poles, plywood (for the
regional market) and billets were the top 5 products
exported in January.

Compared to January 2014, the current export figures
registered increases of 55% and 79% in volume and value
respectively. But when compared to the previous month
(December 2014) both the volume and values fell.

African and Asian markets accounted for 67% of the total
volume exported in January and the TIDD says average
prices edged up in January.

Success in degraded forest recovery
The Minister of Lands and Natural Resources, Mr. Nii
Osah-Mills revealed that the Forestry Commission has
reclaimed a total of 21,665 hectares of degraded forest
land through the National Forest Plantation Development
Programme (NFPDP).

In his speech the Minister said the NFPDP was created to
restore the country"s degraded forest landscape and that
this effort had created about 2,200 jobs.

Non-food inflation surges
Ghana's annual consumer price inflation rose marginally to
16.6% in March up from 16.5% in February. Government
data shows that the increase was mainly due to rising food
costs for which inflation for March jumped over 7%.
Inflation rates for non-food items (housing, water,
electricity, gas and other fuels) increased over 20% in
March.

As much of the inflationary pressure is due to the
weakened currency the news that Ghana has begun
implementing a three-year IMF programme which the
Ministry of Finance says will stabilise the Cedi exchange
rate and create a better commercial environment.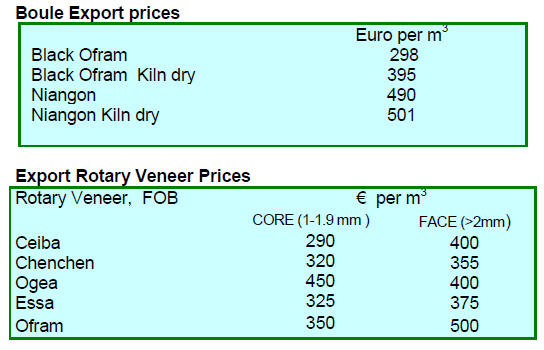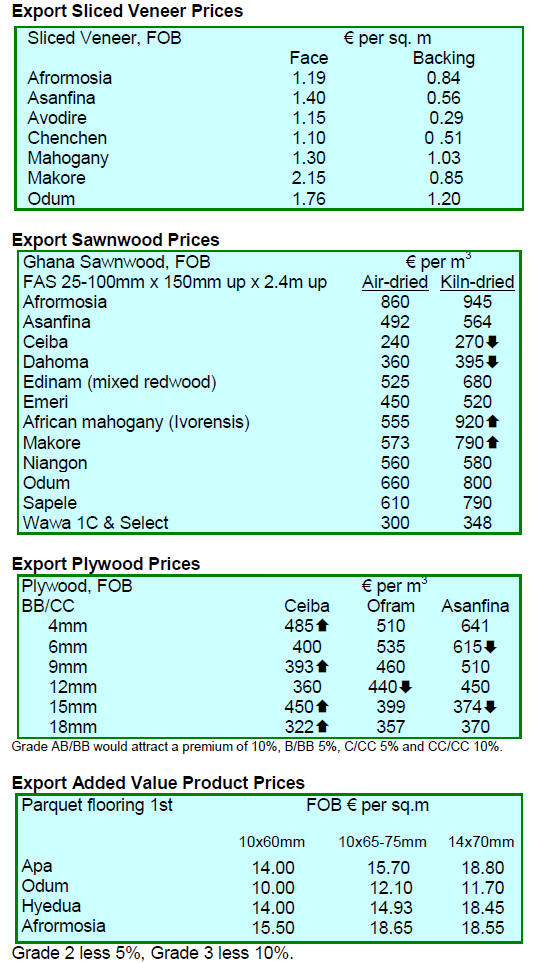 3. MALAYSIA
Authority to control timber trade transferred to State
Governments
The Sabah State Legislative Assembly has enacted a new
law strengthening monitoring and regulation of the trade
in wood products set to come into force on 1 May this
year. The driving force behind this is the issue of legality
in the timber trade.

Ellron Angin, from the Chief Ministers office said this
new law was one of the first after the Federal government
transferred the authority to control timber imports and
exports to the State Government.

The new law gives the Director of Forestry the power
collect and maintain statistics on the timber trade, conduct
research and investigations as well as monitor and control
the trade.

The Director will have the power to issue licenses,
certificates and approvals in respect of the timber industry,
to impose fees and charges. Under the new law timber
exporters and importers must provide details of their trade
to the Director of Forests.

Sarawak replaces 1958 Forest law
The Sarawak State Assembly has also strengthened its
Forestry laws with the passing of the Forest Bill 2015.
This law aims to enhance forest protection and
incorporates tough penalties for illegal logging.

Awang Tengah Ali Hasan, Second Minister for Resource
Planning and Environment, called for cooperation from
the Forest Department, Sarawak Forestry Corporation,
police, Malaysian Anti-Corruption Commission (MACC),
Malaysian Maritime Enforcement Agency (MMEA) and
the Customs Department to enable the law to be
effectively enforced.

The Forests Bill, 2015 replaces the Forests Ordinance
(Cap. 126) of 1958 and its various amendments.
4. INDONESIA
Easing SVLK for small companies criticised
Environmentalists have criticised the government"s
decision to ease the SVLK/TLAS requirements for small
and medium furniture and craft manufacturers. But there is
some confussion on what the government intends.

The Chairman of the Indonesia Rattan Furniture and Craft
Association (AMKRI), Soenoto, said furniture and
handicraft SMEs will be exempted from the SVLK but on
the other hand, Widayati Soetrisno of the Indonesian
Furniture Entrepreneurs Association (Asmindo), said that
without the SVLK Indonesian furniture and craft exporters
would face major challenges in international markets.

For more see:
http://silk.dephut.go.id/index.php/article/vnews/129
http://silk.dephut.go.id/index.php/article/vnews/128

Cultural change needed to secure forest
The Indonesian President has assured Norway that his
government was as committed to improving
environmental protection as the previous administration.
Norway concluded an arrangement with the previous
government pledging around US$1 billion to help
Indonesia protect its forests.

Indonesia imposed a temporary moratorium on forest
clearing under the arrangement with Norway but progress
on halting deforestation and on reigning in forest clearing
has been slow.

The Norwegian and Indonesian governments have come to
realise realistic targets must be set and that to achieve real
progress ¡°a cultural change¡± is needed in Indonesia to
successfully curb deforestation.
Legal Timber Trade Centre proposed
Minister of Environment and Forestry, Siti Nurbaya
Bakar, has indicated that she was in discussions with the
Ministry of Commerce on the establishment of a trade
centre specifically for timber which meets the
requirements of the national timber legality assurance
scheme, SVLK.

Rising production costs eat into exchange rate
advantage
The steady depreciation of the rupiah against the US dollar
and other major currencies is improving the international
competitiveness of Indonesian manufacturers but rising
labour costs, infrastructure weaknesses and inefficient
ports has generated a feeling that the advantages from a
weaker currency are being lost.

The chairman of the Wood and Rattan Furniture
Association in East Java gas said its members have lost
markets worth millions this year because European and
US buyers switched to buying furniture from China and
Vietnam.

He said the weak rupiah does not compensate for the
overall loss of competitiveness. Manufacturers say the
biggest problem is rising wages, the result of stronger
union activity.

According to JP Morgan, because Indonesia"s inflation is
higher than in the countries with which it competes the
rupiah"s real trade-weighted exchange rate is 9.8 percent
stronger than in mid-2014. Such a situation spells disaster
for exporters.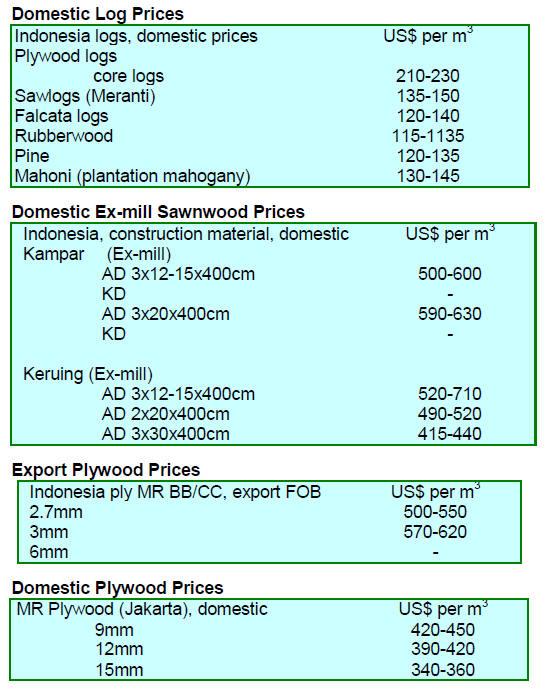 5. MYANMAR
Yunnan crackdown on illegal border trade
According to the Myanmar "Eleven Media Group" which
quoted private sector sources, the Yunnan provincial
government has alerted the government in Myanmar of its
operation targeting the illegal border trade. The effort will
focus on the boder areas in in Honghe, Dehong, Wenshan
and Xishuangbanna.

A Myanmar entrepreneur is quoted as saying ¡°Myanmar
will cooperate with the Yunnan government on the twomonth
crackdown in order to effectively control the region
where illegal trade is rife and ensure the stability and
sustainable development of the border region.¡± The Muse-
Namkham Border Trade Association has distributed a
letter to many organisations which it was said, came from
the Myanmar Consulate General in Kunming.

Analysts note strict action was taken against those
involved in illegal trade on the Chinese side of the border
and the tightening of inspections may impact legitimate
trade across the border.

It has been estimated by Myanmar"s Department of
Commerce and Consumer Affairs that the China-Myanmar
border trade exceeded US$5 billion in the year to April
2015, up by nearly US$2 billion from the previous year.

For more see:www.elevenmyanmar.com/business/chinacrackdown-
illegal-border-trade

Foreign banks open for business in Yangon
Under economic reforms that began in 2011, Myanmar
granted nine foreign banks licenses to operate in the
country on a provisional basis.

Sumitomo Mitsui Banking Corporation, Bank of Tokyo-
Mitsubishi UFJ and Singapore"s Overseas Chinese
Banking Corporation became the first to offer services in
Myanmar following the approval of license applications
last year.

The three banks are the first foreign banks to operate in the
country for more than 50 years. For more see:
www.irrawaddy.org

First tender of fiscal 2015/16
The Myanma Timber Enterprise concluded its first tender
of the new fiscal year on 24 April. This was the first tender
for the new fiscal year 2015-16.
Prices secured are shown below. Log prices are expressed
in hoppus tons (H.tons) and prices for "conversions" and
sawn teak (including hewn timber) are shown in cubic tons
(C.tons). Average prices are in US Dollars. Bid prices for
Sawing Grade SG-7 ranged from US$510 to US$1218.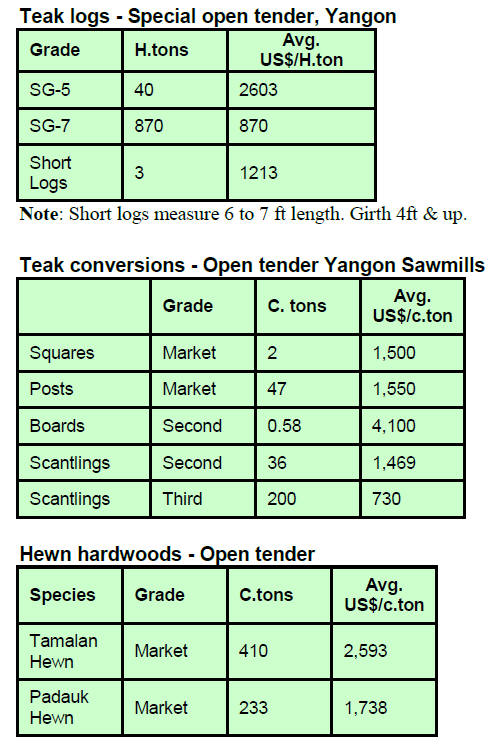 Tamalan and padauk seem to be out of favour at present as
reflected in the lower than usual prices.But it is noted that
the grade offered was only "Market Quality".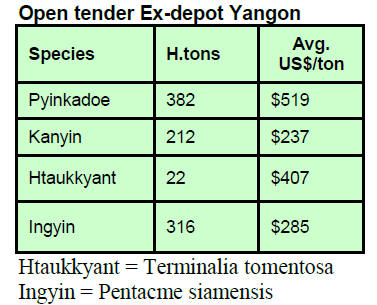 The logs sold in the open tender for which prices are
shown above were those remaining unshipped after the log
export ban entered into force on 1 April 2014.
6. INDIA
Welcome decline in inflation
The Office of the Economic Adviser (OEA) to the Indian
government provides trends in the Wholesale Price Index
(WPI).

The official Wholesale Price Index for All Commodities
(Base: 2004-05 = 100) for March rose by 0.02% to 176.1
from 175.8 in February.

The year on year annual rate of inflation, based on
monthly WPI, stood at -2.33% (provisional) for March
2015 compared to -2.06 for February.

For more see: http://eaindustry.nic.in/cmonthly.pdf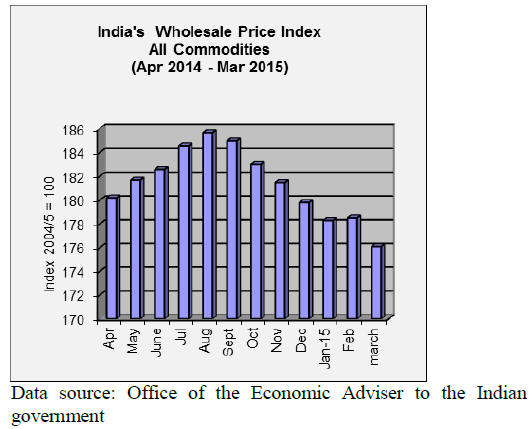 Timber and plywood wholesale price indices
The OEA also reports Wholesale Price Indices for a
variety of wood products. The Wholesale Price Indices for
Wood products and Plywood are shown below.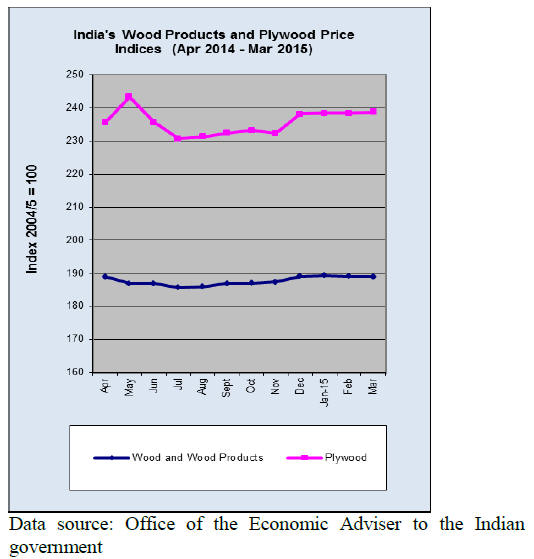 The March price index for wood and wood products
declined slightly while the March index for plywood rose.

See http://eaindustry.nic.in/display_data.asp

Andhra Pradesh seeks removal of ban on red sanders
felling
The Andhra Pradesh state government has approached the
Ministry of Environment, Forests and Climate Change
(MoEFCC) requesting the lifting of the ban on felling red
sanders, a decision that has attracted strong criticism
across India.

The state government is in financial difficulties so is
proposing selling this rare and highly expensive wood in
the international market.

Red sanders was placed on the endangered list by the
Convention on International Trade in Endangered Species
(CITES) in 1995 with the support of the Andhra Pradesh
state government.

The state government says listing is no longer appropriate
because of the healthy state of red sanders resources and
as such there is no justification for its listing as an
endangered species.

The state government says the timber is available in the
Seshachalam forests in an area of about 5,500 sq km
where there is an estimated 14 million red sanders trees.

The state government has estimated that the international
market for red sanders is around 3,000 tonnes annually.

Some 3,500 tonnes of red sanders logs will be auctioned in
May this year. The state government has secured
exemption from CITES for the current round of auctions.

C&F prices for plantation teak
The flow of plantation teak imports is reported as
satisfactory and demand levels in the Indian market
remain unchanged.

Importers note an improvement in the volumes of larger
sized logs becoming available from shippers and this is
reflected in slightly higher top end prices.

A parcel of 445 cubic metres of plantation teak logs
arrived last month from Vietnam at US$515 per cubic
metre C&F. Traders report a steady flow of plantation
teak.

Prices for domestically milled sawnwood from
imported logs
Overall, prices remain firm despite a dip in merbau and
balau prices over the past weeks.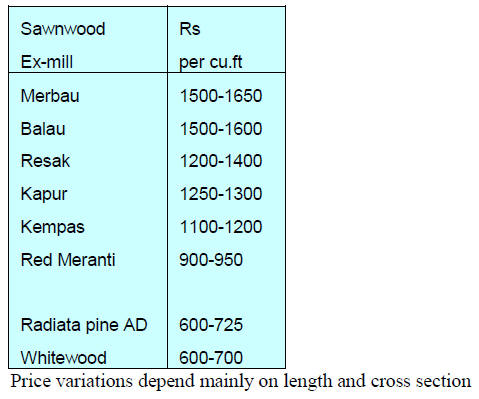 Myanmar teak arrivals
The volume of sawn teak imports from Myanmar is
increasing and some price movements have been reported.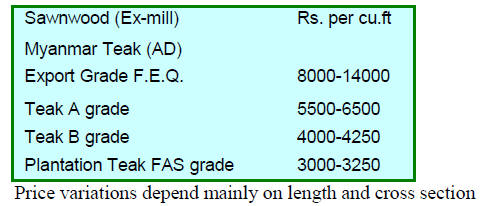 Imported 12% KD sawnwood prices
The market for imported US sawnwood is small in India
but there is growing interest in US logs.

Data from the United States Department of Agriculture
(USDA ) show that US sawn hardwood and veneer exports
to India reached US$ 2.14 million in 2014.

Exports of US sawn hardwoods were valued at US$1.6
million in 2014 a fall of around 24% year on year.

However exports of US hardwood veneers to India rose
almost 20% to US$ 1.5 million in 2014 while US
hardwood log exports to India were valued at US$ 2.25
million in the same year.

The American Hardwood Export Council (AHEC) plans to
run grading and design seminars for Indian importers,
manufacturers and specifiers in the second half of 2015.

According to the USDA the main species of sawnwood
exported to India in 2014 were hickory, ash and white oak.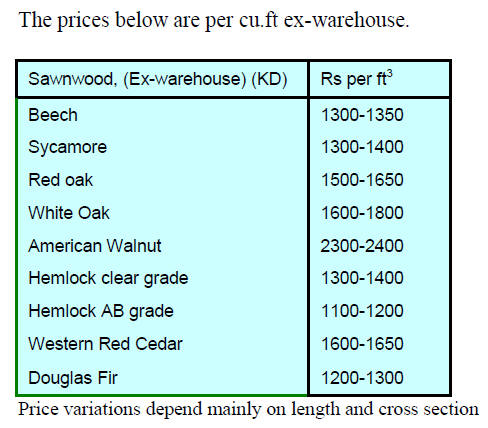 Beech veneer an alternative for gurjan
Plywood prices in India remain unchanged. The Indian
housing sector remains very quiet with buyers
complaining of high prices. The recent reduction of
interest rates on home loans has had little impact and it is
only in the new satellite cities where there are
opportunities for wood product manufacturers.

Plywood manufacturers have found that beech is a suitable
replacement for gurjan core, back and face veneer which is
opening up new opportunities for overseas suppliers of
beech.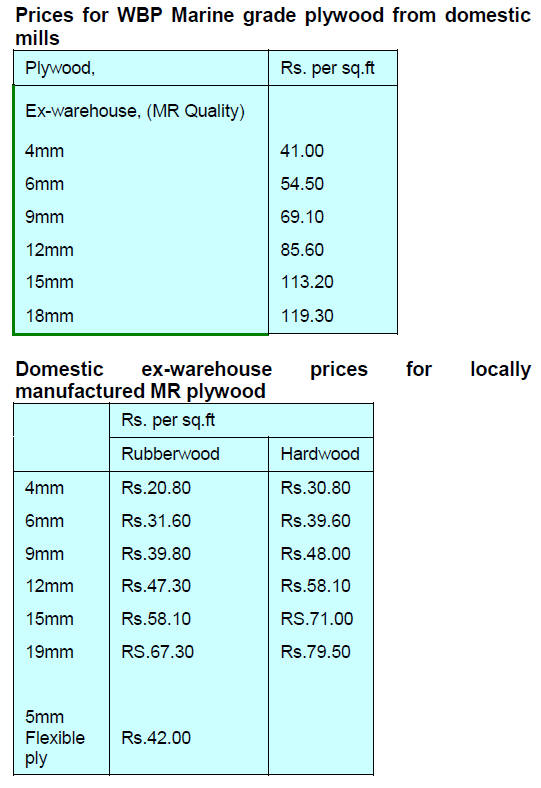 7. BRAZIL
March export performance
In March 2015, Brazilian exports of wood-based products
(except pulp and paper) increased 29% in value compared
to March 2014, from US$218.6 million to US$282.3
million.

Pine sawnwood exports increased 45% in value in March
2015 compared to March 2014, from US$17.5 million to
US$25.4 million. In terms of volume, exports increased
43%, from 75,500 cu.m to 108,300 cu.m over the same
period.

Tropical sawnwood exports increased almost 38% in
volume, from 22,600 cu.m in March 2014 to 31,100 cu.m
in March 2015 while the value of exports increased 24%
from US$13.3 million to US$ 16.5 million, over the same
period.

Pine plywood exports jumped 26.5% in value in March
2015 in comparison with March 2014 from US$37.0
million to US$ 46.8 million. The volume increased 28.9%,
from 98,800 cu.m to 127,400 cu.m, during the same
period.

Reflecting the growing interest in international markets it
is no surprise that tropical plywood exports increased
almost 138% in volume, from 4,000 cu.m in March 2014
to 9,500 cu.m in March 2015 and the value increased from
US$2.3 million in March 2014 to US$4.7 million in March
this year.

Exports of wooden furniture have started to recover with
March exports totalling US$46 million up from US$41
million in March 2014.

Turning back to international markets
Brazil is currently facing economic difficulties, investment
rates have fallen and the construction and building sectors
are in decline which negatively impacts demand for wood
products. Because of this domestic millers and
manufacturers are directing efforts to international
markets.

Ten years ago a significant number of domestic timber
companies abandoned the international market as they
could not compete due high production costs and an
unfavourable exchange rate. During this period the timber
industry directed output to the domestic market which was
expanding, driven primarily by the construction sector.

Now the situation is different, domestic demand for wood
products is shrinking and the appreciation of US Dollar
against the Brazilian currency favors exports. As a result
many timber companies are turning back to international
markets.

However, Brazilian exporters face some challenges as in
many international market sectors competitors secured a
firm footing when Brazilian exporters withdrew.

The challenges facing Brazilian exporters include: pricing
as most commodity prices have fallen (ii) exchange rate
volatility (iii) the increase in number of shippers to
international market and (iv) domestic inflation which
continues to push up production costs.

Inflation close to record high
Brazil"s Consumer Price Index (IPCA) recorded a 1.3%
increase in March 2015 after rising 1.22% in February
2015. This is the highest monthly rate since February 2003
when it topped 1.6%. Over the twelve months to March
the IPCA climbed over 8%.

The march figure is well above the government's target
ceiling and the government is striving to keep consumer
price growth at no more that 4.5% (+ - 2%) for the year.

The average exchange rate in March 2015 was BRL
3.14/US$ significantly down on the BRL 2.33/US$ twelve
months ago and the March figure represents a sharp
depreciation of the Brazilian currency against the US
Dollar.

At its last meeting the Monetary Policy Committee
(COPOM) of the Brazilian Central Bank (BCB), set
interest rates at 12.75% per year but analysts expect a
further hike at the next meeting.

2016 Forest concession plan open for public comment
The Brazilian Forest Service (SFB) has made available the
2016 Annual Plan for Forest Concessions (PAOF) for
public consultation. The PAOF is prepared annually in
order to plan allocations of forest concessions.

The PAOF 2016 covers ten concession areas totalling 2.6
million hectares. Entrepreneurs can secure access to public
forests for sustainable logging through these forest
concessions.

Comments and suggestions can be made any individual or
agency up until May 8th. Suggestions and comments
received will be evaluated before the final document is
published in late July, 2015.

Interventions in flood forests
Flood forests are some of the most vulnerable ecosystems
in the world and flood forests extend over a wide area in
the Amazon but here less than 2% of this ecosystem is
total protected.

In Brazil, the proximity of flood forests to navigable
waters and urban areas creates great pressure on this
ecosystem. The Bel¨¦m municipality (Par¨¢ state) has some
protected areas but it has been estimated that 70% of this
forest type has been disturbed due to illegal cutting and
clearing.

The Flood Forests Anthropization Index (FFAI) aims to
preserve these threatened areas through intervention but
lacks the resources to adequately tackle the problem.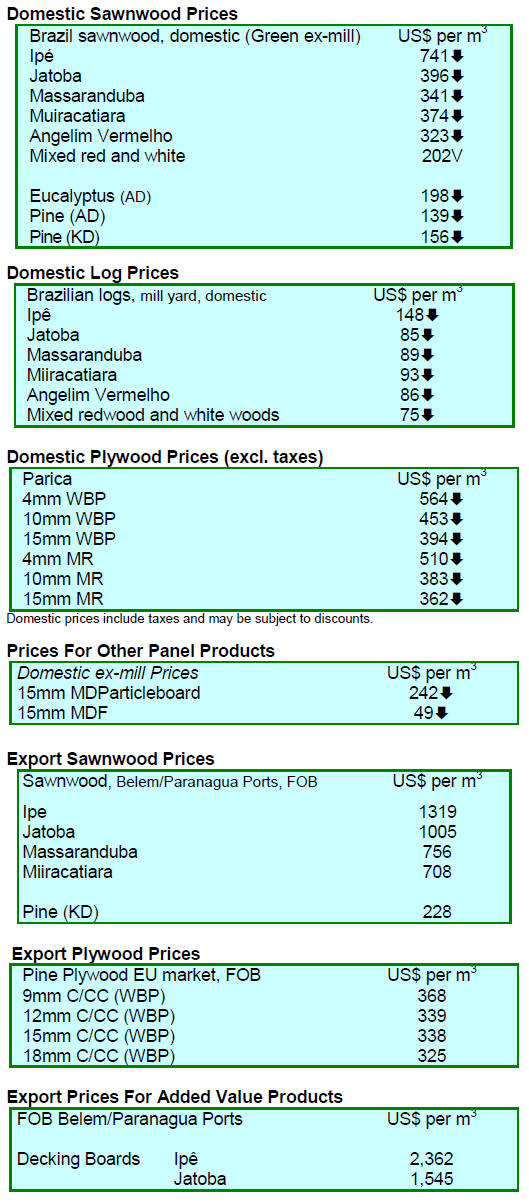 ¡¡
8. PERU
Spanish particleboard ¨C a strong presence in the
Peruvian market
The consumption of Spanish particleboard in the Peruvian
market more than doubled in the first quarter of this year
due largely to the efforts of the Martin Peru Group.

The Spanish share of Peruvian particleboard imports grew
to around 20% in the first quarter, up 11% on first quarter
in 2014.
High preference wood products
According to a study by the Institute of Higher Education
Private Construction Technology (Capeco), 65% of home
owners in Lima chose wood products (floors, doors,
windows, furniture, etc.) over other materails for their
homes.

The executive director of the Center for Technological
Innovation Wood (CITEmadera), Jessica Moscoso, said
that the Lima housing market absorbed 29,000 new homes
in 2104.

Gustavo Delgado a specialist at CITEmadera, said the
market for wood products, whether domestic or imported,
will continue to grow if the housing market maintains its
upward growth.

He noted that imports of furniture and wood products were
worth more than US$865 million in 2014.

Tenth Annual MegaFlorestais
The Ministry of Agriculture and Irrigation (MINAGRI)
through the National Forest and Wildlife Service
(SERFOR) with participation of the US based Initiative
for the Rights and Resources
(http://www.rightsandresources.org/) hosted the Tenth
Annual MegaFlorestais in mid-April bringing leaders from
forestry agencies in countries with a large forest cover.
Participants were from Russia, Brazil, Cameroon, Canada,
China, United States, Democratic Republic of Congo,
Indonesia and Mexico.

The objective of the meeting was to promote an exchange
of skills in forest management and industry, promote the
role of public forest agencies and strengthen skills to
assume leadership in promoting the contribution of
forestry to social and economic development.

The topic of the meeting was "Combating Deforestation
and Promoting the Contribution of Forestry to the Green
Economy", with a focus on the importance of forest
resources, trade and government policies, among others.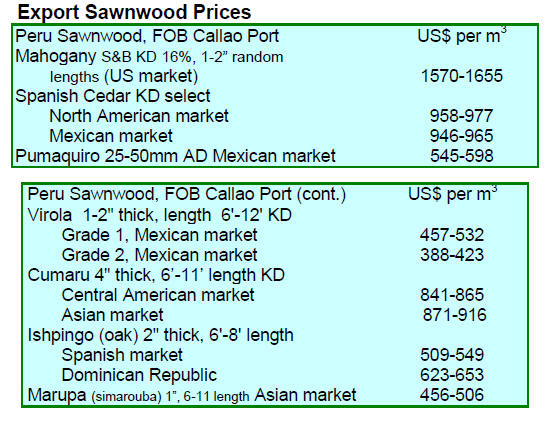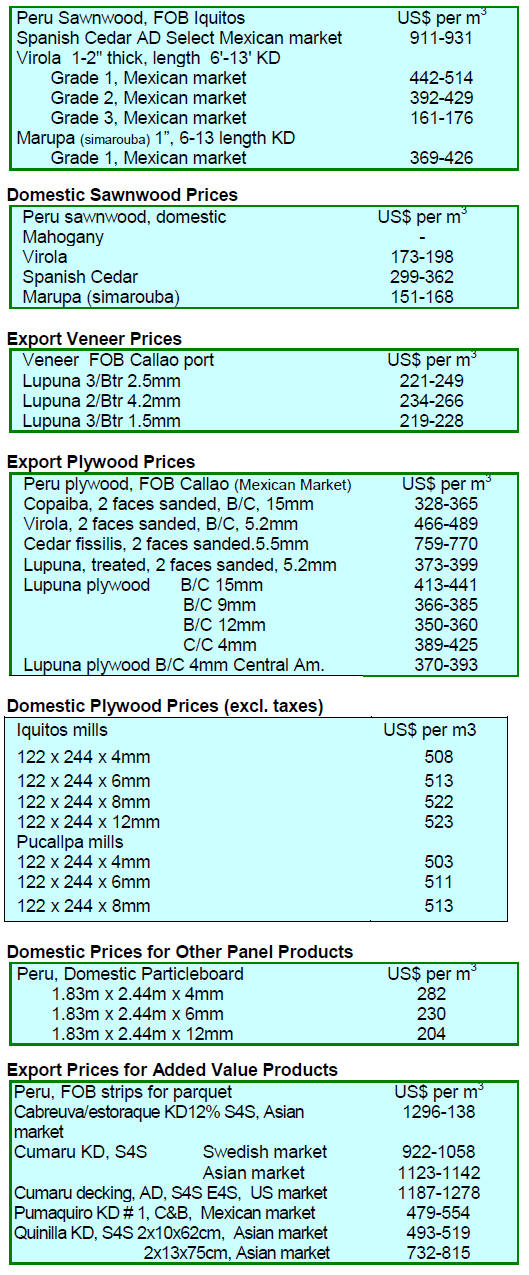 9. GUYANA
Wrapping up talks with EU on forest law enforcement
mechanism
As part of its Forest Policy implementation the
Government of Guyana wrapped up talks with the
European Union on the Voluntary Partnership Agreement
(VPA). Guyana is committed to signing a VPA with the
EU in the latter part of 2016.

The VPA is a key element of the EU"s Forest Law and
Enforcement Governance and Trade (FLEGT) Action Plan
and the Guyana government is convinced a VPA would
facilitate increased market access for Guyana"s timber into
the lucrative EU market.

The FLEGT VPA process also provides an opportunity for
Guyana to further strengthen and mainstream its
consultation and engagement process to enhance forest
governance, improve legal compliance and build incountry
capacity for community engagement in forest
policy development and implementation.

The EU and Guyana successfully concluded the third
negotiation session on 16April. Guyana was represented
at this session by the National Technical Working Group
(NTWG) ¨C a multi-stakeholder group comprising
representatives of the Private Sector, indigenous bodies
and Government agencies selected through a participatory
process.

At this negotiation session, the parties committed to
maintaining the momentum to reach an agreement that
considers the views of all relevant stakeholders. The
parties also committed to further promoting the
identification of synergies amongst FLEGT; Reduction of
Emissions from Deforestation and Degradation (REDD+);
and the Low Carbon Development Strategy (LCDS)
processes.

Additionally, the parties agreed to continue examining the
framework under which these initiatives can be further
integrated and be mutually supportive.

Both parties acknowledged the progress that has been
made since the last negotiation session and during this
session, including the revision of the joint roadmap. The
next negotiation session would be held in Brussels in
November 2015

First quarter jump in export earnings
Earnings from wood product exports increase during the
first quarter of this year to US$12.3 million compared to
the US$8.2 million in the same period last year.

Sawnwood exports in the first quarter 2015 amounted to
US$ 4.9 million as compared to US$4.2 million in the first
quarter last year 2014, an which reflects an increase of
16%.

Exports of processed roundwood (piling, transmission
poles and posts) as well as charcoal contributed to the
overall increase in export earnings.

In contrast to the improvement in export earnings detailed
above, plywood exports fell in the first quarter, dropping
to US$200,000 compared to the US$400,000 in 2014.

Guyana"s exports of roofing shingles contributed just
US$300,000 to first quarter 2015 earnings compared to the
US$400,000 sold in the same period in 2014.
The main export destinations during the first quarter
include Europe, Middle East, North America, Oceania and
other South American countries. Guyana"s Forest Products
Development and Marketing Council continues to
encourage downstream processing of high value wood
products.

Export prices
There were exports of greenheart, purpleheart and mora
logs in the period reported.