Report from North America
Consumer spending forecast to increase 3.3% in 2015
Confidence in the US economy declined among lower and
middle income households in March. The main concerns
were lower incomes and higher costs. High income
households reported higher confidence in the economy.
Overall confidence in the economy remains favourable.
Personal expenditures are still expected to grow by 3.3%
this year.

Winter weather affected builders¡¯ confidence
Builders" confidence in the market for newly built singlefamily
homes declined in February. The decline was
mainly due to unusually high snow levels in many parts of
the country, which limited construction activity.
Underlying demand for new housing remains strong,
according to the National Association of Home Builders.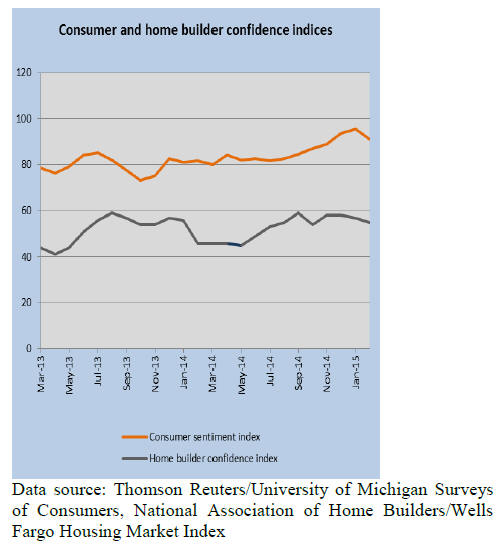 Housing starts down due to cold weather
Housing starts fell by 2% to a seasonally adjusted annual
rate of 1.065 million units in January, according to data
from the U.S. Commerce Department. The decline was
mainly due to a 22% decrease in construction in the
Midwest.

Single-family housing starts fell 6.7%, while multifamily
starts rose 7.5% in January.
Severe winter weather in the Midwest and other areas of
the country are mainly to blame for the slowdown in
construction.

The number of building permits was almost unchanged in
January at 1.053 million units. Permits for single-family
homes declined, while multi-family permits increased.

Existing-home sales declined in January to their lowest
rate in nine months, according to the National Association
of Realtors but home prices continued to rise above the
pace of inflation. Low housing supply and rising prices
contributed to lower sales.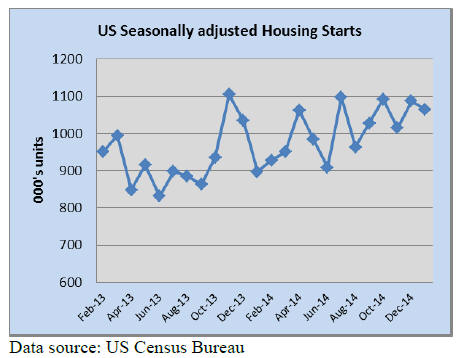 Little change in non-residential construction
Investment in non-residential construction declined
slightly in January, according to US Census Bureau data.
Private investment decreased by 1.5% at a seasonally
adjusted annual rate, while public construction fell by
3.6%.

The American Institute of Architects reported improving
business conditions for companies in the institutional
market (education and health care buildings).

High Canadian household debt
Canadian housing starts grew 4.5% in January to 187,000
at a seasonally adjusted annual rate. The growth was in
multi-family construction, while single-family home starts
declined.

Concerns are growing about the Canadian housing market
and household debt. Canadian home prices are overvalued
by between 10% and 60%. Household debt levels reached
a new record in the 4th quarter of 2014. The ratio of
household debt to income was 163%, which poses a
financial risk if mortgage rates go up.

Economic activity in manufacturing sector continues
to expand
Unemployment declined to 5.5% in February.
Construction was among the sectors with job gains. The
unemployment rate is close to what analysts consider full
employment, but other indicators are less positive. Wage
growth has been low and a large number of Americans are
underemployed or have given up looking for a job.
The Federal Reserve has kept interest rates near zero until
now. With lower unemployment and good economic
growth interest rates are likely to increase for the first time
since the recession. The low growth in wages and the
rising US dollar remain a concern for the economic
recovery.

Economic activity in the manufacturing sector continued
to expand in February. However, growth in production and
new orders slowed, according to the Institute for Supply
Management. Furniture manufacturing reported growth in
February, while the wood products sector saw no change.

Positive outlook in cabinet market
US demand for cabinets is forecast to increase 6.6%
annually in the next four years. Freedonia"s latest market
study on cabinets projects demand to reach $16 billion in
2018. Cabinet demand will be driven by a strong growth in
home construction. Increasing residential improvements
and repairs will also support demand growth for cabinets.

The strongest growth will be in kitchen cabinets. Kitchen
cabinets accounted for 81% of total demand in 2013.
Current design trends include larger kitchens with more
cabinets and the use of cabinets with special features, such
as pull-out shelves, storage racks and LED lighting.

Stock cabinets will remain the most widespread cabinet
type installed due to availability, price and ease of
installation. However, Freedonia forecasts growing
demand for custom cabinets beyond 2018.

Demand growth for bathroom cabinets will be based on
more new homes being built and a trend towards multiple
bathrooms in the house.

Office, commercial and institutional construction is
expected to boost demand for cabinets in the nonresidential
sector as well. Specific growth markets to 2018
will be hotels, office buildings, health care facilities and
retail stores. The smaller market of recreational vehicles,
recreational boats and business jets is also forecast to grow
following several years of low production.

Wood product imports were higher in January compared
to the same time in 2014, with the important exception of
wooden furniture. Total wooden furniture imports fell in
January, but imports from Europe grew.

Lower furniture imports and higher share from Europe
Wooden furniture imports were down in January, both on
a month-over-month basis and compared to the same time
in 2014. Total wooden furniture imports were worth $1.25
billion in January, down 2% from January 2014.

Almost all major supply countries saw a decline in
shipments to the US. Imports from China were worth $618
million, down 5% from December. Vietnam"s shipments
fell by 6% to $224.9 million. Only imports from Malaysia
remained unchanged at $51.7 million.

Imports from Europe grew, helped by the low euro value.
Italy, Poland, Germany and Lithuania expanded furniture
exports to the US in January.

Seasonal decline in furniture retail sales
Retail sales at furniture stores in the US fell by 8% from
December to January, according to US Census Bureau
data. The decline was mainly seasonal and retail sales
were significantly higher than in January 2014 (+12%).