2. GHANA
Rapid Response Unit secure more resources
The Rapid Response Unit of the Ghana Forestry
Commission (GFC) continues its fight against illegal
timber activities. The Unit was set up few years ago to
track and trace illegal activities in the forest and in the
wood product manufacturing sector.

Over the years the Unit has succeeded in arresting,
impounding and confiscating illegally harvested or
manufactured timber mainly from illegal chainsaw
operations.

To improve the performance the GFC recently presented
the Rapid Response Unit with six extra vehicles purchased
directly from the Commission's internally generated funds.

The Coordinator of the Rapid Response Unit, Mr Luri
Kanton Bahian, said the Unit has chalked up many
achievements including securing almost 400 ha. of illegal
farmland in forest reserves and seizing more than 133
vehicles used for various illegal activities.
Utility tariffs increased
The Public Utilities Regulatory Commission (PURC)
announced electricity and water tariff increases of 2.63%
and 1.06% respectively, effective 1 April 2015. The PURC
said the increase aims at preserving the existing load
sharing schedule by assisting electricity distribution
companies maintain their network. This, says the PURC is
essential to avoid an immediate collapse of the distribution
network.

Recently the Electricity Corporation of Ghana was able to
extend power delivery beyond the planned load shedding
programme because of a special purchasing arrangement
with suppliers in neighbouring Cote D"Ivoire. But
according to the Association of Ghana Industries (AGI),
manufacturing industries including timber companies
continue to lose money in spite of the short term relief.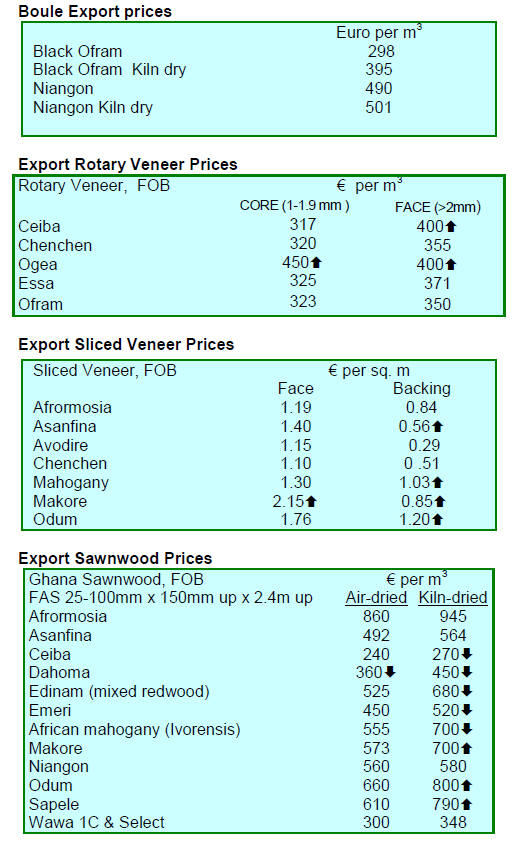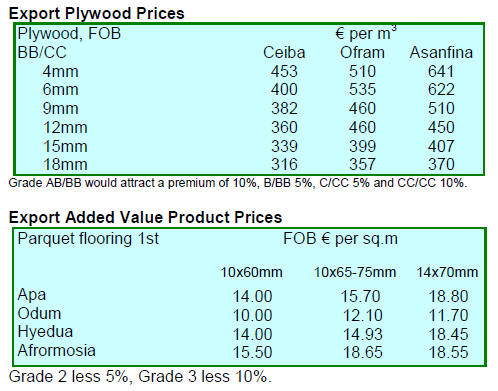 3. MALAYSIA
Ringgit depreciation a plus for timber exporters
The depreciation of the ringgit is having a positive impact
on timber exports according to the Director-General of
Malaysian Timber Industry Board (MTIB), Dr Jalaludin
Harun. Last year Malaysia was the eighth largest furniture
exporter in the world he said.

Jalaludin reported that 2014 wood product exports rose by
5% to RM20.5 billion (approx. US$ 5.54 billion) up from
RM19.5 billion in 2013. Exports of furniture contributed
just over a third of the total value of exports followed by
plywood (25%).

It has been forecast that the value of Malaysia"s wood
product exports by 2020 could reach RM53 billion
(approx. US$ 14.3 billion).

Innovative training delivers positive results
A presentation ceremony has been held in Kuching for 20
graduates who achieved a post graduate diploma in
applied science awarded by Lincoln University in New
Zealand. This graduation ceremony was a highpoint for
the Sarawak Timber Association (STA) and its members.

The STA recognised many years ago that sustainable
forest management requires skills that were not readily
available amongst local companies. To fill this gap the
STA, in collaboration with Lincoln University in New
Zealand, designed an innovative on-the-job training
programme for industries in Sarawak called the Diploma
in Applied Science (Sustainable Tropical Forest
Management).

This course of study is delivered and examined just as any
other diploma offered by Lincoln University in order to
maintain the robust training that is needed by STA
member companies.

The postgraduate diploma involves twelve subjects
covering the three broad areas of sustainability:
economics, environment and social responsibility.
The programme is delivered in intensive one-week courses
offered over a period of 24 months thus allowing
managers and senior staff to continue working full-time
while studying part-time.

Further information can be obtained from Associate
Professor Dr Hugh Bigsby at Lincoln University, New
Zealand, email hugh.bigsby@lincoln.ac.nz.

Sabah exports fall
The Department of Statistics in Sabah has released export
data for the first two months of 2015. The total value of
timber and timber product exports in the first two months
of this year fell 10% compared to the same period last year
from around RM244 million in 2014 to RM 220 million
this year.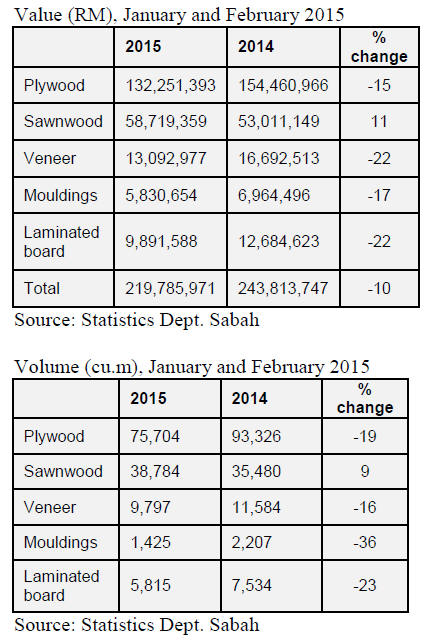 4. INDONESIA
Opportunities for furniture exports as Rupiah weakens
Chairman of the Association of Indonesian Furniture and
Handicraft Yogyakarta, Timbul Raharjo, said since the
rupiah weakened there has been increased interest from
international buyers especially in India and Turkey in
Indonesian products.

He estimated that the increase in overseas demand will
continue and that manufacturers will benefit despite there
being some instances where imported raw material costs
have driven up production costs.
200 furniture enterprises targeted for TLAS
As of April this year of the 3,200 wood product
manufacturers in Klaten district in Central Java, only nine
had secured a Timber Legality Assurance System (TLAS)
certificates.

This disappointing figure drove the government of Klaten
district to target 200 entrepreneurs and assist them in
securing TLAS certification by year end.

Head of the Industry and Cooperatives SMEs Division in
Klaten, Sugeng Haryanto, said securing TLAS
certification is very important for furniture producers and
an all-out effort will be made to expand the number of
SMEs that can meet TLAS requirements.

In related news the Ministry of Environment and Forestry
is forecasting a 20% rise in exports of wood products this
year as the TLAS is providing opportunities to expand and
diversify markets.

Indonesia to host forest investment summit
Indonesia will host a forest investment summit 27-28
April themed ¡°Tropical Landscape Summit: A Global
Investment Opportunity¡±. The aim of the summit is to
provide a platform for promoting the nation"s strategic
vision for green investment while also allowing the
government to acquire input from stakeholders regarding
this framework and its further evolution.

Around 500 national and international business executives
are expected to attend the gathering which will be opened
by the Indonesian President. The event will be hosted by
the Indonesian government in collaboration with the UN
Office for REDD+ Coordination in Indonesia
(UNORCID).

See: http://www.republika.co.id/berita/en/jakarta-regionothers/
15/04/01/nm3wu1-indonesia-to-host-conferenceon-
green-investment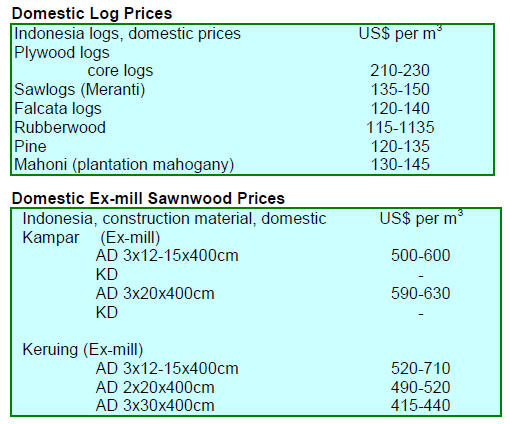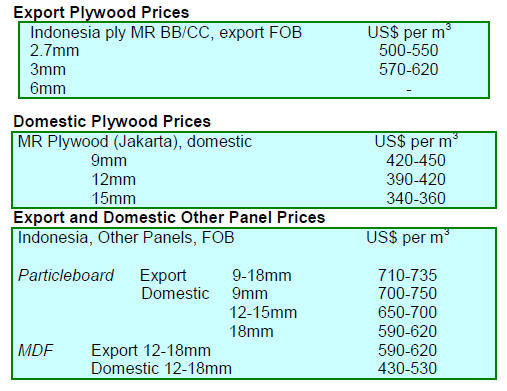 5. MYANMAR
More illegally felled timber seized
The online news agency Nation Multimedia based in
Thailand has reported the Myanmar Forest Department
recently located more than 4,000 illegally harvested logs
in Waingmaw Township, Kachin State. These add to the
more than 1,000 tonnes of timber were seized in Momeik
and Mabane townships in northern Shan State. Nearly
40,000 tonnes of hardwoods were seized last year says
Nation Multimedia.

See more at:
http://www.nationmultimedia.com/aec/Tonnes-of-illegaltimber-
seized-30257786.html

Yangon Lifestyle Furniture Fair
A furniture fair organized by the Thousand Islands
Business Group was held at Tatmadaw Hall in Yangon
from 26 to30 March. The fair attracted 31 companies
displaying 164 stalls.

Traditional furniture produced from rattan, bamboo and
wood were displayed along with imported furniture.

This was the 11th Yangon Lifestyle furniture fair since its
initial launch in 2010 and the theme of the fair was
sustained operation of local wood industries to create jobs.

Myanmar¡¯s trade deficit hits nearly $5 billion in 2014-15
The state run English daily newspaper "The Global New
Light of Myanmar" reported that according to Ministry of
Commerce figures, Myanmar"s trade deficit in fiscal 2014-
15 was US$4.9 billion on a total trade volume of more
than US$27.77 billion.

Myanmar exports mainly agricultural produce, animal byproducts,
marine products, wood products and minerals.
To tackle the trade deficit the government is planning to
implement the National Export Strategy which focuses on
seven sectors - rice; peas and pulses; fishery products;
texiles; timber and forestry products; rubber and tourism.

Foreign investment just under US$7 billion in 2014-
2015
From April 2014 to the end of January 2015, foreign
investment in Myanmar amounted to almost US$7 billion.
The total foreign investment in the 2013-2014 fiscal year
was US$4.107 billion. Most foreign investment in
Myanmar went into the energy sector. The smallest
amount went into the construction sector.

End of year tender results
The last tender of fiscal 2014-15 by the Export
Department of Myanma Timber Enterprise (MTE) was
held between 13-16 March.

MTE has reported sales during the year generated MMK
54 billion. Average prices for the year are shown below.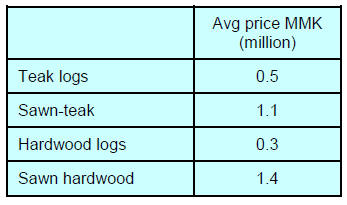 It has also been reported that teak logs, posts and teak
"conversions"(mainly hewn teak) sold by the MTE Local
Department were of lower grade than those sold to
domestic millers by the MTE Export Department which
disposed of export quality logs which were not shipped
before the export ban.

With increasing demand from the construction sector
prices of sawn hardwoods are rising. The sawn hardwoods
in demand include tamalan, padauk and sagawa
(Champaca).
6. INDIA
Welcome decline in inflation
The Office of the Economic Adviser (OEA) to the Indian
government provides trends in the Wholesale Price Index
(WPI).

The official Wholesale Price Index for All Commodities
(Base: 2004-05 = 100) for the month of February, 2015
declined by 1.4 percent to 175.8 (provisional) from 178.3
(provisional) for the previous month.

The annual rate of inflation, based on monthly WPI, stood
at -2.06% (provisional) for the month of February, 2015
compared to February, 2014 and -0.39% compared to
January.

For more see: http://eaindustry.nic.in/cmonthly.pdf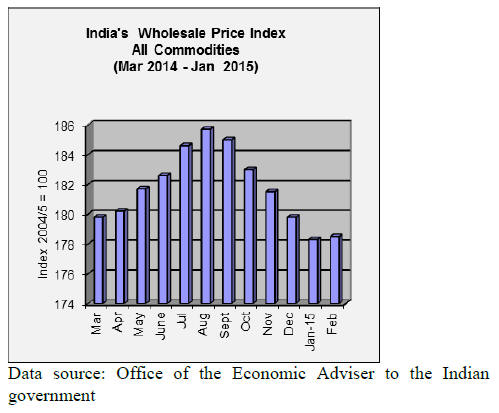 Timber and plywood wholesale price indices
The OEA also reports Wholesale Price Indices for a
variety of wood products. The Wholesale Price Indices for
Wood products and Plywood are shown below.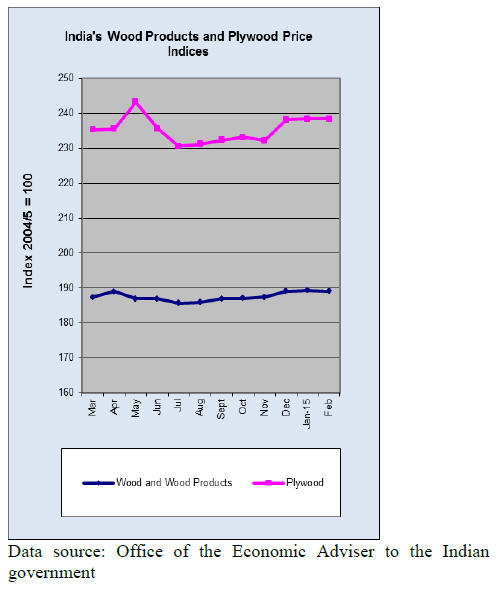 The February price index for wood and wood products
remained unchanged from January as did the index for
plywood.

See http://eaindustry.nic.in/display_data.asp

Forest Act amended
The Ministry of Law and Justice has approved an
amendment to the Environment and Forestry Ministry"s
2009 regulation that made it mandatory for the consent of
village councils to be secured before for a change in forest
land use can be effected.

Under the new rules the FRA will not be applicable for
projects such as roads, railway lines, transmission lines,
canals and pipelines in forest areas as they will improve
the infrastructure and lead to overall development of rural
areas.

Auction sales in Western Indian depots
At long last an agreement has been reached between
timber traders and the Forest Department in Gujarat on the
issue of e-actions. From 6 April the regular auction
schedule commenced starting in Waghai North depots.
Sales will continue until 28 April in Valsad and from 29
April in depots in Surat.

Around 21,000 cubic metres of hardwood logs were
offered for sale comprising 70% teak and 30% of other
hardwoods.

As a result of the log export ban in Myanmar demand for
domestic natural forest teak has grown and this is driving
up prices.

Teak sales in Central Indian forest depots
Auction sales have been concluded at Timarni, khirakia,
Narmada Nagar, Ashapur and other depots of Central
India and prices were higher than previously achieved
reflecting the good quality of the logs and the firmer
demand. The latest auction prices for natural forest teak
logs are shown below.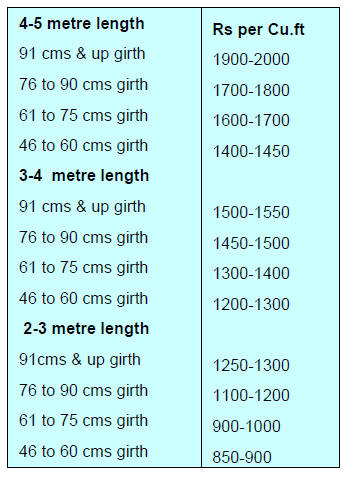 Century-ply installs processing plant in Laos
Century Plyboards (India) Ltd has set up a plywood veneer
production plant in Laos to produce for the Indian market.
This is the company"s second unit overseas, the first being
in Myanmar. The plant, with three peelers and four driers,
can process around 150 cubic metres of logs per day.

Located in the Bolikhamsai province, home to Nam Theun
2 Dam, the country's largest hydroelectric project, the new
facility is a joint and trial production has already begun in
readiness for commercial production in May.
In related news Century Plyboards will establish a
particleboard unit near Chennai.

Current C&F prices for plantation teak
Traders report a steady flow of plantation teak.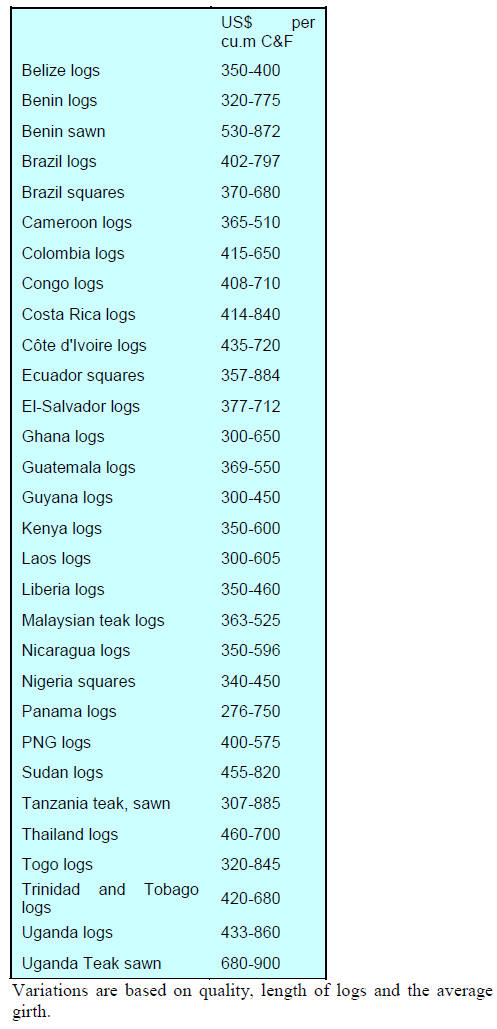 Prices for domestically milled sawnwood from
imported logs
Current exmill prices for air dried sawnwood are shown
below. Overall supply and demand are well balanced but
there have been some minor price changes.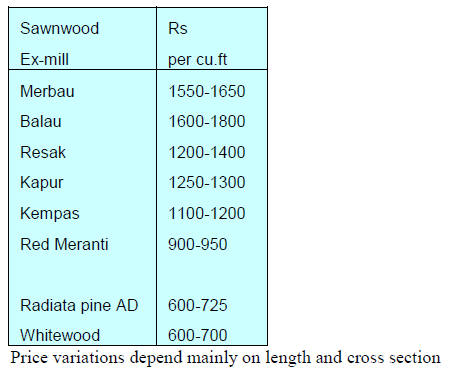 Myanmar teak arrivals
The volume of sawn teak imports from Myanmar is
increasing and some price movements have been reported.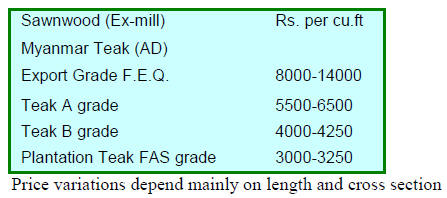 Imported 12% KD sawnwood prices
The prices below are per cu.ft ex-warehouse.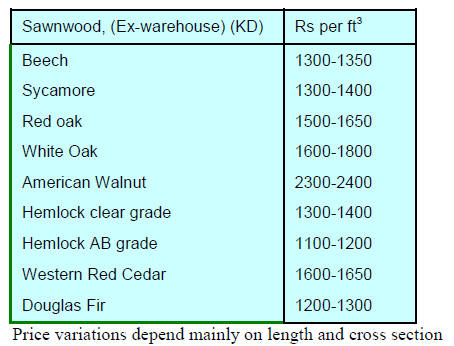 Plywood price discounts likely in the face of dull
housing demand
Efforts to revive and revitalise the housing market are not
yet bearing fruit. Demand for new homes in the major
cities in India is now very slow and developers are faced
with rising housing inventory and the pace of stock
accumulation is growing as buyers cannot afford to pay
the prices currently being asked.
The big question on the minds of the plywood
manufacturers is how long it will take to clear the current
stock of new homes and when the impact of policies on
housing by the new government will begin to kick in.

The slow housing market has significantly depressed the
wood product manufacturing sector in India and now,
instead of anticipating an upward revision of plywood
prices, millers have started to offer discount to maintain
order books.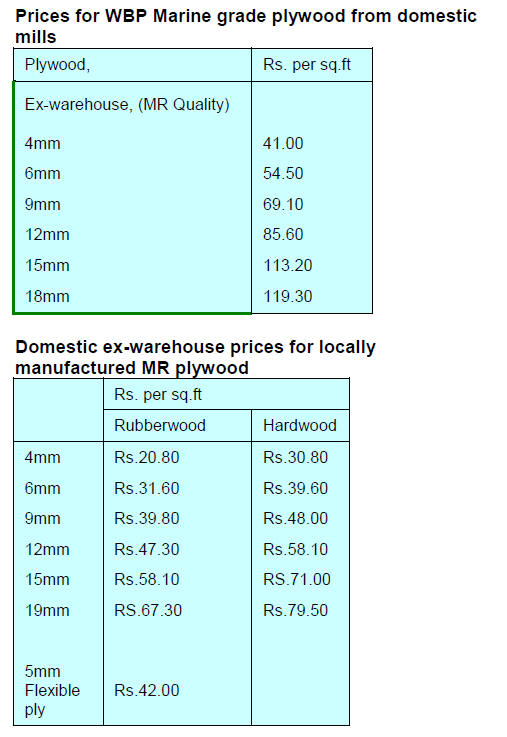 ¡¡
7. BRAZIL
Pernambuco state furniture makers capture the
headlines
Brazilian furniture manufacturers are clustered throughout
Brazil but the main one is the Bento Gonçalves cluster in
the state of Rio Grande do Sul (Southern region).

However, a cluster in Pernambuco state (Northeast region)
has been attracting attention partly because MOVEXPO,
the National Furniture Fair for the north and northeast
regions, will be held from 19 May this year.

MOVEXPO is being organised by the Union of Furniture
Industries of Pernambuco (SINDIMÓVEIS) to highlight
the importance of the furniture makers in the regions.

Pernambuco has 200 furniture manufacturing companies
and in 2014 it was estimated that revenues were over R$
840 million.

The Pombos furniture cluster is well-known in
Pernambuco, companies established there have signaled
their intention to invest about R$ 41 million in expansion
creating an additional 1,500 jobs over the next three years.
In addition to being a significant furniture producing
region, the Northeast of Brazil is an important domestic
market.

The organisers of MOVEXPO have indicated the
upcoming fair would promote new products and show new
trends and technologies for the furniture sector.

FIMMA creates opportunities for the furniture sector
The 12th FIMMA Brazil Fair (International Fair of
Machines, Raw Materials and Accessories for the
Furniture Industry) ran from 16-20 March in Bento
Gonçalves (Rio Grande do Sul state).

About 600 Brazilian companies and international
companies from 40 countries attended the fair to exhibit
their products ranging from machinery (34%), accessories
(29%), raw materials (20%), information technology
(10%) and tools (7%).

Approximately 33,000 visitors from Brazil and abroad
attended the event where an estimated, which accounted
for US$297.9 million in business transactions. Twenty
overseas importers attended through the "Buyer Project"
promoted by APEX Brazil.

The "Buyer Project" has allowed the establishment of new
partnerships through 440 rounds of business negotiations
among 60 Brazilian companies and 20 importers from
South Africa, Argentina, Bolivia, Colombia, Chile, USA,
Mexico, Peru, Guatemala and Turkey.

Sharp decline in Brazil¡¯s international furniture exports
Brazil"s furniture exports fell 14% year on year in January
2015 according to the Foreign Trade Secretariat (SECEX)
of the Ministry of Development, Industry and Foreign
Trade (MDIC).

Exports from Rio Grande do Sul state, the leading
furniture exporter in the country fell 15% over the same
period.

Brazil exported furniture worth around US$38 million in
January this year well down on the US$44 million
registered from January 2014. A sharp decline in export
demand was recorded for Angola (-60%), the Netherlands
(-53%) and Uruguay (-7%).

Exports from Rio Grande do Sul declined from US$13.7
million in January 2014 to US$11.6 million in January
2015 as a result of falling damand in Colombia (-77%),
France (-65%), Argentina (65%), Mexico (60%) and Chile
(-49%).
Unique study on forest regeneration reported
The Brazilian Agricultural Research Corporation
(EMBRAPA) is conducting a survey in the Tapaj¨®s
National Forest, Par¨¢ state (Amazon region) to assess the
forest regeneration process after 35 years of the initial
EMBRAPA intervention.

The first results indicate that the forest structure was
restored but with a different mix of species compared to
that prior to harvesting. The initial results show the age
and volume structure was restored offering an opportunity
for a second cutting cycle.

EMBRAPA says this assessment is unique in Brazil"s
tropical forest being the first monitoring of the second
cutting cycle in the country and the first output from the
Tropical Managed Forest Observatory (TmFO), an
international organization that monitors and compares
impacts of logging in the Amazon. EMBRAPA will
publish the results of study in first half of 2015.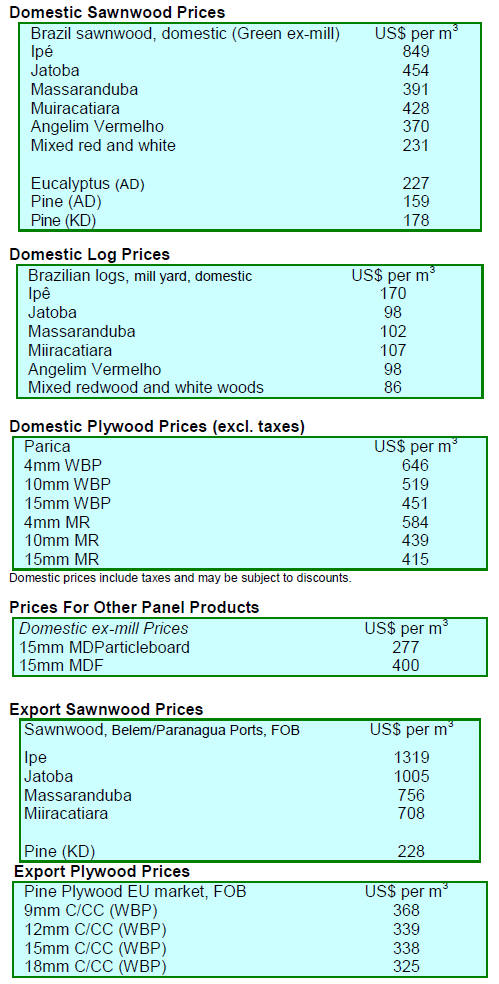 8. PERU
Peru¡¯s exports hit by tariffs in Ecuador
The Lima Chamber of Commerce of Lima, through its
Foreign Trade Centre (CCEX) has reported that Peru"s
exports to the Andean Community of Nations amounted to
US$2.74 billion dollars in 2014, representing a growth of
14% year on year. According to CCEX exports of nontraditional
products grew by 6% over the previous year.

The main market in the Andean Block was Colombia
which, at US$800 million, accounted for around 40% of
total exports to the Andean Community, an increase of
10% year on year. The second important market was
Ecuador which accounted for a market share of 35%, a
modest 1% increase year on year. Ecuador has imposed a
range of tariffs on imported goods which is dampening
Peru"s exports.

For more see:
http://www.camaralima.org.pe/principal/noticias/noticia/e
xportaciones-peruanas-a-la-can-sumaron-2741-millonesde-
dolares-en-2014/313