Japan Wood Products Prices
Dollar Exchange Rates of 261th March 2015
Japan Yen 119.07
Reports From Japan
Corporate sector supporting economic recovery
In its March assessment the Cabinet Office has determined
that the Japanese economy is on a moderate recovery track
given improving corporate sentiment.

On short-term prospects, the Cabinet Office notes the
economy is expected to recover, supported by the effects
of the decline in oil prices and the effects of government
and Bank of Japan initiatives. The assessment says the
employment and income situation is beginning to show an
improvement but there are still downside risks to the
recovery from negative trends in overseas economies.

In summary the Cabinet report says:
Private consumption is holding firm but business
investment is almost flat. On the other hand, exports are
picking up as is industrial production. Corporate profits
have improved but business sentiment and investment is
flat. However the employment situation appears to be
improving. But, consumer prices are flat.

Japan's inflation rate appears to be back to zero if the tax
increase effect is eliminated from the data. The consumer
price index (CPI) rose by 2.2% in February but included in
that figure is the consumption tax increase.

Zero inflation is a big disappointment for the Bank of
Japan which had seen some success in pulling the country
out of deflation only to see the gains made wiped out by
the impact of falling oil prices. See:
www5.cao.go.jp/keizai3/getsurei-e/2015mar.html

Think tank is positive on economic prospects
In related news the Chief Forecaster, Japan Center for
Economic Research (JCER), Atsushi Takeuchi, writes - a
consumption-led recovery is expected in fiscal 2015
despite the current weak domestic demand. The JCER
report forecasts a 1.5% real growth in fiscal 2015 driven
by cheaper oil prices and rising global demand.

The economic slump caused by the consumption tax
increase in Japan has lingered much longer than expected
but JCER is confident this situation will change in fiscal
2015, especially given the wages increase recently agreed
by the major companies which should fuel a resurgence of
consumer spending.

Higher take-home pay for workers should stimulate home
purchases especially as interest rates are so low and the
government is offering a variety of financial support
packages for home buyers.

The housing sector has been slow to rebound after the
surge in purchases just before the tax increase a year ago
but order book positions reported by builders suggests
construction activity will expand this year.

For more see: www.jcer.or.jp/eng/pdf/sa161-eng2.pdf

Yen/Dollar rate settles after short-term swings
In the last two weeks of March the yen/dollar exchange
rate swung back and forth on the mixed signals from the
US Federal Reserve (Fed) but has now settled back to
around yen 120 to the dollar.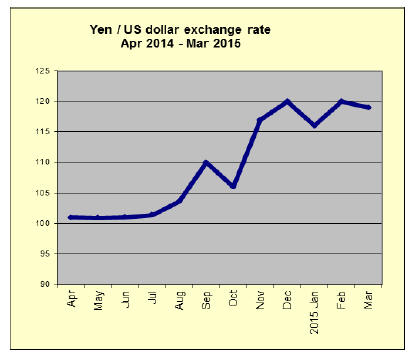 Slower pace of decline in housing starts
February housing starts were down month on month but
the pace of decline has slowed according to the latest data
from the Ministry of Land, Infrastructure, Transport and
Tourism.

Year on year housing starts were down just over 3% in
February but the year on year decline slowed perceptibly
in February.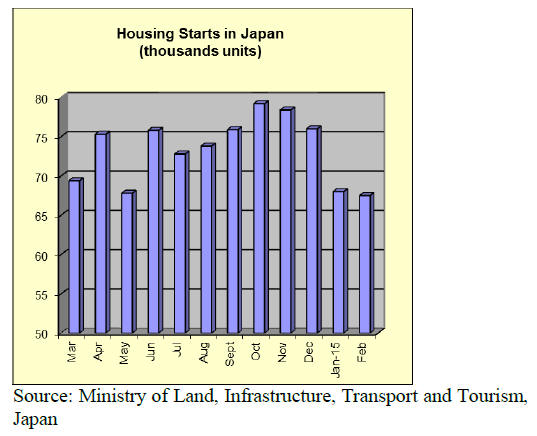 Sharp fall in furniture retail sales
Trends in average of monthly consumption are shown
below. Of the main categories of household expenditure
only two recorded modest growth in February.
Expenditure on furniture over the past 12 months has
fallen sharply.

Overall household expenditure for February 2015 was
down 2.9% in real terms from a year earlier largely
because incomes were down 0.7% in real terms from the
previous year.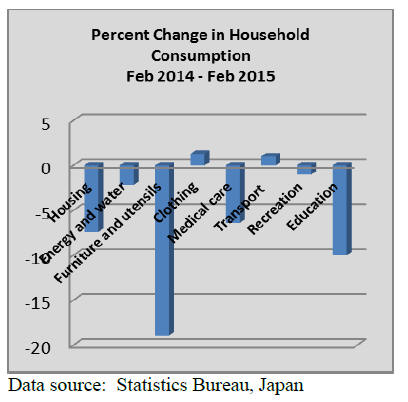 Japan's furniture imports
The upward momentum in bedroom furniture imports
which began in Novemebr last year continued into
February. Compared to a month earlier, February imports
were up 7% and year on year they were up a massive 46%.

Imports of kitchen furniture also rose in February but only
by 5.5% from a month earlier but year on year February
imports were up around 16%.

Office furniture imports continue to trend in a very narrow
range. Over the past twelve months there has been very
little movement, either up or down, in the value of office
furniture imports.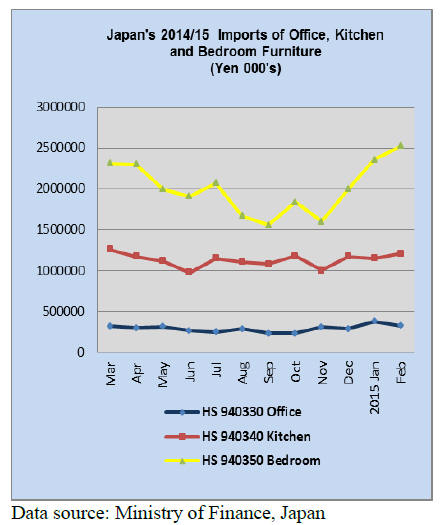 Office furniture imports (HS 940330)
February 2015 office furniture imports were down 15% on
levels in January but were up 49% compared to February
2014.

The top three suppliers of office furniture in February
2015 were China, Portugal and Poland. Imports from
China and Portugal fell in February while, compared to
levels in January, imports from Poland rose sharply.

Of suppliers in tropical countries, only Malaysia and
Indonesia supplied office furniture in February and their
combined contribution to total office furniture imports was
only around 3%.

Kitchen furniture imports (HS 940340)
The top four kitchen furniture suppliers to Japan in
February were Vietnam, China, Indonesia and Philippines
and together they accounted for 90% of all kitchen
furniture imports.

Suppliers in SE Asia, Vietnam, Malaysia, Thailand,
Philippines and Indonesia accounted for 74% of all
Japan"s February kitchen furniture imports. Of the
suppliers in the EU only Germany features as a significant
but small supplier.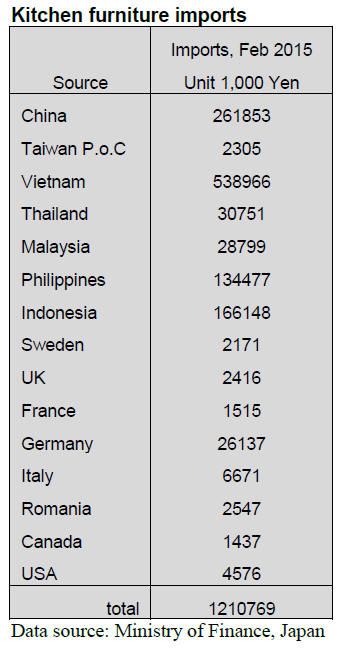 Bedroom furniture imports (HS 940350)
As was the case in January, the top three suppliers of
bedroom furniture in February were China (up 9% month
on month), Vietnam and Thailand. However the combined
value of bedroom furniture imports from just China and
Vietnam accounted for over 86% of all February imports.

Looking at the SE Asian suppliers, Vietnam, Thailand,
Malaysia and Indonesia it is Vietnam that is by far the
largest supplier. These four countries accounted for around
37% of February bedroom furniture imports. Of EU
member state suppliers only Poland emerged as a
significant supplier in February.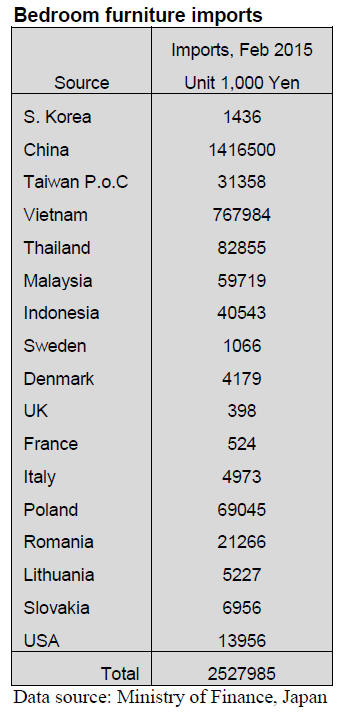 Trade news from the Japan Lumber Reports (JLR)
For the JLR report please see:
http://www.nmokuzai.
com/modules/general/index.php?id=7
Japan's forest products export in 2014
The Forestry Agency disclosed result of forest products
export in 2014, which is 21,921 million yen, 38.8% more
than 2013. Export of wood products sharply increased by
90.8%, which is the second highest next to 1985 when the
total amount was 18,100 million yen.

Three major destinations of wood products are China,
Korea and Taiwan. By items, logs and lumber take
majority. In volume, logs are 521,222 cubic metres, 96.9%
up and lumber is 67,647 cu.m, 13.9% up. Growth of log
export is conspicuous. Compared to 2010, lumber increase
is 13.8% but log export increased by eight times.

The government drew up the plan of forest products export
in 2013. It says target by 2020 is 25 billion yen, which is
double of actual result of 2012 of 12.3 billion yen. Actual
result in last two years advanced largely and achieving the
target seems easy as long as the yen stays weak.

Three major markets are China, Taiwan and Korea, which
take 65% in total export with value of 11.6 billion yen,
77.5% up from 2013, out of which logs are 6.8 billion yen,
119.6% up and lumber is 3.1 billion yen, 17.6% up. In
volume, logs are 521,000 cu.m, 96.9% up and lumber is
67,000 cu.m, 13.0% up. Compared to 2010, log export
increased by about eight times.

The largest market is China. Logs for China is 312,000
cu.m, 140.9% up and lumber is 35,000 cu.m, 57.8% up.
Up until 2012, log export to China was less than for Korea
and Taiwan then it sharply increased since 2013.

Korea took 98,000 cu.m of logs, 97.1% up and 7,000 cu.m
of lumber, 22.6% up. Log export to Korea almost doubled.
Taiwan took 107,000M cu.m of logs, 31.0% up. Type of
logs for export is mainly class C logs including class B. In
China, logs are used for engineering works and crating.

In Korea, Japanese cypress is popular for interior finishing
then since last year export of fir logs started. The weak
yen helps expanding export of class C logs but in Japan,
increasing biomass power generation facilities use class C
logs for fuel so there is competition.

Japan"s share of log import for China is only 0.2% so
there is a chance of large growth in the future.

Plywood
Softwood plywood market is on weak side simply because
of lack of demand in winter. In last December, there were
some speculative orders when deliveries were delayed by
shortage of trucks but deliveries completed by the end of
January.

Meantime, precutting operations in February sharply
slowed down by lack of orders and large shipments from
plywood mills slowed down. Plywood mills are afraid to
build up large inventory and trading firms need to
maintain certain sales before book closing in March so
bearish mood spread and the prices have been edging
down little by little. Dealers are cautious in dealings
because lowering the prices does not guarantee to move
larger volume.

The production in January was 211,100 cu.m, 3.1% less
than January last year and 0.7% less than December. The
shipment was 216,300 cu.m, 10.1% less and 3.4% less.
The inventory was 204,500 cu.m, 5,000 cu.m less than
December.

Market of import plywood is also weak. Particularly, 3x6
concrete forming panel and 12 mm structural panel are
soft by easing of supply and demand balance.

The monthly average arrival volume during September last
year and January this year was 274,200 cu.m, which is not
so high but there have been many ships waiting at the
harbor by delay of unloading works and this gives
impression that there is enough supply.

Market prices of imported plywood have been unchanged
since last December .Because of yen"s depreciation since
late last year, the imported cost has kept climbing and the
importers hang onto cost covering business but since late
February the prices started weakening toward book closing
of end of March to reduce on- hand inventories.

Noda completed new plywood plant
Noda Corporation (Tokyo. S. Noda, the president)
completed building a new plywood plant in Fujikawa
business site in Fuji city, Shizuoka prefecture. Production
will start in April after it acquires JAS certificate and it
plans to bring the production up to about 6,000 cu.m by
the end of November.

This is the first plywood manufacturing plant for Noda
Corporation after 16 years. Noda will use plywood for
floor base of composite floor the company makes then the
plant will manufacture structural panel and concrete
forming panel as well. Noda decided to build the plant
after Shizuoka prefecture promised to supply sufficient
local cypress logs so this will be 100% domestic species
plant. Total investment is about six billion yen.