Report from North America
US imports of almost all wood products increased
significantly in 2014 compared to the previous year. Only
hardwood plywood imports declined, despite an upswing
in US demand for cabinets.

Decline in hardwood plywood imports but China¡¯s
import share up
2014 imports of hardwood plywood were slightly lower
than in 2013. The US imported a total of 2.91 million
cu.m. of hardwood plywood in 2014, 1% down from the
previous year.

Imports declined despite a stronger US economy in 2014
and the removal of antidumping duties on Chinese
plywood in November 2013.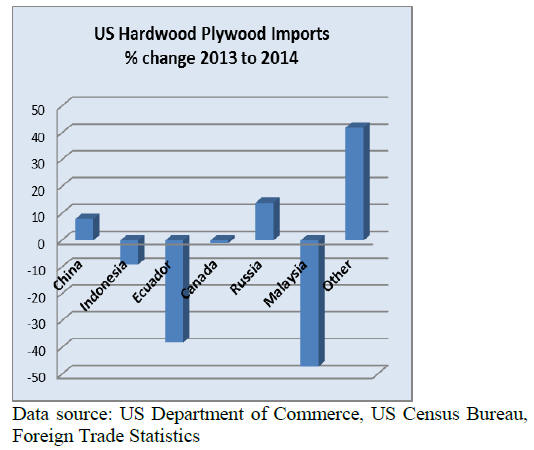 Hardwood plywood imports from China grew by 8% from
2013, when the special import duties were in effect much
of the year. The US imported 1.52 million cu.m. of
hardwood plywood from China in 2014. China"s share in
total imports grew from 48% in 2013 to 52% in 2014.
The second-largest source of imports was Indonesia at
448,180 cu.m. Imports from Indonesia were lower than in
2013, and its import share declined from 17% to 15%.

The strongest growth in hardwood plywood imports in
2014 was from Russia. Imports grew by 14% from the
previous year to 291,592 cu.m. Russia"s import share
increased by one percentage point to 10% in 2014.

Hardwood plywood imports from other main sources of
supply went down in 2014. Canadian shipments declined
by 1% to 180,637 cu.m. Imports from Ecuador fell by
almost 40% from 2013 171,080 cu.m.

Plywood imports from Malaysia were almost half of 2013
volumes at 73,265 cu.m.
Imports from all other countries were 222,290 cu.m. in
2014, up 33% from the previous year.

China surpasses Brazil as largest source of hardwood
mouldings
The total value of hardwood mouldings imports into the
US in 2014 increased by 11% from the previous year.
Hardwood moulding imports were worth $204.6 million in
2014.

China surpassed Brazil in 2013 to become the largest
import source of hardwood mouldings. China maintained
this position in 2014 with $66.5 million shipped to the US
market; imports from China increased by 2% from the
previous year.

Hardwood moulding imports from Brazil grew by 14% to
$53.2 million in 2014; imports from Malaysia increased by
20%.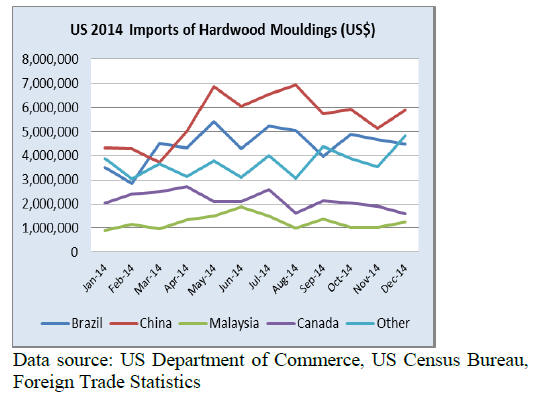 More hardwood flooring from China in 2014
US imports of wood flooring grew significantly in 2014.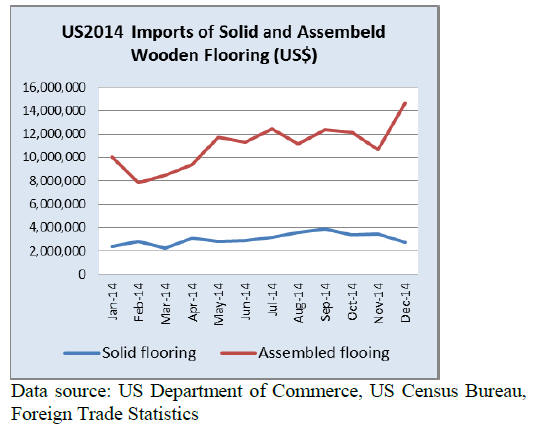 Imports of assembled wood flooring panels were worth
$132.3 million, up 16% from 2013. Assembled wood
flooring imports from China were practically unchanged
from the previous year at $67.4 million.

US imports of hardwood flooring from Canada increased
by 20% to $29.0 million in 2014. Indonesia exported $7.6
million worth of assembled flooring panels to the US in
2014, up 72% from the previous year.

Total hardwood flooring imports were $36.5 million in
2014, up 12% from 2013. Indonesia was no longer the
largest supplier of hardwood flooring at $6.9 million,
down from $11.3 million in 2013.

Malaysia increased hardwood flooring shipments by 16%
to $8.1 million. China became the US" second-largest
supplier of hardwood flooring at $7.4 million (+37%).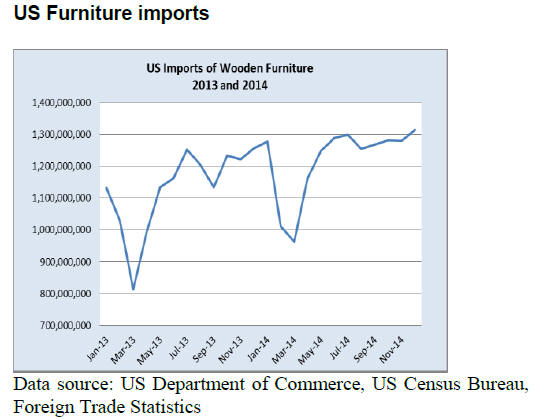 Vietnam and Mexico increase furniture import share
Following a 7% growth in 2013, US wooden furniture
imports increased by 8% in 2014. Wooden furniture
imports were worth $14.65 billion in 2014. Imports from
all major suppliers increased. The largest growth was in
imports from Vietnam and Mexico.

Furniture imports from China grew by 5% in 2014 to
$6.99 billion. China"s share in total US furniture imports
fell by one percentage point to 48%.

Imports from Vietnam gained significantly in 2014. They
were worth $2.52 billion, up 26% from 2013. As a result,
Vietnam"s import share grew from 15% in 2013 to 17% in
2014.

Canada"s import share remained unchanged in 2014, with
imports at $1.20 billion (+5%). Wooden furniture imports
from Mexico were worth $0.66 billion (+27%). Mexico"s
share in total furniture imports increased one percentage
point to 5%.

Malaysian furniture shipments were up 4% in 2014 ($0.56
billion). Imports from Indonesia increased by 8% to also
$0.56 billion. Both countries" imports share was
unchanged at 4%.

Wooden furniture imports from other countries were down
in 2014, despite higher shipments from Europe last
summer.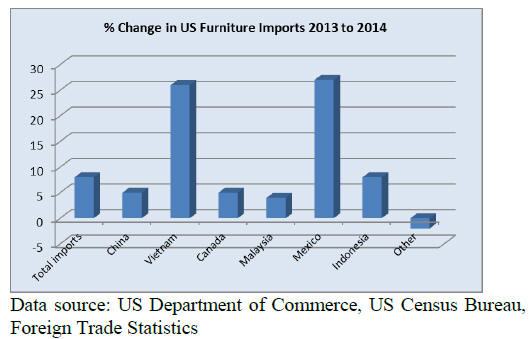 Uptick in December furniture retail sales
Furniture retail sales in the US increased by 1% between
November to December according to US Census Bureau
data. While the month-on-month growth is small, sales
were 11% higher than in December 2013.

Unemployment down, GDP growth up
The US economy grew by an estimated 2.6% (annual rate)
in the 4th quarter of 2014. GDP growth slowed from the
5% annual rate in the 3rd quarter. The slowdown was due
to higher imports, lower federal government spending,
lower exports and less investment in non-residential
buildings and assets than in the 3rd quarter.

Unemployment was practically unchanged at 5.7% in
January. The number of long-term unemployed and those
who work part-time involuntarily were also unchanged
from December. Employment increased in retailing,
construction and manufacturing.

Economic activity in the manufacturing sector expanded in
January. However, growth in new orders and production
slowed from December, according to the Institute for
Supply Management. Inventories of raw materials were
higher, while raw material prices declined from December.

Both wood products manufacturing and furniture
manufacturing reported increased production in January.
Demand is strong going into 2015, and production should
increase with the labour dispute at the West Coast ports
resolved.

Consumer spending forecast to increase 3.3% in 2015
In January consumer confidence in the US economy
improved by 5% from the previous month.

The latest consumer survey by Thomson
Reuters/University of Michigan recorded the highest
confidence level since January 2004. Compared to a year
ago confidence in the economy improved by 21%.

Consumers believe the outlook for the US economy is
better than any time in the last ten years. Income gains are
expected to be modest in 2015, but personal expenditures
will grow at 3.3% this year.

2014 housing starts surpass 1 million
For the first time since 2007 annual housing starts were
over 1 million. Housing starts increased by 4.4% in
December to an annual seasonally adjusted rate of 1.089
million units.

Single-family housing starts grew by 7.2% in December.
Multifamily construction declined by 1%. The Midwest
was the only region with lower housing starts in
December.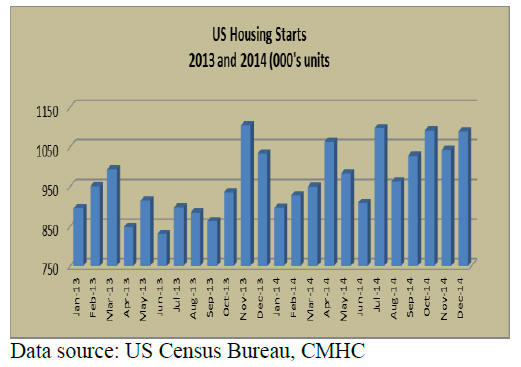 Economists at the International Builders" Show in Las
Vegas predict significant growth in the housing market in
2015. The National Association of Home Builders
forecasts housing starts to grow by 6.7% from 2014.
Construction of single-family homes is expected to
increase by 26% in 2015.

The number of building permits for single-family homes
increased in December, while multi-family permits
declined.

Oil prices affect Canadian economy
Canadian housing starts decreased by 7% to just under
180,000 in December at a seasonally adjusted annual rate.
Both multi-family and single-family home starts declined.

Home construction is expected to slow further in 2015.
The lower oil prices have a negative effect on housing
demand in oil-producing regions. However, regions with
manufacturing industries benefit from the lower Canadian
dollar, low interest rates and low oil prices. Especially
Ontario will likely see an upturn in economic activity and
construction.

Non-residential construction unchanged
Investment in non-residential construction was unchanged
in December from the previous month, at a seasonally
adjusted annual rate. Construction spending grew from
June to October but has not improved since then,
according to US Census Bureau data.

Trends in private and public construction differed only
slightly. The American Institute of Architects reported
improving business conditions for the end of 2014. The
strongest improvement was in institutional buildings. The
Northeast was the only region where business conditions
worsened.

Trans Pacific Partnership trade deal nears completion
US trade officials urged the US Congress to support the
government"s plan for the Trans Pacific Partnership trade
deal. The 12-nation trade deal may be completed in
March, according to statements by trade officials.

Then the deal will be submitted to Congress for a yes-orno
vote. Some business groups, unions and other groups
are lobbying against the trade deal.

The trade agreement would cover 40% of the world
economy, including the US, Canada and Mexico in North
America, and Japan, Vietnam, Malaysia and Singapore.