Japan Wood Products Prices
Dollar Exchange Rates of 121th March 2015
Japan Yen 121.42
Reports From Japan
Consumer confidence improves
The February consumer confidence survey shows that
Japanese families are more confident on future prospects
as demonstrated by the rise in the consumer confidence
index, the third consecutive monthly rise. In commenting
on the February data the Cabinet office said the recovery
in confidence seems to be sustained.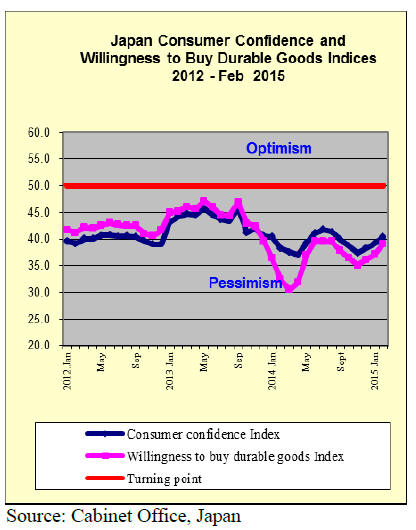 The categories of the consumer perceptions in the
February survey indicate that the Overall Livelihood
index rose to 38.3 (up 2.5 from the previous month); the
index on prospects for income growth rose to 38.9; the
employment index jumped to 46.1 while the index
on willingness to buy durable goods rose 2 points to 39.4.
However, all indices are below 50, the threshold for
consumer optimism.

In related news, the coincident index that gauges economic
activity climbed to 113.0 in January from 110.6 a month
earlier. The January figure was the highest since early
2014. Projections for the coincident index see it increasing
steadily.

Coincident indicators are a compilation of data on
employment, earnings, average hours worked in
manufacturing and unemployment trends.

Machinery order trends signal falling capital spending
Orders for Japanese machinery fell 1.7% in January
compared to a month earlier in a sign that capital spending
remains subdued.

Machinery orders are regarded as a leading indicator of
capital expenditure, but are also known for their volatility
so data for a single month should be treated with caution.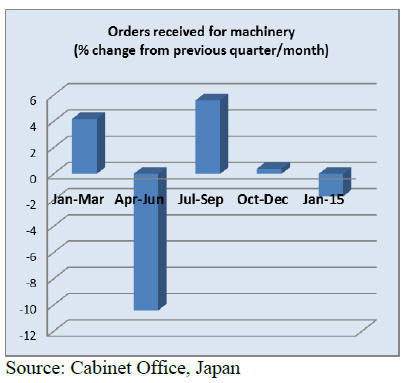 Encouraging family and business relocation
The government is drawing up policies to achieve a
measure of de-urbanisation of major cities and is
considering tax incentives to companies that relocate to
more rural prefectures. Part of the package will include
subsidised medical and education fees for those living in
rural areas.

The government also plans to create a national database of
vacant homes to aid people who want to move out of
urban areas. This would help prefectural governments
solve their "abandoned house" problem.

The Ministry of Lands has reported there are over 8
million vacant homes in Japan of which around 40% are
described as "abandoned," and unfit for habitation.

The Internal Affairs and Communications Ministry plans
to open consultation offices to advise anyone thinking of
moving to a less populated area.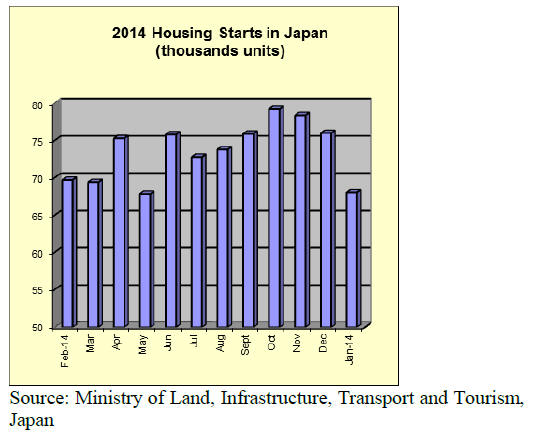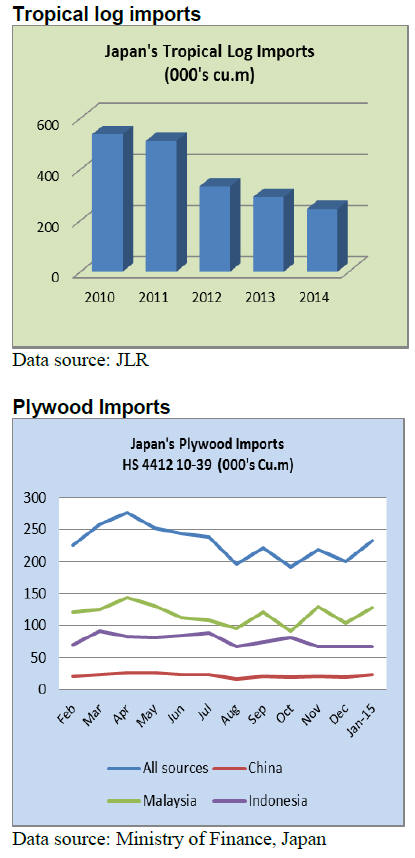 Trade news from the Japan Lumber Reports (JLR)
For the JLR report please see:
http://www.nmokuzai.
com/modules/general/index.php?id=7

South Sea (Tropical) logs
Rainfall increased since last month both in Sabah and
Sarawak, which causes flood in low land and hinders
timber harvesting and transportation of logs. At the same
time, by strong pressure by environmental groups, the
government stepped up supervision on illegal logging and
uncovering of corruption in the wood industry. Actually
government inspectors measure log diameter piece by
piece at log yard to judge if it is conform to the license.

By the tightening supervision, volume of purchase log in
the province sharply dropped so the main supply is now by
log suppliers and plywood mills, which have their own
licensed timberland.
Plywood mills, which reply on purchase logs at open
market, suffer serous log shortage. In this situation, export
log supply is dropping and the suppliers are very bullish.
Log buyers for India and China pay high log prices to fill
up their vessels so that export log prices are rising.

Low grade meranti prices for India areUS $270-275 per
cbm FOB, US$10-15 higher than January. Meranti
regular prices for Japan market are about US$280-290 per
cbm FOB.

Plywood supply in 2014
Total supply of plywood in 2014 including imports was
6,297,400 cbms, 2.6% less than 2013 but the supply has
been over six million cbms for four straight years.
Domestic plywood production was 2,806,200 cbms, 0.4%
less than 2013. In this, softwood plywood was 2,617,100
cbms, 0.4% less. Monthly average was 218 M cbms.

The shipment of softwood plywood was 2,523,400 cbms,
5.6% less with monthly average of 212 M cbms, 12,400
cbms less than 2013. Total imported plywood in 2014 was
3,491,100 cbms, 4.2% less with monthly average of 292 M
cbms, 12,800 cbms less than 2013.

Malaysian supply was 1,462,500 cbms, 8.8% less with
monthly average of 121,800 cbms, 11,800 cbms less than
2013. Indonesian supply was 1,026,300 cbms, 2.8% less
and Chinese supply was 778,200 cbms, 1.0% less.

In imports, main item from Malaysia, 12 mm concrete
forming panel decreased largely while Indonesian supply,
whose items are mainly floor base and standard plywood
did not decline much.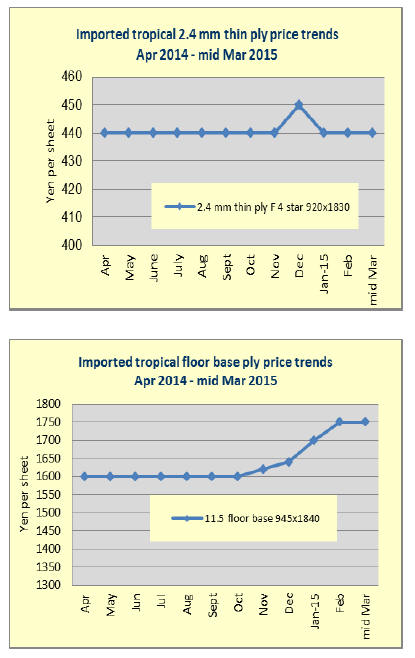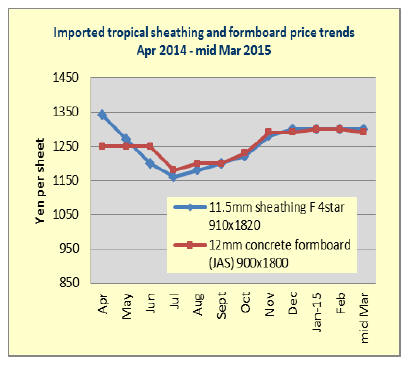 Forest products imported by China in 2014
Despite dropping economic growth, China imported logs
and lumber actively last year. According to "China Wood",
log import in 2014 was 51,410,000 cbms, 13.6% more
than 2013 and lumber import was 25,642,000 cbms, 6.7%
more. This is the highest import ever recorded.

Although economic growth is revised down to 7%,
demand of wood for construction, furniture, wood works
and engineering works continues busy while supply of
domestic natural resources is severely restricted so it has
to import all the sources in the world.

Log import shows some change. Bordering Russia had
been overwhelmingly major supply sources but in 2014,
New Zealand"s radiate pine became the top supply source
so Russia and New Zealand are now two major sources.
Reason of increase of radiate pine is price advantage over
Russian logs.

Also New Zealand government and forestry groups have
been promoting marketing of radiate pine logs with
technical guidance, which finally paid off. There are
increasing inquiries on North American Douglas fir,
hemlock and SPF so this will become the third major
source.

China also import cedar logs from Japan. The volume is
small yet with 310,000 cbms ranked 19th among other
sources but if Japanese cedar is approved for construction
material, the volume should increase rapidly.

Supply of temperate hardwood from the North East of
China has sharply dropping so that import of hardwood
from North America and Europe has been increasing. In
log import, softwood was 35,840 M cbms and tropical and
temperate hardwood was 15,560,000 cbms.

Softwood lumber import was almost 17,630,000 cbms.
Plywood export volume is 13,340,000 cbms, 30% more
than 2013.

Establishing Japan brand of forest products for export
The Japan Wood Products Export Association will be one
of the agricultural, forest and marine products exporting
groups to establish Japan brand promoted by the Ministry
of Agriculture, Forestry and Fisheries.

The Ministry is promoting to expand export of Japanese
food, agricultural, marine and forest products.

The Association is one of six exporting groups by items
and will use support by the Ministry of Agriculture,
Forestry and Fisheries, The Forestry Agency and JETRO
to establish cooperation system among logs and lumber
producing regions, investigation and market research for
forest products export, advertisement of post and beam
construction and cooperate revision of the Chinese wood
building design standard.

Six items are marine products, rice, rice processed
products,flower and trees, beef, tea and forest products.

Certified Forest Products Promotion Council
established
Twenty prefectures, cities and villages, which have forest
certified by FSC (Forest Stewardship Council), FSC is
internationally acknowledged forest certification
organization, established FSC Certified Products
Promotion Council and the first activity started in January.

The chairman of the Council, M.Yokouchi, the governor
of Yamanashi prefecture and vice chairman, Y. Suzuki,
the Mayor of city of Hamamatsu visited the Forestry
Agency and the organizing committee of the Tokyo
Olympic Games and handed a letter requesting to use FSC
certified domestic wood products positively for athlete
quarters and the Olympic related facilities and also FSC
certified paper and other products for related goods,
posters and brochures.

The organizations, which received the request, commented
that it is important to use the products made by sustainable
resources and it is necessary to consider scheme such as
internationally acknowledged FSC certification.

Mr. Suzuki stated that the Olympic Game in 2020 is
golden opportunity to increase recognition of FSC
certification and promote use of certified products.

Green purchase law--concrete forming panel
(formboard)
Concrete forming plywood is added as one of the specific
procurement items by green purchase law since it
conforms to the idea of green purchase law as it is made
out of legality certified wood and of thinning and is
repeatedly used, which contributes to reduce
environmental load.

This should promote using concrete forming panels for
public works by the government and local authorities.
Reasons of addition are that concrete forming panels are
procured and used by contractors for executing public
works then they are used over and over again. These
match the basic idea of the law.

It is now necessary to have some markings to confirm if
the materials are legal and made out of thinning so
authorized number and name of authorized organization
are printed on the surface of plywood.