Report from North America
Tropical sawnwood imports loose out to temperate
timbers
US imports of sawn hardwood increased by 8% in
December 2014 to 63,398 cu.m. Tropical imports grew by
10% month-over-month to 23,853 cu.m.

Tropical sawnwood accounted for 23% of total US sawn
hardwood imports in 2014, down from 27% in 2013.
Temperate sawnwood imports grew by almost one third in
2014 from the previous year while tropical imports
increased by just 7%.

The different rates of growth in temperate and tropical
sawnwood imports suggest that the US economic
downturn may not have been the only reason for lower
tropical imports.

A recent US Forest Service study found that the 2008
Lacey Act amendment was responsible for US importers
switching to sourcing from suppliers that could verify the
legality of their exports.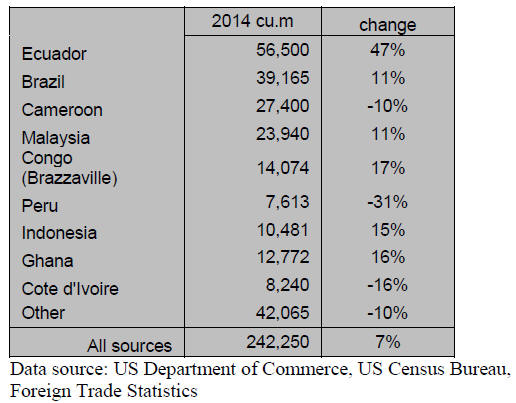 US imports of balsa, sapelli and ipe up in 2014
Imports of balsa from Ecuador showed the strongest
growth in 2014. The US imported 56,644 cu.m. of balsa,
up 39% from 2013.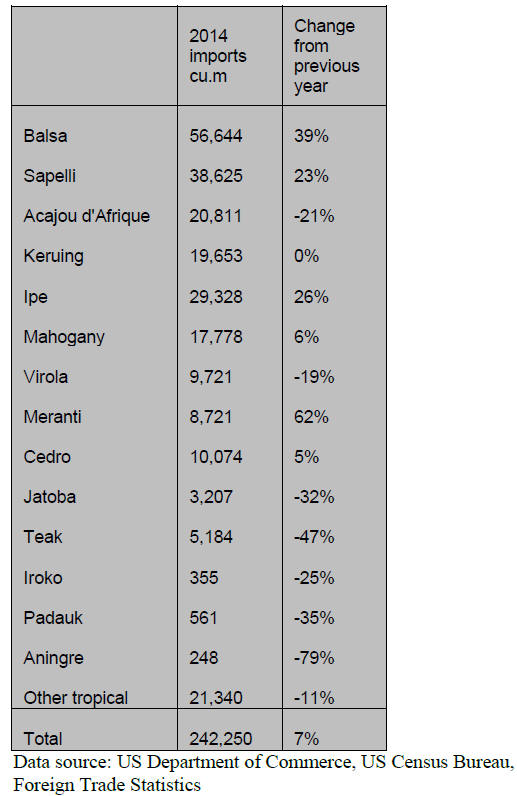 Imports of sapelli sawnwood increased by 23% in 2014 to
38,625 cu.m. In third place was ipe at 29,328 cu.m., up
26% from 2013.

Acajou d"Afrique imports fell by 21% from 2013 to
20,811 cu.m. Virola imports were down by 19% in 2014.
Imports of keruing were unchanged, while imports of
mahogany increased by 6% in 2014.

More sapelli sawnwood was sourced from Congo
(Brazzaville) in 2014, while Cameroon"s exports to the US
declined. Imports from Brazil increased mainly due to
higher ipe shipments.

Sawnwood imports from Malaysia increased by 11% in
2014 with higher shipments of keruing and meranti.
Imports from most other smaller suppliers declined from
the previous year.

Higher Canadian sapelli imports from Cameroon
Canadian tropical sawn hardwood imports in 2014
increased by 6% from the previous year to US$25.8
million.. The value of Canadian imports was 9% of total
US imports of tropical sawnwood.
Sapelli imports increased by 53% to US$5.8 million in
2014. Combined imports of virola, imbuia and balsa grew
by 40%. 2014 mahogany imports were unchanged from
2013.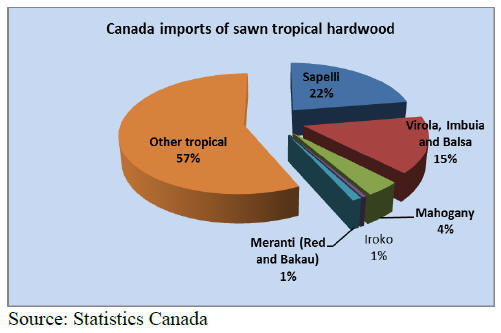 Canadian imports from Brazil fell by one third in 2014.
Cameroon narrowly surpassed Brazil"s to become
Canada"s largest source of tropical sawnwood in 2014.
Cameroon and Brazil each shipped about US$4.8 million
worth of sawn hardwood to Canada in 2014, followed by
Ecuador"s balsa exports of US$3.5 million.

US Forest Service assess Lacey Act impact
The 2008 amendment to the Lacey Act was successful in
reducing US imports of illegally logged wood, according
to a statistical analysis of trade data by the US Forest
Service.

The study took into account other factors that might affect
US imports, such as the economic downturn that coincided
with the Lacey Act amendment, exchange rates and
China"s economic growth.

The study found that the prices of sawnwood and
hardwood plywood imports into the US from suspected
illegal source countries have increased. At the same time
import volumes from the same countries have decreased
since the enactment of the 2008 Lacey Act Amendment.
Together this, says the report, indicates a decrease in
export supply in these countries.

It is not clear, however, whether the Lacey Act
amendment has in fact reduced illegal logging by reducing
global demand for illegal wood. The US Forest Service
study did not look at whether illegal wood was diverted
from the US market to other export markets or to domestic
consumption.

The study has been published in the Journal of Forest
Policy and Economics and a report is online at:
http://www.treesearch.fs.fed.us/pubs/47185