Report from North America
Update on US wood flooring trade
US net exporter of wood flooring
US imports of wood flooring have slowly recovered since
the financial crisis and economic recession. However,
even before the recession started imports had been
declining. 2013 imports were lower than in the years prior
to 2009.

In 2004 imports of hardwood flooring, softwood flooring
and assembled flooring panels were worth US$349
million. Imports spiked in 2005 because of record new
housing starts before falling to just US$128 million in
2010. In 2013 wood flooring imports were worth US$152
million.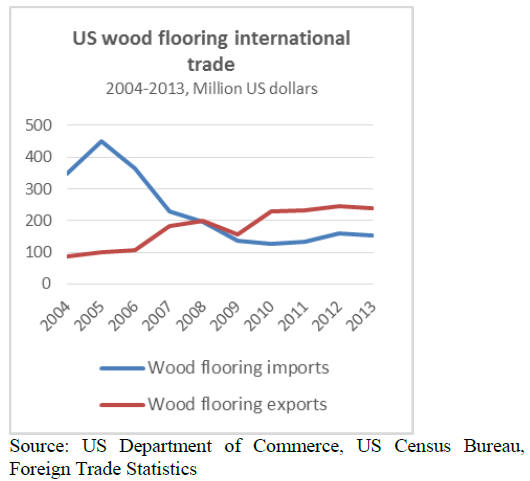 Exports of wood flooring have grown significantly over
the same period. US wood flooring exports surpassed
imports in 2009. Wood flooring exports grew by an
average 19% per year between 2004 and 2013, although
growth has slowed since 2010. Wood flooring imports
declined 6% annually between 2004 and 2013.

Both import and export data show the market"s trend away
from solid strip flooring to engineered flooring. The
growth in flooring exports was mainly in assembled
flooring panels, while solid hardwood flooring exports
increased only slightly.

Imports of hardwood flooring declined from US$318
million ten years ago to US$41million in 2013. Its share in
total wood flooring imports fell from 91% in 2004 to just
25% in 2013.

Assembled flooring panel imports increased from zero to
US$114 million in the same period, accounting for 75% of
all wood flooring imports.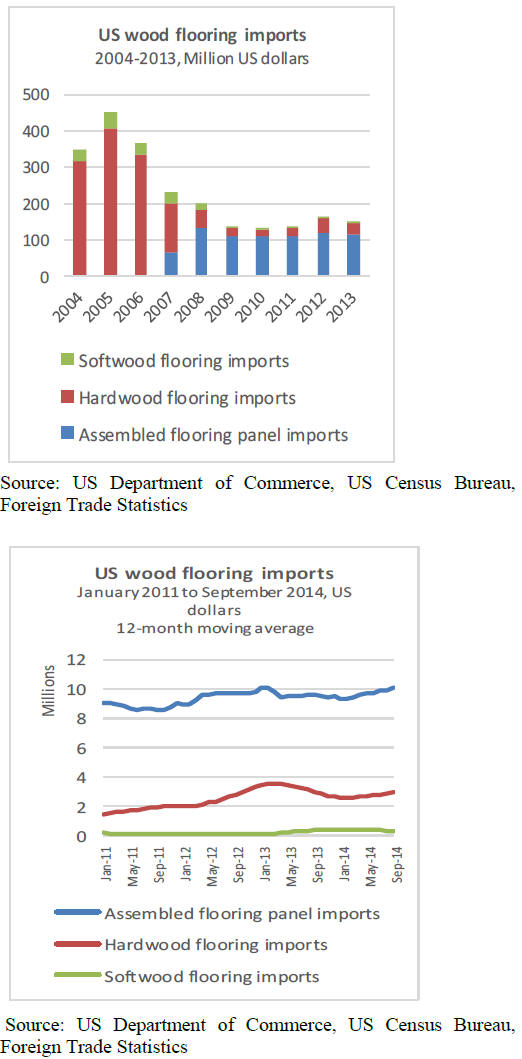 Despite the stronger housing market, wood flooring
imports have not markedly increased in the last two years.
Monthly import data, averaged over the previous twelve
months to remove seasonality effects, show that
September 2014 imports are almost unchanged from
summer 2012.

Hardwood flooring imports grew in late 2012 and early
2013, but fell back in the second half of 2013.

Domestic flooring production up
While wood flooring imports have not rebounded to prerecession
levels, domestic flooring production has
increased. Almost half of the wood flooring manufacturers
surveyed by the National Wood Flooring Association
reported higher production volumes in 2013.

Three quarters said their sales were up, with one third
reporting dramatically higher sales. No manufacturer
reported lower sales for 2013.

Flooring distributors surveyed by the National Wood
Flooring Association reported a similar growth in sales in
2013. 86% of distributors indicated higher wood flooring
sales compared to the previous year.

Sales of tropical species down
Unfinished solid wood flooring accounted for 48% of total
sales by the distributors surveyed, 24% was prefinished
solid and 23% prefinished engineered flooring. Red oak
remains the most popular species at over 40% of all wood
flooring sold and installed, followed by white oak, maple
and other.

US hardwood species. Domestic species accounted for
over 90% of the wood flooring market. Sales of tropical
species fell from 19% in 2008 to 6% in 2013, according to
the survey of distributors.

Home remodeling market
Homeowner spending on home remodeling grew by 2.3%
in the second quarter of 2014, according to US Census
Bureau data. Growth slowed from the previous quarters,
based on a four-quarter moving rate of change which
removes seasonality effects.

The Joint Center for Housing Studies of Harvard
University projects growth rates of 6.1% in the third
quarter and 7.9% in the fourth quarter (both are four
quarter moving rates of change, eliminating seasonal
effects).

However, the spending forecast was revised downwards
from expectations earlier this year. The recovery in the
housing market was slower than expected by many
analysts.

The rise in home prices and a slowdown in home sales had
a negative effect on remodeling activity. Many
homeowners also delay large remodeling projects because
credit remains tight.

Nonetheless spending on remodeling grew by 5% in 2013
from the previous year, according to estimates by financial
services provider Fitch. Total 2014 spending on home
improvement products is estimated at US$307.1 billion, up
from US$289.7 billion in 2013.