2. GHANA
2014 first 10 month export performance
Ghana produced and exported a total of 286,416 cu.m of
plantation logs and wood products valued at Euro 112.13
million in the first 10 months of 2014.
This compares to the 225,487 cu.m exported during the
same period in 2013 and represents a 27% year on year
increase in volume in 2014.

Wood product exports to regional and other international
markets are shown below.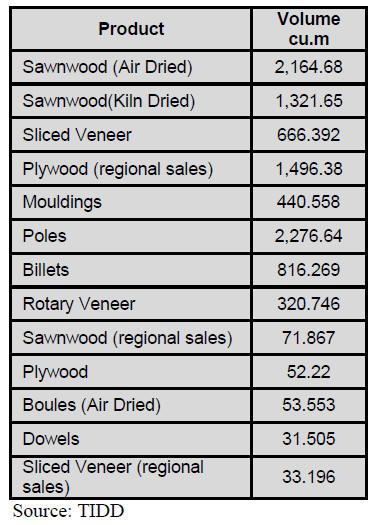 The main markets for the 13 different products exported in
the first ten months of last year were in Asia and the
Middle East such as India, China, Israel, Lebanon and
Vietnam. Together these countries accounted for 131,464
cu.m of all exports in the period.

The main products demanded in these markets included
billets, poles, sliced veneer and air dry sawnwood in teak,
gmelina and asanfina, mainly for reprocessing in the
importing country.

In the period reviewed, plywood exports fell by 3% to
2,080 cu.m compared to 2,149 cu.m in the same period in
2013 however, plywood export earnings increased 18%
over the previous year.

The regional markets for plywood included Nigeria,
Burkina Faso, Benin, Togo, Niger and Mali. Nigeria was
Ghana"s leading regional market for plywood accounting
for just over 75% of the total export volume to regional
markets.

The leading export species for the period were teak,
apao/apa, denya, wawa, mahgany, odum, cedrella and
asanfina.

2015 budget review
Finance Minister Seth Terkper said Ghana is reviewing its
2015 budget estimates given a fall in the global crude oil
price which will have a negative impact on the current
account balance and foreign exchange reserves.
Pay Rise for public-sector workers
Ghana will give public-sector workers a 16% pay rise this
year, the first increase since 2013 when the government
froze annual increments as part of its efforts to cut
spending.

Deputy Finance Minister, Cassiel Ato Forson, said the
salary increase will come into effect as of January, adding
that this is within the framework of the agreement with the
IMF as the increase is within the budget limits agreed.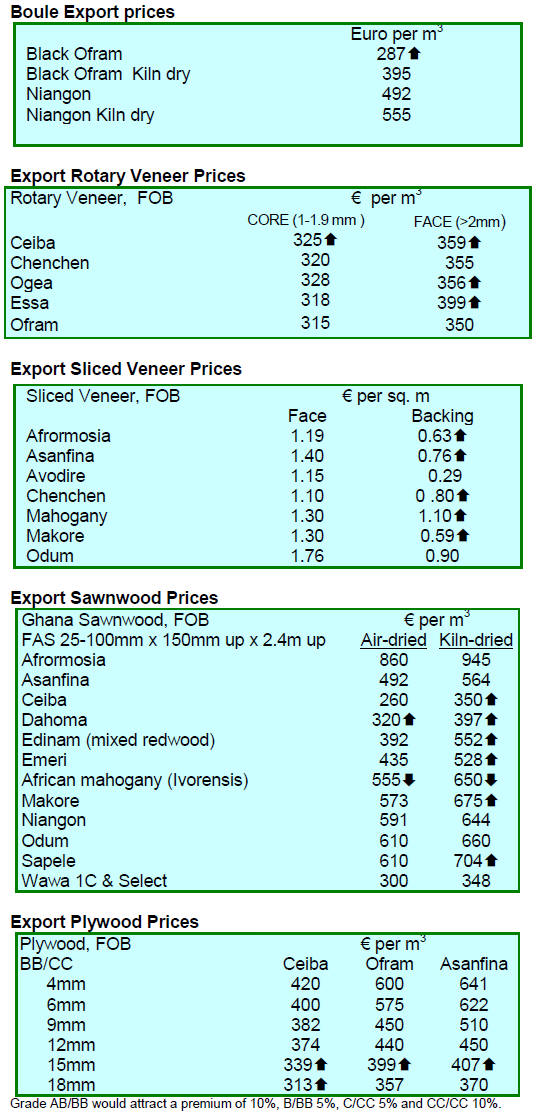 3. MALAYSIA
Heavy rains cause havoc in Sarawak
The first few weeks of 2015 were extremely wet in
Malaysia. The east coast of Peninsular Malaysia suffered
widespread flooding. Just as Peninsular Malaysia began to
recover from the worst of the floods the rain extended into
Sarawak. Incessant rain caused flooding and at one stage
more than 10,000 people had to be evacuated in Sarawak.

Despite the floods industry analysts are confident that
earnings of timber companies are likely to improve in
2015 driven by the favourable ringgit exchange rate and
firm demand for logs.

Fall in ringgit a boost to exporters
The value of the ringgit has fallen to a six-year low against
the US dollar amid renew concerns on a possible rating
downgrade of the country"s debts after the Government
revised up its fiscal deficit forecast.

The ringgit has depreciated 10% against the US dollar
over the past three months and recently settled around 3.65
to the US currency. The last government budget assumed
an exchange rate of 3.24/dollar but now Bank Negara
expects the ringgit to remain weak and likely to trade
between 3.50 to 3.60/dollar for the medium term.

The research arm of CIMB Investment Bank Bhd said in a
recent report it expected the average price of Sarawak
export logs to rise by US$10 to US$15/cu.m (five to seven
per cent). But plywood prices could decline around
US$10/cu.m mainly due to the weaker yen and sluggish
consumer confidence and weak housing market in Japan.

CIMB said it has raised its 2015 meranti regular log FOB
price forecast to US$295/cu.m from US$280/cu.m as it
believes tight supply and stronger demand will lift prices.

The report noted that log harvests in Sarawak are projected
to be lower this year and this, along with the impact of the
log export ban in Myanmar, is likely to drive up prices
especially if demand for logs in India is sustained.

Sarawak plywood export prices
Sarawak plywood traders report the following export
prices.
Floor base (FB) (11.5mm) US$625 FOB
Concrete formboard panels (CP) 3"x 6" US$ 540 FOB
Coated formboard panels (UCP) US$ 620 FOB
Standard plywood:
Middle East (9 ¨C 18mm) US$ 480 FOB
South Korea (8.5 ¨C 17.5mm) US$ 470 FOB
Taiwan P.o.C (8.5 ¨C 17.5mm) US$ 565 FOB
Hong Kong US$ 470 FOB

Export performance in first 10 months of 2014
The Malaysian Timber Industry Board (MTIB) published
export statistics for January to October 2014. For the first
10 months of last year, the country exported timber and
wood products worth RM 16,908 mil. (approx US$4.69
billion). Of the total, 55.6% came from Peninsular
Malaysia, 35.5% from Sarawak and the balance from
Sabah.

In Sabah, by value, the top three products exported in the
first 10 months of 2014 were: plywood (423,813 cu.m),
sawntimber (214,390 cu.m) and logs (258,379 cu.m). In
contrast, the top three products exported from Sarawak in
the first 10 months of 2014 were plywood (1,898,046
cu.m), logs (2,438,741 cu.m) and sawntimber (476,121
cu.m).

Overall, for the entire country, the top three products
exported in the first 10 months of 2014 were:
 wooden furniture RM 5,204 mil.
 plywood RM 4,218 mil. (2,510,271 cu.m)
 and sawntimber RM 2,090 mil. (542,784 cu.m).

In terms of markets, 66% of total wood product exports
(by value) went to Asia, 16% to the Americas, 11% to
Europe, 5% to Oceania/Pacific and the balance to Africa.

Japan was the biggest buyer of wood products from
Malaysia accounting for 20% of the total value of timber
exports in the first 10 months of last year. The USA
accounted for 12%, India 9%, Taiwan P.o.C and
Singapore 5% each and South Korea, Australia, China and
United Kingdom imported approx. 4% each.
4. INDONESIA
Faster growth in exports forecast for this year
The Environment and Forestry Ministry"s Secretary-
General, Hadi Daryanto, has forecast that timber exports
could increase by 5 percent this year from the US$6.62
billion provisionally estimated for last year which if
correct would represent a 3.75% rise from 2013.

Timber exports should get a boost from the market
acceptance of the domestic timber legality assurance
system.

According to the ministry, the implementation of the
timber legality certification system in several regions of
the country has expanded. In particular, exporters in
Jepara, Central Java, have seen a doubling of certified
legal exports.

Indonesia"s timber exports rose from US$6.07 billion in
2013 to US$6.62 billion last year with Asian markets
account for a 74 percent market share followed by the EU
and US, each accounting for around (10%).
Harnessing resources to respond to forest fires
A recent press release from the Environment and Forestry
Ministry provides details of efforts being made to prepare
to respond to forest fires.

Officials from the ministry met with the National Disaster
Management Agency (BNPB) to plan cooperative action.
Both sides agreed on the need to strengthen multistakeholder
collaboration and institutional capacity to deal
with fire disasters. Both sides agreed action was needed to
stop the traditional use of fire to clear land for agriculture.

The advantage the BNPB has is that it can immediately
draw on financial resources to mobilise a task force to
tackle fires.

For more
see:http://www.dephut.go.id/index.php/news/details/9720

Small industries still disadvantaged
The majority of small and medium sized timber companies
face major challenges in complying with the national
timber legality assurance system because of the high cost
of adapting management and production in order to secure
certification.

Deputy Chairman of the Association of Indonesian
Furniture and Handicraft Industry (ASMINDO) Rudy T
Luwia, said if SMEs are serious about exports then they
must be assisted to adapt to the new requirements.

According Indrawan, Project Coordinator of EU-FAO
FLEGT Programme for ASMINDO, association members
exported 25 percent of their output to the US with a further
10 percent going to France.

IFEX exhibition space sold out
The Indonesia International Furniture Expo (IFEX) 2015
will run from 12-15 March 2015 and the organisers PT.
Dyandra UBM International say that the more than 400
exhibitors registered will completely fill the Jakarta
International Expo fairground venue.

As one of Asia"s leading furniture and handicraft
exhibitions the organisers plan to build upon the success of
last year"s event with the strong support of both the
industry and the government.

A recent press release says ¡°An exciting new feature at
IFEX 2015 will be the "Hall of Excellence" that will
showcase Indonesia"s highest quality and most innovative
of furniture and furnishings. The exhibits have been
carefully selected by the Indonesia Furniture and Craft
Association (AMKRI) as products that will satisfy even
the most demanding domestic and international
consumers.¡±

For more see:
http://ifexindonesia.com/2015/exhibition-space-forindonesias-
flagship-furniture-tradeshow-almost-sold-out/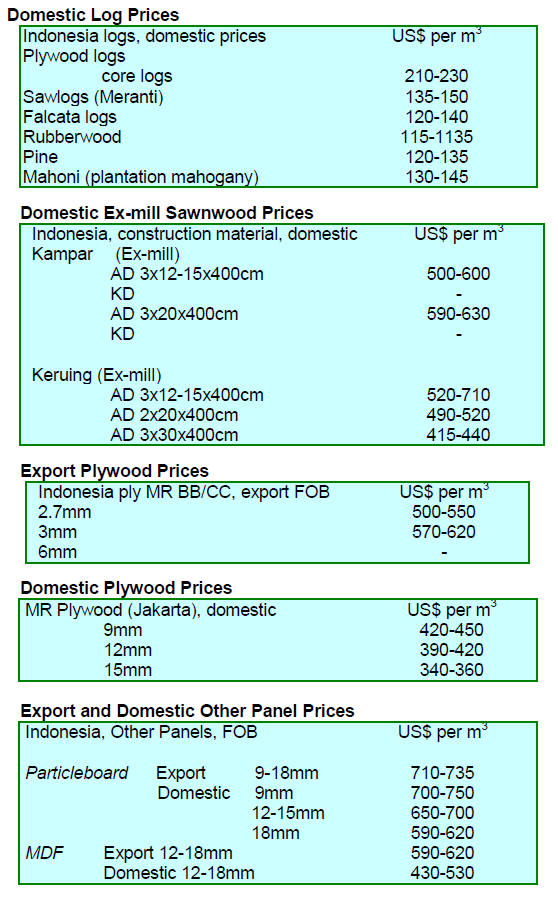 5. MYANMAR
Special open tender sale at Yangon depot
A total of 561 h. tons of teak logs (Sawing Grade 7) were
offered for sale by Special Open Tender by the Myanmar
Timber Enterprise (MTE) in late January.

Of the total, 216 h. tons were sold at an average price of
US$1,263 per h.ton. The balance was not sold as offers
where either below the minimum price or no offers were
submitted.

In addition to the teak 2,932 h.tons of other hardwood logs
were sold. 1,673 h.tons of pyinkado was sold at an average
of US$368/h.ton and 36 h.tons of old stock kanyin logs
fetched an average price of US$214/h.ton. A volume of
1,132 h.tons of freshly harvested kanyin logs were also
sold earning an average of US$459/h.ton.

Sales of hardwood logs in Taunggyi and Pathein
At the most recent sale, 227 h.tons of hnaw (Adina
cordifolia) were sold at an average of US$457/h.ton exsite
Mwaydaw (Taunggyi, Shan State) along with 123
h.tons of taungthayet (Swintonia floribunda) logs sold in
Pathein ( av price US$216/h.ton).
FLEGT VPA workshop
In order to prepare for VPA negotiations an inception
workshop was held in Naypyitaw at the end of January.
This workshop was attended by three key stakeholders,
Government agencies, civil society and the private sector
and was supported by representatives from the EU.

The workshop adopted a recommendation for the
establishment of an "Interim Task Force" comprising
representatives from key stakeholders to kick start the
VPA negotiation process.

Declining export earnings from agriculture and
forestry
Compared to earnings in the last fiscal year, exports of
agricultural, marine and timber products so far this fiscal
year are sharply down.

Year on year there has been a drop of US$63 million in
agricultural produce exports and a fall of US$ 7 million in
animals and animal product exports.

Exports of marine products also recorded a decline and
exports of wood products earned only US$60 million
compared to US$570 in the last fiscal year.
6. INDIA
Plantation teak imports of better quality
The quality of plantation teak log shipments to India from
Brazil, Panama, Colombia and Sudan has improved and
shippers have been rewarded with better prices. However,
as analysts point out, there is scope to improve the quality
and yields from teak plantations.

The higher quality of teak logs arriving from Latin
American plantations has brought some relief to millers
who have been hard hit by the shortage of good quality
teak logs due to the log export ban in Myanmar.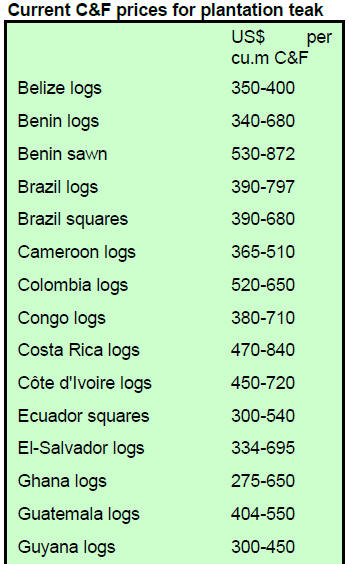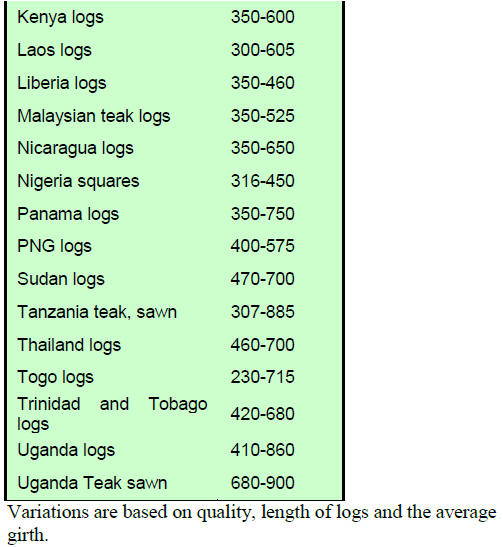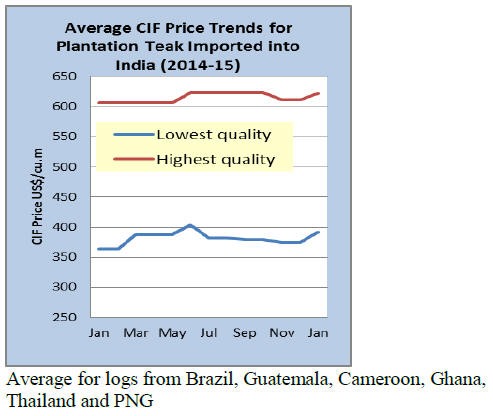 Prices for domestically milled sawnwood from
imported logs
Current exmill prices for air dried sawnwood are shown
below.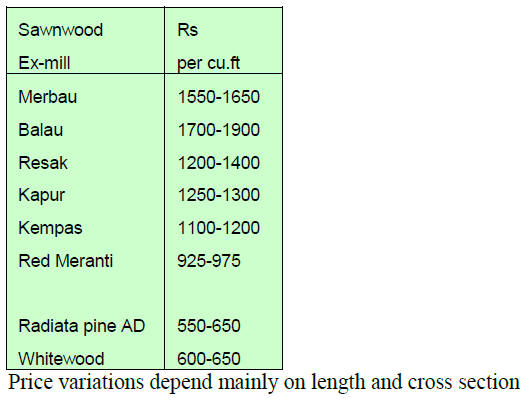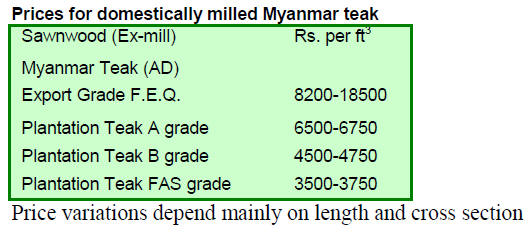 Imported 12% KD sawn wood prices per cu.ft exwarehouse
Demand in India for imported hardwoods remains slow
and prices are unchanged.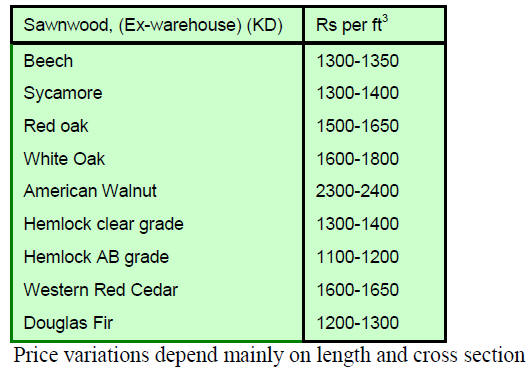 Plywood producers gain respite from high veneer
costs
Indian plywood manufacturers are successfully utilising
imported logs as an alternative to Myanmar gurjan which
was commonly used prior to the log export ban in
Myamnar.

At the same time growing imports of gurjan veneers has
helped stabilise plywood core and face veneers. These
developments, along with the decline in prices for
phenolic resins, have helped plywood manufacturers
remain competitive.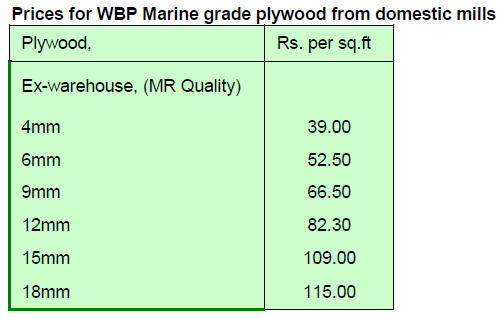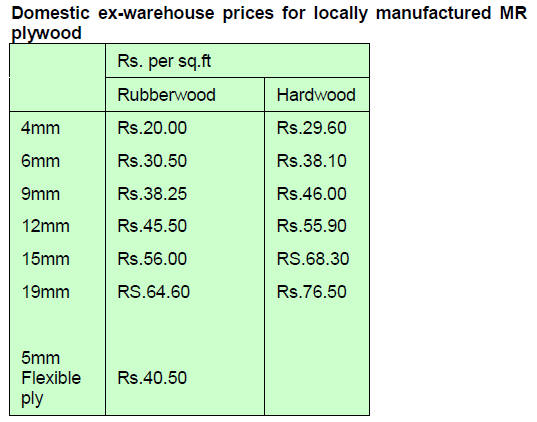 Lower interest rates to boost growth
The Reserve Bank of India has lowered the interest rate it
charges banks by 0.25% to 7.75%, the first rate reduction
in nearly two years. Many business leaders had been
calling for lower interest rates in the face of the weakening
economy. India"s GDP fell to below 5% in the 12 months
to March last year.

Jyotsna Suri, President of the Federation of Indian
Chambers of Commerce and Industry (FICCI) said he
hoped that this will be the beginning of further cuts in the
policy rate by the Central Bank.

A FICCI press release says ¡±We welcome RBI"s move to
cut repo rate by 25 bps, ahead of the monetary policy
meeting. FICCI has been advocating for a rate cut, as cost
of finance is an important factor for giving boost to the
industrial sector, which has been under stress for a long
time now.

This measure will help in improving the investor
sentiment. FICCI hopes that this will be the beginning of
further cuts in the policy rate by the Central Bank, and will
enable its transmission into lower lending rates by the
Banks,¡± The immediate effect of the rate cut was a
strengthening of the rupee which if sustained will make
imports cheaper.

Housing to get massive boost
The central government in India has targeted a slum-free
India by 2022 and is finalising a fiscal incentive package
for affordable housing and slum rehousing projects. This,
say analysts, will include the granting of infrastructure
status to the housing sector which will open new avenues
for financing.

In addition there is discussion on allowing reinvestment of
capital gains from the sale of a single home, easing of
controls on lending institutions and concessions for
imported innovative technology for low cost housing. The
Ministry of Housing and Urban Poverty Alleviation
(MHUPA) estimates the total cost of the new initiative
could reach mission at around US$200 billion.
7. BRAZIL
Fuel tax hike to impact manufacturers
In addition to raising interest rates the government has
indicated it will increase taxes on fuels, imports and
financial operations which they hope will reduce the
country"s deficit and put the economy back into the path
of sustainable growth.

The Monetary Policy Committee of the Brazilian Central
Bank announced an increase in the prime interest rate
(Selic) from 11.75% to 12.25% at its 21 January meeting.
This is the highest rate since August 2014.

Brazil"s Finance Minister, Joaquim Levy, said, ¡°We are
taking a series of actions to re-balance public accounts
with the objective of increasing the confidence and
understanding of economic agents so that the economy can
recover under new conditions,¡±

According to the Minister, the additional fuel tax will
mean an increase of R$0.22 per litre for petrol and R$0.15
per litre for diesel, both increases will drive up
manufacturers production and transport costs.

Product prices
January prices for roundwood from natural forests in
Brazil ranged from US$90 per cu.mto US$177 per cu.m at
mill yard while prices for sawnwood from natural forests
varied from US$243 per cu.m to US$877 per cu.m exfactory
depending on the species. In both cases the higher
prices are for ipe (Tabebuia sp.) considered a top-quality
species.

Prices for parica WBP glue plywood ranged from US$475
per cu.m to US$680 per cu.m ex-factory depending on
thickness. Prices for parica MR glue plywood ranged from
US$436 per cu.m to US$614 per cu.m ex-factory.

Recent prices for reconstituted woodbased panels
averaged US$292 per cu.m ex-factory for MDP (15 mm)
and US$421 per cu.m ex-factory for MDF (15 mm).

Amazon forest development projects funded
The National Fund for Forest Development (FNDF) will
provide R$ 1.3 million for new projects in addition to the
R$ 2.8 million for projects already approved.

The promotion of sustainable forest management in the
Amazon and the restoration of the Atlantic Forest and
Cerrado are priority areas for the FNDF.

The current water crisis in Brazil is related to deforestation
and action will be taken to conserve the existing forests
and on forest recovery.

Only around 10% of the Atlantic Forest has its original
structure and only 50% of the Cerrado (a vast tropical
savanna ecoregion) and Caatinga (a type of desert
vegetation) remains intact.

The Atlantic native vegetation restoration projects will be
supported along with those dealing with the diversification
of tropical timber use and promotion of lesser-known
species of potential commercial value.

Investments boosting forest plantation in Brazil
Brazil currently has 7.6 million hectares of planted forests,
an area equivalent to almost twice the size of Switzerland
and has potential for further expansion.

Brazilian plantation forestry has attracted investment and
application of new technologies and this has been driven
mainly by the pulp and paper sector and the woodbased
panel industries. The states of São Paulo, Minas Gerais
and Paran¨¢ have half the plantation stock in Brazil.

In 1970 each hectare of forest plantation in Brazil yielded
around 20 cu.m per year but today that has doubled.
According to the Brazilian Agricultural Research
Corporation eucalyptus plantations produce over 40 cu.m
per hectare per year in Brazil.

December export performance
In December 2014, Brazilian exports of wood-based
products (except pulp and paper) increased 20% in value
compared to December 2013, from US$219 million to
US$263 million.

Pine sawnwood exports increased by 35.4% in value in
December 2014 compared to December 2013, from
US$15.8 million to US$21.4 million. In terms of volume
exports rose 36%, from 66,800 cu.m to 90,800 cu.m over
the same period.

Tropical sawnwood exports were up 39.7% in volume,
from 27,200 cu.m in December 2013 to 38,000 cu.m in
December 2014. In terms of value exports increased 30%
from US$17.3 million to US$22.5 million, over the same
period.

In December 2014 pine plywood exports increased 24% in
valueyear on year from US$35.3 million to US$43.8
million. Export volumes increased 20%, to 117,400 cu.m.

Brazil"s tropical plywood exports increased a masive 85%
in volume but only from 3,400 cu.m in December 2013 to
6,300 cu.m in December 2014 however in terms of value
tropical plywood exports increased by only 54.5% over the
same period.

Wooden furniture exports continue to do well with
December exports valued at US$41.5 million a 6%
increase.

Mato Grosso forest sector set to grow further in 2015
The forest sector is the fourth largest in Mato Grosso State
and generates a major part of revenues for 40
municipalities and provides over 100,000 jobs. Mato
Grosso is the third largest Brazilian timber producer
(1.033 million cu.m annually).
In 2014 this sector was burdened with tax structures which
are higher than in other Brazilian states placing producers
in Mato Grosso at disadvantage.

In 2013, the state was ranked second amongst states
exporting tropical sawnwood having exported US$45.2
million after the US$69.3 million exported from Par¨¢
state.

Despite the difficulties the Mato Grosso forest sector
exported 857,000 tons of wood products up to December
2014.

TCP to increase handling of wood products
The Paranagu¨¢ Container Terminal (TCP) is located in
Paran¨¢ State and last year the port handled a record
volume of wood products.

TCP is the only terminal in Brazil where there is a direct
connection between the railway and port and it was the
extension of the rail link in Ponta Grossa that allowed TCP
to improve productivity and reduced service costs.

The goal of TCP for the coming years is to increase
capacity and increase its customer base, especially in the
timber sector. This will be done through offering new lines
and maritime services with efficient services at minimal
cost. Wood products shipped through TCP originate in
Paran¨¢, Santa Catarina, São Paulo, Mato Grosso and Mato
Grosso do Sul and the main destinations are Europe and
Asia.

TCP is the second largest container terminal in South
America with capacity to handle 1.5 million TEUs per
year. It has a storage area of 320,000 sq.m and three docks
with a total length of 879 metres.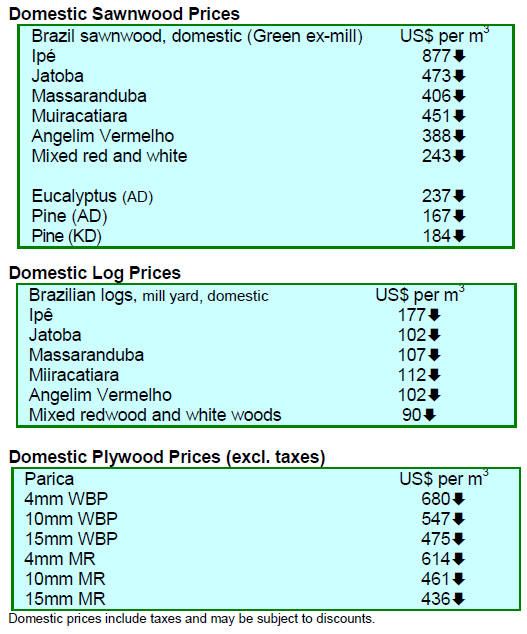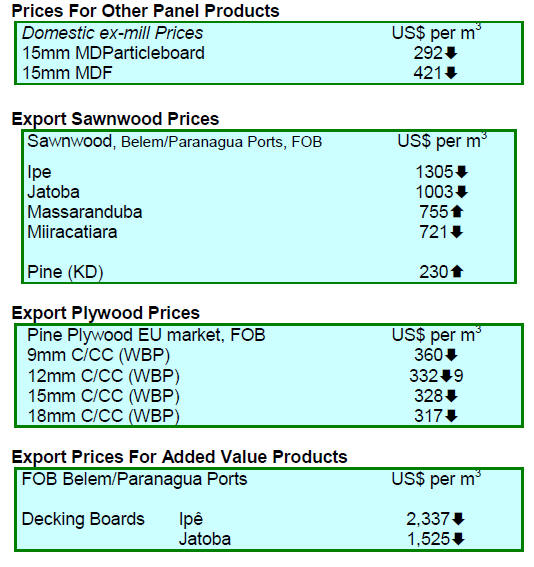 8. PERU
Fall in commodity prices dampens growth prospects
Peru"s economy has been hit by the collapse in copper
price, one of country"s biggest export earners. The
economy was also weakened by contraction in the fishing
and manufacturing sectors.

The National Statistics Agency, INEI, has reported that
GDP grew just 0.31% in November the lowest rate since
2009 global financial crisis.

In response the Central Bank cut its interest rates 0.25% to
3.25%. Many observers were caught by surprise thinking
the bank would maintain the rate to avoid further
weakening of the currency.

March target for approval of new Forestry Act
Lucetty Ullilen, Director General of Forestry and Wildlife
at Serfor (Servicio Nacional Forestal y de Fauna Silvestre)
has said the new Forestry and Wildlife Law N. 29763 is
expected to be approved in early March creating an
environment for an overhaul of forest management
allowing for greater participation of the more than 50
indigenous communities that depend on the forest for their
livelihood.

The Director General has praised indigenous organizations
for the way they have participated in drafting the new
legislation and in explaining what is being proposed to
their respective communities.

Government to assess inefficiencies in the regions
The minister of agriculture, Juan Manuel Benites, has
expressed concern that the powers transferred to regional
authorities are not leading to more efficient management
of the forest concession process and have failed to
effectively combat illegal logging and land clearing.
To assess the situation the minister has called for an audit
of regional administrations. The minister is proposing a
greater central government oversight of actions taken by
regional authorities and establishment of a system of comanagement.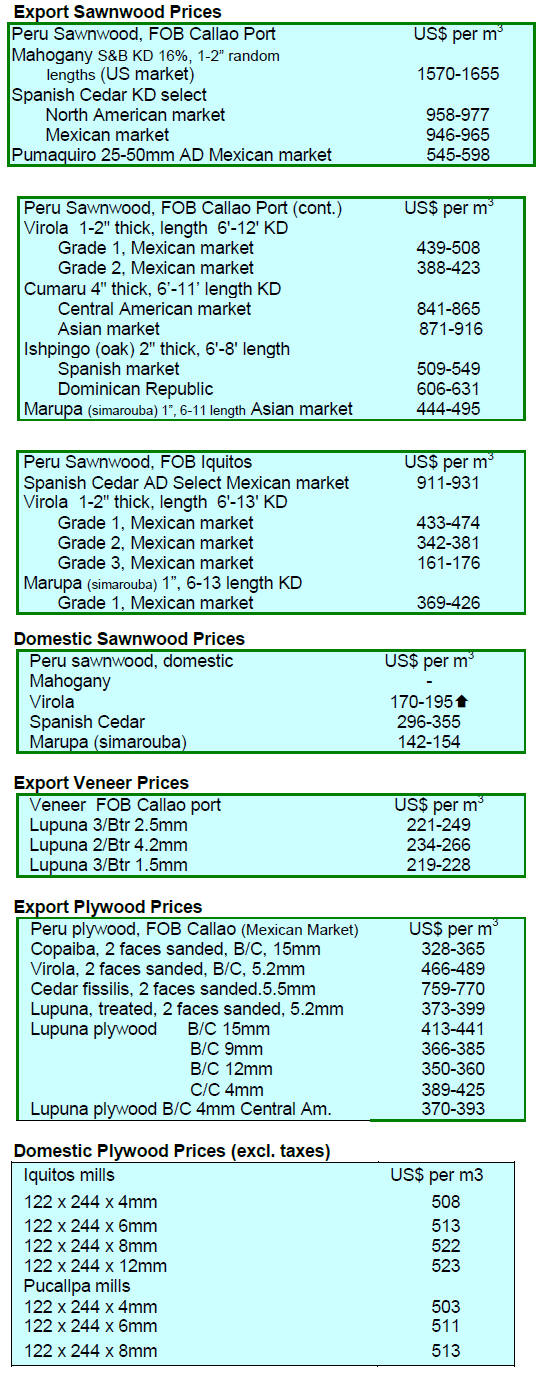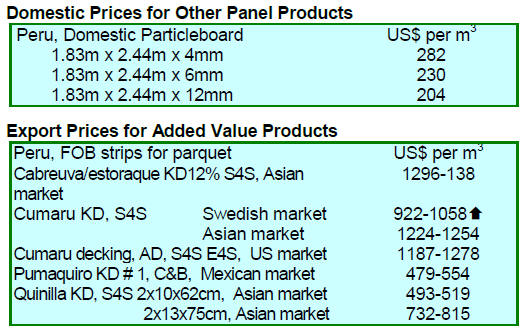 9. GUYANA
Higher export earnings in 2014
The forest sector recorded significant growth in 2014 with
production of around 527,000 cu.m for the year, an
increase of 21 % on 2013.

In 2014 export earnings, at US$54 mil., were significantly
higher compared to the 2013 figure of US$38 mil.

In 2014, dressed and undressed sawnwood exports
contributed 38% to total earning, the second highest
contributor after log exports. Value added products
accounted for just over 9% of total exports the most
noteworthy being plywood and shingle exports.

Another successful product in the export market was
piling ( greenheart) which accounted for 6% of all wood
product exports, almost the same as in 2013.

Other products which did well in export markets were
wallaba poles and posts as well as craft items. Charcoal
and other fuel wood exports, along with non-timber forest
products, accounted for a very small part exports in 2014.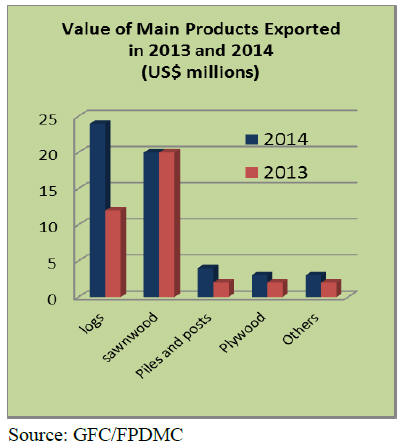 Export prices
There were no export shipments of greenheart logs in the
period reviewed.