Japan Wood Products Prices
Dollar Exchange Rates of 10th January 2015
Japan Yen 118.50
Reports From Japan
Construction companies report firm orders
Data from Japan"s Ministry of Land, Infrastructure,
Transport and Tourism show that housing starts fell
sharply in November dropping by 14% year on year
following the 12% drop in October.

As of November 2014 annual starts are likely to end the
year at 888,000 units, a disappointing figure for the
suppliers of wood products. On a brighter note the largest
construction companies have reported new orders grew by
17% in November better than the October levels. The
November figure for new orders represents the fastest gain
in four months.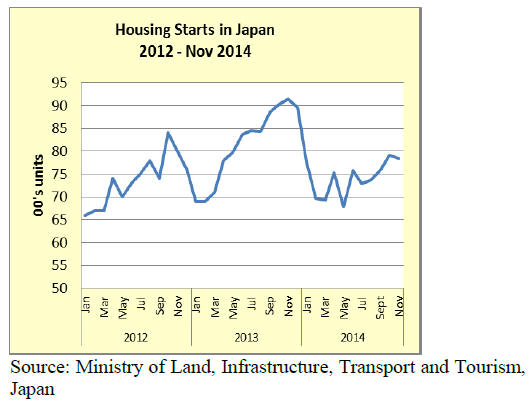 In addition to reintroducing the eco-point system for
energy efficient homes the government is working on
guidelines for housing features deemed helpful to families
with children. This is part of the government"s effort to
reverse the falling birth rate in Japan.

Consumer sentiment remains weak
Japan"s cabinet office released it assessment of the current
state of the Japanese economy as of December 2014.

The report says: "The Japanese economy is on a moderate
recovery, while weakness can be seen in private
consumption."

The report notes:
Private consumption holds firm, while weakness can be
seen in consumer sentiment recently.
Business investment is almost flat.
Exports are flat.
Industrial production is bottoming out.
Corporate profits remain almost flat as a whole, while
showing an improvement in large manufacturers.
Firms' judgment on current business conditions is almost
flat.
The employment situation shows a trend toward
improvement, while an increase in job offers to applicant
ratio appears to be pausing.
Consumer prices are flat recently.

Concerning short-term prospects, although weakness
remains for the time being, the economy is expected to
recover, supported by the effects of the policies, while
employment and income situation show a trend toward
improvement. However, attention should be given to the
downside risks of the Japanese economy such as declining
in consumer sentiment and slowing down of overseas
economies."
See: http://www5.cao.go.jp/keizai3/getsureie/
2014dec.html

Weaker yen – companies relocate back to Japan
The Japanese government has implemented policies to
weaken the yen in the hope of reversing deflation. The
falling yen has benefitted exporters but companies
dependent on imported raw materials have suffered.

Records on company bankruptcies in 2014 disguise the
fact that many more companies have voluntarily stopped
operations rather than go through bankruptcy proceedings.

The yen continues to weaken and has fallen almost 10%
since the Bank of Japan poured more cash into the
economy in October and is now at a seven year low.

On the positive side the weak yen is causing some large
manufacturers, especially electronic companies to consider
returning some of their production facilities back to Japan
as the declining yen makes domestically made goods more
competitive.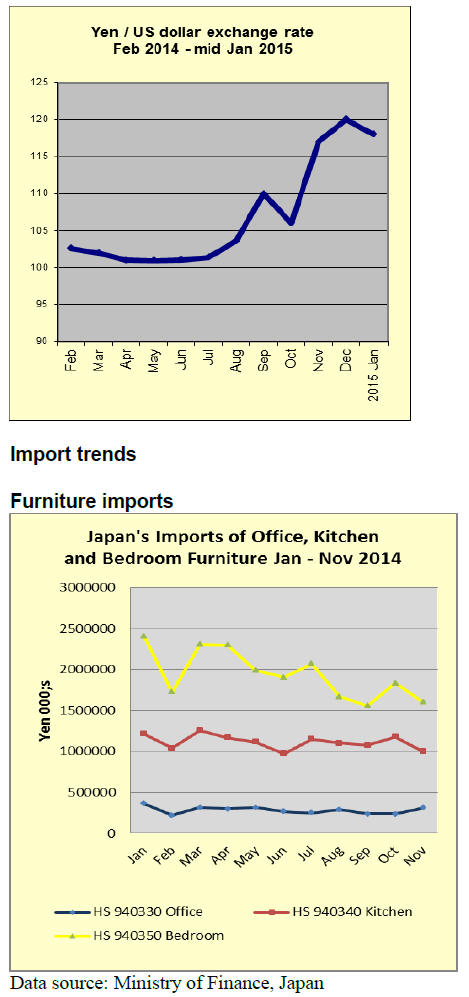 Japan"s November 2014 office furniture imports rose
slightly with China boosting its market share to 57%.
Three ITTO producer countries accounted for 15% of
Japan"s office furniture imports in November: Malaysia
(12.4%) Indonesia (2.4%) and a small quantity was
supplied from Thailand.

Kitchen furniture imports to Japan are dominated by
suppliers in S.E.Asia which accounted for 78% of all
kitchen furniture imports in November 2014. Vietnam was
a major supplier (49%) followed by Philippines (14.5%),
Indonesia (13.6%), Thailand (7%) and Malaysia (6.2%).
Japan"s imports of kitchen furniture from China amounted
to just 16% of total imports of this category of furniture.

In contrast, China supplied 56% of Japan"s November
imports of bedroom furniture with a further 37% coming
from ITTO member countries in Asia. The top Asian
supplier was Vietnam (28%) followed by Thailand (4.5%),
Malaysia (3.4%) and a small quantity of bedroom furniture
was supplied from Indonesia.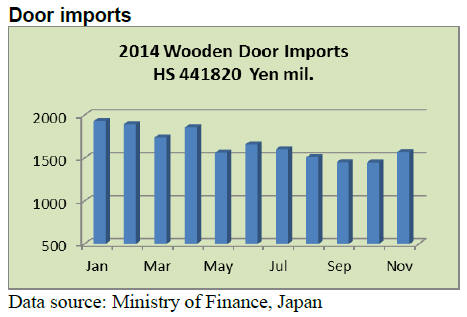 Japan"s door imports rose 8% in November compared to
October and November 2014 imports were 2% higher than
in November 2013.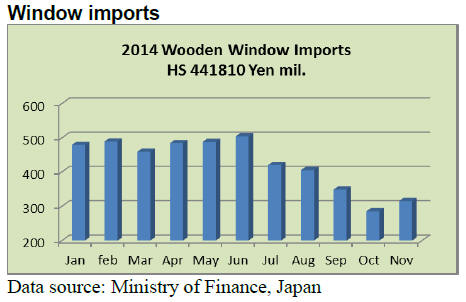 Window frame imports to Japan rose 10.5% in November
compared to October but November 2014 imports were a
massive 49% lower than in November 2013.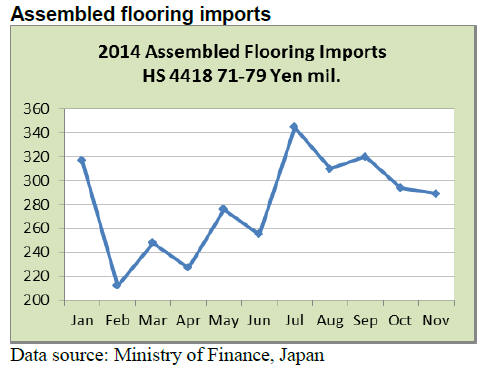 Japan"s assembled flooring imports in November were
down 2% compared to October but November 2014
imports were 2% higher than in November 201.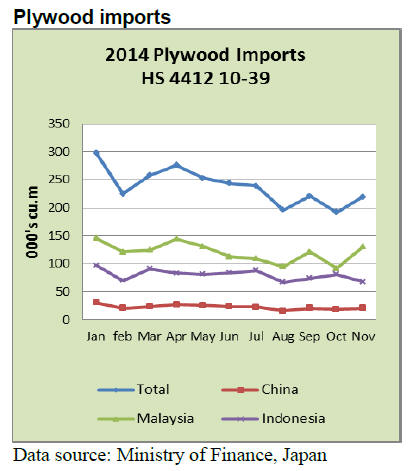 Imports of plywood from China rose 15.8% in November
compared to October but November 2014 imports were
14% lower than in November 2013.

Japan"s imports of plywood from Malaysia rose sharply in
November (up 41% on October) but overall November
2014 imports were only 4% higher than in November
2013. In contrast plywood imports from Indonesia fell
month on month and year on year.

Trade news from the Japan Lumber Reports (JLR)
The Japan Lumber Reports (JLR), a subscription trade
journal published every two weeks in English, is
generously allowing the ITTO Tropical Timber Market
Report to extract and reproduce news on the Japanese
market.
Rush to biomass power generation
After FIT (feed in tariff) system was introduced in July
2012, many plans of wood biomass power generation
facility mushroomed and some have already started
running.

There are total of about sixty plans out which 33 will start
operation next year. There are 18 facilities, which will
start up by next April. There are some huge generation
plans with power output of 75,000-100,000 kw on the
coast then small co-gen plants in local area.

Six facilities, which use unused wood, are already
operating. They are Green Hatsuden Aizu, Green
Hatsuden Ooita, Nagano Forest Resources Utilization Coop.,
Woody Kawai, Nakagawa Biomass and Miye
Enewood.

Fuel raw material procurement is progressing all over
Japan. There are difference in supply capacity and prices
by the area. In Western Japan and Shikoku, the price of
unused wood is 8,000 yen per green ton delivered to chip
plant. In Kyushu, there are growing new demand for logs
for fuel and export and it is hard to procure with less than
7,000 yen.
Log production should be active in winter months but the
log market may show different picture when low grade
logs bring high prices, which may impact log prices for
sawmills and plywood mills.

There are some revisions of the initial plan like downscale
of generation capacity and there are some cases of
cancellation by failure of property acquisition and
opposition by local residents.

Tropical (South Sea) log imports
Log producing regions of Sabah and Sarawak have been in
the rainy season since middle of November. Hauling logs
by truck gets difficult by muddy road. Particularly Sabah
depends on truck hauling so the production is dropping by
about half of dry season.

On top of foul weather, environmental groups are now
strongly demanding to watch illegal logging in Sarawak.
The Forestry Bureau has started checking legality of
harvested logs and watching if logging is properly done in
designated areas and in some cases, harvest is stopped
until legality of harvested logs is confirmed. This reduces
log production in Sarawak.

Due to slow purchase by China and normal pace of India"s
purchase, log supply and demand seem to be
balancing and the prices stay up high. FOB prices of
Sarawak meranti regular for Japan market are $270-295
per cbm and of meranti small are $245-260 and super
small are about $230. All remain unchanged from last
month.

Kitakami Plywood plans plywood export
Kitakami Plywood mill is under construction and will be
completed by the end of this year. It plans to acquire JAS
certificate on structural plywood in January next year then
will start commercial production in March.

The plant uses 100% locally produced species like cedar
and cypress to produce about 3.3 million sheets (12
mm/3x6 base). The main product will be structural panel
then in future it will make concrete forming panel and
floor base panel. Since Seihoku group has other plywood
mills in the same region, mills adjust producing items with
each other. After Kitakami mill starts up, other mills
reduce production of structural panel, which will be
Kitakami"s main product and make other items.