2. GHANA
Third quarter exports up 21%
The Timber Industry Development Division (TIDD) of the
Ghana Forestry Commission (FC) has released its Timber
Export Report for the first nine months of 2014.

In the first nine months of the year Ghana exported a total
of 249,846 cu.m of timber and wood products worth euro
98.50 million. This represented increases of 21% in
volume and 7.8% in value compared to same period in
2013.

Products for which increases were recorded included kiln
and air dry sawnwood, poles and billets. A large volume
of gmelina poles were exported to India.

Table below shows the products exported during the
period and the corresponding volumes and values.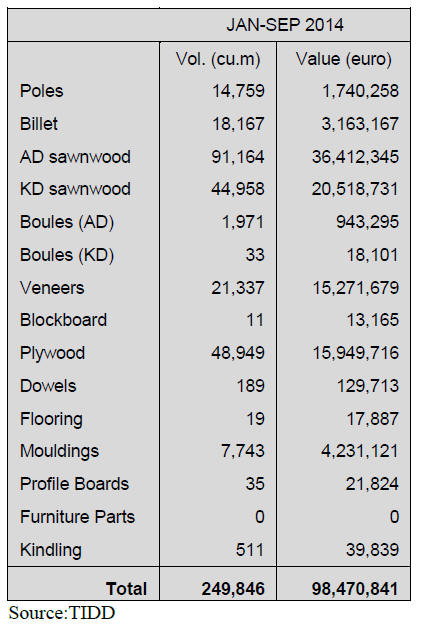 The major markets for Ghana"s wood product exports in
the first three quarters of 2014 were Asia/Far East 44%,
Africa 26% with the balance going to Europe. Other
markets included the US (5%), Middle East (3%) and
Oceania.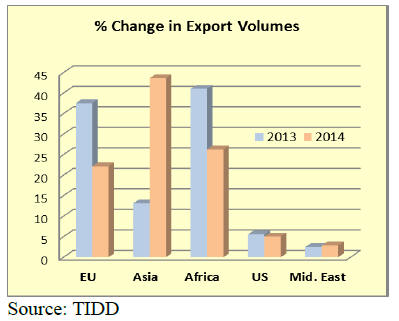 The Average Unit Price for 2014 exports to the ECOWAS
market was in the range of euro 229-434 per cu.m, up
slightly on the euro 223¨C392 per cu.m in the same period
in 2013. Exports to Niger were the lowest priced while
export prices in the Togo and Gambia markets were the
highest.

The main export species included wawa, Mahogany,
gmelina,teak, papao, koto, odum, ceiba, walnut, ofram.
Manufacturers continue to struggle with power
rationing
The National Petroleum Authority (NPA), the regulator of
fuel prices in Ghana, lowered the prices of petroleum
products by 10%, as off 1 January 2015. The price
reduction followed a public outcry on delayed petroleum
price reviews since world crude oil prices began to fall in
June 2014.

Many have argued that the 10% reduction in prices by the
regulator is woefully inadequate judging the drastic
reduction of world crude prices by about 50%.

Meanwhile, manufacturing businesses continue to battle
with power rationing and can only manage production by
using independent generators which pushes up production
costs.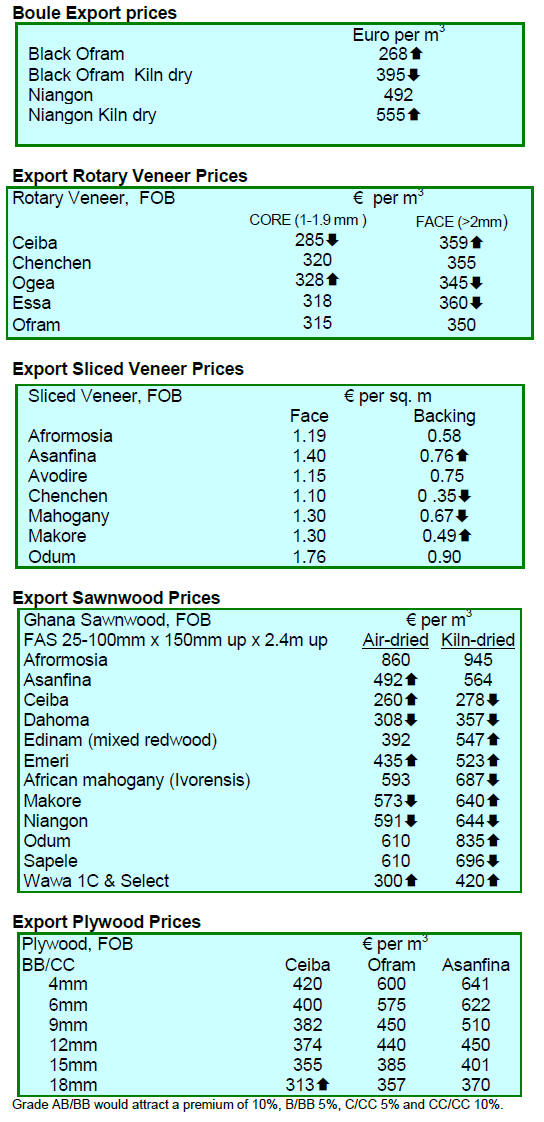 3. MALAYSIA
Low oil prices to impact GDP
The falling price of crude oil continues to put pressure on
the Malaysian currency the ringgit which was the worst
performing currency in ASEAN last year. If the low crude
prices persist then the outlook for Malaysia"s economic
growth in 2015 will dim.

Malaysia is the only net oil exporting country in ASEAN
and analysts expect that the country will lose out most
from plunging oil prices. The oil and gas sector
contribution to the Malaysian economy is projected at
11% of gross domestic product in 2015.

New tax regime
The Goods and Service Tax (GST) will come into force on
1 April this year and businesses are concerned on how this
will impact consumer sentiment, especially when it comes
to the property market. Most analysts say property prices
are sure to dip immediately after the new tax is introduced
but should rebound once the initial shock subsides.

Timber traders are watching development closely and
trying to anticipate how the GST will impact the industry.

Sabah plywood exports
The Sabah Statistics Department has released its January
to November 2014 trade data.

In the first eleven months of 2014, Sabah exported
523,098 cu.m of plywood worth RM865 mil.
(approx.US$240 million). By comparison, in the same
period in 2013 Sabah exported 594,948 cu.m of plywood
worth RM949 mil.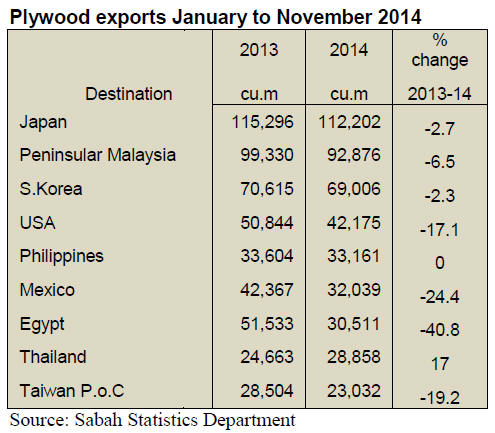 Sabah sawnwood export data
In the first eleven months of 2014, Sabah exported
236,625 cu.m of sawnwood worth RM358 mil.(approx.
US$99 million). In the same period in 2013 223,041 cu.m
of sawntimber worth RM 333 mil. was exported.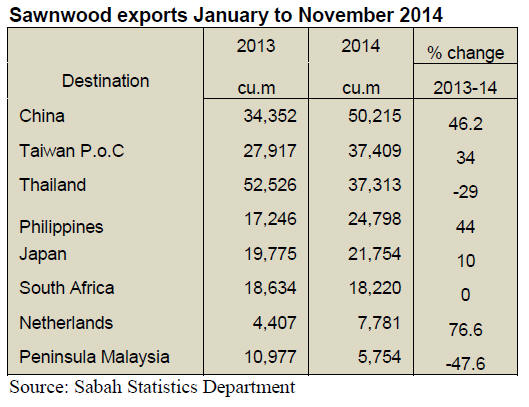 Sarawak Forestry enlists help on plantation
development
Sarawak is refocussing its attention on plantation forests
as the rate of planting in recent years has been falling. The
State Government has stepped in to help the industry move
forward. Sarawak Forestry Corp. recently signed a three
year contract with Forest Solutions Services Pvt Ltd (FSS)
as part of the corporation"s ambitious Planted Forest R&D
programme.

Dr. Yusoff Hanifah, chairman of the Sarawak Forestry
Corp (SFC) said this project, fully funded by the
Government of Sarawak, has been designed to achieve fast
track acquisition of R&D capacity and to address the
shortage of high-quality planting materials and resolving
pressing technical issues.

Glen MacNair, Managing Director of FSS, said that the
company will provide a team of international specialists in
various fields such as tree breeding and forest genetics to
assist the state government achieve its aims.
4. INDONESIA
PEFC certification
Indonesian timber companies will see improved access to
international markets after the Programme for the
Endorsement of Forest Certification (PEFC) endorsed the
domestic "Indonesian Forestry Certification Cooperation
Programme (IFCC).

The PEFC requires standards to be developed through
multi-stakeholder and consensus-based processes at the
national level and IFCC IFCC chairman, Dradjad
Wibowo, said his organization will work to maintain the
high standards demanded to ensure the endorsement by
PEFC remains valid.
Revised regulations for wood product export controls
The Indonesian Ministry of Forestry has issued a press
release on revised regulations for wood product export
controls.

This says, beginning 1 January this year, the revised
regulations for Indonesia"s domestic Timber Legality
Assurance System (TLAS) came into effect. The revisions
were agreed by the Ministry of Environment and Forestry,
the Ministry of Trade and the Ministry of Industry and are
aimed at supporting export growth through simplifying the
TLAS requirements for small and medium sized
enterprises.

The changes are defined in a regulation of the Ministry of
Environment and Forestry, P.95 / Menhut-II / 2014 of
December 22, 2014 and an Amendment to regulation No.
P.43 / Menhut-II / 2014.

Changes have also been made to the regulation on
Performance Assessment of Sustainable Production Forest
Management, Timber Legality Verification and a
Regulation on Export Control of forest products.

Under the previous regulations exports of wood product
were only permitted from Registered Exporter of Forestry
Product Industry (ETPIK) i.e. those that had valid TLAS
certificates.

However, under the new system the requirements for
SMEs and furniture manufacturers the ETPIK regulations
have been simplified.
See: http://www.dephut.go.id/index.php/news/details/9701

Despite the simplified arrangements for small companies
as many as 40% of the larger furniture manufacturers in
Indonesia as yet do not have TLAS certificates said David
Wijaya, Counsel for the Association of Indonesian
Furniture and Handicraft Industry (Asmindo).

The Chairman of Asmindo - Surakarta, Yanti Rukmana,
noted that implementation of the Indonesian TLAS can no
longer be postponed and that Asmindo is ready to assist
exporters through the TLAS process.

Forestry administration re-organised
The Ministry of Environment and Forestry has completed
preparations for their organizational restructuring. Under
the new structure, the management of the Reduced
Emissions from Deforestation and Forest Degradation
Programme (REDD + BP) has been merged into the
Directorate General for Control of Climate Change.

The Minister of Environment and Forestry, Siti Nurbaya
Bakar, explained the ministry now coprises a Secretariat-
General, Inspectorate General, and 9 Directorate General,
namely:
1) Forestry Planning and Environmental Management,
2) Natural Resources Conservation and Ecosystems,
3) Watershed Management and Protection Forests,
4) Sustainable Forest Management,
5) Pollution Control and Environmental Degradation,
6) Management of Residues, Waste and Hazardous and
Toxic Materials,
7) Control of Climate Change,
8) Social Forestry and Environmental Partnership,
and 9) the Environment and Forestry Law Enforcement.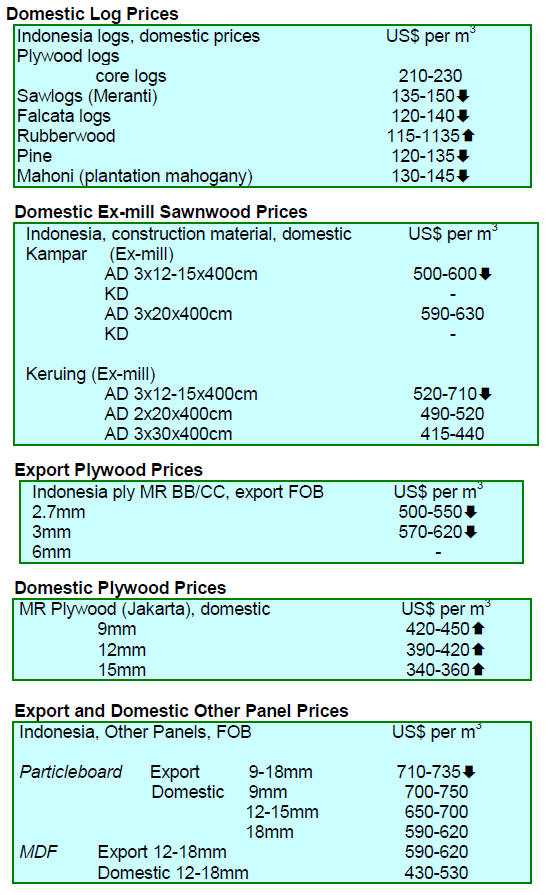 5. MYANMAR
A memorable year for MTE
2014 was a memorable year for the Myanma Timber
Enterprise (MTE). The log export ban came into effect at
the beginning of fiscal 2014 and this was followed by
news of corporatisation of the enterprise. MTE sawmills
are to be either being auctioned or leased and there is
concern on the fate of the staff and workers.

In addition the year saw MTE being blamed for
deforestation because they exceeded the annual allowable
cut but local analysts point out that most of the
deforestation has been caused by illegal felling.

Many of the areas with the worst record for illegal felling
are those where armed conflict continues such that
unarmed forestry officials are helpless to combat the
problem.
No decline in auction prices after log export ban
Most analysts expected a sharp decline in the price of teak
logs sold by the MTE after the export ban, in fact as can
be seen from the table below they were wrong as prices
have been sustained even though the supply of logs in the
monthly sales by MTE remained almost at the same level
as in the previous year.

The following table shows average tender prices for teak
log sold by MTE. Prices are US$ per ton hoppus measure.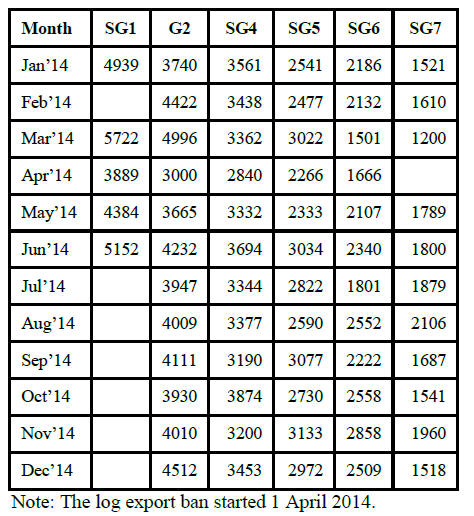 With the domestic boom in the building and construction
sector there is a need for more timber which will help
maintain price levels. However, Aluminum and steel are
now replacing timber for structural use in construction of
homes and bridges but for interior use decorative species
are in demand.

Fatal shooting of foresters
The state run English newspaper, Global New Light of
Myanmar, reported on a press conference held by the
Forest Department (FD) on the fatal shooting of four forest
officers in Langkho Township in Southern Shan States. It
appears that on receiving news about illegal felling in the
area the officers went over to Wansalaung village and
during their inspection seized 202 tons of padauk logs.

On their return to Langkho they were fired upon by an
armed group and four forestry officers, including the
Assistant Director of the Shan State Forest Department
were killed.

Army seizes illegal logs and vehicles
Between 2 and 5 January the Myanmar Army in
operations in the north of Myanmar bordering China
seized 472 vehicles and logging equipment.

Fourteen trucks were loaded with timber at the time and
20 Myanmar citizens and 119 foreigners were
apprehended. In addition to the seized logging equipment
the officers found stimulants and raw opium in the
belongings of those held.

The army continued its search and seized a further
collection of logging equipment along with 240 high value
logs. Some 17 workers from a neighboring country were
detained.

According to Pyi Soan Myo of the FD, this operation
netted the largest ever single haul of equipment and logs
over the previous five years. According to FD statistics,
134 Chinese and 23,000 Myanmar nationals along with
more than 140,000 tons of illegal timber, weapons, 3500
trucks and ancillary equipment were seized between April
2011 and November 2014.

It has been reported that a new round of talks will be held
with Chinese officials during January which will focus on
cross-border issues and matters relating to Chinese
nationals being held by the Myanmar authorities.

Open tender sales by MTE
MTE will sell timber by open tender on the 23 and 26
January. About 900 tons will be sold at the first auction of
2015.
6. INDIA
Wood product price index drops
The Office of the Economic Adviser (OEA) to the Indian
government provides trends in the Wholesale Price Index
(WPI).

The official Wholesale Price Index for "All Commodities"
(Base: 2004-05 = 100) for the month of November 2014
fell to 181.5 (provisional) from 183 for the previous
month.

The annual rate of inflation, based on the monthly WPI,
remained at 1.77% (provisional) for November 2014.

For more see: http://eaindustry.nic.in/display_data.asp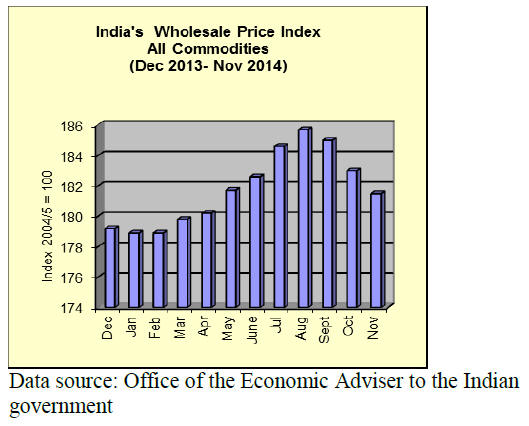 Timber and plywood wholesale price indices
The OEA also reports Wholesale Price Indices for a
variety of wood products. The Wholesale Price Indices for
Logs/timber and Plywood are shown below.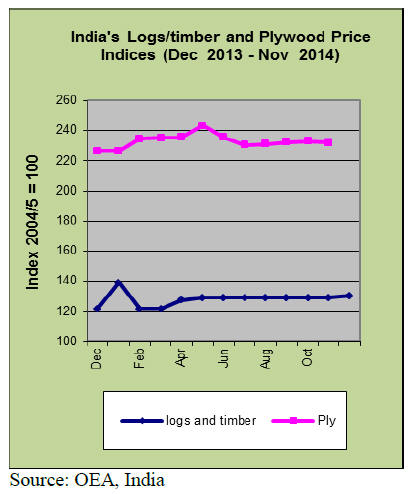 The November index for the 'Wood and Wood Products'
group rose by 0.2 percent to 186.5 (provisional) from
186.1 (provisional) in October due mainly to higher price
of veneered particleboard.
See: http://eaindustry.nic.in/display_data.asp

Development and environmental protection to go
hand-in-hand
The Indian government is examining a range of options to
achieve its twin goals of economic growth and
environmental protection.

Most of the new suggestions have come from the Ministry
of Environment and could be incorporated into existing
legislation or included as part of a new law which could be
introduced in parliament next month.

The suggestions include new measures to deal with air
pollution, environmental risk mapping of the country,
solid waste disposal, noise pollution as well as regulations
on animal trapping.

Environmental mapping of the country would provide the
basis for identifying sensitive areas where developments
would be restricted. Such areas could include forests with
as much as 70% tree cover, wildlife protected areas, ecosensitive
zones and bio-diversity hotspots.

The creation of a National Environment Management
Authority (NEMA) at the national level and State
Environment Management Authorities has been proposed.

Western region actions ¨C e-action style resisted by
traders
Log stocks at various depots in the north and south
divisions of the Dang Forests District are abundant and log
auctions will take place this month. Approximately 12,000
cubic metres of mostly newly harvested teak logs and
about 1,000 cubic metres of hardwoods are expected to be
sold.Additional logs are arriving in readiness for auctions
in February and analysts expect around 20,000 cubic
metres will be available.

The e-auction method adopted in recent sales has not been
well received by buyers who prefer the old system where
logs were sold by on the spot bids. But the Forestry
Department wants to continue with the e-auction method.

Plantation teak imports
The level of imports and domestic consumption of
imported plantation teak are currently well balanced such
that stock levels remain steady. Importers have reported a
general improvement in the size and quality of the logs
that have been arriving recently and this has lifted some
price levels.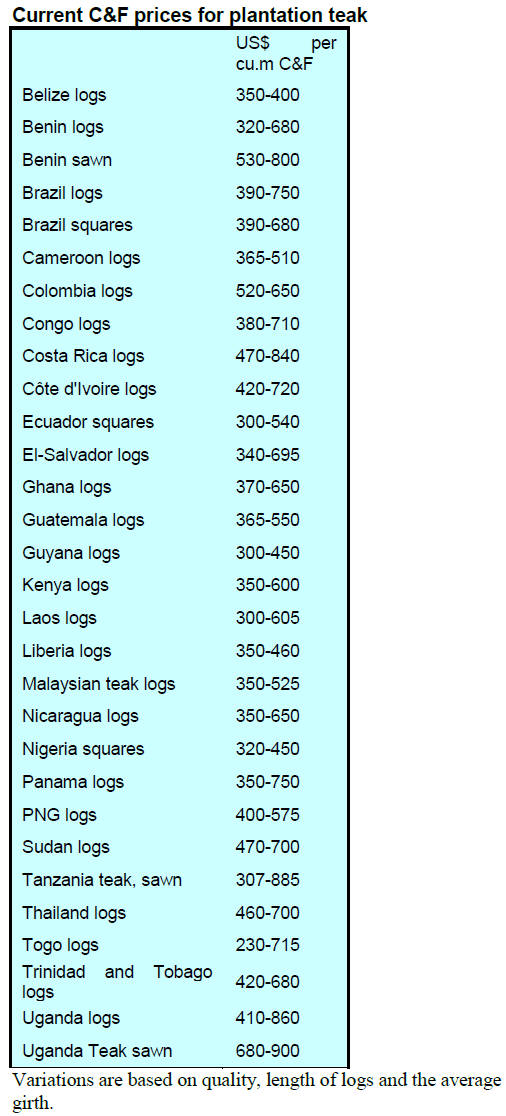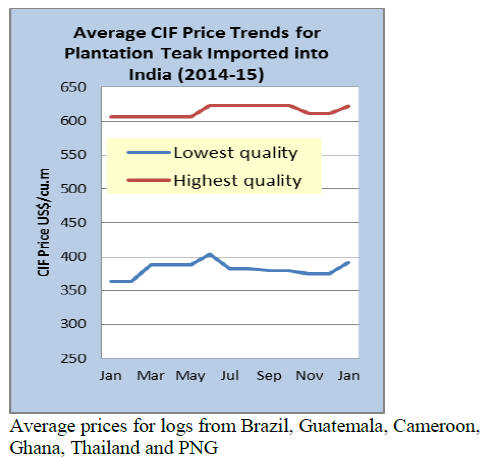 Prices for domestically milled sawnwood from
imported logs
Current exmill prices for air dried sawnwood are shown
below. As the housing market has weakened recently,
sawnwood prices are not expected to change in the short
term.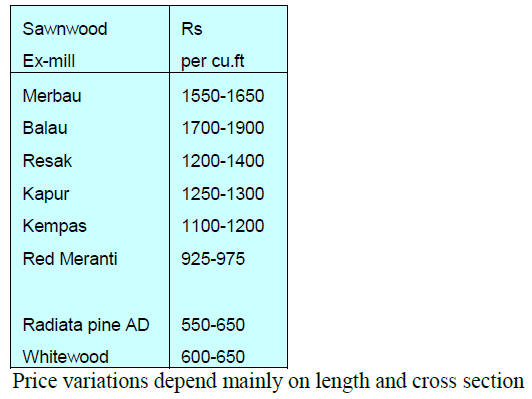 Sawn teak prices up slightly
Indian importers of sawn teak from Myanmar are
optimistic that with some relaxation of the export
regulations for sawn teak the flow of imports from
Myanmar could improve.

Indian traders holding stocks of Myanmar teak logs have
been pushing for price increases and have had some
success in lifting prices during recent weeks.

Housing development to boost plywood sales
The CREDAI e-newsletter of 16 December 2014
(http://credai.org/sites/default/files/Issue-19-Real-Estateat-
Glance-16-12-2014.pdf) reports on changes to FDI
investment rules that could boost the housing market. The
newsletter says ¡°The government on has eased foreign
direct investment (FDI) norms for the construction sector
which is expected to provide a substantial boost to the
sector in terms of greater foreign capital inflows.¡±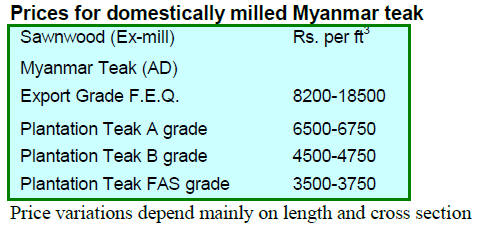 Imported 12% KD sawn wood prices per cu.ft exwarehouse
Demand in India for imported hardwoods remains slow
and prices are unchanged.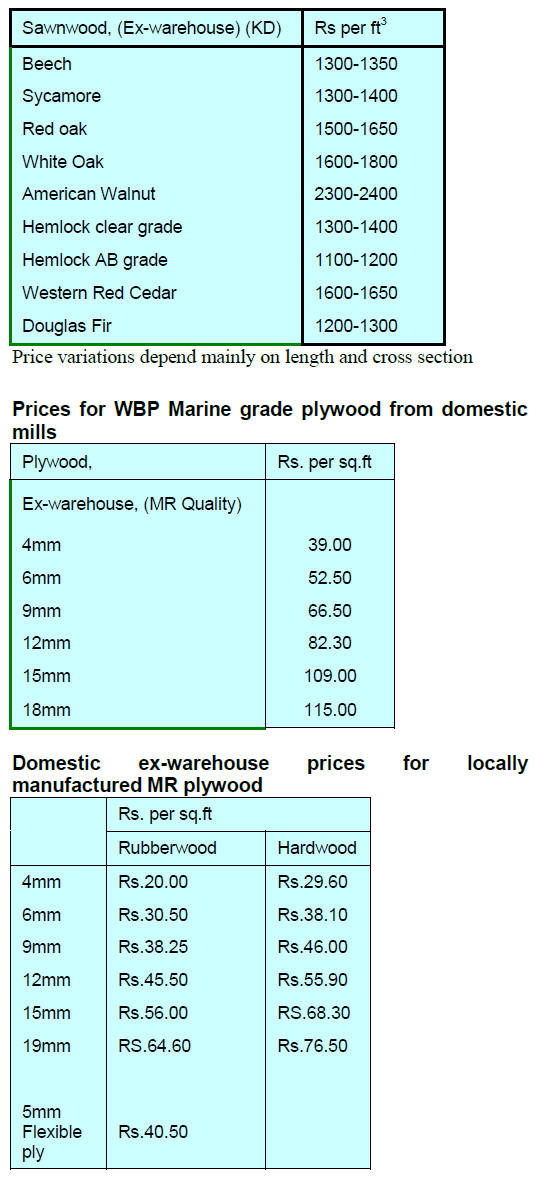 ¡¡
7. BRAZIL
Furniture industry braces for tough competition
The value of furniture output in Mato Grosso do Sul
increased by over 70% in 2014 compared to the previous
year, from R$ 116.1 million to R$ 201.3 million,
according to the Inter-municipal Union for the Furniture
Industry in Mato Grosso do Sul (SINDIMAD/MS).

However, production in 2015 is expected to expand by just
4% to R$ 209.3 million mainly because of the negative
impact of rising interest rates and a stagnant domestic
economy.

According to SINDIMAD, the industry would benefit if
the government simplified and lowered the tax burden,
invested in infrastructure and encouraged innovation.

In 2015 the furniture industries in Brazil expect to face
stiff competition from Chinese manufacturers so plan to
investment in innovation, advanced technology and
training.

The Mato Grosso do Sul furniture sector comprises of 405
industries and employs almost 3,000 workers.

Address efficiency and design to remain competitive
The Bento Gonçalves furniture cluster reported a
disappointing 2014 as furniture output fell. The weak
domestic economy hit sales in 2014 and prospects for
2015 are not positive as the Brazilian economy is forecast
to expand by just 1% in the year. The Brazilian National
Confederation of Industry (CNI) expects low demand and
anticipates a tough time for the furniture industry in the
country in 2015.

Up to 2014 the Brazilian furniture industry recorded four
consecutive years of growth after the 2009 financial crisis.
However, between January and October 2014 the furniture
sector in Bento Gonçalves faced serious problems; the
labour force fell 3.6%, revenues dropped almost 4% and
exports plummeted 14%.

According to SINDMÓVEIS, companies must address
efficiency and improve their competitiveness through
adopting design strategies, market diversification and
technological innovations. SINDMÓVEIS is strengthening
its technical training activities for members and seeking
new opportunities in international markets.

Pine sawnwood exports up 30%
In 2014 Brazilian exports of pine sawnwood totaled
almost 1 million cubic metres year on year, representing a
30% growth compared to the previous year. Pine plywood
exports also increased by 10% to around 1.2 million cubic
metres in the same period.

This performance was underpinned by growth of the
construction market in the United States and the
appreciation of the US dollar against the Brazilian
currency. Weakness in the domestic market in Brazil
drove manufacturers to actively seek new international
markets.

The United States market accounted for around 45% of
Brazilian pine sawnwood exports in 2014 but Europe was
the main market for Brazilian pine plywood and this trade
was worth US$470 million in 2014.

Saudi Arabia, Vietnam, Mexico and China were also
important export destinations for Brazilian pine plywood.

Despite the good performance in 2014, exports of both
pine sawnwood and plywood are still well below 2008
levels, i.e. before the global financial crisis suggesting
there is considerable room for further growth if the US and
EU economies improve.

2015 fair to promote international business dialogue
MOVELPAR 2015, the Paran¨¢ State furniture fair will be
held in March. This will be the 10th fair which will see
promotion of the international ¡°Buyer Project¡±, which
supports business negotiations between foreign importers
and participants of the Brazilian Furniture Program
managed by APEX Brazil (Brazilian Trade and Investment
Promotion Agency) and ABIMÓVEL (Brazilian Furniture
Association).

The aim of the fair is to present innovations in the
Brazilian furniture industry focusing on quality,
differentiation and design to strengthen ties between
Brazilian manufacturers, retailers and designers and
potential buyers.

The MOVELPAR 2015 is organised by Arapongas
Furniture Industries Union (SIMA) and expects to host
more than 20 importers for the business negotiations. In
2013 business at the fair exceeded US$ 10 million, an
increase of 50% compared to the results of the previous
fair in 2011.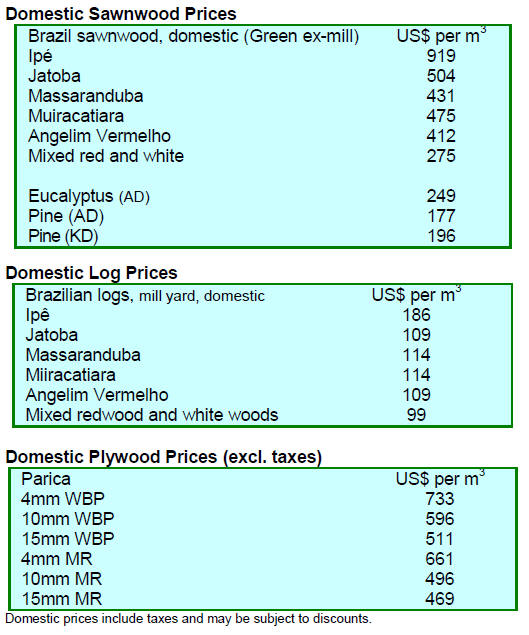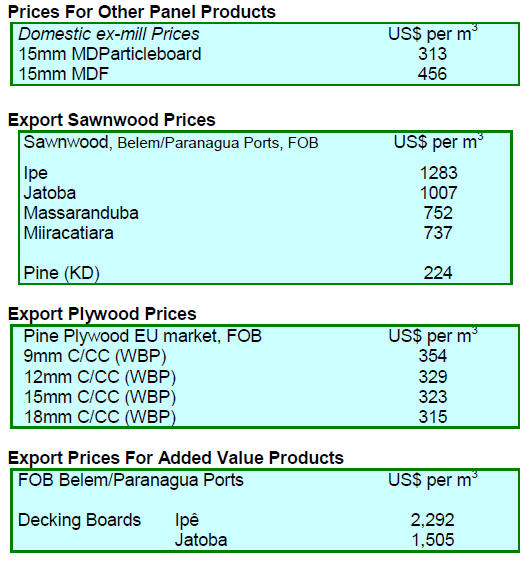 8. PERU
Higher agri-output without forest clearing
The Ministry of Agriculture and Irrigation (Minagri) aims
to increase agricultural production through promoting
efficient methods not through making more forested land
available.

This is part of a plan by the Minagri in the development of
Nationally Appropriate Mitigation Actions (NAMAs) for
climate change revealed at the Twentieth Conference of
the Parties to the Framework Convention United Nations
Climate Change (COP20).

The ministry has prioritised three key issues on forests
including the promotion of integrated and sustainable
management of natural forests, creating forests through
incentives to forest plantations and combating
deforestation.

Forestry has more potential to contribute to growth
Jos¨¦ Luis Canchaya, Business Manager of Maderacre SA a
leading exporter of hardwood floorings, speaking at
COP20 said the export potential of the permanent
production forests is estimated at US1.5 billion and the
sector could support 100,000 jobs and as such has the
potential to boost economic growth. However, he pointed
out that in 2013 exports were on US$153 million and the
trade deficit in wood products was around US$ 800
million.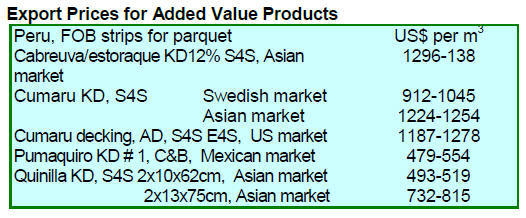 9. GUYANA
Press release from GFC
The Minister of Natural Resources and the Environment,
Mr. Robert Persaud, in his end of year report on
developments in the various agencies under the ministries
control reported the following on the forestry sector:

The Land Reclamation Project saw the Government
allocating US$500 million for the execution of restoration,
rehabilitation and replanting of areas affected by mining
utilizing principally Acacia mangium.

The Geospatial Information Unit, one of whose main
functions is to provide information on monitoring and
compliance to the ministry and agencies under its purview
was engaged in analysis of deforestation caused by
mining, land reclamation project support, Amerindian land
titling project support and near real time analysis during
the year.

The ministry has made available to the public Guyana"s
Monitoring and Verification System (MRVS), Year 4
Report (2013). The findings of this report provide a useful
basis for planning an ongoing monitoring programme
focusing on key hotspots.

First half 2013 export performance
The Guyana Forestry Sector Information Report covering
the first half of 2014 shows that, as of the end of June,
exports were worth US$21.8 million compared with the
US$16.8 million in the first half of 2013, a 29% increase.

Exports of sawnwood and plywood increased in volume
and value by 54% and 29% respectively. While log
exports fell year on year in the first half, they still
comprised almost 80% of all exports in terms of volume.

Export Prices
There were exports of greenheart, purpleheart and mora
logs in the period reviewed.