2. GHANA
AGI urges for structural change in manufacturing
The Association of Ghana Industries (AGI) has urged the
government to focus more on helping Ghana industries
manufacture products to replace imports.

The president of the AGI, Mr. James Asare-Adjei, made
this known at the third AGI Awards ceremony to honour
companies that had achieved outstanding success in
industry and innovation. The theme for the event was
ˇ°Rewarding industry to Promote Made-in-Ghana -
Productsˇ±

Mr. Adjei welcomed plans metioned in the government"s
2015 budget statement to establish an EXIM Bank, which
he thinks would lead in the strategic positioning of the
country as an export-led economy. He further expressed
optimism that the bank would be pro-industry offering
credit facilities targeting the manufacturing sector.

According to the president of AGI, until the structure of
the economy is changed from import-led to export-driven,
the country"s balance of trade will continue to be in the
negative.

New power ministry created
Ghana has created a new ministry in response to the long
running energy crisis in the country that has seen the
timber industry having to turn to costly diesel power
generators.

National power generation was previously the
responsibility of the Energy Ministry which was also
responsible for managing the oil and gas industry.
Kwabena Donkor will head the new ministr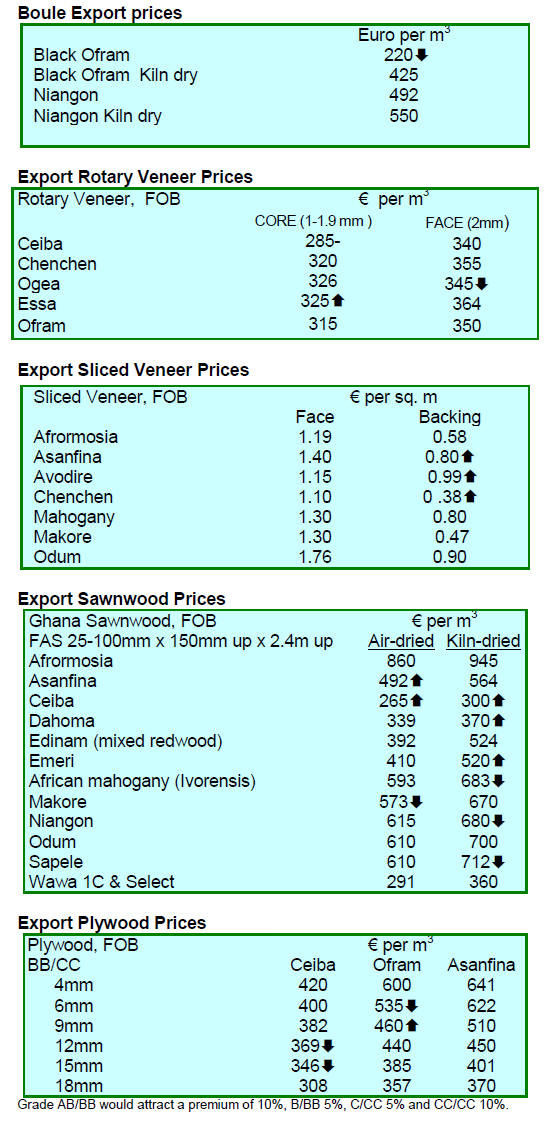 ˇˇ
3. MALAYSIA
Middle East marketing mission nets RM6 million
A recent marketing mission from Malaysia to Qatar, Oman
and Kuwait has secured about RM6 million in export
orders says Malaysian Timber Council (MTC).

MTC"s Director for Trade Promotion and Development,
Dr. Eric Ng, who led the delegation of Malaysian timber
companies, said in a press release that the marketing
mission was successful and able to highlight positive
demand for Malaysian timber products and build strong
bilateral trade relations with key market leaders in the
Middle East. He further said, ˇ°The Middle East has
become an increasingly important trading partner for the
Malaysian timber sector.

Last year, exports of Malaysian timber products to
emerging markets, particularly Middle East countries,
showed positive growth as mega-projects in these
countries favour Malaysian timber products, especially
sawn timber, medium-density fibreboard and wooden
furniture.

Tropical hardwood timbers such as meranti are also
among the top choices for home owners in the Middle East
who expect high quality and well-finished hardwoods for
doors, door frames, flooring, decking as well as trimmings
and decorative features.ˇ±

The MTC reports there are good prospects for Malaysian
hardwood sawnwood in particular, red meranti, MDF and
HDF laminated flooring.

Aquilaria products centrepiece at domestic show
The Malaysian Timber Industry Board (MTIB) and
Terengganu Timber Industry Training Centre (TTITC)
organised an international timber exhibition in the east
coast state of Terengganu in mid-November.

The event showcased some of the finest timber products
from carvings to commercial wood products such as
flooring, decking and timber frame houses. Other forest
products from specialised plantations of Aquilaria,
popularly known as agarwood or gaharu (the resin from
the heartwood is prized for its aromatic properties), also
took centre stage at this inaugural event.

The highlight of the exhibition was the signing of
memorandum of understanding (MOU) between the
Terengganu state government and two private companies:
Golden Pharos Berhad and Ta Ann Plywood.
The MOU signifies the commitment of the Terengganu
state government to promote the use of certified timber
(PEFC and FSC) in the domestic building and construction
industry under the domestic Certified Timber and Credible
Suppliers (CTCS) programme.

The CTCS programme continues to evolve and
collaboration between MTIB and TTITC will result in the
training of aspiring young entrepreneurs to become
professional installers for products that the CTCS
programme is promoting.

This would expand the small and medium sized industry
economic base as well as enlarging the timber sector. It is
envisaged that with the successful implementation of the
CTCS programme Malaysia would have professionally
trained timber product installers by 2015.

Innovative landscape management project for Sabah
Sabah State Government and UNDP Malaysia recently
signed a Memorandum of Understanding (MOU) in
preparation for the development phase of the Government
of Malaysia-United Nations Development Programme-
Global Environment Facility (GoM-UNDP-GEF) Project,
as well as, reaffirming commitment of the Sabah Forestry
Department (as the Implementing Partner) and UNDP to
implement and to achieve the project"s key objective:

ˇ°To institutionalise a multiple-use forest landscape
planning and management model which brings the
management of critical protected areas and connecting
landscapes under a common management umbrella,
implementation of which is sustainably funded by revenues
generated within the areaˇ±.

The 261,264 ha GoM-UNDP-GEF Project area will be an
innovative landscape management model project that will
transform the management of the area which is home to
some of the most important remaining biodiversity in
Borneo. The area is located within Yayasan Sabah"s
Sustainable Forest Management Licence Agreement Area
(SFMLA) in Kalabakan-Gunung Rara Forest Reserves.

This initiative should provide a highly relevant case study
that reflects many of the major production, mitigation and
conservation challenges facing policy makers and land
management agencies throughout SE Asia.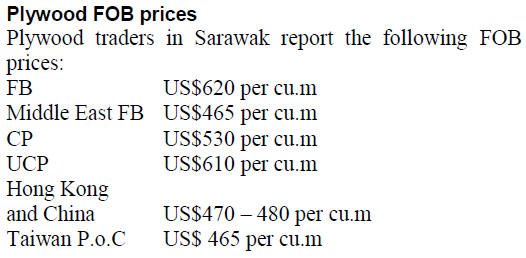 4. INDONESIA
SMEs to benefit from changes to SVLK
Following a multi-stakeholder internal discussion the
government has agreed to simplify the procedures for the
mandatory local timber legality verification system
(SVLK) for small and medium industries (SMEs).

The Trade Ministry"s Director of Agriculture and Forest
Product Exports, Nurlaila, said the decision was made
because SMEs could not afford to pay high certification
costs, which could reach Rp 30 million (US$2,457).

Trade Minister Rachmat, the Minister of Industry, Saleh
Husin and the Minister of Forestry and Environment, Siti
Nurbaya, as well as representatives of the Association of
Indonesian Furniture and Handicraft (AMKRI), agreed the
new system will come into force 1 January 2015.

The new system requires SMEs to provide "supplyconformity
self-declarations" (DKP) for overseas
shipments. There is no charge for the issuance of such
documentation according to Nurlaila.

The DKP declarations normally include information such
as the four-digit commodity identification code, volume of
timber products, type of timber and the source of timber
raw materials to confirm their legality.

Application of DNA wood tracking
Dr. Ir. AYPBC Widyatmoko, a researcher at the Research
Institute for Biotechnology and Tree Improvement, has
developed an application for DNA tracking of wood. He
said by applying bio-forensics a solution may be at hand to
allow authorities to determine the origin of timber and thus
verify its legality.

Economy snapshot
The pace of inflation in Indonesia accelerated to over 6%
year-on-year in November as higher fuel costs, the result
of the cut in fuel subsidies, kicked in. In related news,
international trade levels declined with both exports and
imports falling in October.

Exports fell 2% in October much more than expected and
analysts say much of the decline is the result of slower
growth in China, Indonesia"s main trading partner. On the
other hand, Indonesia"s trade balance is expected to
improve if oil prices remain low.

Indonesia"s Institute for Development of Economics and
Finance (Indef) has forecast 2015 growth somewhat lower
than the government estimates citing the prospect of
weaker than expected exports. The government is
expected to expand public spending next year but, as
pointed out by Indef, the impact of this will not be felt
immediately.

For more see:
See http://indef.or.id/en/publication/8/detail/51/proyeksiekonomi-
indonesia-2015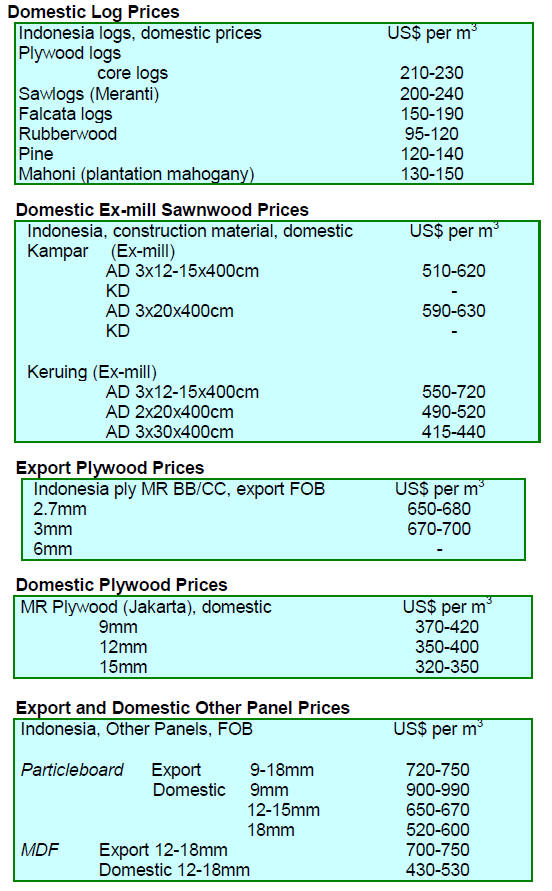 5. MYANMAR
Suspicions of timber laundering
The domestic newspaper (Eleven Daily quoting an official
from the Forest Department) reported that during the
seven months of this fiscal year over 40,000 tons of
illegally harvested timber was seized.

Over 7,200 tons of teak and 34,000 tons of other
hardwoods were confiscated along with 1,091 logging
trucks, 106 items of logging and loading equipment such
as cranes, tractors and vehicles. In total almost 4,000
Myanmar nationals and109 foreigners were arrested in
anti-smuggling operations.

Timber seized timber during the seven months from April
to October included a large quantity of teak as well as
Tamalan (Dalbergia oliveri) which commands a very high
price in foreign markets.

In the most recent operation the Forestry Department
seized timber near Tachileik on the Myanmar Thai border.
The species seized were Tamalan, Padauk and Yindaik
(Dalbergia cultrata) worth an estimated MMK76.5 million.
Analysts say that these seizures represent just a fraction of
the volumes being smuggled across Myanmar"s borders.

The seized timber is resold locally but some analysts fear
there is a "timber laundering" scheme in play but demand
from international buyers for verification of legality could
undermine such illegal activities.

US$ 80 million timber exports
According to Mr. Barber Cho of the Myanmar Timber
Merchants Association, export earnings from the export of
processed timber so far this fiscal year amounted to about
US$60 million. It is estimated that the figure for the year
could be over US$80 million, around US20-30 million
more than before the log export ban.

However, analysts point out that the annual revenue from
exports of wood products (logs and sawnwood) used to be
over US$700 million annually in the years before the log
export ban. If Myanmar is to achieve this level of exports
in the future considerable investment in modern
processing plant and in training of mill operatives is
required.

Sale of teak and hardwoods
The Myanma Timber Enterprise (MTE) sold the following
teak logs, teak conversions and hardwood logs by special
open tender during the 12 December Yangon sale. For
logs the quantity is expressed in h.tons (hoppus measure)
and for sawn timber it is expressed in tons of 50 cubic feet
or c.tons.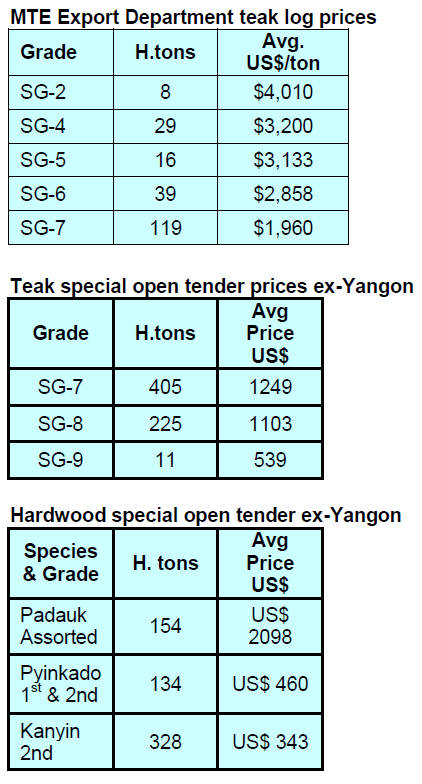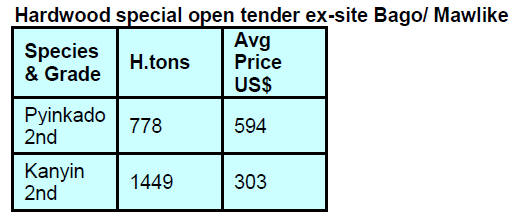 6. INDIA
Flow of imports affected by Ebola
Fear of the Ebola virus is affecting the loading of vessels
carrying timber to India from West African countries as
Indian timber inspectors in the supply countries fear
contacting the disease. Many traders with staff in West
Africa have recalled these people until the risk subsides.

Out of the 16 countries shipping timber to India from West
Africa, three, Guinea, Liberia and Sierra Leone are badly
affected by Ebola. Ghana, another supplier, has not
reported any cases of Ebola but still some companies have
recalled their representatives.

Import duty on logs a burden to industry
Indian wood product manufacturers have, once again,
pleaded with the central government to remove import
duties on timber raw materials and to deliver incentives to
exporters such as a reduction or complete waiver of the
value added tax. The current import duty on logs is 9.4 %.

Manufacturers say the FOB price of imported logs has
risen over 50% in a short time and comes at a time when
the rupee remains weak which adds to the landed cost of
imported logs.

Red sanders auction delivers higher than expected
income
The Andhra Pradesh government has earned almost Rs10
billion from the sale and export of 3,615 metric tonnes of
confiscated red sanders logs.

The e-auction attracted a huge response from international
buyers and the average price exceeded the expected Rs.25
lakh per tonne. Forestry officials were expecting Rs.10
billion from sale of over 4,000 tonnes so are pleased with
the result.

The state government decided to offer only 4,160 tonnes
for sale and export in the first phase. The remaining
volume of red sander must before April 2015.

The state plans to use 30% of the proceeds from this sale
for protection of the natural red sanders forest. The
remaining money may be used to finance the government's
proposal to waive farm loans.

The state government conducted "road-shows" and pre-bid
meetings in China and Japan, where red sanders is in
demand.

As a result of this effort over 400 prospective buyers
including 140 from China, Japan, Singapore and other
countries visited the red sanders depots to inspect the logs.

In Andhra Pradesh, red sanders grows mainly in the
Seshachalam hill ranges spread across Kadapa, Chittoor
and Kurnool districts in the Rayalaseema region and parts
of Nellore district. The forest area home to red sanders is
estimated to be 47,000 hectares.

This resource attracts illegal loggers and there have been
bloody clashes between smugglers and the police. Two
forestry officials were killed and three were injured in an
attack by smugglers in December last year. Over 3,000
smugglers have been arrested and 2,025 tonnes of red
sanders was seized during 2013.

Krishnapatnam container terminal promoted in Côte
d'Ivoire
One of India"s largest and fastest growing seaports,
Krishnapatnam Port, is emerging as a world-class port and
fast becoming a port of choice for international cargo.

According to Krishnapatnam Port Container Terminal
(KPCT) officials, India"s trade with West Africa increased
15 times since 2003. Rice being India"s main export to
West Africa followed by pharmaceutical products,
machinery, metals, chemicals, plastics, rubber and
vehicles.

KPCT recently organised a meeting for traders in Abidjan
to discuss bilateral trade developments. Indian importers
of teak wood and Indian exporters of pharmaceuticals,
transport equipment, engineering goods visited Abidjan.
The traderswere familiarised with the infrastructure and
operational advantages of KPCT and the ease of shipping
containerised cargos of cashew and timber throughout
India.

Imported plantation teak
Prices for imported plantation teak are unchanged from
two weeks earlier.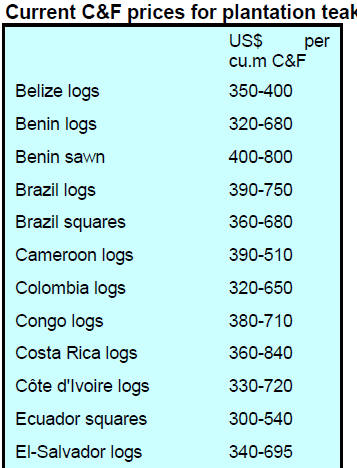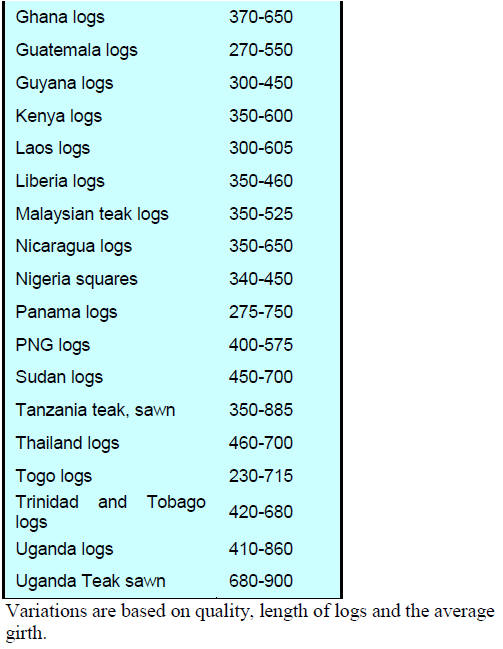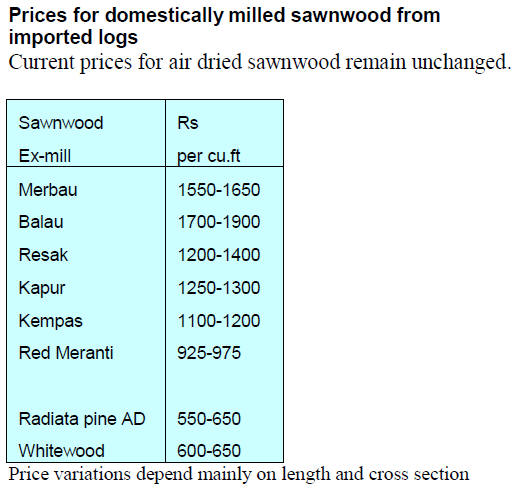 Domestically milled Myanmar teak
In the domestic market end-users continue to
resist the attempts by millers of imported teak
logs to raise prices.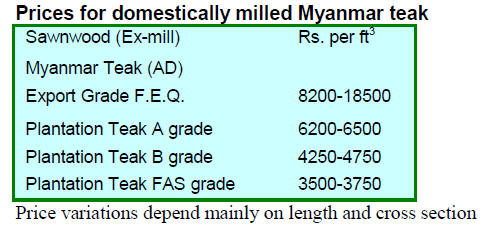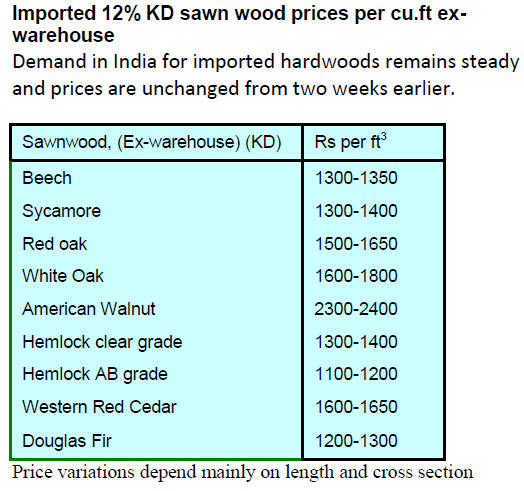 Severe price competition in plywood market
Prices in the plywood market are extremely competitive as
the small and medium sized companies are able to produce
more cheaply than the larger mills. The only advantage the
larger mills have is on quality but in a price conscious
market the SMEs have the upper hand.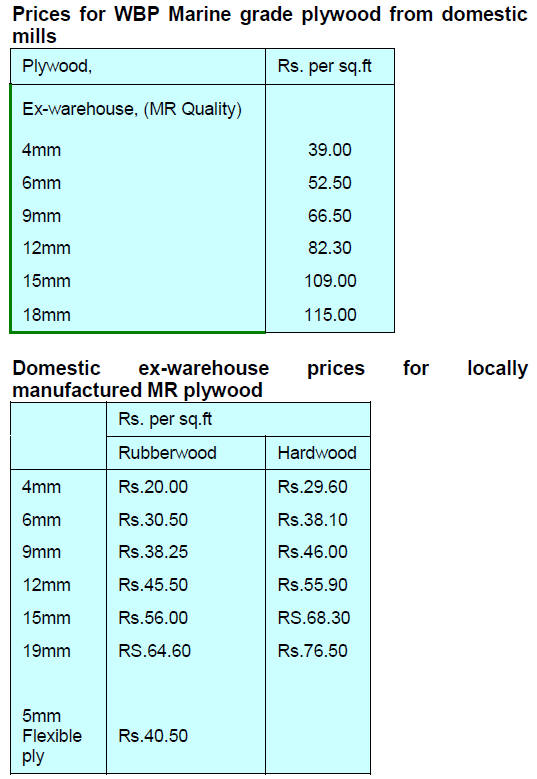 7. BRAZIL
Timber sector to contribute 20% to Mato Grosso GDP
Mato Grosso, one of the major timber producing states in
the Amazon region, will undertake a Sustainable Forestry
Development Programme, details of which were made
available in early November. The aim is to have the timber
sector contribute 20% to Mato Grosso GDP growth over
the next 20 years.

According to the Center for Wood Producers and
Exporters of Mato Grosso (CIPEM), the programme will
be groundbreaking in the Mato Grosso"s forest sector and
will result in increased production to meet domestic and
international demand.

The State Secretariat for Industry, Commerce, Mines and
Energy (SICME) is responsible for coordinating the
programme that will increase the area of forest under
sustainable forest management, optimise natural forests
management operations, promote the use of secondary
species through product development and added value
output.

The new programme includes the following strategic
actions: review of legal and institutional tools to provide
for simplification of licensing procedures; regularising
land ownership; decentralisation; timber out-grower
schemes; technological development and capacity
building; attracting investments; securing market
intelligence; creation and adjustments of tax and fiscal
incentives and improvement of infrastructure and logistics
in the forestry sector.

Hardwood values appreciated 250% in ten years
The Brazilian timber sector accounts for around 3%
(approx. US$290 billion) of global production and planted
forests in Brazil extends over some 8 million hectares. The
area of timber plantations is increasing and over the past
10 years the price of decorative hardwoods from
plantations has increased by around 250% which is
attracting considerable interest from investors.

However, the plantation story is not all success, there are
issues to be addressed such as the lack of government
support for credit lines to encourage plantations,
inadequate research funding, a shortage of professionals
and a shortages of companies specialising in providing
consulting services for the plantation sector.

It has been estimated that there are some 50,000 hectares
of abandoned forest plantations which undermines the
credibility of the sector. Generally, investment in forest
plantations in Brazil involves two species, eucalyptus and
high value hardwoods at a ratio of 75% and 25%.

Targeting increased exports to Europe
According to ABIMCI (Brazilian Association of
Mechanically-Processed Timber Industry) Brazilian wood
products now have enhanced credibility in the European
market and this is creating opportunities to expand trade.

Between January and October this year 20% of Brazil"s
pine plywood was exported to the UK and ABIMCI
expects that the UK market will consume even more of the
country"s plywood output in 2015.

Brazilian exporters have also had success in the German
market partly due to Germany"s Global Connect initiative
which has stimulated "internationalisation" in German
companies and has strengthened trade relations with Brazil
as well as other exporting countries.

Demand for Brazilian wood products is forecast to grow
2% in 2015. European imports of Brazilian wood products
during the time when demand in the US was weak helped
ensure the viability of the Brazilian timber industry.

As pointed out by ABIMCI buyers in the UK and
Germany require quality and verification of the origin of
the product. Companies in Brazil that can meet these
requirements have an opportunity to expand sales in the
EU market.

Despite the optimism there challenges for Brazilian
producers such as the logistics of raw materials flows, lack
of manpower and poor infrastructure. Since the claims of
illegal logging in Par¨˘ state Brazilain exporters have faced
a tough time convincing buyers in the EU that this was an
isolated case.

Representatives from the Center for Timber Producers and
Exporters of Mato Grosso (CIPEM) attended the Annual
Meeting of Timber Trade Federation to discuss how the
timber industry in Mato Grosso state ensures all exports
are of legally harvested raw materials.

CIPEM has proposed the creation of procedures for
importers of Brazilian timber to identify timber companies
that guarantee the legal origin of the timber used in
manufacturing.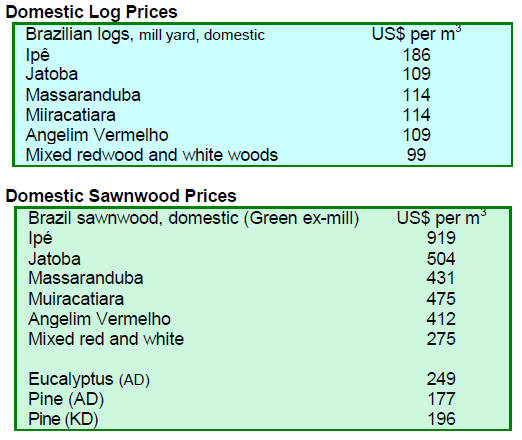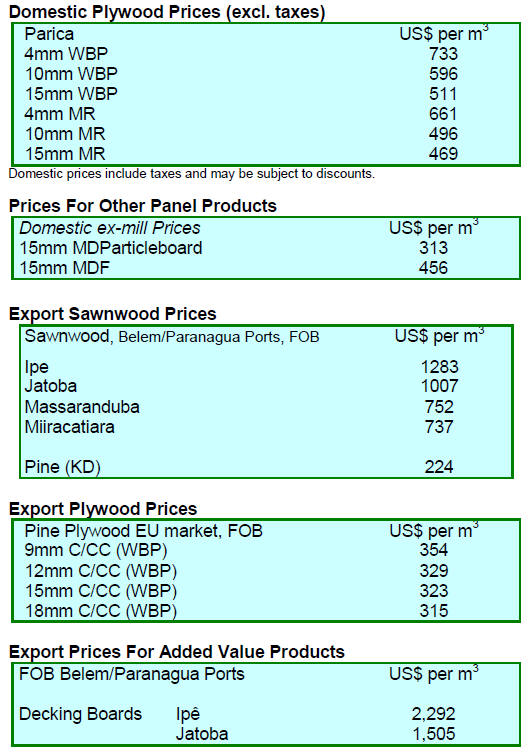 ˇˇ
8. PERU
Tax adjustment to boost economy
The finance minister, Alonso Segura reported that the
government would be announcing some changes to the tax
system before year end along with a new policy package
to jumpstart the economy.

Although a lowering of the sales tax and a reduction in
corporate taxes have not been mentioned, such measures
are widely expected. Despite the tough economic
conditions Peru is set to achieve a 3% growth this year.

Exports down in first 10 months
The Foreign Trade Centre of the Lima Chamber of
Commerce has reported that October exports fell 14% year
on year. For the year to October exports were valued at
US$31.673 mil. a decline of 10% over the same period last
year In the first ten months of this year exports of socalled
traditional products (minerals, oil and gas) fell 16%.
"Traditional" exports account for 70% of total exports.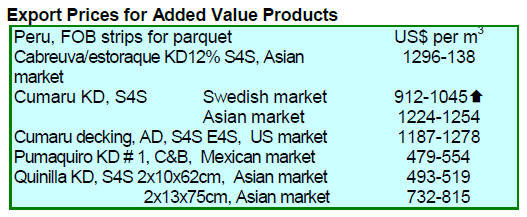 9. GUYANA
LUS in public procurement
The Forest Products Development and Marketing Council,
in collaboration with the Ministry of Natural Resources
and Environment, coordinated a seminar aimed at
increasing the awareness and benefits of using lesser used
timber species.

The seminar specifically targeted government advisors and
engineers in the construction industrysince Government
projects utilise a significant amount of sawnwood.

In a presentation at the seminar the Commissioner of
Forest highlighted the availability of LUS and compared
the properties of some of these timbers with current
commercial species stressing that more must be done to
expand the use of LUS in government projects.

Export Prices
There were no exports of purpleheart and mora logs in the
period reviewed.