Report from North America
Indonesia, Ecuador and Malaysia see plywood market
weaken
US imports of hardwood plywood fell by 11% in August
to 236,507 cu.m. Year-to-date imports were only slightly
higher (+5%) than in August last year.

The main decline was in imports from China and Canada.
The US imported 134,320 cu.m. of hardwood plywood
from China in August, down 22% from July. However,
imports from China remain higher than last year and
during the antidumping investigation.

Russian shipments of hardwood plywood grew by 17% in
August to 27,021 cu.m. Year-to-date imports from Russia
were 25% higher compared to the same time last year.

Hardwood plywood imports from Indonesia, Ecuador and
Malaysia increased as well, but year-to-date imports from
all three countries were lower than in August 2013.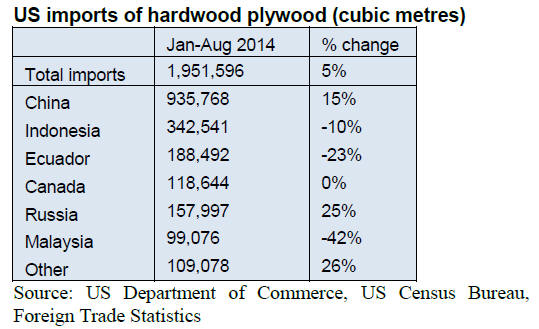 Hardwood moulding imports from China rise
US imports of hardwood moulding fell by 11% in August
following the high import levels earlier in the summer.
Imports were worth USUS$17.7 million in August.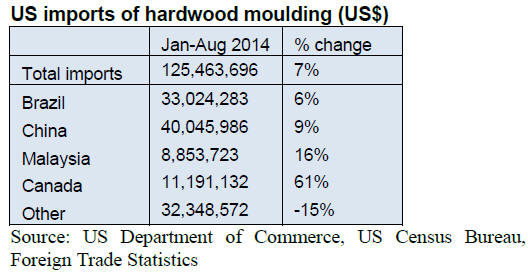 China was the only major supplier that increased
hardwood moulding shipments to the US in August.
Imports from China grew by 6% to US$6.9 million from
the previous month.

Brazil"s hardwood moulding shipments to the US were
worth US$5.0 million in August, down 4% from July.
Imports from Malaysia and Canada fell by about one third,
but year-to-date imports remain higher than in 2013.

Indonesia expands assembled flooring shipments to
US
Hardwood flooring imports increased in August, while
imports of assembled flooring panels declined from the
previous month.

Year on year, imports of hardwood flooring increased by
13% to US$3.6 million in August. Indonesia was the
largest source of imports at US$716,846. August imports
from Malaysia declined by 5% to US$532,166 compared
to last year.

China"s shipments of hardwood flooring were worth
US$596,265 in August, down 18% from July. However,
year-to-date imports from China were 33% higher than in
August 2013.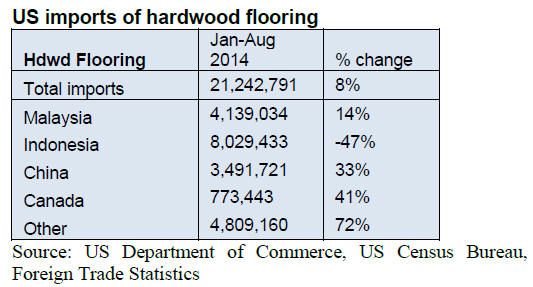 Total assembled flooring imports declined by 10% in
August to US$11.2 million, but year-to-date imports were
higher than last year. China remains the leading source of
imports, but imports from that country fell in August and
year-to-date imports were 12% lower than in August 2013.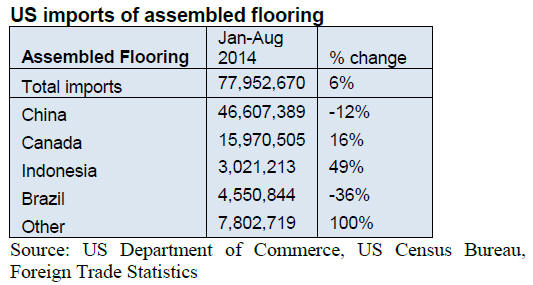 Assembled flooring imports from Indonesia declined in
August, but were almost 50% higher year-to-date.
Canadian shipments were up in August, while imports
from Brazil declined.

Vietnam grabs higher furniture market share
Wooden furniture imports declined in August marking the
first fall since March. US imports were worth US$1.25
billion in August, down 3% from July. Year-to-date
imports were 9% higher than in August 2013.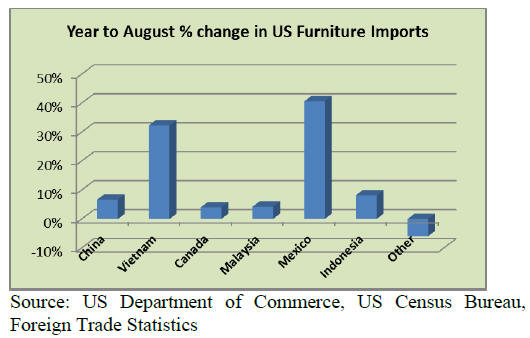 ¡¡
Furniture imports from China fell by 8% to US$573
million and imports from most other major suppliers also
declined. Vietnam was the only major supplier to the US
which say an increase in shipments in August. Wooden
furniture imports from Vietnam grew by 3% to US$218.8
million in August.
Furniture imports from Italy and India continue to increase
following substantial growth in July. Poland shipped less
furniture to the US in August, but Poland"s share in total
US wooden furniture imports has increased substantially
in the last two years.

Imports of wooden seats (upholstered and nonupholstered)
and office furniture declined in August, while
imports of wooden bedroom and kitchen furniture grew.

US Furniture retail sales up
US furniture retail sales were up in August, despite the
decline in furniture imports. Retail sales at furniture stores
in the US increased by 5% in August according to the
Census Bureau. However, sales were slightly lower (-1%)
than in August 2013.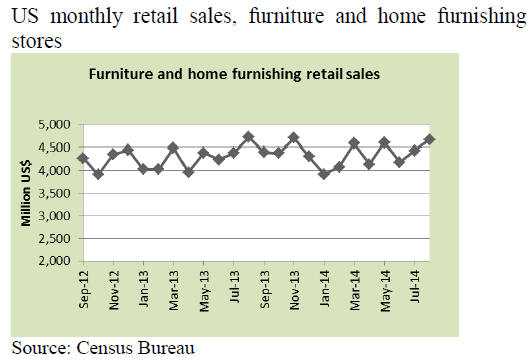 GDP and unemployment data positive
The latest US economic data is positive, which should
support growth in demand. The latest estimate of GDP
growth in the second quarter of 2014 was 4.6%, some 0.4
percent higher than the previous estimate released by the
US Department of Commerce.

Unemployment in the US fell to 5.9% in September
according to the US Department of Labor. Employment
increased in professional and business services, retail
trade, and health care.

Wood products lead growth in US manufacturing
Economic activity in the US manufacturing sector
continued to grow in September according to the Institute
for Supply Management. Companies noted some labour
shortages and concern about geopolitical conflicts abroad.

The strongest growth in the manufacturing sector was in
the wood products industry. Furniture manufacturing also
expanded in September.

Consumers expect higher incomes
The recent positive economic news in the US is reflected
in higher consumer confidence. Consumer confidence
improved by 2.5% from August according to the Thomson
Reuters/University of Michigan index.

Most households expect higher incomes in the year ahead.
Job growth is also expected, but consumers believe the
improvement will continue to be moderate.

Home builders¡¯ confidence up across the country
Builders" confidence in the market for newly built singlefamily
homes increased for the fourth consecutive month
in September. The National Association of Home Builders
reported that home builders" confidence rose in all regions
of the country. Confidence is higher than any time since
2005.

Fall in multi-family housing starts in August
Multi-family housing construction fell by almost one third
in August. As a result, overall housing starts decreased by
14% to 956,000 units in August (seasonally adjusted
annual rate). Single-family housing starts declined by
2.4% to 643,000 units. Single-family starts remain higher
than at the same time last year.

The number of building permits also decreased in August,
mainly due to lower multi-family permits. Permits for
single-family construction were almost unchanged at
626,000 units at a seasonally adjusted annual rate. The
number of building permits issued is an indicator of future
building activity.

Buying homes as Investment loose shine
Sales of existing homes declined by 1.8% in August. The
decline was due to fewer investors buying homes,
according to the National Association of Realtors.
Individual investors accounted for 12% of total sales,
down from 16% last month.

The association expects better conditions for first-time
home buyers. The supply of homes on the market is
growing and the growth in prices may slow. The share of
first-time buyers in total homes sales was 29% in August.

Growth in office and commercial construction
Non-residential construction spending decreased slightly
in August at a seasonally adjusted annual rate. Private
construction declined by 1.4% and public spending by
1.1%.

However, the drop in public spending was mainly in
educational buildings. Public construction of office and
commercial buildings grew significantly by 11% and 8%,
respectively.

The American Institute of Architects reports a positive
outlook for the coming months. However, 76% of
architecture firms had major projects delayed or cancelled
for financing or economic reasons. The majority of
delayed projects were non-residential.

Decline in Canadian housing starts
Canadian housing starts declined by 3.3% on August to
196,000 at a seasonally adjusted annual rate. Both single
and multi-family starts decreased. The number of
residential building permits grew by almost 20%
compared to the same time last year. The growth was
mainly in permits for multi-family construction.
Growth in residential construction will be strongest in
Alberta in 2014, according to the Canadian Housing and
Mortgage Corporation. In 2015, housing starts are
predicted to increase in Quebec, British Columbia and
Manitoba due to improving economic conditions.

China¡¯s market share of Canadian hardwood flooring
imports increasses
Canada has extensive hardwood flooring manufacturing,
with most production facilities in the provinces of Quebec
and Ontario. As in the US, domestic manufacturing has
been increasingly replaced by flooring imports.

In 2013, hardwood flooring imports were worth US$219
million. The main sources of imports are China and the
US.

Much of Canada"s production is solid hardwood flooring,
while engineered (multi-layer) wood flooring is mostly
imported from Asia. Engineered wood flooring imports
from China almost tripled in the last five years. In 2009
imports were worth US$6.3 million, increasing to
US$18.7 million by 2013.

Canadian imports from Indonesia grew from US$8.9
million in 2009 to US$14.2 million in 2013. Europe is the
third-largest source of engineered wood flooring, but the
growth in imports from Europe has been slow compared to
China and Indonesia.

Canadian imports of engineered wood flooring are likely
to continue growing in the coming years. The product has
only relatively recently gained recognition and acceptance
in the market in both Canada and the US.

Developers of multi-family housing, the most common
type of residential construction in Canadian cities,
increasingly use engineered flooring due to its lower cost
compared to solid hardwood flooring.

Engineered wood flooring is also becoming popular for
DIY renovations, although the less costly laminate
flooring still dominates this market.

Canadian media has recently focused on how Chinese
flooring imports threaten Canadian hardwood flooring
manufacturing. Manufacturing plants have closed, while
other producers have started trading flooring from China
under Canadian-sounding brand names.

One of the largest news networks in Canada, Global News,
reported on illegally cut timber from Russia, processed in
China and exported to Canada. Unlike the US, Canada
does not have a law like the Lacey Act that prohibits the
import and sale of illegally cut timber.

The media reporting also focused on the export of
hardwood logs from Canada for processing in China and
the possibility of higher formaldehyde emissions from
flooring made in China (see following story).

High levels of formaldehyde in some wood flooring
from China
The Canadian news network, Global News, reported in
October that six out of eight samples of Chinese-made
composite wood flooring had higher formaldehyde
emissions than allowed under California standards and
proposed US federal regulation.

The testing of the wood flooring samples was carried out
by the Hardwood Plywood and Veneer Association, which
represents North American manufacturers and about 90%
of all hardwood plywood and hardwood veneer produced
in the US and Canada.

While the US is introducing new strict regulation for
formaldehyde emissions from wood products, Canada
does not have similar regulation.

Canada has a voluntary agreement between government
and industry to limit formaldehyde. The agreement was
reached in 1986 and emission limits are higher than in
Europe and California.