Report from North America
Demand to be highest for wood/plastic composite and
plastic decking
Wood-plastic and plastic decking is forecast to have the
strongest market growth over the next four years, but
wood will remain the main material on US decks,
according to market research company Freedonia"s latest
market outlook (Wood & Competitive Decking, Study).

The outlook for tropical hardwood use in decking is
positive. Even when overall decking demand declined
during the downturn in the housing market, demand for
tropical hardwood decking grew.

Homeowners look for low maintenance materials, and
tropical hardwoods offer a natural, attractive appearance
compared to plastic or wood plastic composite. Tropical
hardwood decking is also known to perform well in the
long term, while wood plastic composites had
performance issues in the past. Overall demand for
decking is forecast to grow 2.4% per year between 2013
and 2018.

Total demand is estimated at US$6.5 billion in 2018,
equivalent to 3.5 billion linear feet of decking. The
strongest demand growth will be in wood plastic
composite and plastic decking.

Performance and looks of both types of decking have
improved in recent years with the arrival of capstockcoated
composite decking and cellular PVC decking.
High-end composite and plastic decking is at a similar
price level as tropical wood decking.

The majority of decking will continue to be wood due to
the lower price of treated softwood decking and the large
number of existing wooden decks that are often renovated
with the same material. About 80% of decking by volume
will be treated softwood and tropical hardwood by 2018.
Freedonia predicts an annual growth of 1.1% for wood
decking.Residential decking accounts for about 60% of the
market which is forecast to grow 2.7% annually driven by
higher housing starts and deck renovations. The trend
towards larger decks and greater outdoor living space also
supports growth in decking demand.

Ipe and keruing imports rise
US imports of hardwood sawnwood increased by 35% in
August to 108,384 cu.m. Temperate hardwood imports
grew by 37%, while tropical imports were 27% higher
than in July. Tropical imports were 23,133 cu.m in
August (+5% year-to-date).
Balsa imports declined in August to 3,800 cu.m (-24%),
but other sawnwood imports grew. The largest increase
was in imports from Africa of sapelli (3,591 cu.m) and
acajou d"Afrique (2,284 cu.m). Imports of ipe (2,309
cu.m), keruing (1,747 cu.m) and virola (2,084 cu.m) also
grew from the previous month.

Imports from Brazil were at their highest level since
January 2013. Brazilian ipe sawnwood shipments to the
US increased by 88% to 2,140 cu.m. US imports of
padauk also grew in August.

Sawnwood imports from Peru greatly increased in August,
but compared year-to-date imports are lower than last
year. The US imported 1,228 cu.m of virola sawnwood
from Peru in August.

Malaysian shipments of keruing to the US grew to 1,485
cu.m in August. Sapelli imports from Congo/Brazzaville
doubled to 1,150 cu.m
Foreign Trade Statistics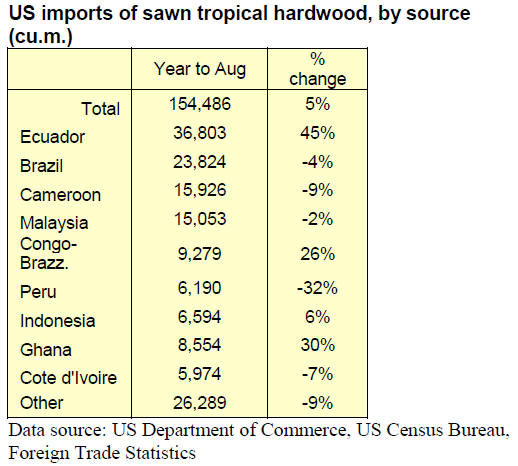 Canada¡¯s year-to-date tropical sawnwood imports
almost 25% higher
Canadian imports of tropical sawn hardwood increased by
36% in August to US$3.1 million (all values in US
dollars). Year-to-date imports in 2014 were almost one
quarter higher than at the same time last year.

The main growth was in imports from Brazil, which
doubled to US$1.4 million in August. However, year-todate
imports remain below 2013 levels.

Imports from Ecuador, Ghana and Indonesia also
increased in August. Both Ecuador and Indonesia shipped
more than double the value of sawn hardwood to Canada
on a year-to-date basis.

Imports from Cameroon, Congo and Malaysia declined in
August, but with the exception of Malaysia and Brazil,
year-to-date imports are higher for all major suppliers to
Canada than in 2013.
Sapelli imports declined again in August to US$346,480
following record imports in spring and summer. Year-todate
imports of sapelli were 50% higher than in August
2013.

Imports of almost all other species grew in August.
Mahogany sawnwood imports were worth US$168,758
(+34%) and meranti imports US$112,202 (+95%).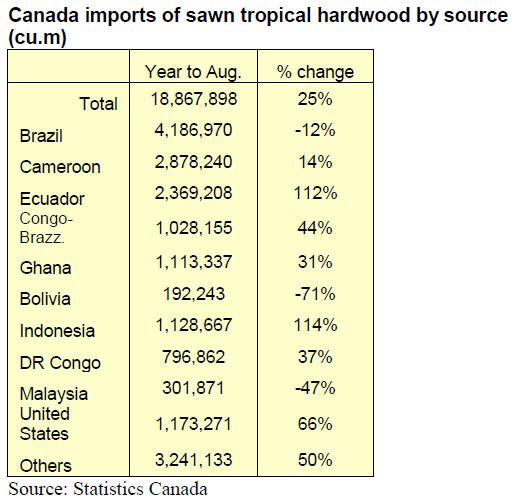 Canada-EU trade deal expected to boost Canadian
forest industry
The Comprehensive Economic and Trade Agreement
(CETA) with the EU is Canada"s most ambitious trade
initiative to date. Almost all tariffs between Canada and
the EU will be removed and there will be greater market
access for services and investments.

This Canada-EU trade deal will eventually eliminate
European tariffs of up to 10% on wood composite panels,
including particleboard, OSB and plywood. Europe is
currently the third largest export market for Canadian
producers, after the US and China. Europe accounts for
4% of total exports of wood, pulp and paper products from
Canada.

The Forest Products Association of Canada supports the
trade deal to help develop closer trade relations with
Europe. Non-tariff barriers to trade will also be addressed
in the agreement.