US Dollar Exchange Rates of 27th October 2014
China Yuan 6.11819
Report from China
7.3% GDP growth but trends mixed
Speculation is mounting that the government will
introduce another round of stimulus measures to boost an
economy which grew at its slowest pace since the global
financial crisis. China"s GDP grew year on year by 7.3%
in the third quarter of this year down from the 7.5% in the
second quarter.

On the bright side industrial production was higher than
expected and manufacturing output rose in September but
capital investment was down compared to September
2013.

The latest data is fuelling fears that as growth continues to
slow there will be a corresponding impact in those
countries which trade heavily with China.

In September 2014 retail sales of consumer goods were up
by 11.6 percent year-on-year. Between January and
September this year total retail sales of consumer goods
has grown 12.0 percent year-on-year with a huge jump
recorded in online sales (49.9 percent year-on-year).

See:
http://www.stats.gov.cn/english/PressRelease/201410/t201
41022_627660.html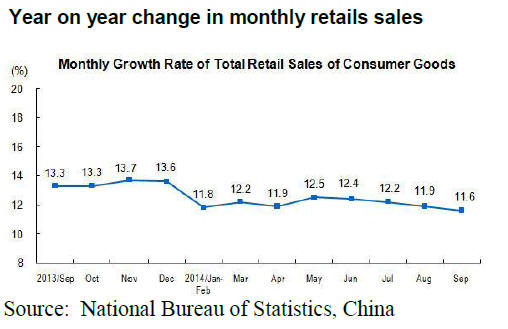 ¡¡
Prices for newly constructed residential buildings fall
further
Compared to August, prices for newly constructed
residential buildings in September declined in 69 cities
across China, in only 1 city was there an increase in the
house price index.

Prices for second-hand residential buildings fell in all 70
cities included in the survey conducted by the National
Bureau of Statistics, the first time this has been observed
in two years. The average price of new homes declined
1.1% in September from a year earlier compared with a
0.5% gain in August.
However, new orders rose in September compared with
August boosted by easier rules on home ownership but
analysts say current measures will not solve the problem
of too many new homes coming onto the market.

For more see:
http://www.stats.gov.cn/english/PressRelease/201410/t201
41024_629133.html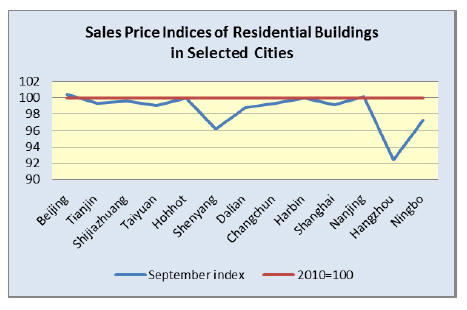 Evolving timber production and marketing
In tandem with China"s economic development and as
living standards rise, consumer preferences for quality
wood products is growing. In recent years domestic
demand for wood products has shifted from low cost to
quality. This change has meant manufacturers servicing
the domestic market have had to pay more attention to
workmanship and appearance.

Chinese consumers are also becoming more conscious of
environmental and conservation issues and there is a
growing interest in wood products that reflect cultural
values.

Another change has been with the location of the wood
processing enterprises. Many have transferred from the
developed and high cost eastern coastal regions to less
developed areas in central and western China. The most
recent development has been the rapid growth in online
sales of wood products.

Building an image of credibility
Recently the government has been encouraging enterprises
to pay more attention to building an image of "good faith
and credibility" in the minds of consumers.

The government has adopted a policy on credibility
building and this is outlined in a document entitled
"Planning the Construction of a Social Credibility
System" . Through this policy efforts will be directed at
promote greater credibility in many areas especially
business management. The aim is to achieve a high level
of self-regulation and credible market mechanism for
industry and to cultivate awareness of the benefits of
reliable market services.

As early as 2004, the China Timber and Wood Products
Distribution Association (CTWPDA) took the lead in
setting up a working committee of timber enterprises to
design ways to improve credibility in the timber sector and
the committee developed a system for credibility
evaluation in the timber industry.

Currently more than 30 large timber processing enterprises
have been assessed as AAA after evaluation and have
registered with the Ministry of Commerce as "pacesetter"
in the wood products industry.

A decision had been made by the CTWPDA to conduct a
survey to assess companies in terms of legality to promote
trust and integrity in the eyes of global consumers.

A ¡®green¡¯ wood industry supply chain
According to Tao Yiming, vice President and Secretary
General of the CTWPDA, a "green" wood industry must
be created which would involve setting environmental
standards along the complete wood industry chain. This
would involve "green" procurement, production,
distribution and marketing.

To achieve this, says the CTWPDA, three requirements
should be met. First, raw materials should meet the
requirements of sustainable forest management. Secondly,
the manufacturing processes should satisfy the
requirements of product standards. Thirdly, how to recycle
wood products needs to be addressed.

Despite the latest initiatives problems remain in achieving
development of a green wood industry chain in China:

 The standards for market access for timber and
wood products are not perfect. Whether it is the
standards of industry or national standards most
are voluntary. There are few mandatory standards
for timber and wood products.

 The supervision, inspection and testing of product
quality is not well established and there is no
oversight or control of wood products placed on
the market.

 The preparation of up-to-date laws and a system
that builds credibility is slow.

 Consumers awareness and the ability to identify
and reject wood products with toxic and harmful
substances is low.

The CTWPDA has offered suggestion to address these
problems. First the authorities should develop and ensure
implementation of the "green" wood industry policy; it
should speed development of laws, regulations and
standard for a "green" wood industry; it should strengthen
market supervision to eliminate marketing of wood
products with toxic and harmful substances.

In addition, systems should be put in place to ensure the
legality of wood products for the domestic and
international market.

Zhangjiagang and Taicang Ports earn little from timber
importers
The local governments in Zhangjiagang and Taicang
welcomed timber enterprises to their regions when the
ports were opened and many processing plants have been
established close to the ports.

These companies contribute large tax revenues to the
region and have created many job opportunities so the
local government is very supportive of these enterprises.

On the other hand, timber imports with no processing
facilities are now not so welcome by the local government.
The main complaint is that timber importers occupy a
large area in the ports but generate little benefit to the
region.

In addition, trading enterprises only need to pay a 13%
value-added tax to central government and do not need to
pay taxes to the local government.

Guangzhou Yuzhu International Timber Market
Wholesale Prices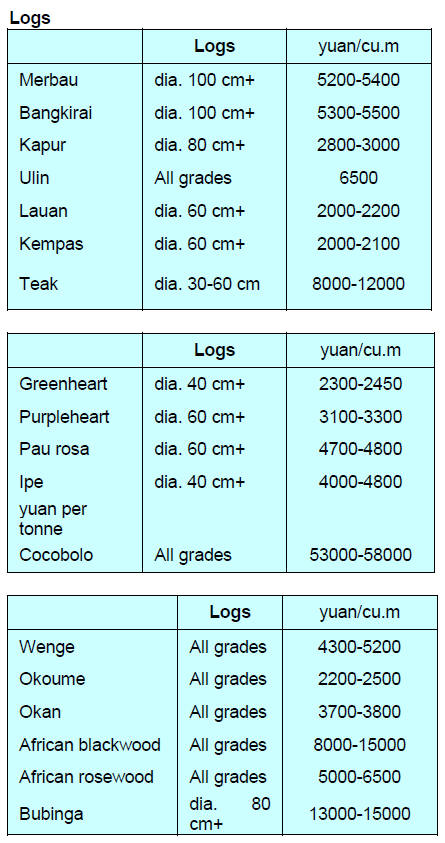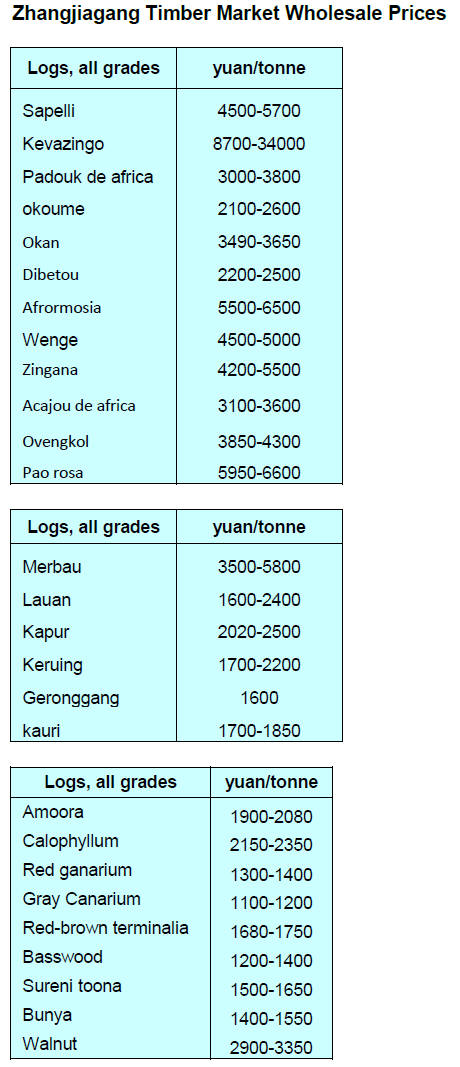 