2. GHANA
Involvement of the younger generation in REDD+
A member of the Planning Committee of Ghana REDD+,
Ms Ama Kudom Agyeman, has asked Metropolitan,
Municipal and District Assemblies (MMDAs), to ensure
that policies enacted to achieve sustainable management of
forests and the environment are taken seriously.

Addressing major stakeholders and students as part of the
Ghana REDD+ Road Show in the Volta Region Ms
Agyeman said, the MMDAs stand to benefit from the
forests and environmental resources and it behoves on
them to protect these resources against deforestation and
degradation.

She said students are being involved in order to create
awareness, build their capacity and inculcate a culture of
appreciation of sustainable management of forest and
water resources.

The project dubbed, ¡°Think Development, Think
Sustainability, Think REDD+¡± is supported through the
World Bank"s Forest Carbon Partnership under the
auspices of the Forestry Commission and the Ministry of
Lands and Natural Resources.

Forest fringe communities lauded
A leading timber producer and exporter, Samartex Ghana
Limited, has organised a forum for communities within 5
kiliometers of its operational area in the Awoin and
Suaman districts of the Western Region as part of its
inclusive social responsibility agreement.

Speaking at the forum, District Manager for the Forestry
Services Division (FSD) of the Forestry Commission (FC)
in the Aowin and Suaman districts, Mr. Lawrence Fosu,
said government and Forestry Commission highly value
communities closest to forest reserves because they
provide security for the forests.

Mr. Fosu applauded Samartex Ghana Limited for assisting
communities in the area of which they are operating. He
cautioned communities leaders that illegal chainsaw
operators destroy the forest and warned anyone found
guilty would be dealt with severely under the law.

President assures business community on
¡®transformation¡¯
The President of Ghana, Hon. John Dramani Mahama, has
assured the international community his administration
would step up measures to transform the economy in the
coming years.

Speaking to the international business community in
London on Ghana"s economic transformation he said this
will focus on adding value to primary goods such as cocoa
and timber in order to boost export earnings and create
jobs.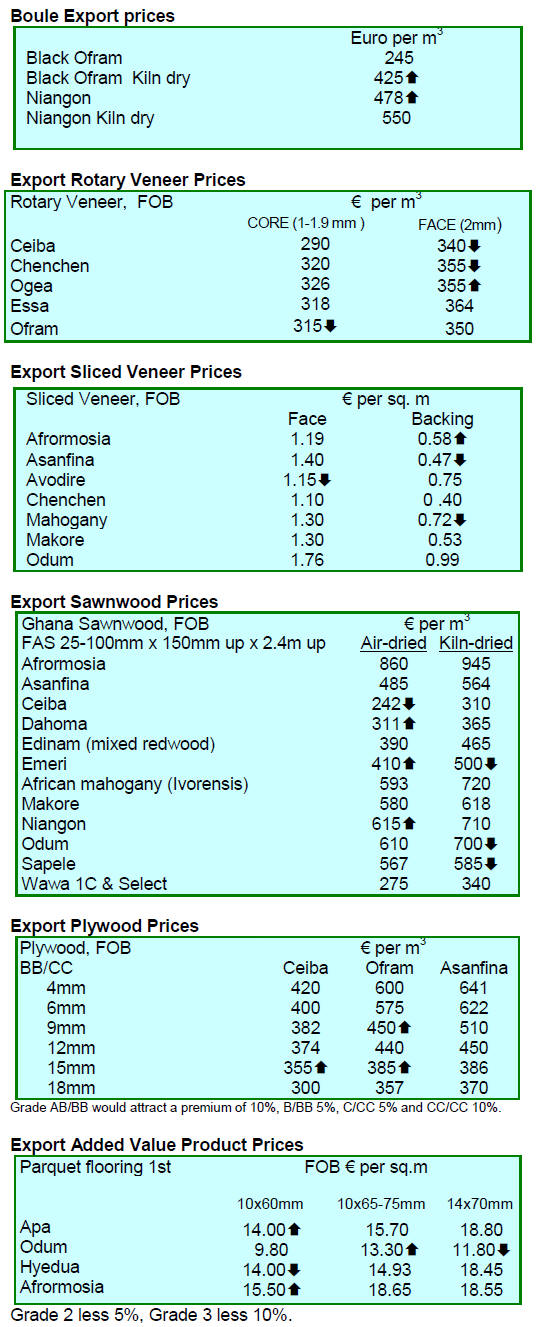 3. MALAYSIA
Malaysian architects avoid designing with timber
Ironically for a major timber producing country such as
Malaysia, architects, builders and specifiers tend to avoid
specifying timber in construction mainly, say analysts due
to their lack of knowledge and appreciation of the
properties of timber.

Common fallacies in the building sector and amongst
consumers range from the non-durability of timber, timber
being a fire hazard and the myth that timber harvesting
contributes to the destruction of the environment.

To start addressing this problem the Malaysian Timber
Council (MTC) recently met with some 135 architects, all
members of the Malaysian Institute of Architects, to begin
work on dispelling the myths and misconceptions on the
suitability of timber in construction.

MTC"s Director of Timber Industries Development, Dr
Wong Tuck Meng, reminded the audience of the "green"
credentials and properties of wood.

One major issue which emerged from the discussion with
architects was the marketing of sub-standard building
components. An instances was cited where timber roof
trusses collapsed but, as pointed out by Dr. Wong, this was
a problem of manufacture not the timber its self.

More FSC certified forests for Sabah
The Sabah Times, a domestic newspaper, has reported that
the Trusmadi Forest Reserve, Timimbang-Botitian Forest
Reserve, Pin Supu Forest Reserve and Northern Gunung
Rara Forest Reserve in Sabah (in total about 150,000
hectares) are on their way to becoming FSC certified.

Other forest reserves in Sabah that have been certified
by FSC are Tangkulap-Pinangah and Ulu Segama-Malua.

WWF-Malaysia is assisting in the FSC certification by
providing technical assistance throughout the certification
process. In support of the FSC certification, WWFMalaysia
recently organised a training course on High
Conservation Values (HCV) which was attended by state
forestry officers and civil society stakeholders.

The training focused on HCV identification, management
and monitoring and it served as an avenue for the
participants to clarify the HCV concept and its application
in forest management.

Sarawak Chief Minister ¨C 1 million hectares of national
parks to come
The Chief Minister of Sarawak, Adenan Satem, continues
to surprise industry observers and detractors by moving
aggressively against illegal activities in the forests.

Adenan has issued a "no mercy" directive against illegal
loggers saying ¡°those holding logging licences have been
warned that they must not cross the line¡±. He expressed
outrage after illegal loggers were found to have entered
two national parks in Sarawak, one of which is the state"s
largest totally protected peat swamp forest.

The Star newspaper reported Adenan saying ¡°We are
asking the State Attorney-General to recommend court
actions. Enough is enough. I want to see results in the fight
against these illegal loggers. I expect the Forestry
Department to deliver concrete results and not give me
more of the same¡±.

The Maludam National Park is the largest totally protected
peat swamp in Sarawak and is located in the Sri Aman
division in southern Sarawak. Bukit Tiban National Park is
located in the Bintulu division in northern Sarawak. Both
are home to rare and endangered species of plants, trees
and animals.

The Chief Minister has been quoted as saying he wanted
to gazette more forests in Sarawak as national parks and is
aiming for at least one million hectares gazetted as
national parks.
4. INDONESIA
Ministries of Forestry and Environment merged
Indonesia"s new president, Joko Widodo, has reorganised
several ministries with the Ministry of Forestry being
merged with the Ministry of Environment. The new entity
will be headed by Dr. Siti Nurbaya an environmental
activist and longtime bureaucrat.

The domestic press in Indonesia has provided a profile on
the new ministers.
See:
http://thejakartaglobe.beritasatu.com/news/indonesiasnew-
ministers/

Intensified challenge to corruption
The Corruption Eradication Commission (Komisi
Pemberantasan Korupsi, KPK) has entered into a MOU
with several ministries to strengthen its work to eliminate
corruption in the forestry sector.

The deputy chairman of the KPK said this MOU involves
his agency and the Ministries of Home Affairs, Forestry,
Public Works Ministry as well as the National Land
Agency.

Warnings issued to local administrations and
companies
Several regencies and municipalities as well as almost 20
companies in Riau have been warned to improve their
compliance with environmental regulations as they are
suspected as being complicit in using fire to clear land.

This warning comes after an investigation conducted by a
team comprising representatives of the President's
Delivery Unit for Development Monitoring and Oversight
(UKP4), the REDD+ Management Agency, the Ministry
of Forestry and the Riau Police.

Update on legality verification service providers
Beginning January 1, 2013 Indonesia implemented a
timber legality verification system based on a certification
approach best described as 'operator-based licensing'.

To achieve certification verification bodies must audit the
legality of the operations of timber producers, timber
traders, processors and exporters.
The following lists those companies, as of September
2014, offering verification services.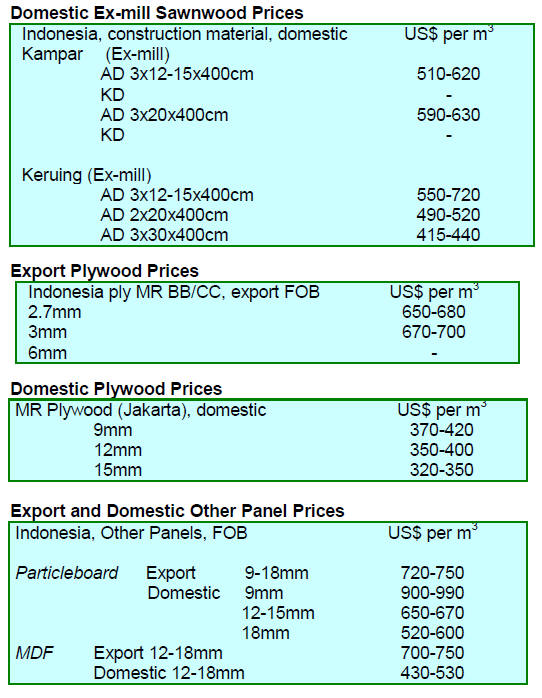 ¡¡
5. MYANMAR
Open tender prices for teak and hardwoods
On 24 October the Myanma Timber enterprise (MTE) sold
teak and hardwood logs as well as sawnwood by open
tender. Prices secured are shown below. Logs are
measured in hoppus tons while sawnwood is measured in
cubic tons.

Logs
Sawing Grade logs were sold by open tender ex-site Katha
and Mandalay (Pyin Oo Lwin) area. A total of 484 hoppus
tons was sold comprising SG7- 427 h. tons; SG8- 18 h.
tons; SG9- 29 h. tons and Thinning Posts (Girth 2")- 12 h.
tons.

17 log lots were unsold. It was reported that 2 lots did not
attract bids while bids for the other 15 lots did not reach
the reserve price. Observers say it is possible that the
difficulty in transport timber from distant sale sites to mills
could be one reason for the lots not being sold.

Sawnwood
All prices mentioned below are in US dollars per ton of 50
cubic feet.

First, Second and Market Quality of teak flitches (width 6¡±
to 19¡± x thickness 3¡± to 15¡± x length 6" & up to 19") and
boards (width 7¡± to 14¡± x thickness 1¡±-2¡± x length 6" to
12") and teak squares (width 10¡± & up x thickness 10¡± &
up x length 6" & up) were sold by special open tender.
 Mandalay (Pa-leik) area- teak boards, 7 cubic
tons, average price US$ 3104
 Toung Oo (Phyu-kwin) area- teak flitches and
squares, 32 cubic tons, average price US$2495
 Toung Oo (Tha-ga-ya) area- hand-sawn teak
flitches, 25 cubic tons, average price US$2492

The following sawn teak products were sold from the
MTE sawmill No.1

Scantlings (width 1¡±-4¡± x thickness 0.5¡±-3¡± x lengths
various ranging from 1.5" to 6" & up); squares (10¡± & up x
10¡± & up x 10" & up, 6"/9"), Posts (6¡±/9¡± X 6¡±/9¡± X 6" &
up), Square-ends (lengths 1" to 5.5"), and post-ends
(lengths1" to 5.5").

Prices of scantlings range from US$901 to US$3098 per
ton depending on the sizes and quality. Teak squares
Market Grade fetched US$1220 to US$1777 per ton. Teak
Posts were sold at prices from US$1215 to US$1335 per
ton. Third Quality teak scantlings (134 tons) were sold at
an average price of US$654 per ton.

Seized hardwood sales
 Tamalan hewn timber, 143 tons, average price
US$3410 per ton
 Tamalan sawn timber, 23 tons, average price
US$5088 per ton.
 Padauk hewn timber, 154 tons, average US$3013
per ton
 Padauk logs from Mandalay area, 11 h. tons at
US $2787 per h.ton
 Sagawa log,s 50 tons, atUS $ 411/h.ton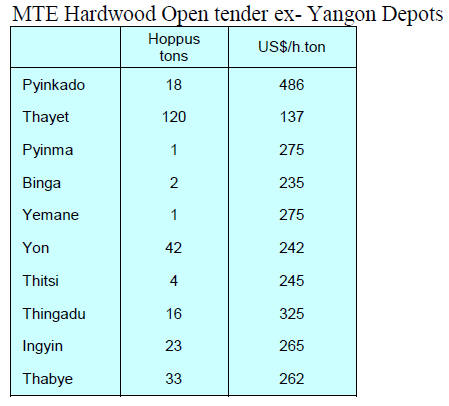 Armed security in forest reserves
The domestic press (Messenger Daily) has reported that
armed officers from the Myanmar Police Department will
be assigned to patrol forest areas to prevent illegal felling
and transport of illegally harvested logs.

The officers will reportedly patrol only during the time
when the weather allows harvesting that is from
November until April.

Normally trees are felled during May to October the rainy
(monsoon) season in Myanmar and trucked out of the
forests from November to April, the so-called "open
season". During the up-coming open season armed guards
will patrol the reserved forests of Yangon Division,
Mandalay Division, Bago Division, Sagaing Division and
the Shan State.

Malaysian success at trade show
A press release from the Malaysia External Trade
Development Corporation (MATRADE) says that it
arranged for some 70 Malaysian companies to participate
in the ¡°Malaysia Services Exhibition and Showcase
Malaysia 2014¡± held in Yangon in early October.
Contracts worth RM991 million were reported by
Malaysian exhibitors during the event.

In addition to the exhibition a cross-border programme
that involved meetings with local government officials and
the private sector was held to explore investment
opportunities in Myanmar"s fast emerging market.

MATRADE says: Over the last five years trade between
Malaysia and Myanmar has increased from RM1.22
billion in 2009 to RM2.89 billion in 2013.

For the first eight months of 2014, Malaysia"s trade with
Myanmar was valued at RM2.18 billion, while exports
recorded RM1.8 billion an increase of 48.3 per cent
compared to the previous year.

For more see: http://www.matrade.gov.my/en/aboutmatrade/
media/press-releases/press-releases-2014/3632--
promising-opportunities-in-myanmar-for-malaysiancompanies-
22-october-2014
6. INDIA
Wood product price index drops
The Office of the Economic Adviser (OEA) to the Indian
government provides trends in the Wholesale Price Index
(WPI). The official Wholesale Price Index for "All
Commodities" (Base: 2004-05 = 100) for the month of
September 2014 declined by 0.4 percent to 185.0
(provisional) from 185.7 (provisional) for the previous
month.

The annual rate of inflation, based on the monthly WP,
stood at 2.38% (provisional) for September 2014 (over
September2013) as compared to 3.74% (provisional) for
August.

For more see: http://www.eaindustry.nic.in/cmonthly.pdf

Timber and plywood wholesale price indices
The OEA also reports Wholesale Price Indices for a
variety of wood products.

The Wholesale Price Indices for Logs/timber and Plywood
are shown below.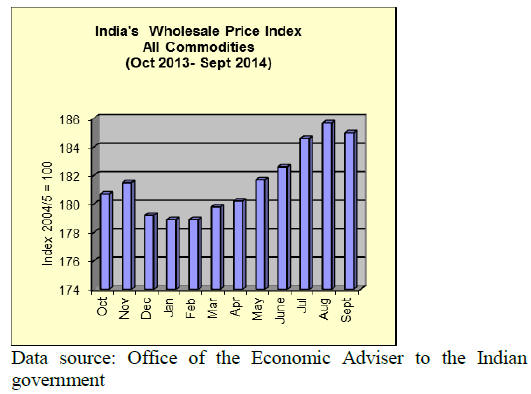 The September index for the 'Wood and Wood Products'
group rose by 0.4 percent to 186.1 (provisional) from
185.4 (provisional) in August due mainly to higher prices
for plywood and fibreboard.

See: http://eaindustry.nic.in/display_data.asp

Red Sanders auction now a court matter
The auction of red sanders scheduled for October 10 was
halted after a Chennai-based individual filed a complaint
with the National Green Tribunal claiming that red sander,
an endangered species, was on the brink of extinction
owing to large-scale felling and smuggling. The Andhra
Pradesh government is preparing to file a petition against
the tribunal"s order to halt the sale.

Red sanders is included in Appendix-II of the Convention
on International Trade in Endangered Species of Wild
Fauna and Flora (CITES) 1995 and classified as
endangered. Red sanders is also on the red list of the
International Union for Conservation of Nature.

The proposed sale by India was authorised by CITES and
this was to be the third time since 1995 that India had been
given permission to export logs seized from smugglers.

The sale of red sanders became big news locally after the
Chandra Babu Naidu government announced that it was
thinking of using the sale proceeds to fund the crop loan
waiver scheme. The government is expecting Rs.20 billion
from the sale of red sanders for which auctions are
planned.

As many as 140 overseas buyers, including 109 from
China, plus 275 Indian businesses have already inspected
the red sanders logs in readiness for the auction.

Importers react to smaller plantation teak logs ¨C prices
driven down
In case of Congo D.R., Sudan, Tanzania and Uganda,
minimum prices offered for plantation teak have fallen
reflecting the smaller logs that are now on offer from
exporters.

However, in case of Panama top end prices have improved
as some good size logs are coming into the market. For
other shippers prices remain stable.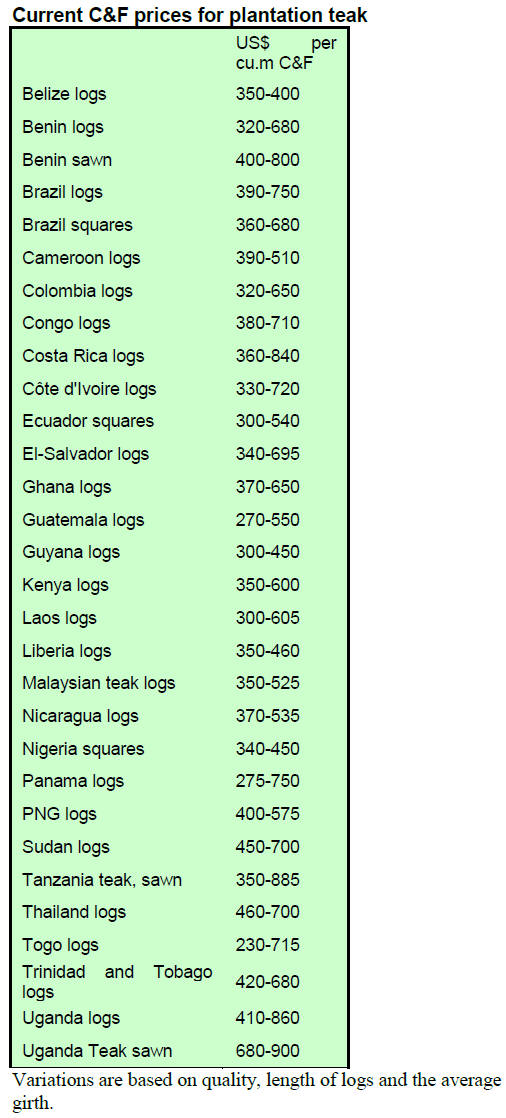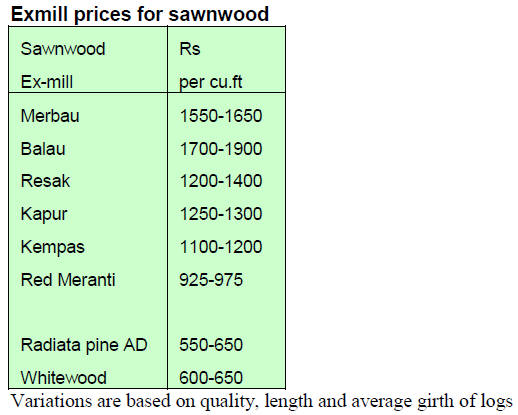 Myanmar sawnwood begins to arrive in India
Domestic end-users continue to firmly resist efforts by
those Indian companies holding the remaining stocks of
Myanmar teak stockiest to push up prices.

Myanmar teak sawnwood imports are beginning to arrive
in India but some sizes are in short supply. However, this
is expected to be only a short-term issue which will be
overcome as deliveries increase. The improved arrival of
teak sawnwood should mean the consumer has a wider
choice of product at more affordable prices say analysts.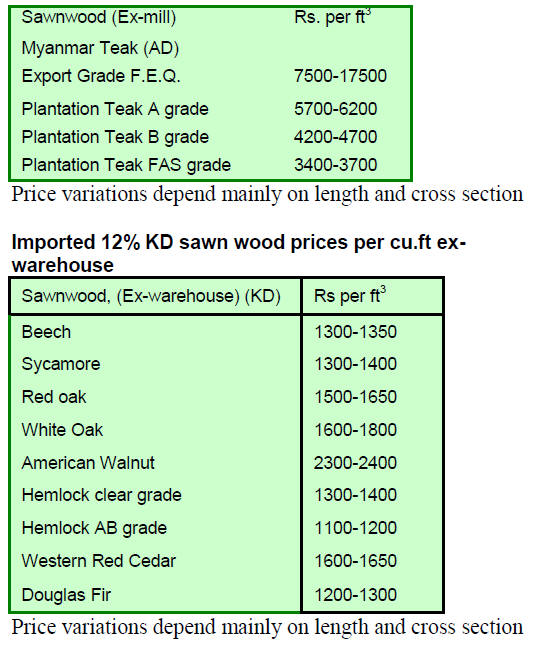 Gurjan veneer imports
Shipments of gurjan core and face veneers produced in
Myanmar by Indian plywood mill owners have started
arriving in India and this has eased the raw material supply
situation for those millers with the foresight to invest in
off-shore veneer production.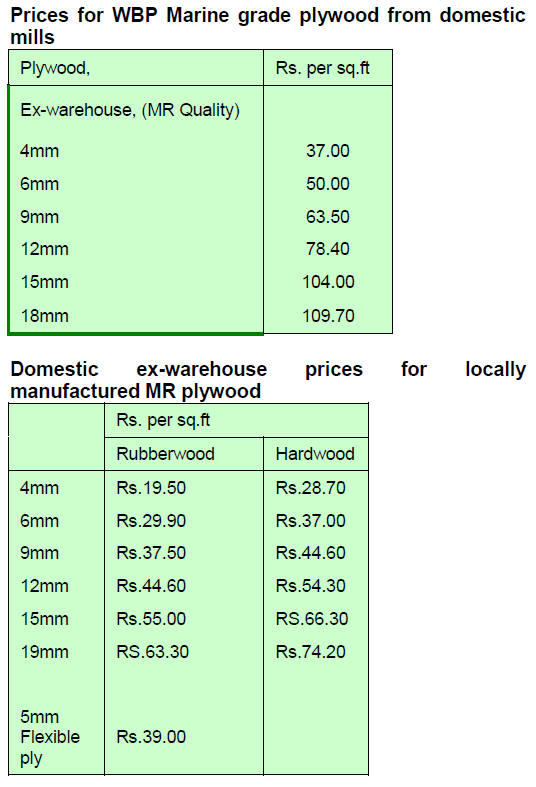 More forest areas to be opened to mining
Forest Survey of India ( FSI ), the government"s top body
for assessing and monitoring forests, is recommending that
mining be permitted in some 463,000 hectares of the
almost 650,000 ha. of areas where there are coal resources.
The recommendation, if accepted by The Ministry of
Environment, would increase domestic coal production
and reduce the import bill.

The re-assessment exercise by FSI was conducted at
request of the Environment Ministry to determine how
much of the forests should be excluded from mining
activities.

Coal is at the foundation of the country"s energy policy
and the current re-assessment claims to have taken into
considerations various issues such as forest cover and
hydrological values, wildlife, biodiversity and the
landscape.

The Indian coal industry is set for major change as the
government is to allow private Indian companies to both
mine and sell coal, the most significant change in the
energy sector for 40 years.
7. BRAZIL
Tropical sawnwood and plywood exports perform well
In September 2014 wood products exports (except pulp
and paper) increased 22% in value terms compared to
September 2013, from US$195.7 million to US 238.8
million.

Tropical sawnwood export volumes in the same period
were up 6.4%, from 28,300 cu.m in September 2013 to
30,100 cu.m in September 2014. In terms of value, exports
increased 11.5% from US$14.8 million to US$16.5
million over the same period.

Pine sawnwood exports increased by 46% in value in
September 2014 compared to September 2013, from
US$15.0 million to US$21.9 million. In terms of volume,
exports rose 44%, from 64,700 cu.m to 93,200 cu.m over
the same period.

Tropical plywood exports increased 26.5% in volume,
from 3,400 cu.m in September 2013 to 4,300 cu.m in
September 2014 (but still very low compared to levels 10
years ago). In terms of value, tropical timber exports
climbed 22.7%, from US$2.2 million in September 2013
to US$2.7 million in September 2014.

Pine plywood exports also increased by 28.9% in value in
September 2014 in comparison with September 2013,
from US$29.4 million to US$37.9 million. Export
volumes increased 25%, from 81,700 cu.m to 102,100
cu.m, during the same period.

Wooden furniture exports grew from US$40.2 million in
September 2013 to US$45.9 million in September 2014, a
14.2% improvement.

Brazilian plywood industries seek to increase
international business
Plywood producers in Brazil recently met to assess
international market opportunities given the improvement
in exports to the US which increased by almost 15% in
August this year.

Further market diversification was another issue being
promoted by the Brazilian Association of Mechanically-
Processed Timber Industry (ABIMCI). So far this year
there has been a 15% increase in the volume of exports to
new destinations, mostly emerging economies.

According to ABIMCI, the latest data show that many
companies have orders stretching well into November.
However, despite the 17% growth in production from
2009 to 2013, exports have not yet returned to pre-2009
crisis levels.

A construction boom in the domestic market has meant
that more than half of the plywood output was consumed
locally. But the weakening of the Brazilian economy has
resulted in falling investments in civil construction. Under
these circumstances plywood producers are seeking to
increase sales in the international market.

Brazilian furniture exports to US up 50% in September
Brazilian furniture exports in September 2014 increased
12.0% in value compared to the same month of the
previous year, from US$41.1 million in September 2013 to
US$46.0 million in September 2014.

The main markets for Brazilian furniture in September
2013 were: the United States (16.1%), the United
Kingdom (15.3%), Peru (8.3%) and Angola (8.2%). In the
same month in 2014, the United States continued as the
main importer of Brazilian furniture accounting for 21.7%
of all furniture exports followed by the UK at 14.6%, Peru
(9.4%) and Angola (8.4%).

Growth in furniture exports was highest in the US market
were year on year growth in September rose over 50%. In
the UK a 7.4% growth in sales was recorded.

Producers in the state of Rio Grande do Sul where the
main furniture exporters in September 2014, accounting
for 38% of the value of furniture exports. Exports by
producers in Santa Catarina accounted for a further 38%
with 14.4% being exported from Paran¨¢.

Annual growth in output tops 5%
According to Brazilian Institute of Geography and
Statistics (IBGE), Brazilian timber industry production has
expanded steadily since 2009, the year when output
collapsed.

In the period 2009-2014 domestic production increased
approximately 30% corresponding to an average annual
growth of 5%. The timber industry in Paran¨¢ state
achieved an average annual growth of 8%.

Despite this growth, Brazil is still producing 18% less
wood products compared to 2004 when the timber
industry was at its peak.

An International Conference "Wood Products Industry and
Exports" in Curitiba, Paran¨¢ state will consider how
growth in the industry can be maintained and whether it is
possible that production can return to the 2004 levels.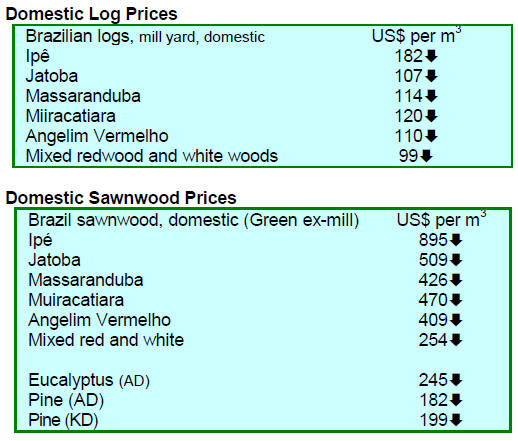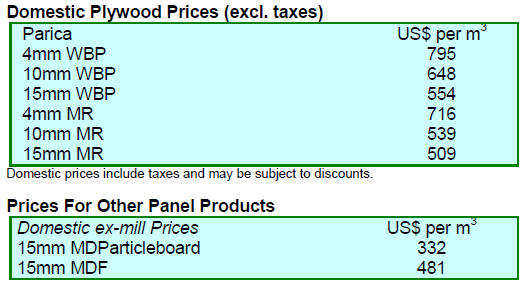 Economic news
Brazil"s Consumer Price Index (IPCA) increased 0.57% in
September 2014, more than twice the rate in August.

In September, the accumulated annual IPCA stood at
4.61%, well above the 3.79% registered in the same
period in 2013. Over the past 12 months, the index has
climbed 6.75% the highest since October 2011, when it
reached 6.97%.

The Monetary Policy Committee (COPOM) of the
Brazilian Central Bank kept the prime interest rate (Selic)
at 11% when it last met. The rate has not been changed
since May this year when the cycle of high interest rates
ended after over a year of increases.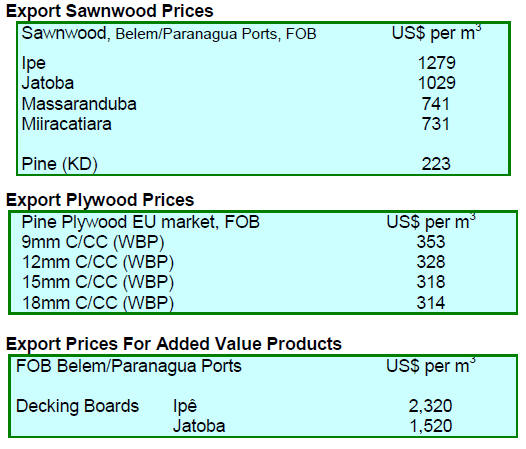 ¡¡
8. PERU
New markets and double-digit growth for Peruvian
Boards
Peruvian Boards S.A. (Tapesa), the sole manufacturer of
composite boards marketed as Maderba Peru, said it plans
to expand its presence in international markets.

Tapesa currently exports to Colombia and Bolivia and
plans to enter the markets of Ecuador and Chile where it
will face tough competition from domestically
manufactured boards. The market strategies developed for
the new initiative are expected to result in double digit
growth in 2014 and 15% growth in 2015.
Tapesa has a production facility in La Libertad, northern
Peru close to sources of its raw materials which are pine,
eucalyptus and bagasse.

The company was founded over 30 years ago also has a
significant national presence with 23 dealers, 14 of them
in Lima.

Forestry Law would take effect in 2015
The Forestry and Wildlife Act will come into effect next
year according to the Director of the Forest Service and
Wildlife (SERFOR), Fabiola Munoz.

He is quoted as saying: "In January 2015 we expect to
approve the regulations and enforce the new law which
has a holistic approach to land management, promoting
plantation and community forestry and will offer training
to indigenous organisations¡±. Because of the consultative
process in developing the new regulations communities
were able to participate.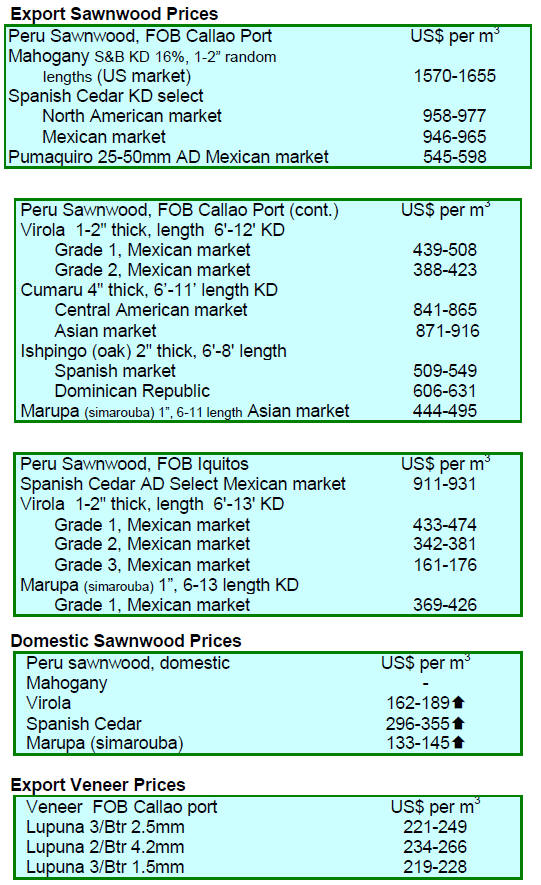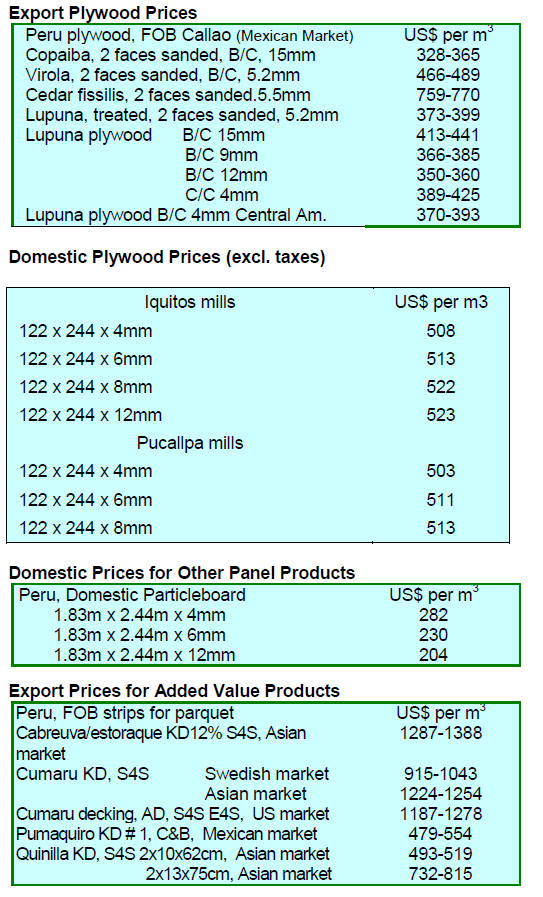 9. GUYANA
Advantages of cutting for quality and grade
emphasised
The Forest Products Development and Marketing Council,
in collaboration with The Forestry Training Centre"s,
Chainsaw Milling Project, along with Farfan and Mendes
Ltd. hosted two workshops with members of the
Moraikobai Logging Community located in the
Mahaicony River and members from the Charity,
Pomeroon region.

The focus was on timber grading and solar kiln
construction and drying. There was also a presentation on
marketing and the requirements for the export of timber
products.

A session on best practices in chainsaw milling to produce
quality and high yields while using safe processing
techniques was popular. As a follow-up there was
discussion on correct cutting procedures and stacking
practices. The advantages of cutting for quality and grade
as against cutting for volume were emphasised.

Export Prices
There were no exports of greenheart logs or baromalli
plywood in the period reviewed.