Report from North America
China¡¯s plywood market share rises
US imports of hardwood plywood declined again in July.
Imports were 265,480 cu.m, down 2% from June. Year-todate
imports were still 9% higher than in July 2013.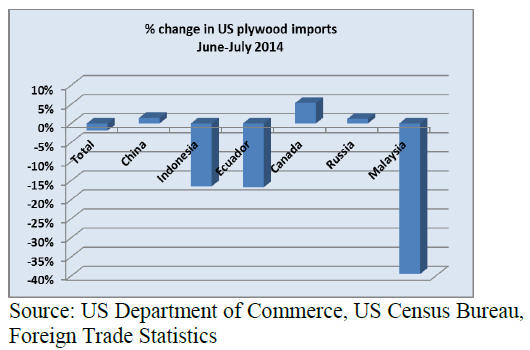 Hardwood plywood imports from China increased slightly
(+1%) to 172,757 cu.m. Year-to-date imports from China
were 17% higher than at the same time in 2013.

Hardwood plywood imports from Indonesia, Ecuador and
Malaysia declined in July. Indonesia shipped 19,437 cu.m
(-16%), Ecuador 13,182 cu.m (-17%) and Malaysia 4,417
cu.m (-39%).

July moulding imports highest since 2011
At US$19.8 million, July imports of hardwood moulding
were higher than any time since 2011. Imports increased
by 14% from the previous month and year-to-date imports
were 8% higher than in July 2013.

Hardwood moulding imports from China, Brazil and
Canada rose in July, while Malaysia shipped less.
Moulding imports from China were worth US$6.5 million,
up 8% from June.

Higher hardwood flooring imports from Vietnam and
EU
Imports of hardwood flooring increased by 10% to US$3.1
million in July. China was the largest source of imports in
July at US$723,508 (+24%). However, much of the
growth in overall US imports of hardwood flooring came
from Vietnam and Europe.

Hardwood flooring imports from Indonesia fell by 67%
from June to US$241,920. Malaysian shipments were
worth US$560,209 (-13%).

Assembled flooring panel imports were US$12.5 million
in July, up 10% from June. Imports from China jumped by
41% to US$7.0 million, while imports from Canada
declined. Indonesian exports of assembled flooring
increased by 28% in July to US$ 874,141.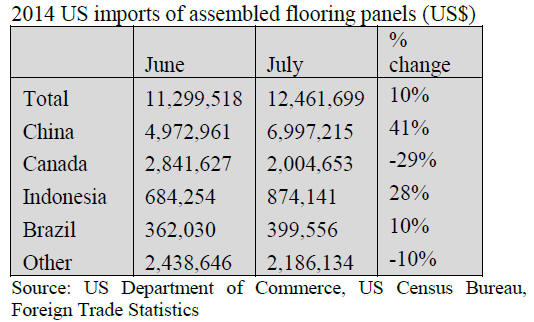 NAFTA countries and Vietnam expand furniture
shipments to US
Wooden furniture imports grew slightly (+1%) in July.
Total July imports were worth US$1.30 billion. Year-todate
imports were 10% higher than in 2013.

Imports from Vietnam, Canada and Malaysia increased in
July, while China"s furniture shipments fell by 5% to
US$625.8 million.
Furniture imports from Vietnam were US$211.4 million in
July, up 15%. Mexican exports to the US were worth
US$57.1 million, almost unchanged from June.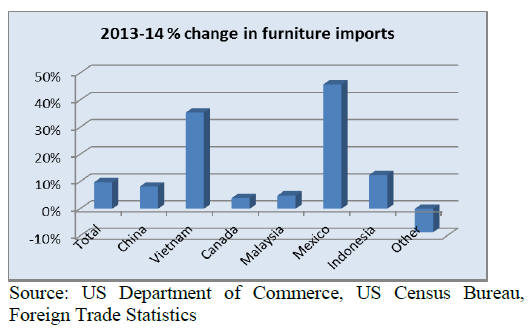 China"s import share declined by 0.2 percentage points in
July to 48.5%, based on the average in the last twelve
months. The import shares of Vietnam and the NAFTA
partners (Canada and Mexico) increased by 0.1 percentage
points to 16.5% and 12.7%, respectively.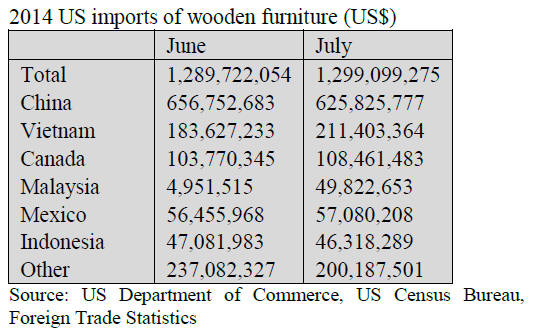 Several other, smaller suppliers increased their wooden
furniture exports to the US in July. Imports from Europe
(Italy and Poland), India and Thailand increased
substantially in July.

Furniture retail sales trends positive
The outlook for the 2014 furniture market remains
positive, despite the slow growth in furniture retail sales.
GDP growth has picked up as expected by analysts. On the
down side, unemployment remains relatively high and
consumer confidence is still not very strong.

However, the growth in housing starts and home sales
should support demand for furniture in the second half of
2014.

Furniture sales (excluding home furnishing) grew by 6%
in July to US$4.4 billion, according to US

Furniture sales 1% higher than in July 2013.
New furniture orders grew by 5% in the first half of 2014
compared to the same period last year. Smith Leonard"s
furniture survey found that about 60% of companies had
higher orders in the first half of 2014.
Year-to-date furniture shipments were 4% higher in the
first half of 2014 compared to 2013. Almost 70% percent
of companies reported higher year-to-date shipments in
June.

Inventory levels at distributors and manufacturers
increased more than orders and shipments.

June furniture inventories increased by 9% from the
previous month. The higher inventories may be due to
summer holiday shutdowns, or because furniture retail
sales appear to lag manufacturing and imports.

Growth in domestic furniture and wood product
manufacturing
Economic growth in the second quarter of 2014 was
revised upward to 4.2% in the second estimate by the US
Department of Commerce. In the first quarter, real GDP
decreased by 2.1%.

The manufacturing sector grew again in August, according
to the Institute for Supply Management. Both furniture and
wood product manufacturing reported growth in August.
Labour availability is a challenge for some furniture
producers.

Federal Reserve ends financial asset purchasing
The unemployment rate changed little in August and was
6.1%, according to the US Department of Labor. The
number of long-term unemployed declined. Long-term
unemployed (jobless for 27 weeks or more) accounted for
31% of all unemployed in August.

The US Federal Reserve will soon end its buying of
financial assets, which has been part of the economic
stimulus program since 2008. The second part of the
economic stimulus are low interest rates. The Federal
Reserve will probably keep interest rates low into 2015
because the labour market indicates that the economy is
still fragile.

Growing gap between upper and lower income
households
Consumer confidence in the US economy improved in
August, according to the Thomson Reuters/University of
Michigan consumer sentiment index. Most households
reported that their financial situation improved.

However, the gap between upper income and lower
income households is widening. Upper income households
reported higher incomes and wealth due to higher stock
and asset prices.

Most other Americans reported no net gain in income and
only a small growth in wealth. Stock prices and house
prices have increased, but there is little growth in wages,
which is ultimately needed for a full recovery of the US
economy.

Consumers are not very optimistic about their personal
financial outlook. They expect incomes to increase less in
the year ahead compared to the past year.

Home builders more confident except in US South
Builders" confidence in the market for newly built singlefamily
homes increased by two points in August to 55 on
the National Association of Home Builders/Wells Fargo
Housing Market Index. This is the highest confidence
level since January.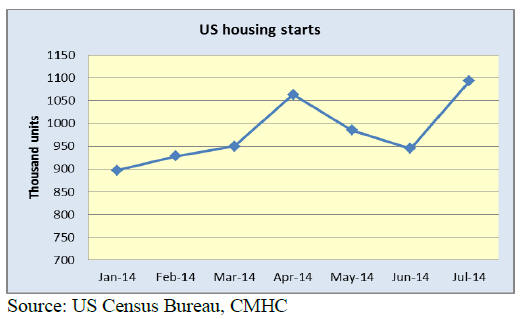 Builders" confidence grew in all four regions of the
country. The strongest growth was in the Midwest. The
South continues to be the weakest market.

Housing starts surpass 1 million in July
The latest US Census Bureau data release for new
residential construction is more optimistic that in the
previous months. June housing starts were revised upward
to 945,000 (seasonally adjusted rate). In July, housing
starts increased by 16% to over 1 million. July starts were
22% higher than in July last year.

Single-family housing starts increased by 8% in July,
while construction of multi-family units jumped 29%. The
growth in construction was highest in the Northeast.

The number of building permits also increased in July,
mainly due to higher multi-family permits. The total
number of permits was 1.052 million units at a seasonally
adjusted annual rate. The number of building permits
issued is an indicator of future building activity.

Sales of distressed homes down
Sales of existing homes were at their highest this year in
July. However, sales were lower than in July 2013,
according to the National Association of Realtors.

The share of distressed homes sold fell to below 10% for
the first time since the housing market crisis. Distressed
homes are foreclosures and short sales, typically because
the home owner is not able to pay the mortgage.

Growth in non-residential construction
Both private and public expenditures on non-residential
construction increased in July from the previous month.
Private construction spending grew by 2.1%, while public
spending on office, commercial, health care and
educational construction increased by 1.6%.

The American Institute of Architects reports gains in nonresidential
design work in all regions of the country.
Institutional construction is finally improving.
Commercial and industrial projects have gained since the
start of 2014.

Legislation proposed to ban most toxic flameretardants
in furniture
A US senator has introduced a bill that would ban the most
toxic flame-retardants from being used in upholstered
furniture and children"s products.

Studies have linked the flame-retardants with health
problems in children and firefighters. The legislation
would ban the ten most toxic flame-retardants at the
federal level.

California changed its flame-retardant regulation for
upholstered furniture in 2013. However, manufacturers
may still use flame-retardants to achieve the new
California standard. It is possible to fulfil the new standard
without flame-retardants, but the regulation leaves it to the
manufacturers to let customers know whether or not
flame-retardants are used in furniture.

Retroactive import duty rates for bedroom furniture
from China
The US Department of Commerce has announced final
anti-dumping duty rates for 2012 imports of bedroom
furniture from China. Importers had already paid cash
deposits to US customs, but the Department of Commerce
carried out a review of the rates.

The duty rates range from 0% to 216%, depending on the
manufacturer. Several Chinese manufacturers had their
duty rate reduced based on revised calculations and new
financial statements from the companies. A new exporter
to the US, Dongguan Chengcheng Group, received a 0%
rate.

Furniture producers who did not submit information to the
Department of Commerce that shows they qualify for a
reduced rate, received a rate of 216%.

The list of companies with the 216% rate is available here
(under footnote 5): http://www.gpo.gov/fdsys/pkg/FR-
2014-09-02/pdf/2014-20827.pdf