Report from North America
Decline in US imports of ipe and virola sawnwood
US imports of all hardwood sawnwood grew by 6% in
July to 80,280 cu.m. The growth was in temperate species,
while tropical imports declined by 11% to 18,258 cu.m.
Year-to-date tropical imports were 6% higher than in July
2013.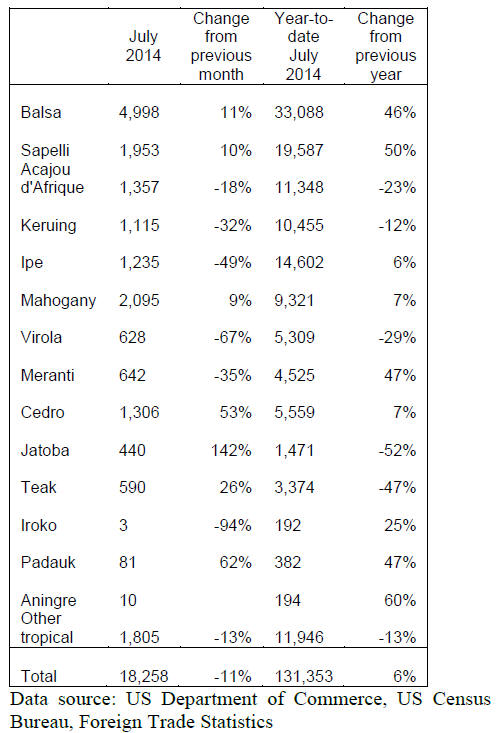 The month-over-month decline was primarily in ipe and
virola sawnwood imports (1,235 cu.m and 628 cu.m
respectively). The largest growth in imports was in cedro
(1,306 cu.m), balsa (4,998 cu.m), jatoba (440 cu.m) and
sapelli (1,953 cu.m).

Imports from most major tropical suppliers declined in
July, with the exception of Ecuador, Congo (Brazzaville)
and Cote d"Ivoire.

Ecuador"s exports of balsa to the US were 4,980 cu.m, up
10% from June. Compared to last year, balsa imports from
Ecuador increased by 50% to date in 2014.
The growth in wind turbine manufacturing supports US
demand for balsa.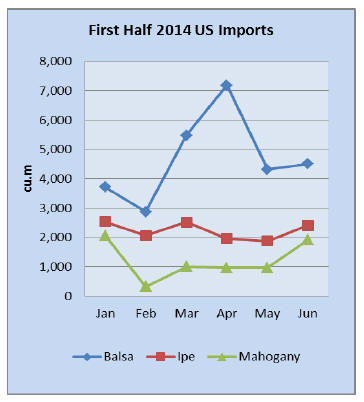 Brazil"s shipments fell by 27% to 2,458 cu.m in July. The
decline was mainly in ipe sawnwood (1,136 cu.m). Jatoba
sawnwood imports from Brazil increased to 440 cu.m in
July. Peru shipped less virola to the US in July (257 cu.m
with lower virola shipments, down from 1,604 cu.m in
June.

Keruing sawnwood imports from Malaysia decreased by
27% to 1,032 cu.m in July. Overall sawnwood imports
from Malaysia were 1,469 cu.m, down 34% from June.

Imports from Indonesia declined by 11% to 896 cu.m, but
meranti shipments were up in July.

Cameroon shipped 1,349 cu.m of sawnwood to the US in
July. Both sapelli and acajou d"Afrique imports from
Cameroon were slightly down compared to the previous
month.

Imports from Ghana also declined in July, mainly due to
lower acajou d"Afrique imports. The US imported 1,272
cu.m of sawnwood from Ghana in July, down 24% from
the previous month but year-to-date imports were one
third higher than in July 2013.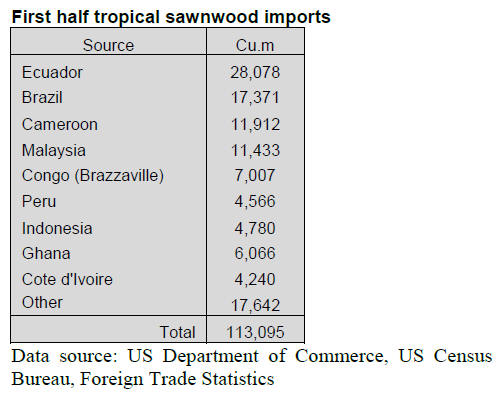 Canadian meranti imports up
Canadian imports of tropical sawn hardwood were worth
US$2.3 million in July, down 24% from June. Year-todate
imports in 2014 remained 18% higher than in July
2013.

Imports from Canada"s largest supplier countries declined
in July (Brazil, Cameroon, Ecuador and Indonesia), while
imports from Malaysia, Bolivia and Ghana grew.

Sapelli imports fell by 28% to US$503,743 in July, but
year-to-date imports were 55% higher than at the same
time last year. Virola, imbuia and balsa imports
(combined) declined by 8% to US$239,890.

Imports of mahogany were worth US$125,731, up 4%
from June. Meranti imports jumped to US$57,673 with a
recovery in shipments from Malaysia.

Bio-Preferred programme open to wood products
The US Department of Agriculture (USDA) has
eliminated the restrictions on including mature market
wood products in the BioPreferred programme.

The BioPreferred programme is part of the 2014 Farm
Bill. It promotes ¡°biobased products, including forest
products, that apply an innovative approach to growing,
harvesting, sourcing, procuring, processing,
manufacturing, or application of biobased products
regardless of the date of entry into the marketplace."

The BioPreferred programme will be used in procurement
by federal agencies. Voluntary consumer labelling is also
part of the program. The USDA has certified about 1,800
biobased products for the label to date.

Mature market products, with a significant market share
before 1972, were previously excluded from the program.
Now wood product manufacturers can register with the
program if they apply an innovative approach in any part
of the life cycle of their product.

The USDA is now working on defining and evaluating the
eligibility of innovative approaches for the BioPreferred
programme. In the meantime wood product manufacturers
can use interim guidelines regarding innovative
approaches when applying for a BioPreferred label.

Environmental Product Declarations (EPDs) are thought to
help manufacturers prove innovative approaches by
demonstrating the environmental impact of products.
EPDs have been developed for most major wood and
building products in North America.

Promoting US-made building materials in public
buildings
A bill is progressing through the US Senate that would
require the use of US-made building products when public
buildings are built or repaired. The bill applies to all
building products, including wood. It is too early to tell
whether the bill will pass and change current procurement
practices in public construction.

Other levels of government have recently supported
initiatives to increase the use of wood versus other
materials in public buildings, without specifying where the
wood products are manufactured. For example, the state of
Georgia passed a bill in May that allows greater use of
wood in the construction of schools.

In Canada, several provinces and cities went one step
further and implemented the so-called Wood First Act in
recent years. It mandates that where feasible wood has to
be used as a primary building material for all publicly
funded buildings. The province of Quebec also promotes
the use of wood in appearance applications in public
buildings.

A federal bill was defeated in Canadian parliament in 2010
that would have made wood the preferred material in the
construction or repair of federal public buildings. The
construction industry opposed the change.

Canada supports indigenous forest companies
The Canadian government and the province of
Saskatchewan have announced a $1.1 million investment
in the Prince Albert Model Forest Association. The
association will provide guidance to forest companies in
management practices, manufacturing, product
development and marketing for international export.

The assistance will be made available to all forest
companies, but an important goal is to support indigenous
companies owned by First Nations and M¨¦tis. The forest
sector in Saskatchewan generates about $1 billion in sales
every year, and First Nations and M¨¦tis account for over
15% of the workforce.