Japan Wood Products Prices
Dollar Exchange Rates of 25th September 2014
Japan Yen 109.29
Reports From Japan
Personal consumption key to growth
Japan's annualised growth in the first quarter of this year
was almost 6% as companies and consumers brought
forward spending to beat the 60% rise in the consumption
tax (from 5% to 8%) 1 April 2014.

As expected, personal spending fell back sharply in the
second quarter and the Bank of Japan has warned that it is
taking longer than forecast for spending to recover.

Personal spending accounts for over 60% of GDP growth
in Japan and the rapid fall in household spending, coupled
with the yen's depreciation, has slowed recovery from the
"tax shock".

The average monthly household expenditure for July was
yen 280,293 down 5.9% in real terms from the previous
year.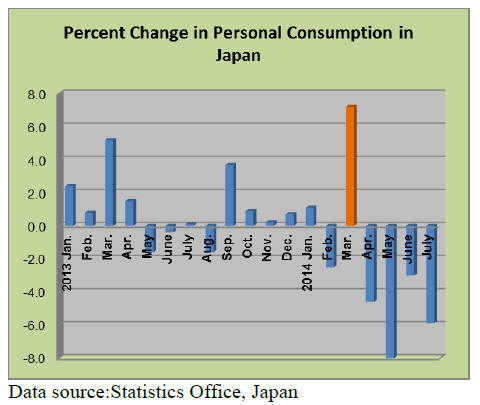 Will 2015 consumption tax increase to 10% derail
growth?
The Japan Center for Economic Research (JCER) in its
short-term forecast for the Japanese economy forecasts
that economic expansion would resume in the July–
September quarter as the effects of the consumption tax
increase subside and they forecast an upswing in capital
investment at the beginning of next year.

See: http://www.jcer.or.jp/eng/pdf/sa158-eng2.pdf

JCER notes that the last-minute consumer spending,
especially on durable goods, in the first quarter increased
more than recorded in the same period prior to the
previous consumption tax increase in 1997.

In 2015 the consumption tax is due to be raised to 10%
from the current 8% and while there will be once again a
degree of last-minute spending by consumers, this is not
expected to greatly affect overall growth for 2015 such
that the Japanese economy is expected to expand in real
terms by 1.1% in fiscal 2015.
There are risks however and JCER point to a possible drag
on growth brought on by a 2015 consumption tax hike; a
downswing in net exports as the electronics and other
industries continue to hollow out; effects on markets in
emerging economies from tapering of QE3 measures in
the United States; fragility of the Chinese financial
market; geopolitical instability, such as the situation in
Ukraine and foreign exchange market fluctuations.

Yen at six year low
The yen fell to a six-year low against the US dollar during
the second half of September. Behind the yen weakness
was the improving US economy and signals from the US
Federal Reserve that it could raise borrowing costs faster
than expected.

While the Federal Reserve has said it would keep interest
rates near zero for a "considerable time" investors are
moving money out of yen into dollars in anticipation of an
interest rate hike. Such a move makes dollar-denominated
assets more attractive since both Japan and the EU rates
are likely to remain low for some time.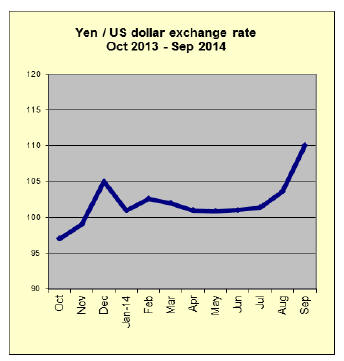 Trends in office, kitchen and bedroom furniture
imports
Japan"s office, kitchen and bedroom furniture imports
from 2009 to the end of August 2014 are shown below.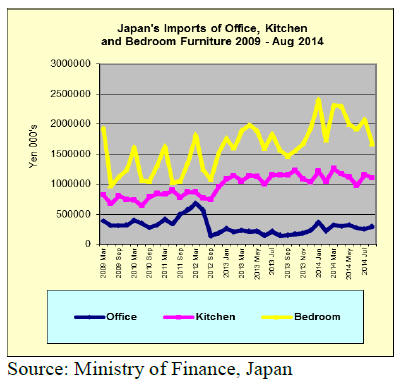 Japan"s imports of bedroom furniture fell sharply in
August. If it were not for the modest increase in July then
the trend would have been down for four consecutive
months. Demand for imported kitchen furniture remains
flat largely a reflection of the slow housing market.

Imports of office furniture have settled back into the
steady levels seen before the minor peak just before the
consumption tax increase in April this year.

Office furniture imports (HS 9403.30)
Japan"s August 2014 imports of office furniture were up
15% compared to levels in August. China remains the
major supplier (49%) but its market share fell slightly in
August. Exports of office furniture by both Italy and
Portugal increased and there was a big jump in imports
from the US in August.

Kitchen furniture imports (HS 9403.40)
The top suppliers of kitchen furniture to Japan in August
continued to be Vietnam (45%, an increase over July
levels), China and the Philippines, each of which
accounted for between 17-18% of all August imports of
kitchen furniture.

Year on year, August 2014 imports of kitchen furniture
were barely changed from levels in August 2013.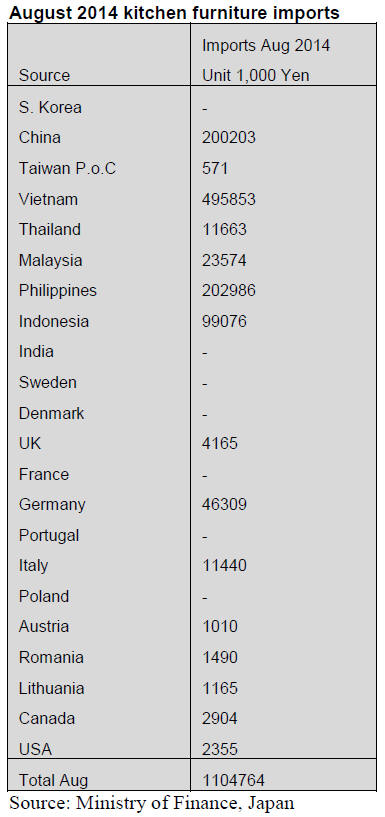 Bedroom furniture imports (HS 9403.50)
China, Vietnam and Thailand dominated bedroom
furniture imports in August as they have since early in the
year but each suffered a decline as Japan"s overall imports
of bedroom furniture fell by 9% in August.

Other major suppliers include Malaysia, Poland and
Romania but all saw a correction in levels of demand in
August. As the holiday season in Japan is over house
builders are back at work so hopefully completions will
increase which should lift demand for furniture.


Trade news from the Japan Lumber Reports (JLR)
For the JLR report please see:
http://www.nmokuzai.
com/modules/general/index.php?id=7
South Sea (tropical) logs
Log market in supplying regions continues firm. In
Sarawak and Sabah, Malaysia, heavy rain started in
middle of August, which could be a start of rainy season.
In Sarawak, where log supply relies on rivers, barges are
not able to navigate rivers so that logs stay upstream.

Log supply has been tight even before the rain started so
Sarawak log prices are unchanged at US$280-295 per cbm
C&F on meranti regular for Japan. Low grade meranti for
India is US$260-270.

Since Sarawak log supply has been tight, more buyers are
active in Sabah to supplement Sarawak supply. Sabah is
also suffering foul weather and log supply is down. Log
buyers try to procure enough logs before rainy season
starts in September but rain started much sooner so many
ships are waiting for logs at loading ports.

Sabah"s yellow serayah regular prices are slightly up at
US$260-265 per cbm FOB. After Myanmar stopped log
export, India has been everywhere to look for
substitutions.

India"s main use is keruing for plywood. There is not
enough keruing in Sarawak so India has been buying
meranti and melapi. India is also buying in PNG and
okoume in Africa.

Log production has been dropping in PNG and Solomon
Islands after rain started since July. Log market in Japan
is holding weakly. Sarawak meranti regular log prices are
yen 10,700 per koku CIF, unchanged from August.

Production curtailment of plywood
The market of softwood plywood has been weakly holding
after the demand bottomed in May and June then
recovered some in July and August. The shipment in July
increased to about 200,000 cbms.

The domestic manufacturers reduced the production by
about 15% in July and August to hold the market and
expressed the plan to continue 15% production curtailment
in September.

However, actual July production was 213,300 cbms, only
7.9% less than June production but the production in
August is estimated down to 190,000 cbms because of
summer vacation with the shipment of about 190-200 M
cbms so that the inventories should be staying unchanged
at about 220-230,000 cbms.

Abnormal heavy rain in the Western Japan in August
slowed down construction activities. After things get back
to normal, deliveries of plywood are affected by shortage
of trucks.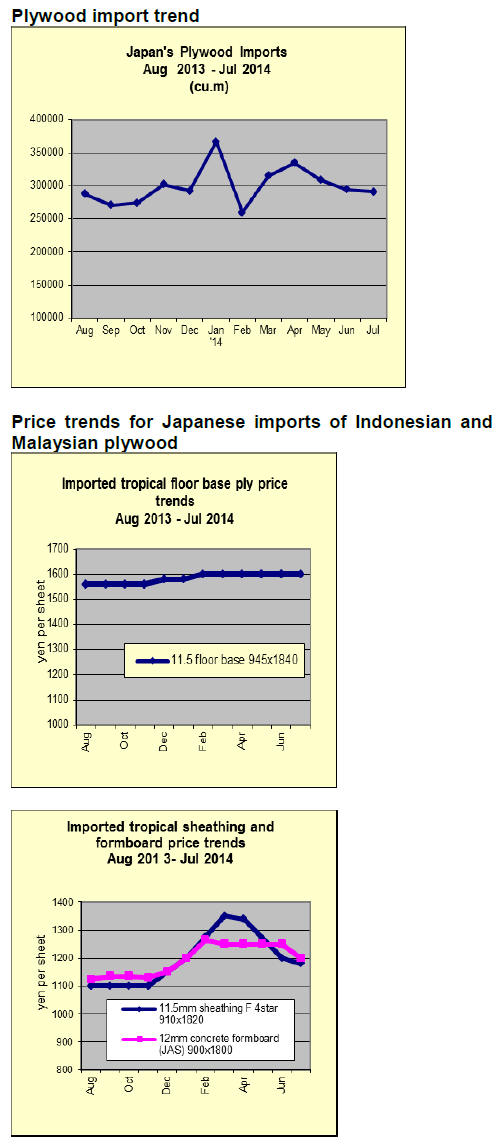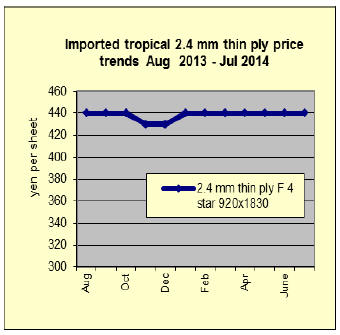 Import of European lumber for the first half of 2014
Import of European lumber for the first half of this year
was 1,416,000 cbms, 11.0% less than the same period of
last year but it is the second highest in last five years.

Because of this high level import, the market started
slowing down and future purchases of lamina and stud are
largely reduced. In the first half of last year, demand was
expected to increase before the consumption tax increase
in April so that monthly import has continued about
250,000cbms.

Also high Euro based export prices encouraged the
European suppliers then the demand of European lumber
and laminated lumber started lagging in Japan since spring
with housing starts dropping. The arrivals finally dropped
down to about 200,000 cbms in June and further import
curtailment seems to continue through the year.

Export of domestic wood products
Export of wood products from Japan has been increasing
consistently and the amount of the export for the first half
of this year was yen 8.164 billion, 51.1% more than the
same period of last year. This is much faster pace
compared to the increase by 30% of last year.

By item, log export was yen 3.165 billion, 173.8% more
than the same period of last year, exceeded total amount of
last year in six months. Weaker yen made the Japanese
logs much competitive so the log export to China, Korea
and Taiwan has been climbing rapidly. Meantime, export
of other products like lumber and plywood has also been
increasing by 13.9% and 23.4% respectively.

The government plans to increase the export of forest
products from yen 12.3 billion in 2012 to yen 25 billion in
2020 and the Forestry Agency allocated sixty million yen
budget for performance experiments in China by Chinese
standard, promotion to use the Japanese products in China,
holding seminars and exhibition and making guidance
manuals.

Logs for China are mainly C grade logs for crating lumber
and engineering works. In Japan, thinning used to be
abandoned in the woods but now they are encouraged to
haul out so that the supply of C grade logs has been
increasing.

Domestic logs and lumber
In Western Japan, heavy rain and typhoons hampered log
production and the log market is in confusion.

Sawmills in the area reduced log purchase in rainy season
of June and July in fear of beetle damage so their log
inventories are not enough. Consequently, in Kyushu,
cedar log prices are soaring and in Shikoku and Kansai
region, log production has been disrupted rather
extensively.

In Northern Japan and Hokkaido, unstable weather
reduced log supply. This is time for sawmills to buy and
build up log inventory so the log prices are firming
generally. However, lumber movement is not so active and
stagnating so sawmills are not able to go after high priced
logs.

Nationwide average log prices are 12,300 yen on 3 meter
post cutting cedar, 400 yen up from August, 10,300 yen on
4 meter purlin cutting cedar, 400 yen up, 16,800 yen on 3
meter post cutting cypress, 400 yen up, 27,400 yen on 6
meter post cutting cypress, 300 yen down.

Lumber market is one step weaker after the summer
vacation season. Orders from precutting plants are not as
much as expected. Despite climbing log prices in Western
Japan, buyers are in no hurry to buy lumber. Present
market is soft and further deterioration is possible if the
demand continues sluggish. Meantime, some marketers
see that considering tight log supply and possible rise of
fall demand, the market prices should hold up.