Report from North America
US imports of most major wood products declined in June
following high May imports. The notable exception was
wooden furniture imports which grew by 3% from the
previous month.

Hardwood plywood imports from China
The US imported 270,487 cu.m of hardwood plywood in
June, 18% less than in the previous month. However, yearto-
date imports were 10% higher than in June 2013.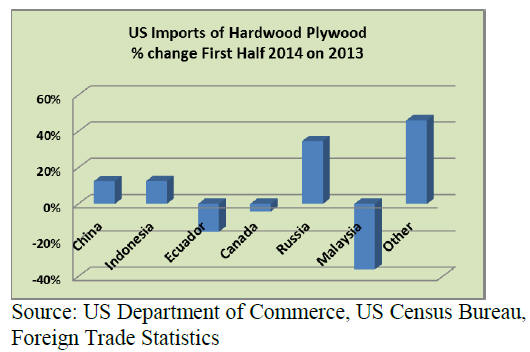 Hardwood plywood imports from China increased despite
the overall decline in imports. China shipped 170,305
cu.m of plywood in June, up 15% from May. Year-to-date
imports from China were 13% higher than in June 2013
but plywood imports from Indonesia fell to just 23,271
cu.m in June, a decline of 77% from May. On the other
hand, imports from Ecuador fell to15,829 cu.m.

Moulding imports down
The value of hardwood moulding imports declined by
11% from the previous month to USUS$17.4 million in
June. But year-to-date imports are higher than in 2013.

Hardwood moulding imports from China and Brazil
declined in June, while Malaysian shipments increased.
Imports from Canada were stable compared to the
previous month.

June moulding imports from China were worth US$6.0
million, down 12% from May while imports of mouldings
from Brazil declined by 21% to US$4.3 million.

More hardwood flooring from Indonesia
US imports of hardwood flooring were maintained at May
levels (US$2.9 million in June) while assembled flooring
panel imports fell 4% worth US$11.3 million in June.

US imports of assembled flooring panels from China fell
by 14% in June to US$5.0 million while Assembled
flooring panel imports from Canada were unchanged at
US$2.8 million.

In contrast to the weak imports of Assembled Flooring,
hardwood flooring imports from Indonesia increased
significantly in June to US$0.73 million and hardwood
flooring imports from China were worth US$0.58 million,
up 44% from May.

Mexico¡¯s furniture shipments surpass Indonesia and
Malaysia
The growth in US wooden furniture imports continued in
June. Total imports were worth US$1.29 billion, up 3%
from May and 11% higher year-to-date than in 2013.

Imports from China increased by 6% in June to US$656.8
million and year-to-date furniture imports from China
were worth US$6.95 billion, up 11% from June 2013.

Furniture imports from Vietnam were worth US$183.6
million, down 11% from May. However, year-to-date
imports from Vietnam were 42% higher than in June 2013.
Canadian furniture shipments to the US increased by 14%
in June to US$103.8 million. Imports from Mexico
declined by 6% in June, but year-to-date imports are
significantly higher than in 2013.

Mexico has surpassed Indonesia and Malaysia to become
the fourth-largest supplier of wooden furniture to the US
after China, Vietnam and Canada.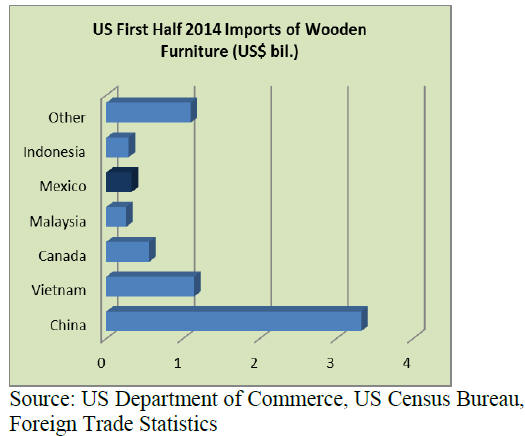 Furniture retail sales slow
While furniture imports increased in June, US retail sales
were down. Retail sales at furniture and home furnishing
stores in the US declined by 7% in June according to the
US Census Bureau. Sales were 2% lower than in June
2013.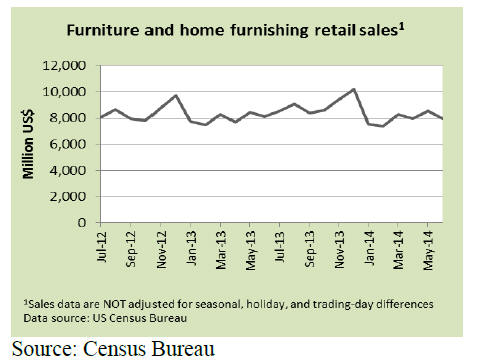 Furniture sales (excluding home furnishing) declined by
9% in June compared to a month earlier and were 1%
lower than in June 2013.

Domestic furniture manufacturers increases output
The US manufacturing sector and the overall economy
expanded in July according to survey data from the
Institute for Supply Management. Once more the furniture
manufacturing sector posted the highest growth rate of all
industries. The only industry reporting lower output in
July was the primary wood product manufacturing sector.

Strong second quarter GDP growth
Economic growth accelerated from a dismal -2.1% in the
first quarter of 2014 to +4% in the second quarter
according to the US Department of Commerce. GDP
growth in April, May and June of this year was much
stronger than expected.

The increase in GDP was mainly due to higher personal
expenditure but exports as well as state and local
government spending also grew supporting GDP.
The contribution to GDP from residential and nonresidential
investment is a welcome development for the
timber sector.

Labour market indicators show economy is ¡®fragile¡¯
On the downside, the US unemployment rate was
unchanged in July at 6.2%, according to the Department of
Labor. Several labour market indicators show that the US
economy is still fragile. Average hourly earnings are only
2% higher than last year and below the rate of inflation.
The number of Americans working in part-time jobs who
would prefer a full-time job is almost twice as high as in
2007.

Consumer confidence falls but home builders more
confident
Consumers remain skeptical about economic growth this
year. Consumer confidence in the US economy fell in July
and it was 3.9% lower than in July 2013, according to the
Thomson Reuters/University of Michigan consumer
sentiment index.

A positive sign is that most consumers reported a recent
increase in income. Higher incomes support more
favourable buying plans for durable household items such
as furniture.

The housing market had a negative effect on consumer
confidence. Growth in home prices slowed, while inflation
increased slightly. Both factors contributed to a more
negative outlook by home owners.

The US Builders" Confidence Index increased to 54 points
in July, an index of over 50 means that more builders view
market conditions as good rather than poor. It is the first
time since January that the index is above 50.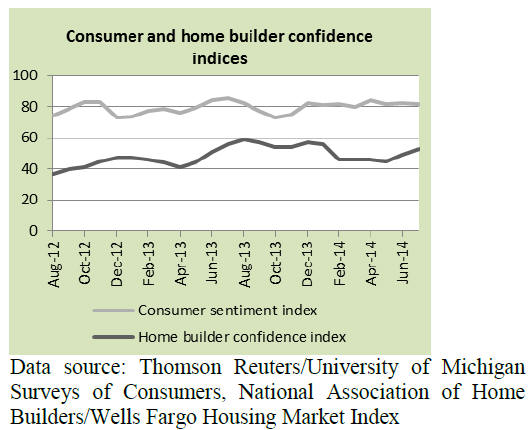 Confidence in the market for newly built single-family
homes grew in all four regions of the country. The
strongest growth was in the West but housing construction
fell in the south of the US where construction of both
single and multi-family homes declined. Overall, housing
starts fell by 9.3% to 893,000 units at a seasonally
adjusted annual rate.

The decline was entirely due to a drop in construction in
the US South. All other regions of the country saw an
increase in the number of housing starts.

Soft landing for Canadian housing market, energy
exports driving economy
Canadian housing starts increased slightly in June to
199,000 at a seasonally adjusted annual rate. The
Canadian Housing and Mortgage Corporation anticipate a
soft landing of the Canadian housing market with slightly
lower starts in 2014 compared to the previous year.

The Canadian unemployment rate declined by 0.1 percent
in July to 7.0%. Canada"s job growth has mainly been in
Alberta, where oil and gas production drive the economy.
Canada"s exports of non-energy products remain weak and
the Central Bank kept interest rates near zero.

Higher prices forecast for softwood mouldings
In 2013, US consumption of pine and other softwood
mouldings increased by 12% according to a market study
released in August by International Wood Markets Group
(U.S. Clear Pine Lumber and Moulding Market Outlook:
2014- 2018). The US market for softwood mouldings is
largely driven by new home construction and home repair
and remodelling.

For 2014, the market study forecasts a 4% increase in
moulding demand. The relatively low growth is the result
of the slow recovery in new home construction. Mouldings
consumption is projected to grow faster from 2015 to 2018
because of an overall positive outlook for the US
economy.

The availability of clear pine grown in the US is much
lower than twenty years ago. As a result, the US millwork
industry (including moulding manufacturers) relies heavily
on imported sawnwood from pine plantations in Chile,
New Zealand and Brazil.

The market share of moulding imports is expected to
grow. In 2013, imported mouldings accounted for 40% of
total consumption. Softwood moulding imports almost
doubled between 2009 and 2013.

The value of moulding imports was US$693 million in
2013. Pine mouldings from Brazil and Chile dominate
imports but imports from China have grown significantly
and China is now the US" fourth-largest supplier of
softwood mouldings.

Solid pine mouldings are losing market share to hardwood
moulding, plastic and paint-grade mouldings made from
MDF or finger-jointed pine. Relatively few producers
supply the US softwood moulding market and the market
study predicts a rise in prices as US demand grows in the
next four years.

Residential window and door market outlook
The US market for residential windows is expected to
grow by 9.1% in 2014 and by 8.3% in 2015. Market
growth in 2013 was 10%. The Window and Door
Manufacturers Association released these forecasts in the
Window and Entry Door 2014 US Market Study.

An estimated 44.5 million residential windows were sold
in 2013. The leading window materials were vinyl (69%)
and wood-clad (20%).

The growth in demand for entry (front) doors is lower than
for windows. 14.1 million residential exterior doors were
shipped in 2013, 5.3% more than in 2012. For 2014 and
2015 the market for entry doors is forecast to grow by
5.1% and 4.8%, respectively.

* The market information above has been generously provided
by the Chinese Forest Products Index Mechanism (FPI)