US Dollar Exchange Rates of 10th September 2014
China Yuan 6.1296
Report from China
Taicang Port introduces new timber import regulations
New regulations have been introduced by the Taicang Port
Authority to ensure that the shippers of wood products
provide an accurate and detailed packing list. The new
regulations will come into effect on 1 October 2014.
See: http://www.taicangwoodinsp.com/nd.jsp?id=315&_np=2_3

The following outlines the requirements of the new
regulation:

 Detailed measurement of logs shall include
volume, quality, grade and species without which
the shipment will not be processed on arrival.
 Each batch of imported logs from Canada must
be accompanied by an electronic specification.

 in accordance with the Canadian standard.

 If volumes are shown in board feet these will be
converted to cubic metres using the Chinese
national standard before shipments are processed.

The Taicang Port authorities will not allow ships to dock
and unload if the new regulation is not satisfied.

Furniture sector profits rise
According to the latest data released by the Ministry of
Industry and Information Technology, in the first half of
2014 the revenue generated by China"s furniture
manufacturing sector rose 13% to RMB328.21 billion and
profits grew 17%.

The number of large scale furniture manufacturing
enterprises is expanding and the number of furniture
enterprises with a total output value of more than RMB5
million has been increasing.

As of May this year a recent survey showed there were
over 4840 furniture enterprises with total output value of
more than 5 million yuan in China , a 6% increase in
number 2013.

While the large enterprises are modern plants with the
latest technology most of the small and micro scale
enterprises lack basic technology and have failed to
achieve brand status and as such profit margins are small.

Guangdong enterprises import more US sawnwood
From January to July 2014, sawnwood imports by Chinese
enterprises in Guangdong Province increased by 19% to
2.93 million cubic metres. Of the total, sawnwood imports
from the US rose 22% to 1.70 million cubic metres from
the same period of 2013.

Guangdong sawnwood imports from Russia increased
16% to 4.07 million cubic metres, from Thailand imports
grew 11% to 1.14 million cubic metres, and from Canada
a 7% increase was recorded (3.77 million cubic metres).

National plywood distribution centre for Jiashan
County
E-commerce in the timber industry is developing fast and
is changing the way companies trade.

The Bohai Commodity Exchange (BOCE) is the largest
national commodity exchange authorised by the State
Council and established by Tianjin municipal government.
Nearly one hundred commodities are listed and the
Exchange has more than 170 institutional members and
more than 1000 business partners.

At the end of September plywood will be listed on Bohai
Commodity Exchange and a national plywood distribution
centre will be set up in Jiashan County of Zhejian.

This will create a favourable environment for wood
industry and promote a transition to e-trading.

Manufacturers in Jiashan County are developing a
reputation for production of a wide range of wood
products. There are some 800 furniture manufacturers of
which 83 have an output value of RMB20 million.

For more see: www.boceworld.com/

Guangxi Liuwanshan a base for container flooring
The output of container flooring from Liuwanshan
Forestry Co., Ltd in Guangdxi Zhuang Autonomous region
has expanded. The main product from the company is
bamboo wood composite plywood for container flooring.

The company invested in a 120,000 cubic metre bamboo
plywood plant in 2011 at a cost of RMB360 million. At
present there are 2 production lines for container flooring
but expansion plans are underway which could create a
further 1000 jobs.

The Liuwanshan panel industry has become an important
bamboo wood composite plywood production base for
container flooring.

Guangdong furniture mill wages to exceed RMB6000/m
in five years
According to a report "Efficiency Analysis and Research
of Furniture Enterprises in Shunde City of Guangdong
Province", the value of worker output in furniture
enterprises is RMB32,2880.

The value of worker output is forecast to grow and it is
estimated wages will rise 13% to around RMB6060 per
month in five years. Experts expect the rapidly rising
wages will hollow out the sector such that only 45% of the
current furniture enterprises will be in business 5 years
from now because of high labour costs.

In order to cut labour costs some enterprises have
introduced more automation but because much of the
furniture is of individual design there is a limit to the
extent that automation can replace handwork.

2014 CAEXPO Forest and Wood Products Exhibition
The 2014 CAEXPO Forest and Wood Products Exhibition
will be held in Nanning September 25-28, 2014. A wide
range of wood products will be exhibited especially
"redwood" furniture. The exhibition will help lift the
reputation of Guangxi Province as a premier "redwood"
product sales centre specializing in hardwood furniture.

PMI no longer the key indicator of economic prospects
In August 2014, China's manufacturing purchasing
managers index (PMI) as determined by the National
Bureau of Statistics was 51.1 percent, 0.6 percentage
points lower than the previous month having fallen after 5
months of increase.

A PMI reading above 50 indicates that manufacturing is
generally expanding and a reading below 50 implies it is
generally contracting.

See:
http://www.stats.gov.cn/english/PressRelease/201409/t201
40901_604195.html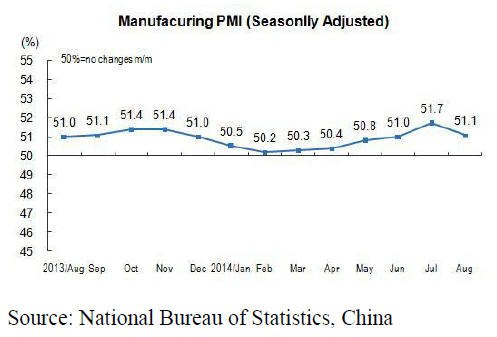 ¡¡
The PMI of large-sized enterprises was 51.9 percent, down
0.7 percent month-on-month but above the negative
threshold and as such supports manufacturing growth. The
PMI for medium-sized enterprises was below 50 signalling
and the index for small-sized enterprises was also below
50.

Analysts point out that China is moving towards a
services-dominated economic development model such
that forecasts of change based on the manufacturing sector
may not be as useful as before in forecasting potential
growth.