Report from North America
Steady growth in tropical sawnwood imports
While being up 9% for the first half of the year hardwood
sawnwood imports to the US fell by 50% in June,
following the high point reached in May when imports
were over 150,000 cu.m. In June, 75,742 cu.m of
temperate and tropical sawnwood were imported into the
US.

Tropical imports have gradually increased since the start
of the year, while temperate imports fluctuated.

Imports of tropical species were 20,473 cu.m in June, up
8% from May. Year-to-date tropical sawnwood imports
were 9% higher than in May 2013.

Imports from Brazil increased by 40% to 3,350 cu.m in
June, but year-to-date imports remain below 2013 levels.
Brazilian shipments to the US of both ipe and virola
increased in June to 2,212 cu.m and 793 cu.m,
respectively.

Balsa imports from Ecuador were 4,511 cu.m in June, up
5% from May. Imports from Peru reached 1,604 cu.m with
a significant growth in virola sawnwood shipments.

Imports from Cameroon and Congo/Brazzaville fell due to
lower sapelli shipments from both countries. Ghana
shipped 1,669 cu.m of tropical sawnwood to the US in
June. The increase was mainly in acajou d"Afrique
shipments.

Imports from both Malaysia and Indonesia grew by about
40% in June. Keruing exports to the US increased and
Malayisa also shipped more meranti (677 cu.m).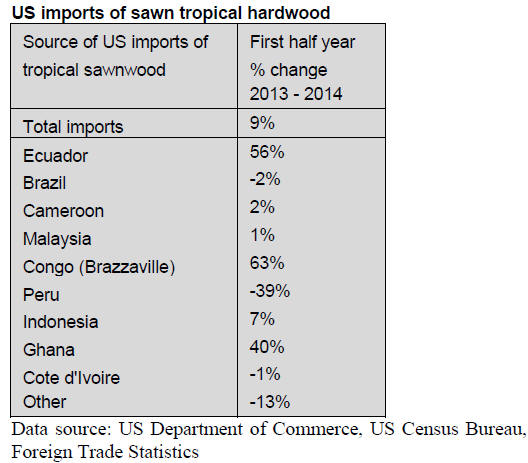 By species, the largest growth in US imports was in virola,
mahogany and meranti. Ipe and keruing imports grew by
about one third in June. Sapelli imports declined following
very high volumes in May.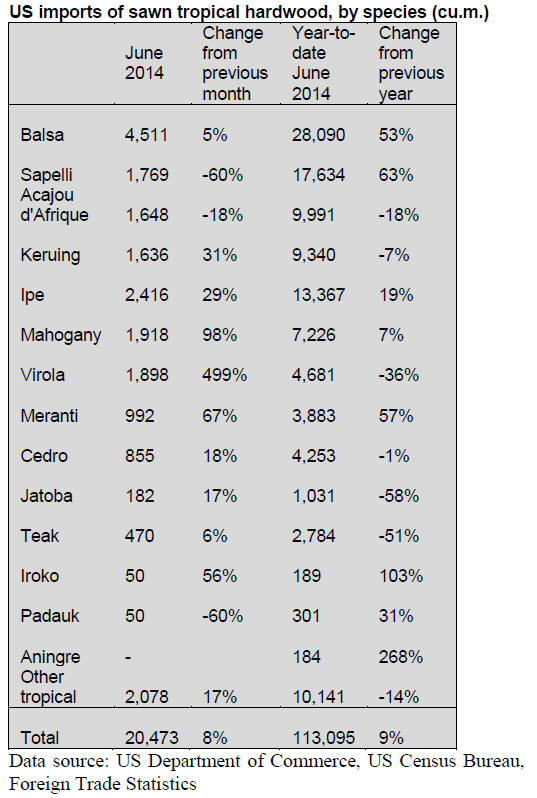 Growth in Canadian tropical imports continues
Canadian imports of tropical sawn hardwood were worth
US$3.0 million in June, up 20% from May. On a year-todate
basis imports grew by 19% from 2013. The value of
Canada"s imports represents 13% of total US tropical
sawnwood imports in June (US$22.1 million).

Much of the growth in imports was from Canada"s two
main suppliers, Brazil and Cameroon. Both countries more
than doubled their shipments to Canada, but imports from
Congo/Brazzaville, Congo/Zaire and Indonesia also
increased. Balsa imports from Ecuador declined.

Sapelli remained the most significant tropical species
imported at US$703,655 and a 33% month-on-month
increase. The value of mahogany imports more than
doubled in June to US$120,382.

Demand for wood-plastic composites forecast to grow
US demand for wood-plastic composite and plastic lumber
is forecast to rise 9.8% annually through 2018, according
to a Freedonia market study (Wood Plastic Composite &
Plastic Lumber, Study 3145, June 2014). Demand is
expected to reach US$5.5 billion in 2018. In 2013, the
market was worth US$3.45 billion according to Freedonia.

The main end uses of wood-plastic composite and plastic
lumber are traditional wood product applications: decking,
mouldings and trim, fencing, landscaping and outdoor
products.

Decking is the largest market for wood-plastic composite
and to a lesser degree for plastic lumber. Demand for
wood-plastic composite and plastic decking was US$1.4
billion in 2013, accounting for 19% of the total decking
market. Demand is expected to grow 12% annually to
reach US$2.47 billion in 2018.

The second-largest market for wood-plastic and plastic is
mouldings and trim, worth US$1.0 billion in 2013. Annual
growth is forecast at 8.7%, with demand estimated at
US$1.5 billion by 2018.

Demand for wood-plastic composite and plastic in fencing
and outdoor products is expected to grow at a slightly
lower rate of under 8% annually. Other miscellaneous
applications will account for US$415 million in 2018, up
from US$285 million in 2013.

Wood-plastic composite decking that copy the appearance
of expensive wood species such as ipe and redwood are
increasingly available and popular. Wood-plastic
composite producers have also improved manufacturing
technologies in recent years to improve resistance to
fading and decay.

As wood-plastic products improve and consumers prefer
low maintenance products, wood-plastics will continue to
compete with wood in decking and other outdoor products.
Environmental group files lawsuit over formaldehyde
content in flooring made in China.

Environmental group files lawsuit against large retailer
Lumber Liquidator over formaldehyde levels in laminate
and engineered wood flooring imported from China.

California has stringent formaldehyde emission standards
governed by the California Air Resources Board.
Californian law allows citizens to file lawsuits to enforce
the emission standards.

The standards were exceeded in several tests of flooring
samples according to the environmental group. They claim
the samples tested showed that Lumber Liquidators sells
flooring from China with substantially higher
formaldehyde emissions than flooring made in the US or
Europe.

The US retailer, Lumber Liquidators has previously been
accused of importing illegally logged hardwood products.

Last year US authorities investigated the company over
alleged violations of the US Lacey Act.

* The market information above has been generously provided
by the Chinese Forest Products Index Mechanism (FPI)