2. GHANA
First half exports up 4.5%
Ghana"s first half year wood product exports amounted to
143,541 cubic metres, up 4.5% on the 137,363 cubic
metres shipped in the first half of 2013. Export of three
products sawnwood, plywood and veneers accounted for
84% of the first half 2014 export volume.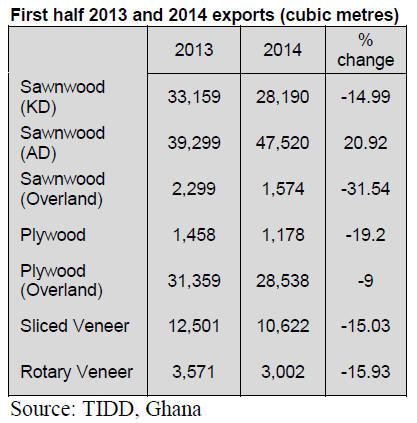 The average unit value (AUV) dropped from euro 447 per
cubic metre in the first half of 2013 to euro 411 in the first
half of 2014, an 8% decline. Exports to Mali recorded the
highest AUV (Euro 455 per cubic metre) with exports to
Nigeria earning the lowest at euro 312 per cubic metre.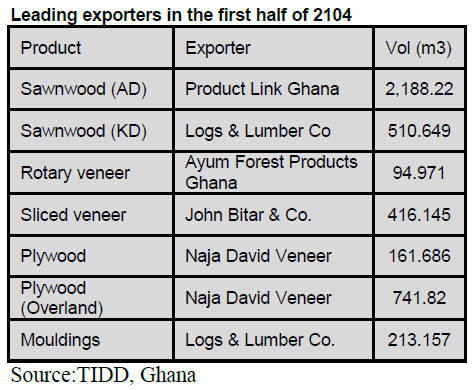 Ghana"s wood exports in the first half of this year were
shipped mainly to the Asian and Middle East markets
(India, China, Israel, Singapore, Lebanon and Vietnam)
34%,, Europe (Italy, France, Germany, Belgium and U.K.)
30% and Africa (South Africa, Egypt, Morocco, and the
ECOWAS countries) 27%.

Exports to ECOWAS countries totalled 31,741 cubic
metres valued at euro 9.75 million and comprised mainly
the overland export of plywood and sawnwood.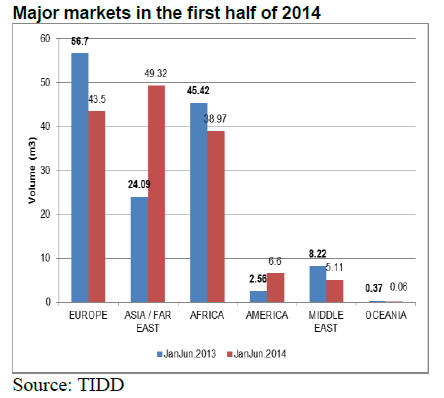 Finance Ministry revises 2014 targets
Projections for Ghana"s economy have been revised
according to the Minister of Finance, Mr. Seth Terker. The
forecast GDP of 8% has been revised to 7.1 percent while
the annual inflation target of 9 percent has also been
revised up to 13%.

Ghana"s annual inflation rate rose to a four-year high of
15.3% in July, up from 15.0 per cent in June, mainly
because of the increase in utilities and fuel.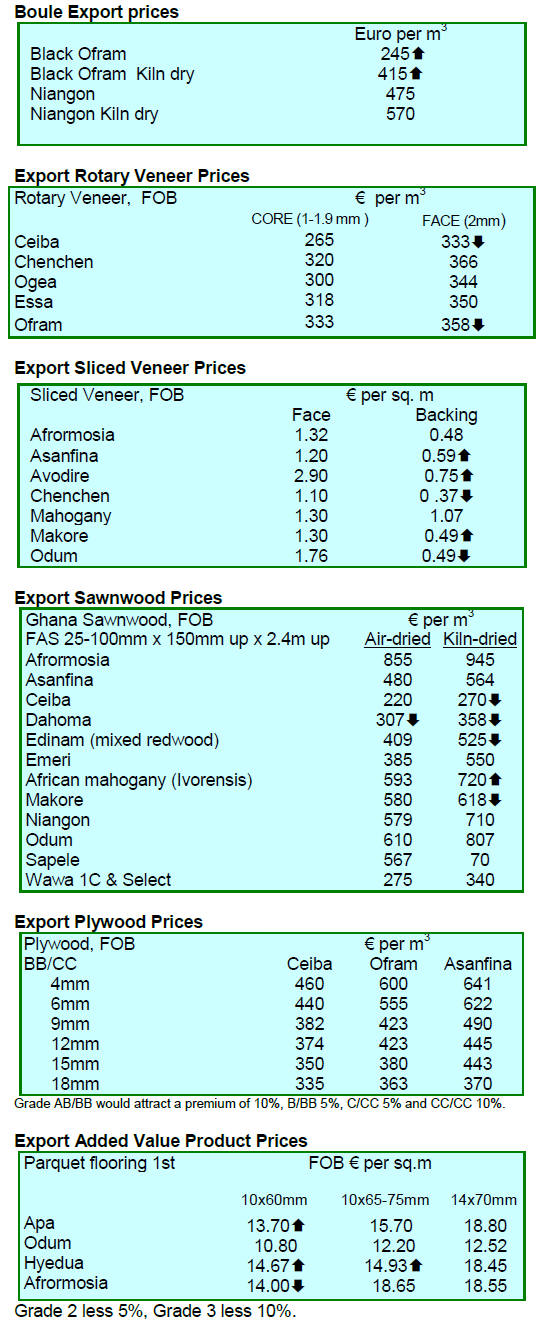 3. MALAYSIA
Chief Minister declares certification is the way forward
for Sarawak
On 20 August at a seminar on forest certification
Sarawak"s Chief Minister, Tan Sri Datuk Amar (Dr.) Haji
Adenan Bin Haji Satem, declared that forest certification
is the way forward for the timber industries in Sarawak
and set targets and a timeline for the industry.
The following is an extract of the "Officiating Speech by
the Chief Minister" delivered at the opening of a seminar
"Forest Management Certification (Natural Forest)".
Copies of the address were distributed to participants:

¡°I would like to draw your attention to the theme of the seminar
"FOREST MANAGEMENT CERTIFICATION - THE WAY
FORWARD".

Is it the way forward for the state and our timber industry in
Sarawak? Forest management certification is a voluntary market
based instrument to promote sustainable forest management. It
serves to inform the final consumer that they are buying the
product of a sustainably managed forest. Although it is mainly
driven by market actors there are equally important actors
involved in the processes.

Forest management certification"s development over the years
has also drawn governments into discussion of how they should,
or should not intervene to promote their broader policy
objectives.

As a responsible government, the state has a major role to play
in setting out a policy and institutional framework, and as a
significant actor ourselves, for instance as forest owners, the
state as I emphasized earlier is fully committed to SFM. The state
government will adopt any best practices in forest management.

The state considers forest management certification as one of the
key tools to improve forest management standards and practices
in Sarawak.

The timber industry must co-operate fully with the government to
combat the negative perception that the state"s forest policy is
poorly or ineffectively managed.

For the timber industry, the forest management certification is
the best available way forward.

Some benefits can be anticipated from the forest certification
especially in terms of improved market access, image and forest
management.

The forest certification has transformed forest products markets
over the last 15 years. Demand for certified forest products is
growing, driven by concern for the sustainability of supply,
either by companies up and down the wood chain, or by
purchasers of wood and paper products, especially business to
business and governments.

It is now difficult to export products from uncertified tropical
forests to environmentally sensitive markets, for example, to the
Netherlands and United Kingdom. Conversely, tropical timber
from certified forests in other parts of Malaysia is finding
improved export opportunities and strong market growth.

The state will assist the timber industry in Sarawak to achieve its
forest certification. We will contribute to capacity building in the
field of certification, provide support, guidelines and required
standards and provide assurance of a level playing field in
international trade and on domestic markets.

To ensure that the forest areas in Sarawak are sustainably
managed based on international standards and recognized by the
world communities, the Forest Department Sarawak will act as a
central facilitator and catalyst in the certification process. The
Forest department had already prepared action plan and develop
relevant guidelines and procedures for the implementation of
forest certification in Sarawak.

The state government is encouraging all major license holders
namely ShinYang, WTK, KTS, Samling, Rimbunan Hijau, Ta Ann
and STIDC to obtain international forest management
certification for their timber products.

The certification can be the Malaysian Timber Certification
Scheme (MTCS) of Forest Stewardship Council (FSC) or
Programme for the Endorsement of forest certification (PEFC)
schemes.

I had announced in June 2013, during my tenure as the Special
Functions Minister, in one of a state functions that the state
government wants concession areas within the heart of Borneo to
obtain sustainable forest management (SFM) certification by
July 2017.

I would like to reiterate here again that the major players as
mentioned is requested to get certification for at least one of
their licence areas by July 2017.

At the moment, the government is encouraging the timber
industry, especially the major licence holders to get certification.

The government will review this policy from time to time and in
the future we may make forest certification mandatory for all
licence areas.

Earlier this year, the Sarawak Timber Association (STA) has
highlighted and brought to my attention the challenges that are
facing the timber industry in Sarawak. I took note there are many
challenges in obtaining the forest certification but we must
pursue it now to become competitive.

I believe we can overcome the problems since we already have
certified forest management unit which is Anap Muput FMU in
Bintulu. Peninsula Malaysia and Sabah are doing well in forest
management certification.

I noted that one of the challenges is that many timber licenses
have short tenure periods which are not conducive for logging
operators to undertake forest management certification in view
of the high costs involved.

I acknowledge their concerns and would like to make a special
announcement here that the tenure of the license will be extended
up to 60 years. The 60 year tenure will be granted from the date
of the license issued. But one of the conditions that will be
imposed is that the license operators shall incorporate the
requirement for certification within three years from the date of
approval and failure to comply with the condition shall cause the
license to be terminated.¡±

The reaction of industry analysts is that this is a significant
change and will present major challenges to the Sarawak
timber industry. With such a strong push by the state
government and an equally attractive pull of a 60 year
license tenure, forest certification will come to Sarawak.

First half year exports disappoint
Exports of timber and timber products from Sarawak in
the first half of 2014 grew by just one percent compared to
the same period in 2013 (2014 first half RM 3.66 billion;
2013 first half RM 3.61 billion). Plywood was the main
export product, commanding 54% of total exports in the
first half (RM1.98 billion, approx. US$ 617 million).

The key market for the state"s timber products was Japan
(RM1.548 billion; approx. US$482 million which
accounted for 40% of the state"s total revenue from the
export of wood products.

India was the second major buyer (RM702 million;
approx. US$219 million) followed by Taiwan P.o.C (RM
379 million or US$118 million) and South Korea (RM253
million or US$79 million). Combined, the total revenue
from these three countries alone amounted to RM1,334
billion.

Awang Tengah Ali Hasan, Minister for Resource Planning
and Environment, was quoted by local newspapers as
saying ¡°We see the increase in export value of our timber
products in the first six months of this year as a positive
sign for the industry, despite the unstable global
economy.¡±

He said that, in addition to the traditional markets, the
state was trying to explore other markets such as Yemen
and Vietnam having examined the market in Kazakhstan
last year.

Traders based in Sarawak reported log FOB export prices
as follows:

Meranti SQ US$255 - 285/cu.m
Kapur SQ US$325 - 355 /cu.m
Keruing SQ US$325 - 365 /cu.m
Selangan Batu regular US$ 490 - 520 /cu.m.

Plywood traders based in Sarawak reported the following
FOB export prices:

Floor base FB (11.5mm) US$ 630
Concrete formboard panels CP (3" x 6") US$525
Coated formboard panels UCP (3" x 6") US$605
Standard boards
Middle East (9-18 mm) US$470
South Korea (8.5 ¨C 17.5 mm) US$465
Taiwan P.o.C (8.5 ¨C 17.5 mm) US$ 465
Hong Kong US$ 470

Correction
Apologies for omissions the tables for the export statistics
of Sabah provided in the previous issue of this report. The
following tables provide the complete data.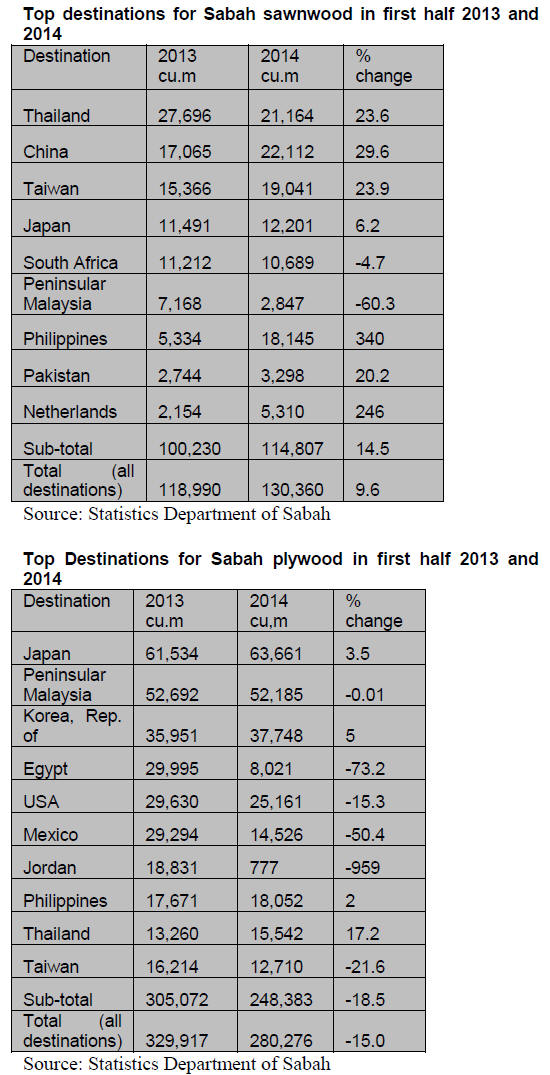 4. INDONESIA
Big jump in furniture exports to EU
According to recently released data from the Ministry of
Forestry wood product exports in the first half year were
almost 12% up on the same period in 2013.

Forestry Minister Zulkifli Hasan attributed the
improvement in exports as partly due to the conclusion of
the VPA with the EU which opened the way for an
increase in timber exports to the EU.

The latest data shows that wooden furniture exports more
than doubled to US$11 million in the first six months of
the year, up from the US$5.4 million in the first half of
2013.

In related news the Minister forecast furniture and
handicraft exports to exceed US$2 billion for the full year
as the pace of timber legality verification in Indonesia
accelerates.

IFEX encouraged investment in processing
Trade fairs, such as Indonesia"s International Furniture
Expo (IFEX), provide a boost to both export sales and
domestic investment as new opportunities emerge from
exchange between fair participants.

The Chairman of the Association of Indonesian Furniture
and Handicrafts (AMKRI), said that buyers, manufacturers
and designers from many countries visited IFEX and
created an environment fostering innovation and
creativity. The second IFEX will be held in Jakarta 12-15
March 2015.

Satellite Imagery ¨C technology to identify forest fire
¡®hotspots¡¯
The newly created agency "Reduced Emissions from
Deforestation and Forest Degradation" (BP-REDD) has
introduced an online technology equipped with real time
high-resolution satellite imagery utilising NASA data.
This online system can be used to idnifiy the location of
track fires and relate them to land-use and concession
maps.

Information generated by the BP-REDD system can be
relayed to the National Disaster Mitigation Agency
(BNPB), the Ministry of Forestry as well as the fire
service and police.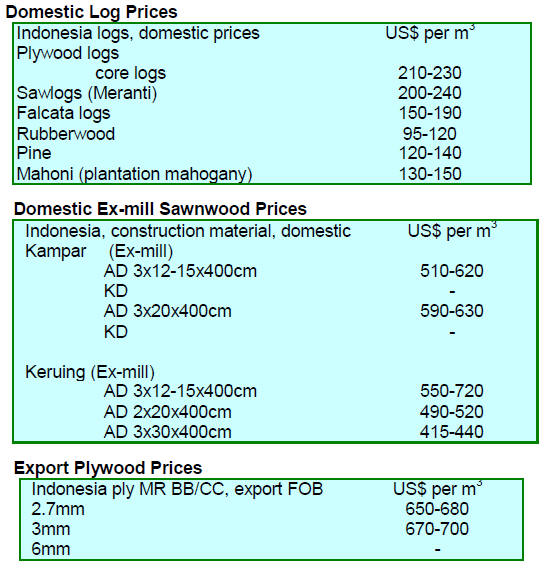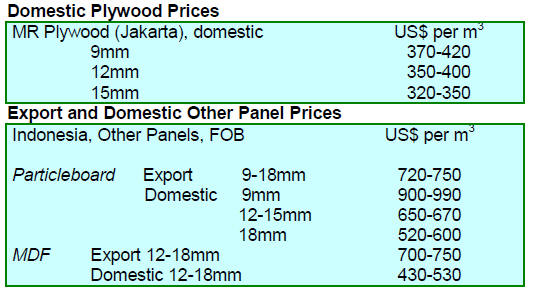 5. MYANMAR
Revenue from log sales down since log export ban
Quoting an official from the Myanma Timber Enterprise
(MTE), Mizzima News has reported that, during this fiscal
year, MTE has sold over 30,000 tons of teak logs worth
Myanmar Kyats 11 billion as well as teak sawnwood
worth US$1.6 million.

The MTE Local Marketing Department sold logs and
sawnwood from depots in Mandalay and Yangon through
five open tenders and earned Kyats 11 billion.

The MTE Export Marketing Department also sold teak
and other hardwood logs and sawmwood from depots in
Yangon. Revenue from the sale of 588 tons of teak logs
totaled US$1.6 million. Revenue from log sales has fallen
sharply since the log export ban.

FJV auctions hardwoods
The Myanmar Forest Products Joint Venture Corporation
(FJV) has announced it put up for sale 2,172 hoppus tons
of hardwood logs by open tender during August.

FJV General Manager, Soe Moe Win, explained that these
logs were for the domestic industry and were sold with a
view to promote expansion of domestic milling.

IWPA initiative to spur SFM
Eleven News Media on 21 August reported that the
decision by the US to resume timber imports from
Myanmar could help save Myanmar forests.

The press was referring to the news that the US
government has granted a one year waiver of the sanctions
allowing members of the International Wood Products
Association (IWPA) to establish direct trade with
Myanmar.

The news of the one year waiver on has been welcomed by
the timber industry. Some analysts in Myanmar went as
far as suggesting this move could have a positive impact
on efforts to protect Myanmar"s forests.

Analysts say the IWPA initiative could assist Myanmar
exporters in their efforts on timber legality verification and
in efforts towards the sustainable management.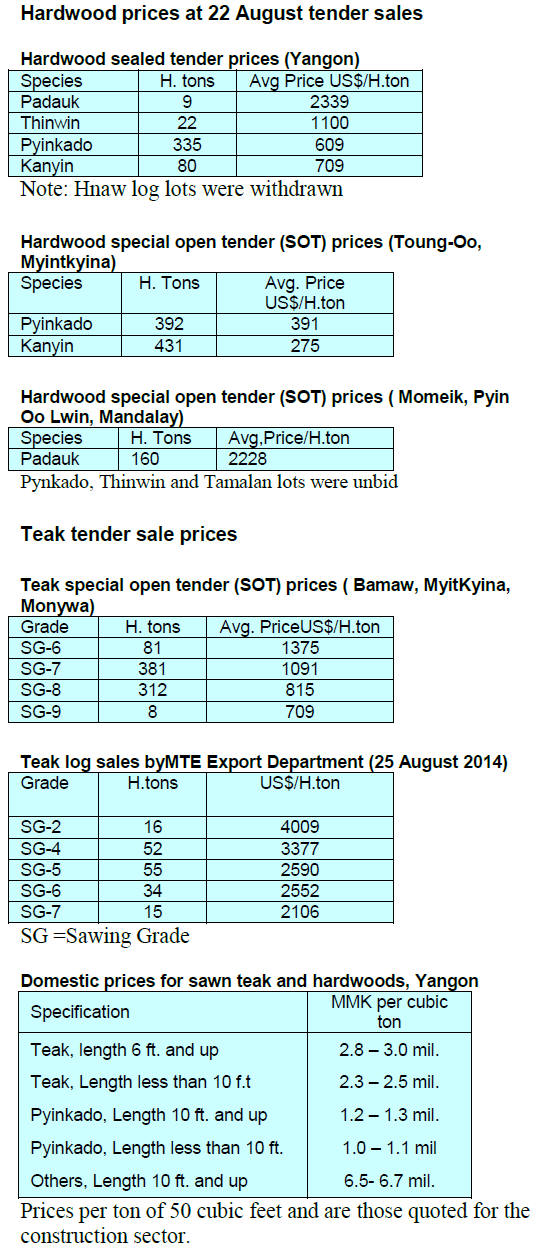 ¡¡
6. INDIA
Wood product price index drops
The Office of the Economic Adviser (OEA) to the Indian
government provides trends in the Wholesale Price Index
(WPI). The official Wholesale Price Index for All
Commodities (Base: 2004-05 = 100) for July 2014 rose to
184.6 (provisional) from 182.6 for the previous month.

The annual rate of inflation based on the July WPI was
5.19% compared to 5.43% for the previous month.
See http://eaindustry.nic.in/cmonthly.pdf

The index for all wood and wood products declined by 0.9
percent to 185.4 (provisional) from 187.0 (provisional) for
the previous month due to lower price of plywood and
fibreboard.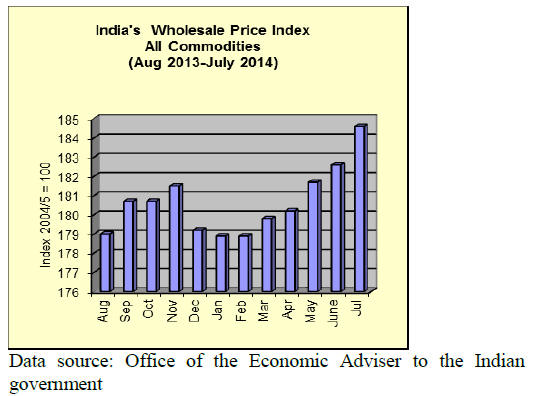 Timber and plywood wholesale price indices
The OEA reports Wholesale Price Indices for a variety of
wood products. The Wholesale Price Indices for
logs/timber and Plywood are shown below. The July 2014
logs/timber index continued almost unchanged but the
plywood price index slipped further in July.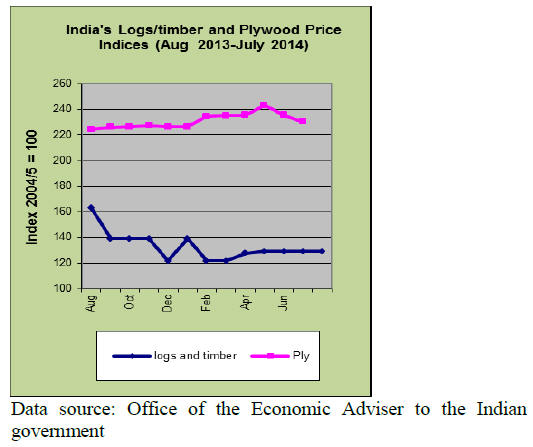 Enthusiastic support for Van Mahotsav
Van Mahotsav, the annual tree-planting festival in India, is
celebrated in all states with the onset of the monsoon. This
year Gujarat State, for example, planned to raise and
distribute 10 million seedlings. Every citizen in India
dreams of planting saplings during Van Mahotsav week.

This movement was initiated in 1950 by India's then
Minister for Agriculture, Dr. K.M Munshi. This festival
has gained immense national importance and every year
millions of saplings are distributed and planted across the
country.

The planting of trees during the festival has a practical as
well as traditional purpose. The seedlings eventually
produce fuelwood, create farm shelter-belts, provide
fodder for farm animals, create shade and help soil
stability.

Sandalwood prices continue to rise
At the most recent auction held in Marayoor 35.4 tonnes
of sandalwood were sold earning Rs.234 million for the
Kerala Forest Department.

The Department maintains about 3,500 ha. of natural
sandalwood forest in the Western Ghats section of Idukki
district of Kerala. The sandalwood grown here has a
worldwide reputation for quality.

The highest price realised was Rs.10,500 per kg. for class
5 sandalwood while the average price for this class was
Rs.9950 per kg, higher than the average at February
auctions. Protection of sandalwood trees receives the
highest priority and only fallen trees and branches and
dead trees are auctioned.

Improved business sentiment drives up demand for
reconstituted boards
In keeping with its election manifesto the new
Government has begun implementing stalled
infrastructure, power generation, road building, port and
mining projects.

The wood panel sector has suffered weak demand during
the past few years but is now coming to life as domestic
demand expands and prices rise helped by the rising prices
of chips and fibre as well as imported boards. Currently
domestically manufactured boards are competing well
with imported thick plywood prices of which have been
rising.

India"s annual wood panel market is estimated at Rs.200
billion comprising 75% plywood and 25% particleboard
and MDF.

Local manufacturers have been improving the surface
quality of boards and are producing higher density panels
to permit accurate routing.

Indian manufacturers are also supplying laminated panels
in a variety of designs and colors to compete with
imported surfaced plywood.

Domestic pre-laminated particleboard is now produced by
the particleboard mills which eliminates the need for onsite
lamination which would almost double the cost of
each panel. Additionally, the lower raw material cost for
reconstituted boards compared to that for plywood is also
helping the revival of the particleboard and MDF
industries in India.

Imported plantation teak
Prices for small teak log thinnings from Costa Rica,
Ghana, Panama and Togo have fallen reflecting the lower
quality and small size of logs but, as exporters in Congo,
Ivory Coast and Panama have shipped better grades, prices
for their plantation teak logs have risen. A new supplier,
Belize, has started to export plantation teak log thinnings.

The current prices for plantation teak logs per cubic metre
C & F Indian ports are shown below: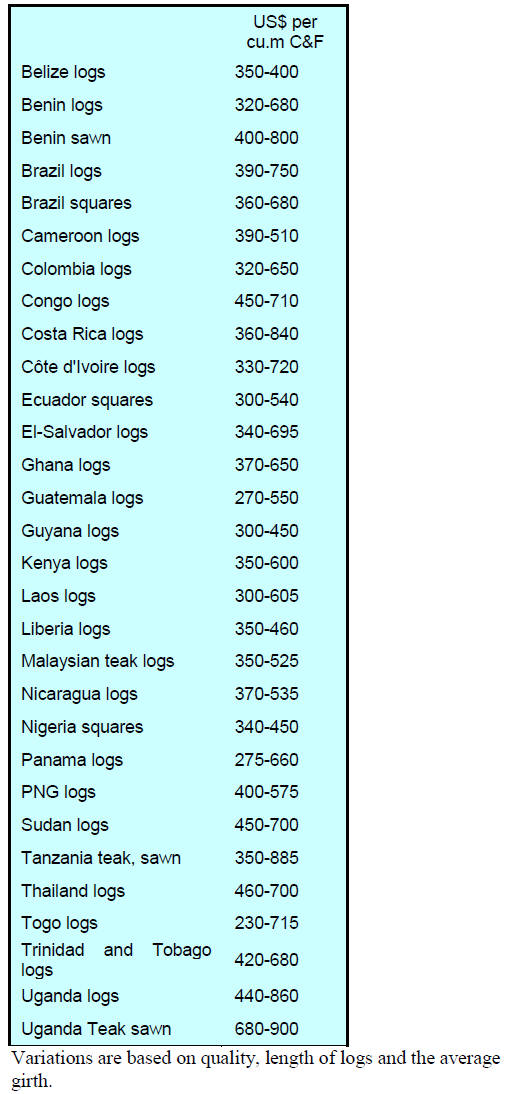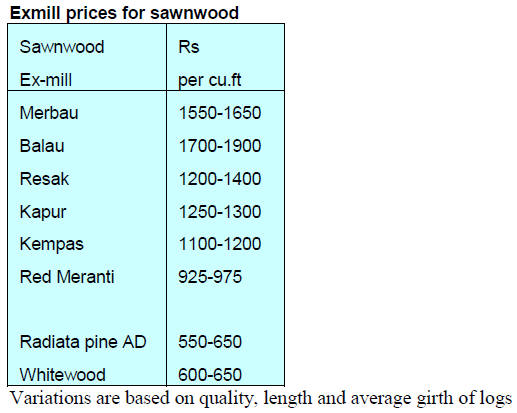 Myanmar veneer logs in short supply
The declining stocks in India of Myanmar teak is
beginning to bite and prices are rising especially for
veneer quality logs required by manufacturers of fancy
plywood. Prices for Myanmar teak sawnwood milled in
India are also rising.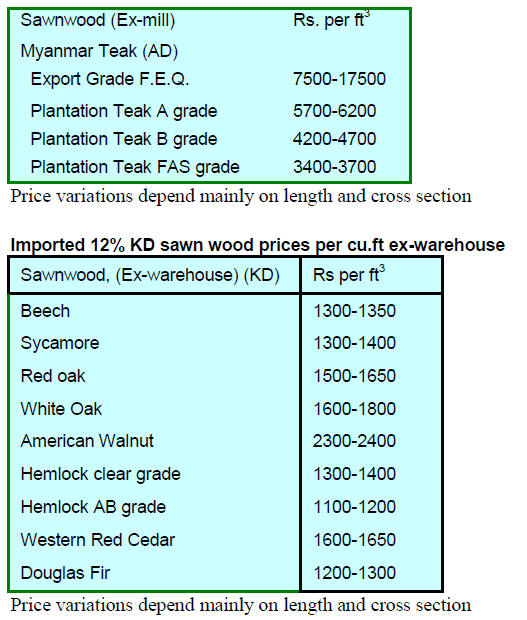 Diversified sources of veneer
The shortage of Myanmar gurjan face veneers has been
alleviated to some extent by imports from China and
Vietnam.

Malaysia and South Africa have also started supplying
veneers to Indian factories.

As domestic and imported particleboard is starting to
replace thicker plywood panels shippers of plywood in
China have started to lower their prices.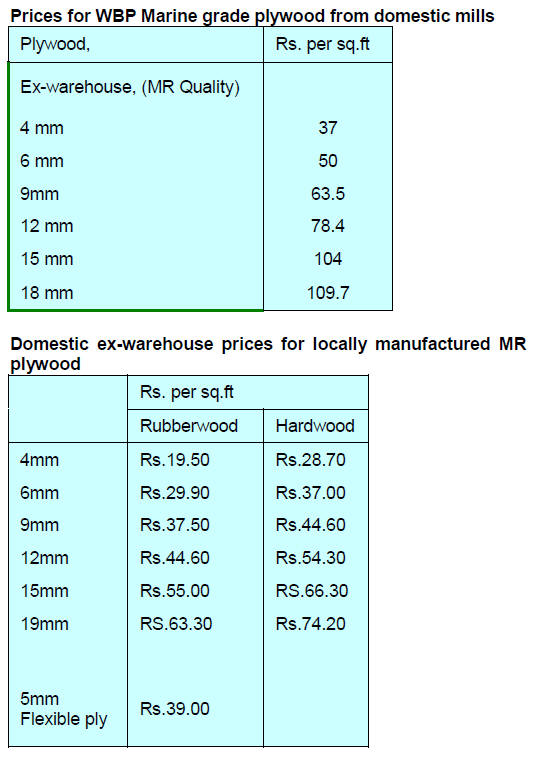 7. BRAZIL
Restructuring of forest sector boosts output in Mato
Grosso
Forestry and wood product manufacturing is the forth
largest economic sector in Mato Grosso and sector
activities are spread across more than 40 municipalities
generating 100,000 direct jobs.

In 2013 the sector paid to government R$85 million in
ICMS (Tax on Circulation of Goods and Services) and
R$19 million in State Fund for Transport and Housing
(FETHAB) tax.

In order to reconcile economic development and
environmental conservation the forestry sector in the State
of Mato Grosso has been improving forest management.

According to CIPEM (Center for Wood Industry
Producers and Exporters of Mato Grosso), the
restructuring of the forest sector in the state was a major
factor in boosting output of wood products. Further
improvement in forest management practises are expected
to lead to high output.

2015 forest concession plan
The 2015 Forest Concession Plan (PAOF 2015) ) for
public forests in the states of Amazonas, Par¨¢ and
Rondônia has been published by the Ministry of the
Environment (MMA). The plan identifies 3.4 million
hectares available for allocation.
The PAOF 2015 plan is based on the National Register of
Public Forests (CNFP) for which some 313 million ha of
forests had been registered as of November 2013. Of this
total, approximately 224 million ha. are Federal Public
Forests, 89 million ha. Are State Public Forests and the
balance are Municipal Public Forests.

The inclusion of Public Forest in the PAOF 2015 does not
necessarily mean all areas will be available as harvesting
concession during the period of the current plan.

The PAOF 2015 identifies areas that may become
available as forest concessions allowing entrepreneurs
access to public forests for sustainable management.
Around 92% of Public Forests in Brazil are in the Amazon
region.

Hardwood price movements
Prices fro Brazilian roundwood from natural forests in the
period reviewed ranged from US$109/cu.m to
US$183/cu.m at mill yard. The price of Brazilian
sawnwood from natural forests varied from US$265 per
cu.m to US$911 per cu.m ex-factory depending on the
species. In each case the upper price refers to ip¨º
(Tabebuia sp.).

The average price of parica WBP glue plywood ranged
from US$565 percu.m to US$795 per cu.m ex-factory
depending on thickness.

Prices for parica MR glue plywood ranged from US$519
per cu.m to US$703 per cu.m ex-factory depending on
thickness. Average prices for reconstituted wood panels
were, in the period reviewed, US$346 per cu.m ex-factory
for raw MDP (15 mm) and US$501 per cu.m ex-factory
for raw MDF (15 mm).

Pine product exports lead the field
In July 2014, wood product exports (except pulp and
paper) increased 12.2% in terms of value compared to July
2013, from US$204.0 million to US$228.9 million.

Pine sawnwood exports increased 43.4% in value in July
2014 compared to July 2013, from US$14.5 million to
US$20.8 million. In terms of volume, exports rose 37.6%,
from 64,400 cu.m to 88,600 cu.m inthe same period.

Tropical sawnwood exports increased 9.2% to 27,300
cu.m in July 2014 compared to the 25,000 cu.m exported
in July 2013. In terms of value July 2014 exports increased
2.8% year on year.

Pine plywood exports also improved in July rising 45.3%
in value compared to levels in July 2013 (US$ 24.5
million to US$ 35.6 million). The volume of pine plywood
exports also increased from 66,400 cu.m in July last year
to to 96,000 cu.m. On the other hand tropical plywood
exports fell 2.6% in volume, from 3,900 cu.m in July 2013
to 3,800 cu.m in July 2014.

Wooden furniture exports increased slightly from the
US$41.0 million in July 2013 to US$41.8 million in July
this year.

Par¨¢ timber exporters face a raw material crisis
Exports of processed and manufactured timber products in
the state of Par¨¢, one of the main timber products exporter
states of Brazil, grew 21% in the first half of 2014
compared to the same period in 2013. Currently, added
value product exports from Par¨¢ comprise mainly
sawnwood (44%) and flooring (38%).

According to the Association of Timber Industries
Exporters of Par¨¢ State (AIMEX), the good performance
of exporters in the state of Par¨¢ in the first half of 2014
was due to an abundant supply of raw materials and firm
order books reflecting the favourable exchange rate in the
first half of the year.

AIMEX is warning that the good export performance in
the first half of this year is threatened by the change in the
BRL/US$ exchange rate and a looming crisis in the supply
of raw material brought on by delays in the approval of
forest management plans.

Regional markets dominate veneer exports
Brazil"s tropical hardwood veneer exports in July 2014 fell
48% in value and 3% in volume compared to levels in July
last year. In July 2013 the main markets for veneer were
Argentina, Italy, Chile and Belgium, representing 30%,
25%, 12% and 7% respectively.

In July 2014, Argentina remained the main importer of
Brazilian tropical veneer, (21%), followed by Chile (20%),
the United States (15%), and China (12%).

Manufacturers in Paran¨¢ state were the main tropical
veneer exporters in July 2014, (45%) followed by Par¨¢
(42%) and Rondônia (12%).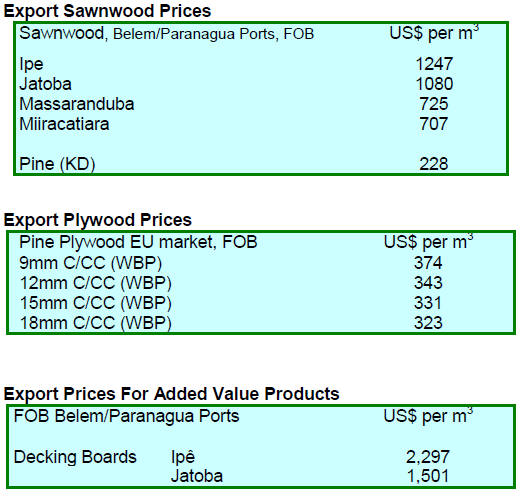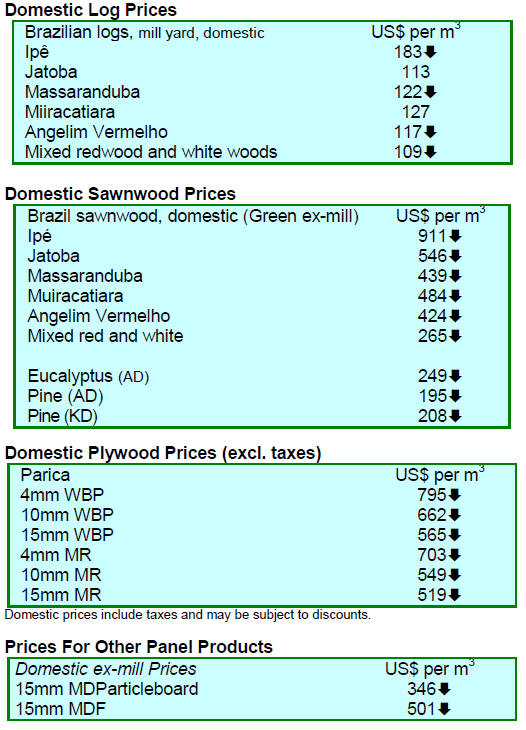 8. PERU
IFC issues first green bond in Sols
The International Finance Corporation (IFC) focusses on
support for the private sector in developing countries. In
August the IFC issued a "green" bond denominated in
Peruvian sols which generated around US$15 million for
investments that favor the environment in emerging
markets.

IFC Vice President, Jingdong Hua, said the latest "green"
bond offers an opportunity for investors in emerging
markets. The bond will support investment projects in
renewable energy and energy efficient technologies.

For more see:
http://ifcext.ifc.org/IFCExt/pressroom/IFCPressRoom.nsf/
0/5C75C78F84D22AB685257D320069686B?OpenDocu
ment

US$3 billion from exports by 2021
The production and marketing of forest products could
generate more than US$3 billion per year from 2021
representing a 10 fold increase in output, said the Minister
of Agriculture and Irrigation.

For this to be achieved the Minister reiterated the
importance of land use planning and support for an
efficient and competitive industry.

He said the ministry is working on a financing scheme for
forestry and confirmed that industry development will be
carefully monitored and the utilisation of forest resources
will be carefully planned.

In support of the government"s objectives the Minister
announced that MINAGRI plans to allocate some 5
million hectares of forest concessions over the next ten
years which will generate more than 100,000 jobs and
should have a positive impact on GDP growth.

Protected areas control Amazon deforestation
Manuel Glave, principal investigator of the Group of
Analysis for Development (GRADE) ,
http://www.grade.org.pe/en/novedades/ reported that the
designation of Protected Natural Areas (PNA) has been
successful to some extent in controlling deforestation in
the Peruvian Amazon.

It was reported that in the San Martin region and in some
provinces of Loreto and Madre de Dios, land use plans
are being developed that will lead to an inclusive plan for
sustainable development.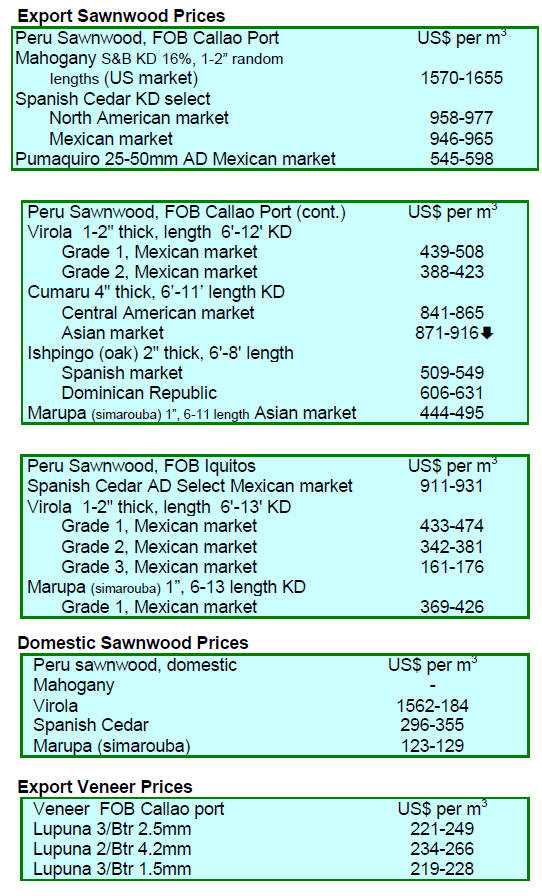 9. GUYANA
Incentives for added value production
The Forest Products Development and Marketing Council
(FPDMC) will conduct a seminar to discuss key issues in
the forest sector.

There is a growing need for stakeholders to be made aware
of the full range of government incentives that are
available to the forest sector. Such incentives include tax
relief and investment incentives. Another issue to be
discussed is compliance with national worker protection
laws.

The seminar will provide an opportunity for discussion on
the investment incentives that are available and the
application process.

Another key area in the forestry sector is the need to for all
companies to comply with the National Insurance scheme
in order to access benefits offered by government.

The FPDMC is hoping the seminar will encourage the
timber industry and help make the sector more productive
and efficient and through this contribute more to the
country"s development.
Representatives from the Guyana Manufacturing and
Services Association as well as the Forest Producers
Association are expected to deliver key addresses at this
seminar.