US Dollar Exchange Rates of 29th July 2014
China Yuan 6.1861
Report from China
First half real estate investment
The National Bureau of Statistics has released a summary
of real estate developments in the first six months of this
year. Total investment came to yuan 4,201.9 billion, up
14% year-on-year of which investment in residential
buildings was yuan 2,868.9 billion accounting for 68.3%
of all real estate investment.

See:
http://www.stats.gov.cn/english/PressRelease/201407/t201
40717_582827.html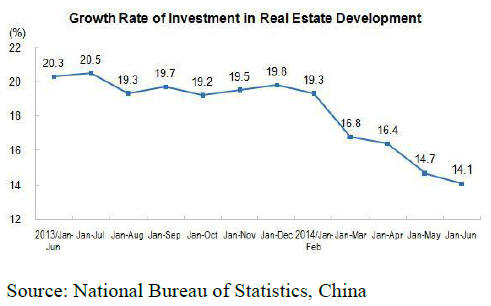 ¡¡
By region the investment in the eastern region was up
almost 15% year-on-year. In the central region investment
in real estate was up 12% but in the western region there
was a fall in investment.

In the first six months the land area purchased by the real
estate companies totalled 148.07 million square metres, a
year-on-year decline of about 6%. The pace of decline in
land purchases for real estate development accelerated the
first half of this year.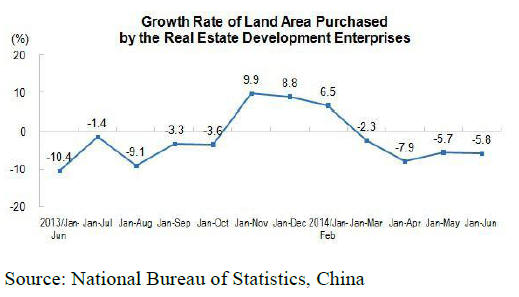 ¡¡
June home prices in major cities
The pace of increase in house prices moderated in June
falling to the slowest since March last year according to
the National Bureau of Statistics. The housing price index
has been falling since late last year.

Compared to May in those 70 medium and large cities
included in the index, prices of newly built residential
buildings fell in 55 cities, remained the same in 7 cities
and increased in only 8 cities.

For secondhand homes, prices fell in 52 cities, was
unchanged in 11 cities but increased in 7 cities.

First half GDP
The improvement in second-quarter growth brought
annualised GDP back on track but analysts are not
convinced that the good second quarter result is due to an
underlying strength but more likely the impact of the
multiple mini-stimulus measures from the government.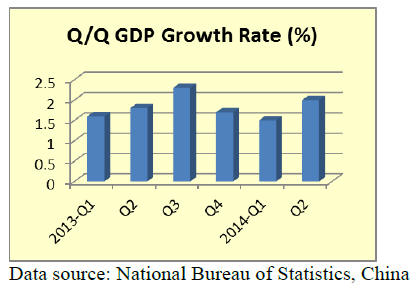 Many of the recent measures to stimulate growth have
relied on expanding credit and higher central and regional
government spending.

The National Bureau of Statistics has shown that
annualised GDP rose to 7.5% in the first quarter see:
http://www.stats.gov.cn/english/PressRelease/201407/t201
40717_582998.html

International trade returns to positive growth
The value of China"s international trade (imports and
exports) in the first half of this year was yuan 12,391.9
billion (approx US$2,021 billion) an increase of 1.2
percent (trade in the first quarter fell 1.0 percent year-onyear).

Exports were worth yuan 6,511.3 billion yuan, (approx.
US$1,062 billion), up by 0.9 percent while the value of
imports was yuan 5,881 billion, (approx. US$959 billion)
an increase of 1.5 percent.

For more see:
http://www.stats.gov.cn/english/PressRelease/201407/t201
40716_581912.html

Boost to trade in Heilongjiang Province
According to statistics from Heilongjiang Forestry
Department, both timber sales and imports in Heilongjiang
Province increased in the first half of 2014.

As of the end of June timber output in the Province was
790,776 cubic metres of which just 81,818 was added to
stock. The average unit prices was yuan 805 per cubic
metre, up yuan 110 per cubic metre from the same period
of 2013.

In the first five months of 2014, timber imports through
Heilongjiang Province from Russia increased dramatically
totalling 2.469 million cubic metres valued at US$435
million.

Of this total, log imports were 1.837 million cubic metres
(+35% year on year) worth US$255 million. Sawnwood
imports amounted to 632 000 cubic metres valued at
US$110 million, up a massive 57% from the same period
of 2013.

The main species of imported timber were spruce, fir,
larch, Scots pine, poplar, birch, elm, basswood, oak and
ash.

In related news, Manzhouli Customs have reported that in
the first half of this year log imports through Manzhouli
Port were 2.889 million cubic metres (+23% year on year)
valued at RMB2.32 billion. All imported logs through
Manzhouli Port come from Russia and all were imported
by private enterprises.

The border trade is dominated by small traders who
account for an estimated 98% of the total trade.

Currently there are around 100 timber processing
enterprises in Manzhoul, most produce only primary
products and these enterprises process around 60% of all
logs entering the port. Production of finished products is
generally only for the local market and the scale of
operations of these enterprises is small.

Record breaking containerised cargoes at
Zhangjiagang Port
The Zhangjiagang Entry-Exit Inspection and Quarantine
Bureau has reported that containerised timber imports
increased by over 80% in the first half of the year
compared to the same period in 2013.

There has been a sharp increase in containerized
hardwoods from Myanmar, South America and Africa.
The demand for "redwood" in China is booming and large
volumes were imported from Myanmar prior to the log
export ban which came into effect at the end of March.

Output of wood-based panel in Guangdong Province
It has been reported that first half year output of
woodbased panel by manufacturers in Guangdong
Province has increased significantly.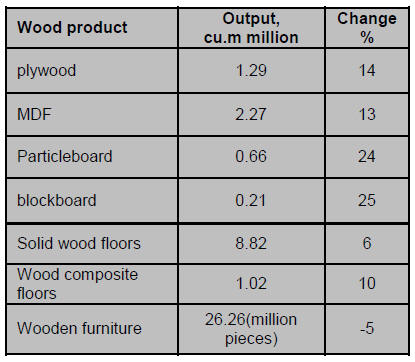 In terms of value, first half year output was worth
RMB3.904 billion up 28%. The output value of wood
based panels jumped 26%, there was a 15% increase in the
value of output of wooden furniture and bamboo and
rattan furniture output rose 9%.
Zhaoyin Port top for radiata pine imports
Zhaoyin Port, Zhangzhou City in Fujian Province, is the
second ranked national timber port in terms of volume
handled. The main species imported is radiata pine and
first half imports totalled 968 400 cubic metres valued at
US$147 million, an increase of 18% in volume and 34% in
value.

Zhaoyin has become the largest timber distribution centre
on the southeast coast and it is expected that for the year
some 3 million cubic metres of timber will pass through
the port.

National timber reserve alliance established
Recently a National Timber Reserve Strategic Alliance has
been established.

The Alliance is deemed a public, non-profit social service
organisation and it has 91 members including 16 central
and provincial level project management departments, 20
forestry enterprises, 45 state-owned forest farms, 5
specialised cooperative organisations and 5 science and
technology units.

Members also come from China National Reserve Bureau,
European Investment Bank, China Agricultural Bank and
the State Forestry Administration.

The stated aim of the Alliance is the creation of a 14
million hectare timber reserve by 2020. The concept of a
strategic timber reserve was launched in 2012.