US Dollar Exchange Rates of 26th June 2014
China Yuan 6.2246
Report from China
Housing Investment continues to slow
Total real estate investment in China in the first five
months of 2014 was yuan 3,073.9 billion, a nominal
increase of almost 15% year-on-year but an almost 2%
drop on the first four months of this year. Of the total
investment close to 69% was in residential buildings (2%
down from April).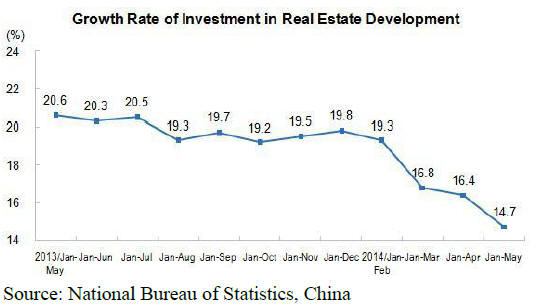 
In the first five months of this year real estate investment
in the eastern region was down by 1.7% on levels in the
first four months of the year. Investment in the central
region was down 1.8% and a 1.2% fall was recorded in the
western region. In the first five months the land area
purchased by real estate developers fell 5.7% year-on-year.

See:
http://www.stats.gov.cn/english/PressRelease/201406/t201
40613_568415.html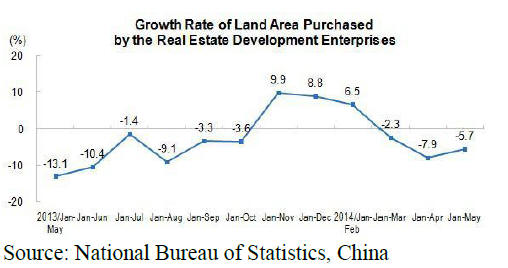 Property sales account for between 12-15% of China's
GDP so the latest data from the National Bureau of
Statistics showing that homes sales continue to slow
represents a risk to the economy as a whole.

Falling prices for homes and the decline in building have a
knock on effect to other parts of China"s economy as
everything from construction worker wages, furniture
demand and family expenditure are all negatively affected.

The National Bureau of Statistics press release shows that,
compared with the previous month, prices of newly
constructed commercial residential buildings (excluding
affordable housing) in a sample of cities surveyed fell in
35 cities, was unchanged in 20 and only increased in 15
cities.

However, compared with May last year home prices only
fell in 1 city and increased in all the others. In May, the
year-on-year price changes were from plus 4.8% to plus
11.3%.

For second hand homes prices declined in 5 cities, were
unchanged in 1 city and increased in all others compared
with the same month of last year.

The latest data on retail sales shows that during the first
five months of 2014 furniture sales were up 15% and sales
of household appliances grew 7% year-on-year but during
the same period last year, furniture sales were up 20% and
household appliance sales were up 22%.

Official data showed that 4.9 billion square metres of new
homes across China were under construction last year,
while home sales stood at just 1.2 billion square metres
suggesting an even further downwards pressure coming to
bear on house prices.

For more see:
http://www.stats.gov.cn/english/PressRelease/201406/t201
40623_571419.html
and
http://www.stats.gov.cn/english/PressRelease/201406/t201
40613_568419.html

¡®Redwood¡± product marketing standard released
A standard for Chinese redwood product sales and aftersales
service for the benefit of consumers has been
released by the Hongmu Committee within the China
Timber and Wood Products Distribution Association
(CTWPDA). The voluntary standard will become effective
in 2015.

The issues clarified in the standard include general and
technical requirements, after-sales service, repurchase,
leasing and an evaluation system for redwood products
sales.

Local experts think that this standard will help eliminate
fraudulent and unprofessional activities in the redwood
market.

Rosewood added to East China Forest Exchange
On 11 June 2014, the East China Forest Exchange began
providing a trading platform for redwood, until now only
plywood was listed on the exchange.

The listing of redwood products has created opportunities
for electric business dealings and could transform and
upgrade the redwood industry in Zhejiang Province. The
exchange provides for online transactions, settlement,
financing and logistics management.

Details of capital, market and logistic flows have been
integrated into one platform to provide spot electronic
trading, finance as well as information on warehousing
logistics for manufacturers, distributors, traders and
terminal users.

It has been reported that two species of rosewood
(Dalbergia cochinchinensis Pierre) from Nanaholy
Furniture (International) Group were listed on the
exchange and the value of business on the first day of
trading reached yuan 1.37 billion.

Dalbergia cochinchinensis, is traded as Thailand
rosewood, Siamese rosewood or tracwood and is included
in the IUCN red list of endangered species and is a CITES
Appendix II listed species.

Wooden villas exports to India
According to Manzhouli Entry-Exit Inspection and
Quarantine Bureau, recently two wooden villas were
recently shipped from Manzhouli Port to Dalian Port and
on to India.

The shipment was valued at yuan 400,000 and included
the main structural framework, window frames, doors and
frames and wooden flooring. This shipment was a first for
manufacturers in the timber processing zone at Manzhouli
Port.

In order to support enterprises explore new international
market, Manzhouli Entry-Exit Inspection and Quarantine
Bureau provides advisory services such as:

Consultant services on export application and production
technologies, advise on the importing country customs
regulations and standards and advise on raw materials,
products and packaging.

The support provided by the local authorities lay the
foundation for development of this new business
opportunity.

Plywood exports surge
In the first five months of 2014, plywood valued at
US$3.21 million were exported through Qinzhou Port in
Guangxi province, a year on year increase of 186% in
value. To-date no claims have been received from
importers.
The plywood was exported to South Korea, Thailand,
Singapore, Saudi Arabia and Taiwan P.o.C for use mainly
in construction, packaging and home interior decoration.

The expansion of plywood exports through Qinzhou Port
comes on the heels of firm international demand for
plywood and the ready availability of raw materials from
extensive eucalyptus plantation in the province.

In order to promote plywood exports, Qinzhou Entry-Exit
Inspection and Quarantine Bureau provides a range of
services to plywood enterprises in addition to its normal
function of assisting with customs export procedures.

The Bureau has strengthened inspection and quality
control along the supply chain in order to guarantee the
quality of exported plywood products.

Imports to Guangxi province fall sharply
According to the statistics from Guangxi Zhuang
Autonomous Region Customs, timber imports by mills in
Guangxi province fell 34% in May compared to a month
earlier. Guangxi Zhuang Autonomous Region (GZAR), is
an autonomous region of southern China along its border
with Vietnam.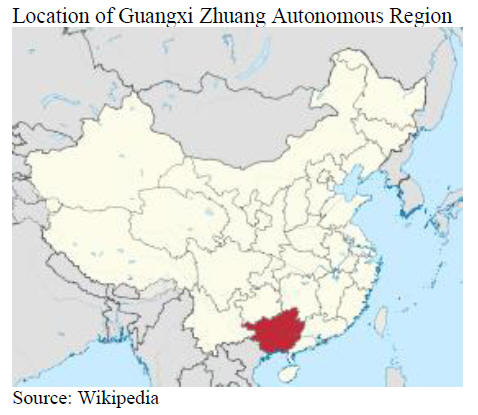 Analysts in China say the main reasons for the decline in
imports were the weather, changing policies and logistic
issues. In May this year Guangxi and other areas in
Southwest China suffered heavy rains and this affected
logging and transportation.

In addition, the log export ban in Myanmar had a major
impact on log availability. The tensions between China
and Vietnam also had an impact as timber from Laos
destined for China has to pass through Vietnam and trade
between Vietnam and China has been disrupted.

CITES III listing for oak, ash and Yucatan rosewood
The recent listing in CITES Appendix III of mongolian
oak (Quercus mongolica) and manchurian ash (Fraxinus
mandshurica) by the Russian Federation and Yucatan
rosewood (Dalbergia tucurensis) by Nicaragua means that
all cross-border shipments must be accompanied by
official documentation certifying the legal origin.

For more see:
http://www.cites.org/eng/CITES_extends_legal_controls_
on_high-value_timber

Appendix III is a list of species included at the request of a
Party that already regulates trade in the species and that
needs the cooperation of other countries to prevent
unsustainable or illegal exploitation (see Article II,
paragraph 3, of the Convention). International trade in
specimens of species listed in this Appendix is allowed
only on presentation of the appropriate permits or
certificates.

Documentation required under Appendix III can be found
at:
http://www.cites.org/eng/disc/text.php#V

Guangzhou Yuzhu International Timber Market
Wholesale Prices