2. GHANA
Export earnings fall
Ghana"s exported less secondary and tertiary wood
products (TWPs) during the first four-months of 2014,
compared to the same period last year.

During that period export earnings totalled euro 33.80
million from the export of 83,454 cubic metres of wood
products, a 20% drop in volume and a nearly 8% decline
in value.

As a share of total exports, secondary wood products
(primarily sawnwood) accounted for 83% in the first four
months of this year as against 90% in the same period in
2013.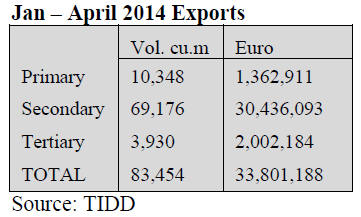 The decline in the export of SWPs can be attributed to
lower sales of sawnwood, veneer and plywood. There
were also weaker sales of dowels, flooring, mouldings and
furniture parts.

The respective market shares of Europe, Africa and Asia
were 40%, 31% and 14% with the balance to the United
States, Middle East and Oceania.

Wood processing set to get more government support
The Ghana office of the World Bank, in collaboration with
the Ministry of Trade and Industry, recently organised a
workshop to engage stakeholders on how best to harness
the complexities of the technological era for the growth of
the manufacturing sector in order to boost
competitiveness.

Addressing the workshop, the Bank country director
Yusupha B. Crookes commended Ghana for achieving
rapid improvements in the business climate. He said
Ghana had a good ranking in the assessment of "ease of
doing business¡±. It is this that has helped attract foreign
investors into the country.

Mr Kofi Afresah Nuhu, Director in Charge of
Manufacturing at the Ministry of Trade and Industry,
disclosed the government is to further improve the
manufacturing and agricultural sectors and has identified
agro-processing, pharmaceutical, plastics and wood
processing for special attention.

In a related development, U.S-based Frontiers Strategy
Group has ranked Ghana as the 4th most preferred
investment destination on the continent after Angola,
Kenya and Nigeria.

Utility prices set to rise again
The Public Utility Regulatory Commission (PURC), the
utility regulator, has announced increases in water and
electricity tariffs.

In a statement the PURC said, effective 1 July 2014, water
and electricity tariffs will go up by 6.1% and 12.9%
respectively.

Long before the increase, manufacturers, including timber
companies, complained of high operating cost due to the
ever rising prices for energy.

The recent power load shedding has also affected the
operational cost of these companies and huge sums are
being spent on fuel to run power generators to keep mills
operational.

Government jobs to be cut
Ghana plans to reduce its public sector wage bill to 35% of
government revenue in three years as part of a plan to
restore macroeconomic stability according to Casie Ato
Forson a deputy finance minister. The public sector wage
bill accounts for around 70% of government expenditure.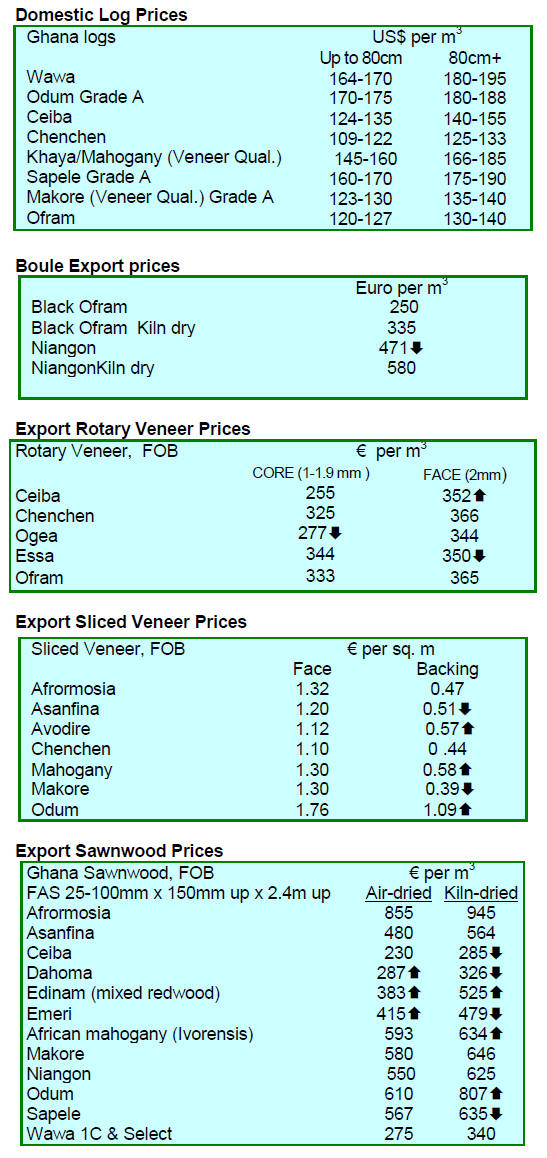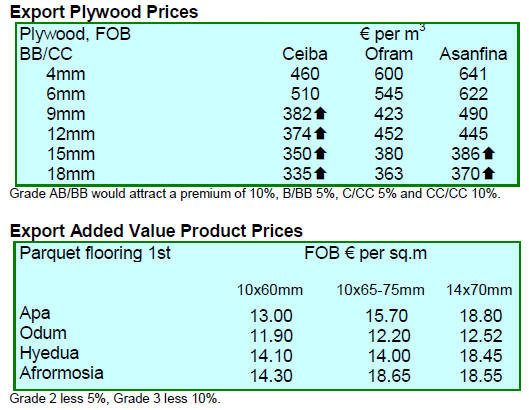 3. MALAYSIA
South Korea re-introduces anti-dumping duties
The South Korean Trade Commission has decided to
extend anti-dumping duties on Malaysian plywood.

The country will impose anti-dumping duties from 3.08-
38.1 % on Malaysian plywood for the next three years.
This decision comes after a three-month review of
business practices by importers and suppliers of plywood.

Beginning in February 2011 South Korea levied antidumping
duties from 5.12-38.1% on Malaysian plywood
but this measure expired at the end of January 2014.

The South Korean news agency, Yonhap, has reported that
Korean manufacturers had requested an extension of the
anti-dumping duties as early as July 2013.

Last year, South Korea"s plywood market was worth
almost won 800 billion (approx. US$780 million). Local
manufacturers satisfy around 25% of the domestic
demand.

Latest exports of certified timber
Statistics on Malaysia"s exports of MTCC certified wood
products in the final quarter of 2013 have recently been
published.

The top ten importers accounted for over 90% of imports
with the bulk going to EU markets. Markets in the Middle
East and N. Africa accounted for around 11% of all fourth
quarter 2013 exports of certified wood products.

The main products were sawnwood 28,064 cu.m, plywood
12,988 cu.m and mouldings 5512 cu.m .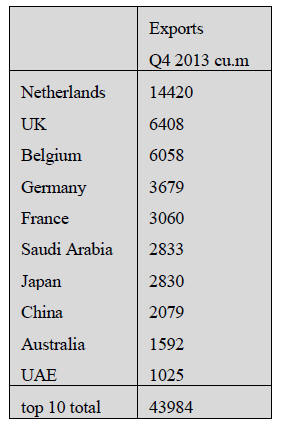 Disbelief in ¡®temporary¡¯ acceptance of MTCC in
Netherlands
A press release from the Malaysian Timber Certification
Council (MTCC) captioned "Relief and Disbelief in
Malaysia on MTCS-Acceptance" addresses a decision by
the government in Netherlands on Malaysia"s PEFCendorsed
Malaysian Timber Certification Scheme
(MTCS).

The press release reads: ¡°The Malaysian Timber
Certification Council (MTCC) welcomes the long overdue
acceptance of the already PEFC-endorsed Malaysian
Timber Certification Scheme (MTCS) under the Dutch
government"s public procurement policy for timber.

This decision allows the timber and construction industry
in the Netherlands to use PEFC-certified timber under the
MTCS for Dutch public procurement projects.

There is however also disbelief that the acceptance by the
Dutch government is only temporary, in spite of the
intended full acceptance agreed upon three years ago¡±.

Yong Teng Koon, CEO of MTCC writes: ¡°We are
relieved that the Malaysian efforts in the field of
sustainable forest management opens the Dutch
government market for MTCS certified timber. However,
we are also concerned that our timber will be treated as
less sustainable.¡±

The Netherlands Ministry for Infrastructure and the
Environment classifies MTCS as "not fully meeting the
country"s Timber Procurement Assessment System
(TPAS)", thereby continuing to show differential treatment
for the MTCS"".

For more see:
http://www.mtcc.com.my/news-items/relief-and-disbeliefin-
malaysia-on-mtcs-acceptance

Long dry season could disrupt river transportation
The current dry season in Malaysia is rather extreme and
experts say it could last until August.
Loggers in Sarawak, who produce most of the logs in
Malaysia, are not unduly worried at present as the dry
weather is helpful for forest operations. However, if the
dry spell lasts too long and water levels in the rivers fall
too low rafting of logs will be disrupted.

4. INDONESIA
Multi-Stakeholder Forestry Programme extended
The third phase of the Multi-Stakeholder Forestry
Programme (MFP3) has been officially launched by the
Secretary General of the Ministry of Forestry, Dr. Ir. Hadi
Daryanto, D.E.A. This programme is to improve forest
governance and development through sustainable forest
management and the legal trade in wood products.

The outputs of MFP3 in the period 2014-2017 focus on
three issues:
 Application of Indonesia"s timber legality
verification system (TLAS/SVLK) in the
upstream and downstream wood processing
sectors to ensure the sustainable export of legal
timber products to the world markets.

 Support to regional governments and
communities on business development in
community-based forest management.

 Facilitating and enabling any mechanism to
ensure that communities have access to forests
and forest resources.

For more see:
http://www.dephut.go.id/uploads/files/6f6944f98495d5e69
2845c29fc9d4e22.pdf

Smoke haze spreading ¨C the perennial problem
The National Disaster Mitigation Agency (BNPB) has
issued a warning that thick haze could cover several
regions in Sumatra, especially Riau, due to several large
forest fires spotted on the island.

Sutopo Purwo Yuwono of the BNPB said that haze was
already building up in several regions in Riau such as
Rengat, Pelalawan, Dumai and Pekanbaru and that 250
hotspots had been spotted in Riau alone. At present
visibility ranges from three to eight kilometers in the
affected areas.

In related news, Singapore has offered to provide
assistance to Indonesia and Malaysia to fight possible land
and forest fires and to prevent the ensuing haze.

On offer is one C-130 aircraft for cloud-seeding
operations; two C-130 aircraft to ferry fire-fighting teams
from Singapore; a team to provide assessment and
planning of fire-fighting efforts and high-resolution
satellite pictures and hot spot coordinates.

Bio-mass alternative energy
The Bogor Institute of Agriculture (IPB) has concluded a
study to examine a bio-mass alternative to coal. Yanto
Santosa, a professor of ecology at IPB says the four plants
assessed were red calliandra, Gliricidia, white lead tree
(Leucaena leucocephala) and ear tree Enterolobium
cyclocarpum,.

The study found that pellets produced from these plants
could generate heat of around 4,600 to 4,700 calories per
kilogram. Calliandra (Calliandra callothyrsus) was the
most promising due to its fast growth rate and high
productivity.

Daru Asycarya, who supervises the project says it has
attracted the interest of several bio-mass users including
one from South Korea. Daru says the pilot pellet plant is
still in the testing stage and before entering commercial
production there is a need ensure that top quality products
can be produced.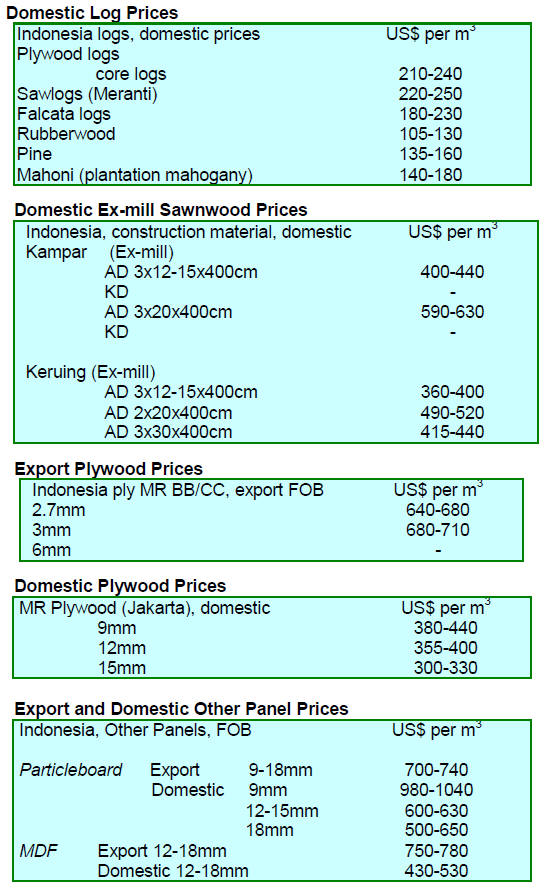 5. MYANMAR
Life gone from log market
According to the Myanma Timber Enterprise (MTE) about
5,000 Hoppus tons (h.tons) of teak, tamalan and other
hardwoods was sold by open tender at the end of June.

About 1,700 h.tons comprising teak logs 321 h. tons; teak
sawnwood 289 tons; padauk and tamalan logs 439 h. tons;
kanyin logs 274 tons and other rough sawn or hewn timber
416 tons were sold by open tender at the MTE
headquarters.

Another 1300 h. tons of teak logs; 2550 h. tons hardwood
logs; 7 tons of tamalan hewn-timber and 83 tons of teak
sawn timber was sold by the office of the local marketing
and milling department of MTE.

Analysts say demand is very slow in the international
markets. The open tenders, which now only attract buyers
from domestic mills, are held only once, or at most twice,
a month. Before the log export ban the country was alive
with private traders but now it is very quiet.

Wood smuggling from Kachin
According to a study published by retired professor of
Botany, Nyo Maung, there is an active trade in illegal logs
from the Eimawboon Mountain in Kachin. The
Eimawboon forest reserve bordering China is located in
northeastern Kachin State and covers an area of 250,000
hectares.

Outlook for Myanmar¡¯s economy
Myanmar"s economy is forecast to grow 8.5 percent
during the current fiscal year mainly due to rising gas
production and investment says the International Monetary
Fund (IMF). In January 2014, the IMF forecast 7.7 percent
growth during the fiscal year that ends March 2015.

The fund left unchanged its forecast that inflation during
the fiscal year will be 6.5 percent.

The IMF, which set up a monitoring programme in
Myanmar in 2013, said it intends to expand technical
assistance and training. The Fund expects expanded
foreign investment in manufacturing, telecommunications
and natural resources.

EIA says padauk and tamalan on the verge of
extinction
Myanmar"s tamalan and padauk are disappearing at an
extremely rapid pace as traders have been targeting these
high valued timbers. The Environmental Investigation
Agency (EIA) is warning that, at current rates of cutting,
the species could be logged to extinction in Myanmar
within as little as three years.

EIA research of Chinese trade data found that imports of
tamalan (also known as Burmese tulipwood) and
Myanmar padauk has dramatically increased in recent
years.

June tender prices
The results of the open tender sales made by Myanma
Timber Enterprise (MTE) held on 27 June 2014 are shown
below: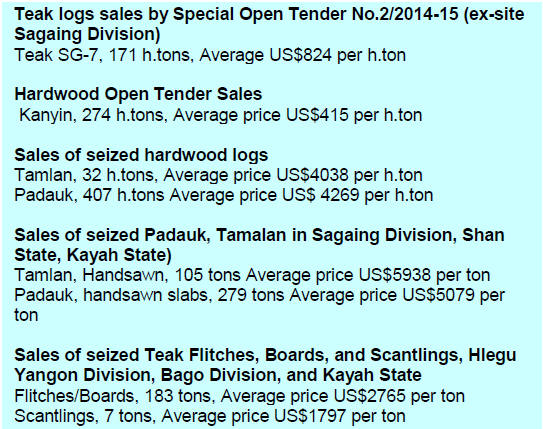 Sales of teak from MTE sawmills
MTE also sold 70 tons of various sizes of teak scantlings
by open tender.

The grades are mentioned as Second, Second Reject, Third
and Mixed. Sizes vary from 0.5 inches thickness to 5
inches; 1 to 7 inches in width and 1.5 to14 feet in length.


The total quantity sold was 70 tons and the value earned
was reported to be around US$ 35,000.
6. INDIA
Import data reflect weak rupee
During the 2013-14 financial year wood product imports
(hardwoods and softwoods) through Kandla Port totalled
3,925,555 cubic metres against the 4,354,300 cubic metres
imported in the previous financial year.

Kandla Port handles around 50% of India"s entire wood
product imports. The main reason for the decline in
imports was the weak rupee for most of the year.

Plantation teak imports 4 times that of natural teak
2013 imports of natural forest teak from Myanmar totalled
74,107 cu.m and imports of plantation teak totalled
320,731 cu.m.
The log export ban in Myanmar has created a market
opportunity for suppliers of plantation teak to expand sales
to India and importers are urging plantation teak suppliers
to improve plantation tending and management techniques
to produce higher quality logs.

Inflation at 5 month high
The Office of the Economic Adviser (OEA) to the Indian
government provides trends in the Wholesale Price Index
(WPI).

Inflation in India jumped to a five-month high in May. The
cost of food was up 2.3 percent in May year on year while
energy costs rose around half a percent over the same
period. Forecasts are for a drier than usual monsoon which
could push food prices even higher.

See http://eaindustry.nic.in/cmonthly.pdf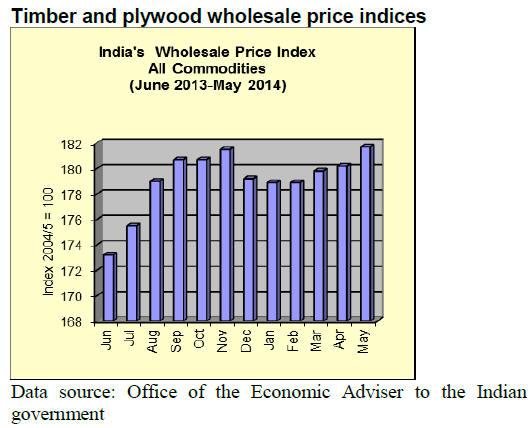 The OEA reports Wholesale Price Indices for a variety of
wood products. The Wholesale Price Indices for
Logs/timber and Plywood are shown below. The May
2014 logs/timber index has remained fairly flat for the past
months in contrast to the index for plywood which has
steadily increased from the beginning of the year.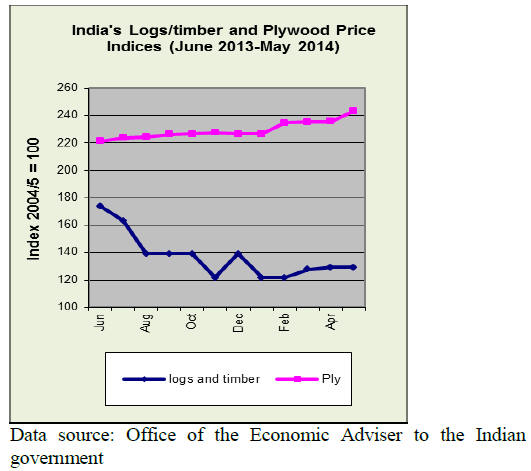 Prices for imported plantation teak
Over the past two weeks the rupee has weakened against
the US dollar mainly due to the conflict in Iraq and the
impact this is having on oil prices. Because of the rupee
weakness Indian importers are on the side-lines hoping the
rupee weakness is a short term problem.

Current C & F prices for imported plantation teak, Indian
ports per cubic metre are shown below.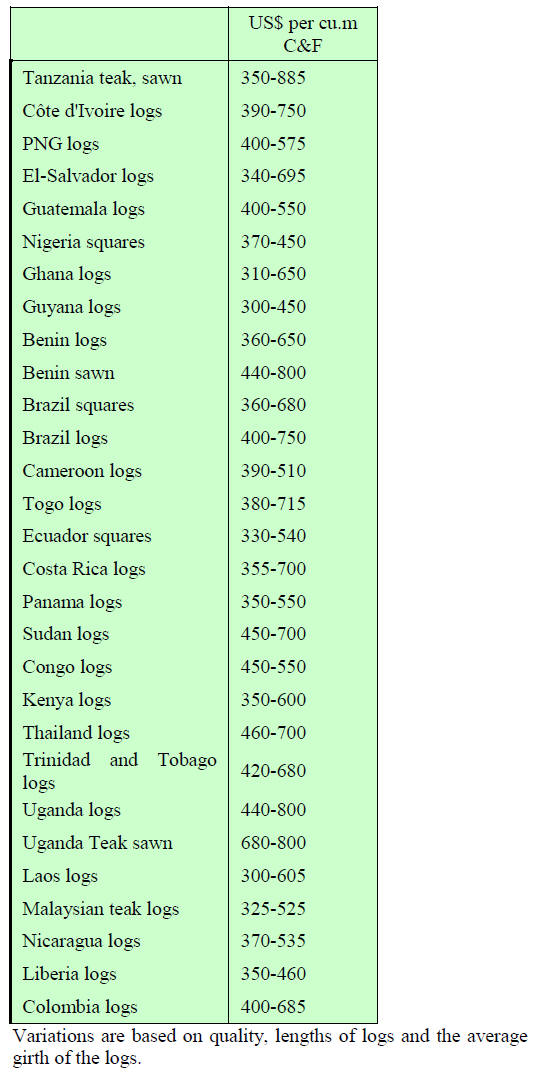 Domestic prices for sawnwood
Demand for imported non-teak tropical sawnwood is
steadily improving and hardwoods from Latin America are
appearing in the market.

The log market in India is slowly adjusting to the log
export ban in Myanmar, previously a major source of logs
for India.
Prices for air dry sawnwood per cubic foot, ex-sawmill are
shown below.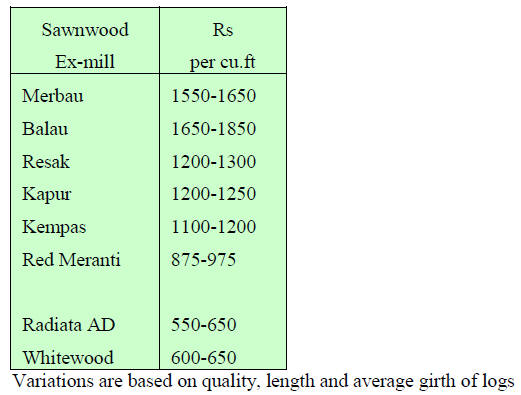 Myanmar teak processed in India
Importers have high stocks of Myanmar teak and analysts
suggest there is sufficient in India to satisfy demand for a
few months more.

The trade is carefully watching the situation in Myanmar
and hopes ways will be found to sustain the demand for
high quality teak from Indian and international buyers.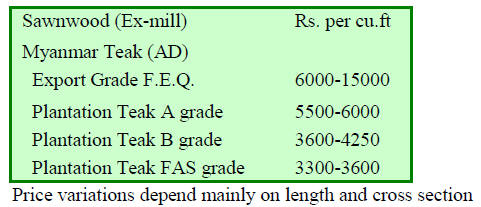 Imported sawnwood prices
Ex-warehouse prices for imported kiln dry (12% mc.)
sawnwood per cu.ft are shown below.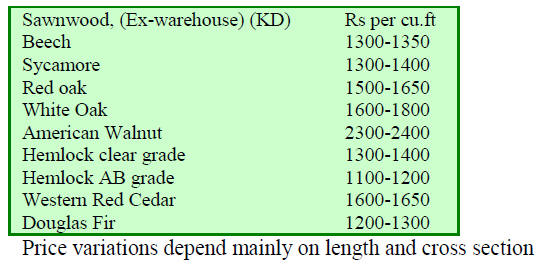 Plywood Market
Indian timber and plywood manufacturers are excited
about the new Governments" plan to develop 100 cities as
this will boost demand for building materials. Local
analysts estimate that the government"s plan could involve
construction of around 5 million new homes.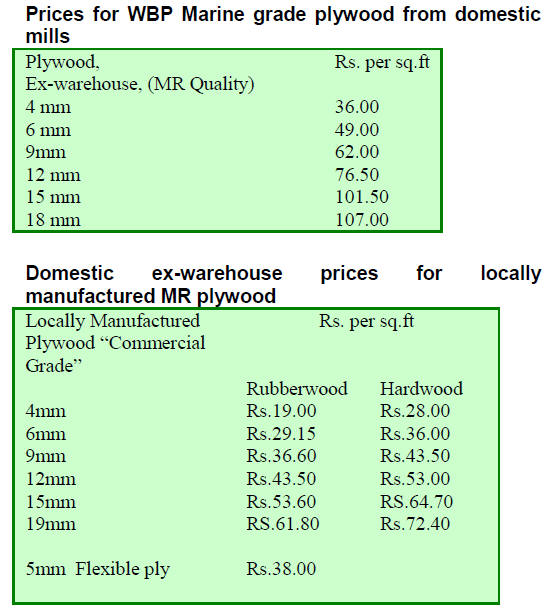 ¡¡
7. BRAZIL
Respite from interest rate hikes
Brazil´s Consumer Price Index (IPCA) increased 0.46% in
May 2014 compared to the 0.67% increase in April 2014
and the May increase drove the accumulated inflation rate
to an annualised 3.3%.

After nine consecutive increases, the Monetary Policy
Committee of the Central Bank (COPOM) decided to keep
the Selic rate at 11%. COPOM reported that the decision
to keep the interest rate unchanged was based on
consideration the macroeconomic environment and the
risks to inflation.

New Timber Control System in Par¨¢ State
The Para State Secretariat of Environment (SEMA) is
developing a new Transport and Trade Control System for
Forest Products, called Sisflora 2. Once implemented the
improved system will allow better control over timber
movements and will strengthen efforts to combat
environmental degradation and illegal logging.

The main improvement in Sisflora 2 will be a georeferencing
feature where individual trees will be tracked
by REFID (Radio Frequency Identification) chips which
will be placed at the base of trees to be logged and on
subsequent billets transported.

Sisflora 2 is being developed in response to new demands
in the international market requiring proof of legality.
Despite the additional cost to timber producers the
investment will assure overseas buyers of the legal origin
of exports from the state.

Deforestation: Brazil fulfill goal of reducing emissions
from deforestation
The Ministry of Environment (MMA) announced, during
the celebration of Environment Week that Brazil was the
only country to meet the goal agreed at the Conference of
the Parties in Durban (COP17) of reducing greenhouse
gases emissions related to deforestation.

MMA reported that Brazil will officially submit the results
to the United Nations Framework Convention on Climate
Change (UNFCCC). Reports from Brazil say the country
has reduced GHG emissions over the past four years in an
amount equivalent to the annual emissions of the United
Kingdom (600 million tons of carbon dioxide equivalent).

MMA anticipates that this result will contribute to
discussion of a new global climate agreement, climate
negotiations in Lima (COP-20, in Peru, in December
2014) and Paris (COP-21, in France, in 2015).

Exports rise but tropical sawnwood misses out
In June 2014, wood products exports (except pulp and
paper) increased 7.2% in terms of value compared to June
2013, from US$222 million to US$238 million.

Pine sawnwood exports increased 40.8% in value in June
2014 compared to June 2013, from US$12 million to
US$16.9 million. In terms of volume, exports rose 38%,
from 53,100 cu.m to 73,300 cu.m over the same period.

On the other hand, tropical sawnwood exports fell 17% in
volume, from 34,200 cu.m in June 2013 to 28,400 cu.m in
June 2014. In value terms export earnings dropped 13.6%
from US$16.9 million to US$14.6 million over the same
period.

Pine plywood exports fell slightly (-0.2%) in value in June
2014 compared to June 2013 but the volume increased
4.1%, from 104,700 cu.m to 109,000 cu.m, over the same
period.

Tropical plywood exports declined 37.5% in terms of
volume, from 4,800 cu.m in June 2013 to 3,000 cu.m in
June 2014.The value of exports fell 34.5%, from US$2.9
million in June 2013 to US$1.9 million in June 2014.

It came as a disappointment that exports of wooden
furniture declined in June from US$ 42.8 million in June
last year to US$ 41.4 million this June 2014, a 3.3% drop.

Furniture Industry seeks new markets in the Middle
East
Furniture manufacturers in Santa Catarina, one of the
largest furniture producing states in Brazil, want to
increase furniture exports to the Middle East.

One of the manufacturers in the state already sells to the
United Arab Emirates, Kuwait and Saudi Arabia and sees
a potential to expand into other Middle East countries.

According to company representatives there are
opportunities in Qatar, Oman, Jordan and Bahrain as
incomes are high and consumers appreciate the solid wood
style of furniture produced by the company.

At present the company exports around 5% of it output to
the Middle East but firmly believes this can be increased.

Ipe withdrawn from UK DIY stores
The British company Jewson announced that it will
temporarily stop selling Amazon timbers from its more
than 600 stores in England.

According to the company while exporters are only
required to have official Brazilian documents related to
timber transport (Document of Forest Origin - GF3) this
was considered insufficient to ensure and demonstrate the
legal origin of wood.

The British company has moved to strengthen its chain of
custody audit and has contracted specialists in Brazil to
assist with this.

For an overview of this story see:
http://www.ttjonline.com/news/brazil-laundering-illegaltimber-
says-greenpeace-4269397/

Price trend round-up
The price of Brazilian roundwood from natural forests
ranges from US$111 per cubic metre to US$178 per cubic
metre at mill yard while prices of Brazilian sawnwood
from natural forest logss varies from US$256 per cubic
metre to US$885 per cubic metre ex-mill depending on the
species.

The price of parica WBP glue plywood ranges from
US$566 per cubic metre to US$768 per cubic metre exmill
depending on thickness.

Prices for parica MR glue plywood range from US$506
per cubic metre to US$684 cubic metre ex-mill according
to the thickness.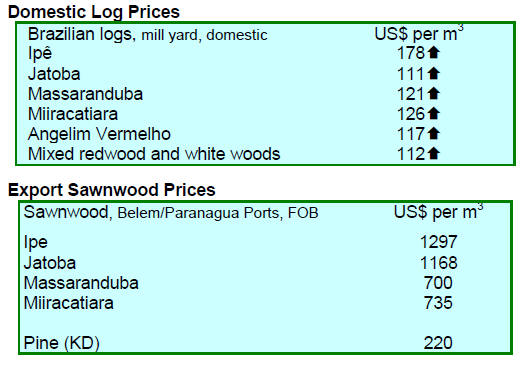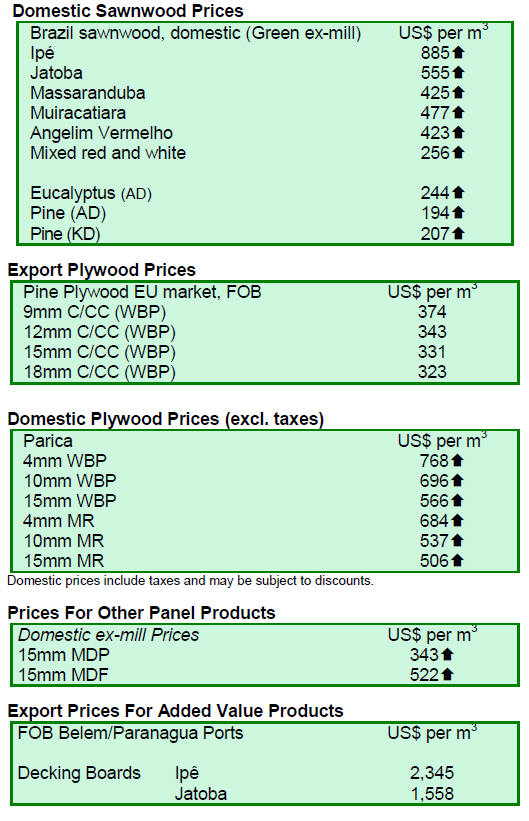 8. PERU
Government stimulus proposal attracts criticism
Because of a sharp drop in output and exports from the
mining and construction sectors Peru"s economy grew by
just 2% in April, the worst performance since October of
2009, during the global financial crisis.

In response the government introduced new economic
measures to reactivate the economy, attract investment and
boost confidence.

In an effort to boost growth the government has proposed
relaxing environmental rules by temporarily reducing fines
particularly in the mining and energy sectors.

This suggestion has attracted criticism from environmental
organisations who say they will undermine the
Environment Ministry's responsibilities in regulating
mining and energy activities.

In June the World Bank lowered its 2014 growth forecast
to 4% January"s 5.5% estimate citing slower than expected
improvements in demand in the US and China, Peru"s top
trading partners.


9. GUYANA
Diversifying the product range
The Forest Products Development and Marketing Council
of Guyana Inc (FPDMC) is working with local
manufacturers to encourage product diversification
through the production of value added products and the
greater utilisation of residues from sawmilling operations.

The FPDMC is developing product/manufacturing
"profiles" to inform manufacturers of the opportunities that
exist in the industry and what investments and technology
would be required for a range of products.

The aim is to produce affordable products manufactured
from sustainably harvested lesser known species. Also,
sawmillers are being encouraged to produce dimensional
lumber to able to compete with imported products.

Financial challenges for Iwokrama
The 2012-2013 Annual Report for the Iwokrama
International Centre for Rainforest Conservation and
Development reveals that income for 2013 was down
almost 40% from levels in 2012 as grant income fell
sharply.

In the Annual Report the CEO, Dane Gobin, says ¡°2012-
2013 remained another challenging period for the Centre
as it struggled to find a viable financial model in light of
the still enduring international financial crisis.

Support from the Government of Guyana continued to be
our major source of funding and the Centre continued to
implement its austerity programme and pursue
consolidation activities,¡±

See: http://www.iwokrama.org/iwokrama-annual-report-
2012-2013/

The purpose of the Iwokrama International Centre (IIC) is
to manage the Iwokrama forest, a unique reserve of
371,000 hectares of rainforest, ¡°in a manner that will lead
to lasting ecological, economic and social benefits to the
people of Guyana and to the world in general¡±.