Report from North America
Higher sapelli imports from Cameroon
Total US sawn hardwood imports declined to 56,998 cu.m.
in November 2013, but tropical sawnwood imports are
only slightly lower than in October. Tropical sawn
hardwood imports were 20,206 cu.m., accounting for 35%
of total hardwood imports.

The largest increase was in imports from Peru which
tripled from October to 1,108 cu.m., mainly due to higher
imports of virola sawnwood (780 cu.m.).

Imports of sapelli from Cameroon increased to 3,525
cu.m. in November, while total imports from Cameroon
were 4,785 cu.m. (+52%).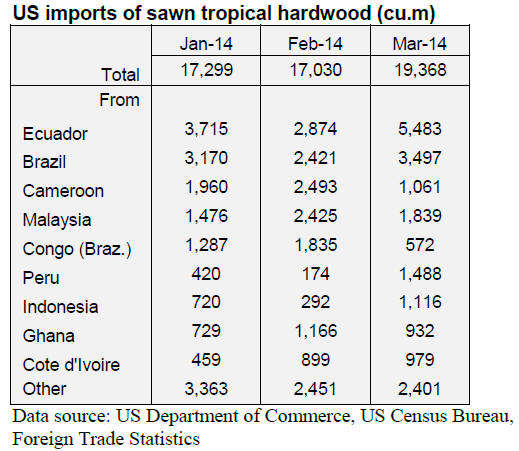 Brazilian shipments to the US declined by one third from
October to 1,895 cu.m. Ipe imports were down (1,209
cu.m.) in November, and shipments of jatoba, cedro and
other species were also lower than in October.

Keruing imports from Malaysia fell to 856 cu.m. in
November, contributing to a 31% decline in overall
sawnwood imports from Malaysia.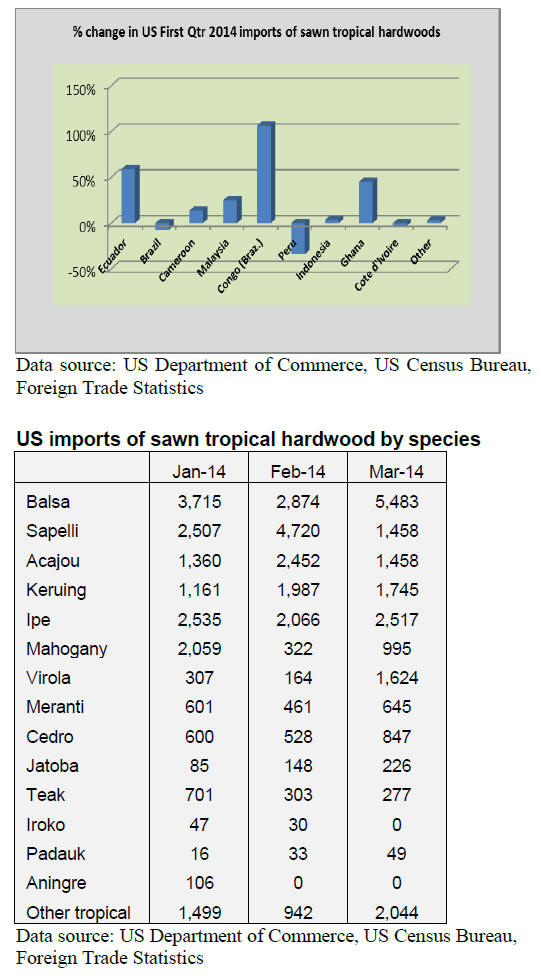 Canada imports more from Cameroon, Brazil
Canadian imports of tropical sawn hardwood declined by
12% in November to US$2.0 million, but year-to-date
imports remain well above 2012 levels.

Imports from Brazil (US$ 437,450) and Cameroon
(US$305,763) increased in November, while most other
suppliers shipped less.

Sapelli sawnwood imports were worth US$379,183 in
November. Imports of mahogany were US$95,836 and of
virola, imbuia and balsa combined US$257,683, more than
double than 2012 on a year-to-date basis.

Wood component market
Wood components are primarily used in cabinetry (28%),
building products (26%) and furniture (23%), according to
the Wood Component Manufacturers Association"s 2013
market study. See: Wood Products Almanac, December
2013

Building products are a growing market for wood
component manufacturers. The market includes moulding
and trim, which Freedonia estimates to grow by 11% per
year to 2016.

Specialty products account for 12% of the market, which
includes musical instruments and sporting goods. 10% of
components are used in pallets, reels, vehicle parts and
other industrial products. US component manufacturers
mainly use red oak (25%), followed by maple, cherry and
poplar.

Increased funding requested to enforce Lacey Act
Two members of the US House of Representatives
requested an increased in funding in 2015 to enforce wood
import requirements under the Lacey Act.

The letter to the Office of Management and Budget claims
that the illegal timber trade costs American producers of
furniture, flooring and other wood products about US$1
billion every year.

The bipartisan letter also warns that two bills would
weaken the Lacey Act and make it easier to import illegal
timber.

One bill proposes to limit the application of the Lacey Act
to certain imported timber and wood products. The second
bill, the Lacey Act Paperwork Reduction Act, proposes to
simplify the declarations required under the Lacey Act.

US hardwood plywood producer group intends to
appeal
The Coalition for Fair Trade of Hardwood Plywood has
filed a summons with the US Court of International Trade
on January 17 to appeal the decision against anti-dumping
and countervailing duties on plywood from China.

The US International Trade Commission ruled last
November that decorative plywood imported from China
does not injure the US industry. Industry associations and
importers had argued that most plywood from China is
lower grade than US produced plywood and it is used in
different applications.

Duties on Chinese plywood were also expected to create
market uncertainty, price increases and job losses in US
manufacturing.